EB2 Visa for Irish Citizens
The EB2 visa also known as the EB2 green card, is a second preference employment-based visa that allows Irish citizens that hold an advanced degree (and can prove their exceptional ability) to reside in the US with permanent resident status.
If you need assistance with your visa application, feel free to call us on (+353) 061 518 025, or you can request a call back through our live chat feature.
Who can apply for this visa?
To apply for this immigrant visa, you must have one of the following:
EB-2A immigrant Visa – Advanced Degree
EB-2B immigrant Visa – Exceptional Ability
EB-2 immigrant Visa – National Interest Waiver
The United States Citizenship and Immigration Services (USCIS) set a specific quota for how many EB2 visas they can approve every year.
The USCIS approves 40,000 for each of the EB2 subcategories each year for a total of 120,000. Further information about the number of permits available in the Visa Bulletin.
"I'm very happy with the standard of training received on the OISC Level 1 course, i passed my exam. Thank you!"
"My application was approved and a huge weight has been lifted from our shoulders this year "
"We used this service for the spouse visa extension application to assure that all the information was valid and correct."
What are the EB2 immigrant Visas requirements for an Irish citizen to apply?
To be eligible for an EB2A Visa, you will need to hold and be able to prove you are an advanced degree professional in your field or its foreign equivalent or that you possess exceptional ability within the sciences, arts, or business. The eligibility criteria vary for the 3 subcategories.
For EB2A Irish applicants with Advanced Degrees:
You must have one or more advanced degrees to apply for the EB2A visa.
Have a minimum of 5 years of progressive work experience.
Required documents for the application: 
An official academic record showing an advanced degree from a US institution or its foreign equivalent.
An official academic record showing degree from a US institution or its foreign equivalent.
Recommendation letters from current or former employers to prove your working experience.
It is important to realise not all advanced degrees qualify for the EB2A, some of the ones that do are:

Master's, PhD.
Juris Doctor (J.D. or law degree)
M.D. (medicine).
For EB2C Irish applicants of National Interest Waiver
Irish citizens who believe they can make substantial benefits and progress to the US, you may be able to request that the Labor Certification be waived by applying for an EB2C Visa, national interest waiver.
To prove to the USCIS of your exceptional abilities, and that you should be permitted to immigrate to the US without a job offer, you must provide evidence of an advanced degree or exceptional ability.
You must also prove 3 of 10 requirements, which are the same as mentioned for EB2B Irish applicants with Exceptional Abilities (above).
In addition to that, you must also provide evidence that you meet the criteria of the national interest waiver, which are:
The proposed endeavour/work/plan is both worthwhile and significant in terms of national importance – to America.
The applicant is in a good position to move forward with the proposed endeavour.
That waiving the conditions of a job offer, and hence the labour certification would significantly benefit the United States.
For EB2B Irish applicants with Exceptional Abilities:
Exceptional ability means that you possess "a degree of expertise significantly above that ordinarily encountered in the sciences, art, or business". You must also hold a US job offer.
To confirm that you have such exceptional ability, you will need to provide at least three of the following documentation:
Official academic records proving that you have a degree, diploma, certificate, or similar award from either a university, college, school, or other higher educational institution, relating specifically to your area of expertise
A minimum of 10 years of full-time experience within your chosen field
Your licence to practice your profession and/or certification for your occupation or profession
Substantial evidence that shows that you have been receiving remuneration or salary for services directly relating to your exceptional ability
Proof of membership of professional associations directly relating to your field of expertise
Documentation displaying recognition from your peers, government entities, or professionals within the business of your significant contribution or achievements
Any other comparable evidence of your exceptional ability that you think would be applicable
What Is the EB2 Visa process for Irish citizens?
The application process for both the EB2A Visa and EB2B Visa is similar, whereas the EB2C visa is different.
To commence the application process for an EB2A or EB2B Visa, your potential employer must:
File form I-140: Petition for Alien Worker. With these application forms, your employer must be able to demonstrate that they will be able to continually pay you the offered wage. To prove that they can do so, the employer will need to submit a federal tax return, an annual report, or an audited financial statement.
Must first file with the US Department of Labor for Permanent Labor Certification using the Program Electronic Management Review system (PERM). This PERM labour certification process is to determine and prove that there are no American citizens or American Permanent Residents that are willing, capable or able to do the specific job. It can take an extended amount of time as it includes a well-documented recruitment process.
Upon filing the petition on your behalf, you must wait until you receive your priority date. You will then be called for your interview at the US Embassy in Dublin, Ireland.
To commence the application process for a national interest waiver (EB-2C immigrant visa), you can self-petition. Complete and submit Form I-140. Before filing, you must pay your filing fee. You'll get a receipt notice, which you must print.
You will then receive an invitation to interview at the consulate. Please note that, if you're already in the US on a different visa, you have to file Form I-485 to adjust your position. Otherwise, you will attend the interview at the US consulate in Dublin.
Visa Interview
For the interview, you will then be asked a variety of questions regarding your EB2 application, including queries about your background, your qualifications, details about your job offer in the US, and who your employer is. There are "no set" questions, so you must anticipate anything.
There are many documents you must bring with you to the interview. These must all be original copies and in English.
The required documents are:
Your passport, which must be valid for at least 6 months from your expected date of entry into the US.
Passport-size photographs.
Confirmation pages for all submitted forms and any proof of payments.
Proof of medical examination and vaccination (if applicable)
Labour certification from your employer
Marriage and birth certificate(s) if you filed Form DS-260 for dependent family members
Any other specified document(s)
What are the fees associated with the EB2 Visas?
Fees will vary based on individual circumstances, but as a general note, the fees involved in an EB–2 Visa application will include:
Form I-140, if you are self-petitioning: $700
Form for DS-260, Immigrant Visa and Alien Registration application: $325
Form I-485, adjustment of status: $1225 (this is the form you need to fill out if you are already in the US under a different kind of visa, and want to adjust your status to the EB2 Visa)
USCIS Immigrant fee $220
Your US employer will be responsible for covering any fees that are related to the PERM application.
In most cases, you will have extra costs associated with biometrics, proof of vaccinations, and medical examinations.
What are the processing times for the EB-2?
After submitting your application, you must wait until a visa number becomes assigned to your case. Normally, this number is assigned based on the number of other people ahead of you, in the same category.
As previously mentioned, the EB-2 visas have annual quotas. As such, there is a limited number of EB2 visas issued annually, and USCIS processes petitions in chronological order. That means it's strictly done on a first-come, first-served basis. On average, it takes 6 to 9 months to process a Form I-140.
It is, however, possible to request Premium Processing Service for the Form I-140 petition by filing Form I-907. In this instance, USCIS will process your EB2 visa in 15 days.
Can family members of the EB-2 Visa holder join them in America? 
People successful in obtaining an EB2 visa may have eligible dependents join them in the United States.
Eligible dependents are defined as unmarried children(s) under the age of 21, your legally recognized spouse, or your civil partner. This privilege does not extend to parents, cousins, siblings or any other family members.
The spouse/civil pattern of the EB-2 visa holder is eligible to stay in the US through an E-21 visa and children(s) are eligible to stay in the US with an E-22 status. When applying for an E-14 or E-15 immigrant status for your spouse and/or children(s).
When applying for their visas, you will need to show substantial proof of their relationship with you, using supporting documents like the original marriage certificate, wedding photos, letters, bank statements and/or the original birth certificate (s).
Your spouse upon receiving an Employment Authorization Document may work in the US without any restrictions. Similarly, all dependents may be students, without limitation, including obtaining a secondary school degree.
It should also be noted, your spouse and any children over the age of 14 will be required to attend your visa interview alongside you. During the interview, while there are no "set questions," the questions will revolve around the validity of the marriage and/or relationship(s).
Advice Package
Comprehensive immigration advice tailored to your circumstances and goals.
Application Package
Designed to make your visa application as smooth and stress-free as possible.

Fast Track Package
Premium application service that ensures your visa application is submitted to meet your deadline.
Appeal Package
Ensure you have the greatest chance of a successful appeal. We will represent you in any case.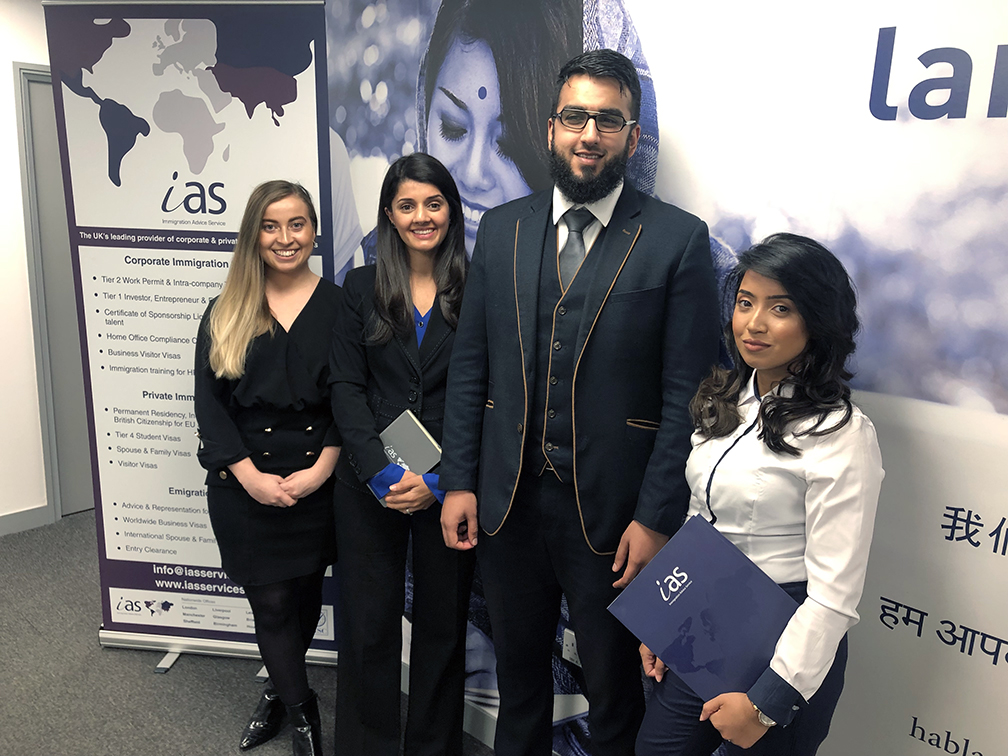 The Advice Package
During this untimed Advice Session with our professional immigration lawyers in London, you will receive our comprehensive advice, completely tailored to your needs and your situation.
Request the Advice Package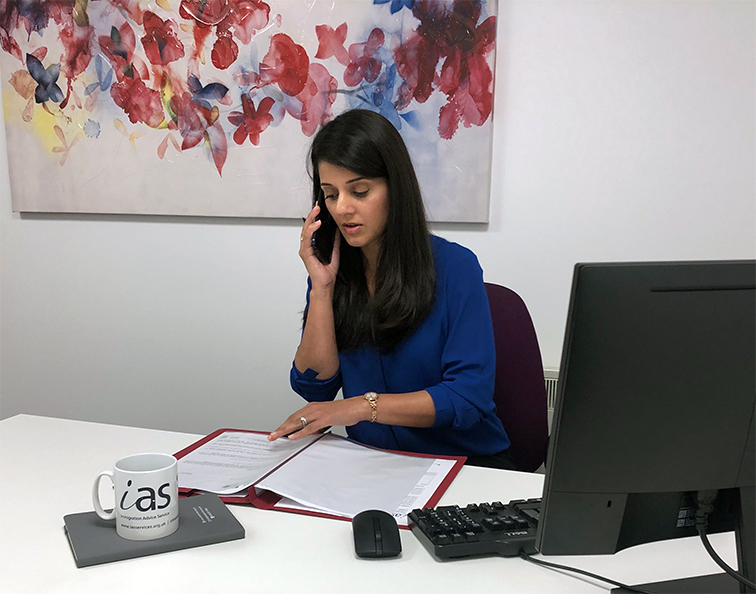 The Application Package
With our Application Package, your dedicated immigration lawyer will advise you on your application process and eligibility. Your caseworker will then complete and submit your forms to the Home Office on your behalf.
Request the Application Package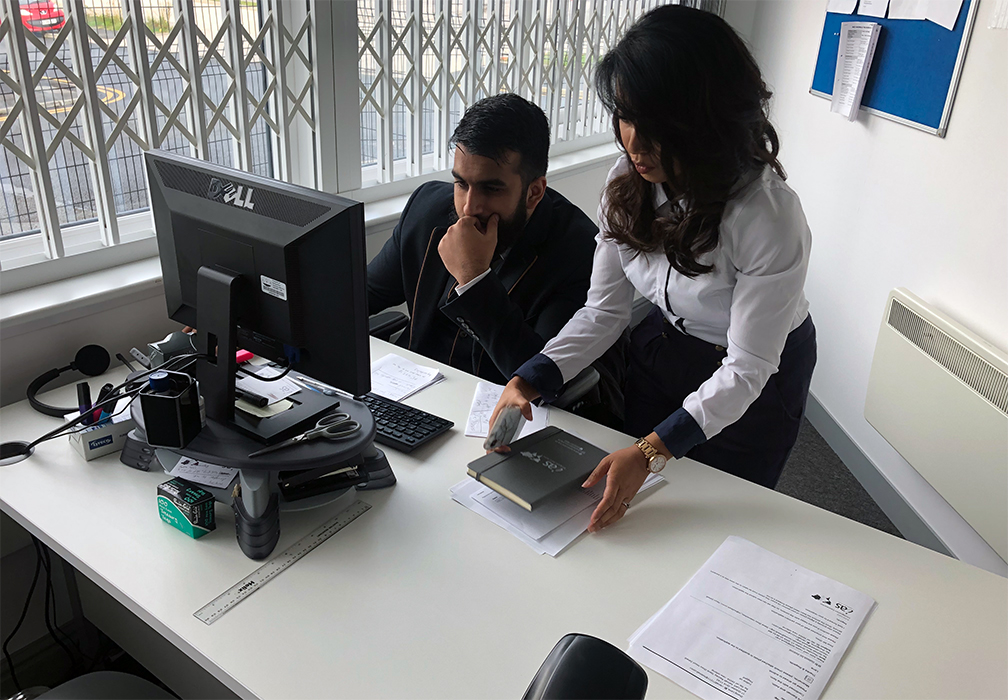 The Fast Track Package
Our Fast-Track Application Package is a premium service for those who need to submit their application in time with their deadlines. Your case will become a top priority for our lawyers and you will benefit from our highest-quality services.
Request the Fast Track Package
The Appeal Package
By choosing our Appeal Package, you can rely on our lawyers' legal knowledge and experience to ensure you have the highest chance of a successful appeal. We will also fully represent you in any hearings/tribunals.
Request the Appeal Package
Related pages for your continued reading.
Frequently Asked Questions
Anyone applying to go to the US must have, and pass, a medical exam by a licensed doctor.
The medical exam intends to prove you are in good health and will not be a burden to the American health system nor pose a threat to society. You must also get all mandated vaccines before entering the states.
The National Interest Waiver (EB-2C Visa)  allows the beneficiary to self-petition, which means they do not need a job offer from a U.S. employer nor a PERM Labor Certification.  However, applicants need to prove that it would be in the US's best interest to waive the Labor Certification requirement,  meaning that the positive impact of the EB2C visa holder's work will outweigh any possible negative impact of waiving the PERM for you.
Not every degree counts. Those that do include Master's, PhD, Juris Doctor (J.D. or law degree), and M.D. (medicine). However, if holds "only" a bachelor's degree, plus 5 years of progressive work experience may be sufficient.
Once your I-140 is approved, you can apply to adjust your status to become a green card holder! Should you already be in the US, you can simply file at your local USCIS office. If you are still in Ireland, you can apply at the US embassy in Dublin, Ireland. You will then attend your interview where the immigration officer will make a final decision on your EB-2 visa
.After final approval, you may travel to the US and begin your job.
Yes, the Labour Certification is required and must be completed by your potential employer. They will need to show proof that they need you and that no American citizen or Permanent Resident in the country can do the job.
Regardless of the type of visa you select for your circumstances, the best step is to get in touch with the team at Total Law, so you know that you are guaranteed the right path, and stand for a much higher success rate for your immigration application. You can contact us seven days a week, either on the phone or by using the online chat function to speak with one of our client care agents.