H-1B Visa
The H1B is a class of non-immigrant visas that allows for employers to petition or sponsor highly educated Irish people (foreign workers) who can offer special skills for temporary employment in the United States.
The H1B is reserved for people with very specific and highly specialized knowledge and can be broken into the following three visa classifications:
H1B Specialty Occupation
H-1B2 Department of Defense (DOD) Researcher and Development Project Worker
H-1B3 Fashion Model of distinguished merit
If you have any questions regarding the H1B employment Visas, you can call us on (+353) 061 518 025, or contact us online seven days a week via our live chat.
What are the eligibility requirements for an H1-B visa?
To consider applying for this visa category, the Irish citizen must meet specific requirements, depending on the category. In general, Irish citizens will need to meet the following overall requirements:
Received a job offer that requires theoretical and practical application of very specific, and highly specialized knowledge
Hold a Bachelor's or higher degree (or the equivalent) related to their specialty occupation (or has an unrestricted state license, registration, or certification that allows them to fully practice the specialty occupation).
Has recognised work experience in their specialty occupation through progressively responsible positions.
Both the sponsor and foreign worker have a Certified Labor Condition Application (LCA)
"I'm very happy with the standard of training received on the OISC Level 1 course, i passed my exam. Thank you!"
"My application was approved and a huge weight has been lifted from our shoulders this year "
"We used this service for the spouse visa extension application to assure that all the information was valid and correct."
What is the H-1B Visa lottery?
The United States Citizenship and Immigration Services (USCIS) has a cap on the number of H1B visas they release and only grant 65,000 visas per year.
Irish citizens who hold a master's degree or another advanced degree can benefit from the master's cap, which has an additional 20,000 slots, bringing the official quota to 85,000.
To be considered for the master's section of the H1B cap, you must have received your master's degree from an eligible institution and that institution must be accredited by a nationally-recognized agency. Furthermore, the institution must be either public or non-profit.
It is important to note that the USCIS operates a lottery-based system in which they select candidates randomly. If a candidate is selected in the lottery, they will then be judged on their credentials and details. There is no visa waiver program.
What are the requirements for an H-1B2 Visa?
To apply for an H-1B2 DOD Research and Development Project Worker Visa, visa applicants must qualify to work in research and development projects of the United States by meeting the following requirements:
Received a job offer that requires a Bachelor's or higher degree (or its equivalent foreign degree)
Provide a verification letter from the Department of Defense project manager for the particular project stating that the Irish citizen will be working on cooperative research and development project or coproduction project under a reciprocal government-to-government agreement.
Their employer can submit a short description of the applicant's duties and the start date of employment. They should also submit a statement with names of all non-citizens currently employed on the U.S. project, along with their start dates.
Hold a Bachelor's or higher degree (or equivalent) in the specific specialty or has an unrestricted state license, registration, or certification that allows them to fully practice their specialty occupation.
The foreign worker has recognized work experience in their specialty occupation
It should be noted that, unlike other H-1B visa categories, an LCA is not required for an H-1B2 visa.
H-1B3 Fashion Model Visa Requirements
To qualify for an H-1B3 visa, all applicants must meet the following requirements:
Be accepted into a position or event that require fashion models of high esteem
Be a fashion model of distinguished merit or ability
Have a Certified LCA.
What is the visa application process?
The visa application process for an H1B visa requires work from both the prospective employer and the Irish citizen applicant and includes the following steps:
Employers must first complete an electronic registration process on the USCIS website where they must provide information about the company and each prospective employee they wish to secure an H1B visa for. This costs $10 per prospective H1B visa applicant.
Employers must complete Form ETA-9035, which is filing for a Labor Condition Application (LCA) that they submit to the DOL no more than 6 months before the start of employment. This form is mandatory and is essential in place to protect foreign workers. The LCA determines aspects like fair wage, location of work, benefits, etc, and that all parties will follow the outlines of the H1B visa. It takes the DOL 7 days to review the LCA.
Employees must complete Form I-29 (Petition for a Nonimmigrant Worker) to USCIS. Here the employer needs to include all fees, evaluation, documents, applicant's resume, employment agreements, and letters of support alongside the DOL approved LCA. This can take 3-4 months to process unless the employer opts for a speedier premium processing which includes a fee of $1,225.
Should your petition be accepted, it will depend on whether you are still in Ireland or already living in the US on a different visa. For those in Ireland, applicants will need to go to the US consulate in Dublin, Ireland for consular processing and submit the Form DS-160. When they enter America, you need to apply for admission at the border. If you happen to be in America already when your petition is approved, you should go to the port of entry and fill out Form I-94 and legally enter the country as an H1B visa holder.
You will then undergo a visa interview at the nearest U.S. Embassy or Consulate in your home country. After this visa interview, you will receive a decision on whether your application has been approved.
What documents do you need to bring to the visa interview?
When you attend the scheduled visa interview, you will be required to bring the following documents with you:
A copy of the passport
Proof of prior employment
Proof of existing certifications or accomplishments
Letter from registrar to certify completion of educational credits
Copy of educational or technical degrees
A copy of transcripts
Letter from the present employer
Usually, the H-1B visa is offered for three years and may be extended for six years – however, there are exceptions for up to 10 years depending on the job, particularly when this role is within the US Department of Defense.
In the instance your employer terminates your role before the end of the authorized period, the employer will be liable for the cost of your return transportation. However, if you resign, the employer will not be liable for your return transportation.
What are the fees associated with the H1B visa?
There are fees associated with the H1B visa, however, as per the US immigration National Act, the employer is responsible to pay fees that they are requested to, and they cannot ask the Irish applicant to pay them on their behalf.
Fees that are paid for by the employer:
Registration Fee: $10
Public Law 114-113 Fee: $4,000
Basic Filing Fee: $460
American Competitiveness and Workforce Improvement Act (ACWIA) Education and Training Fee: $750 or $1,500 – This fee varies depending on the number of employees the employer has. For employers with 1-25 full-time workers, the fee is $750. For those with 26 or more full-time employees, the fee is $1,500. Moreover, some organizations are exempt such as nonprofit organizations.
Anti-Fraud Fee: $500
However, some fees will need to be paid by the Irish applicant and include:
Consular Processing (Form DS-160): $190
Premium Processing Fee (Optional): $2,500 (Can also be paid for by the Employer).
Immigration Attorney Fee (Optional): Cost will vary (Can also be paid for by the Employer)
Can this type of immigrant visa lead to a Green Card?
With these types of immigrant visas, you are permitted to apply for a Green Card while your H1B is valid. With a Green Card, you are permitted to stay in the US indefinitely.
There are several pathways to becoming a Green Card holder with an HB1. The most common way is via an employment-based Green Card. This includes:
An EB1 Visa: EB1 visas for people with extraordinary abilities, outstanding researchers or professors, or can demonstrate evidence of some "sustained national or international acclaim."
An EB2 Visa: EB1 visas are for people with advanced degrees, or exceptional ability in the science, arts, business, or a National Interest Waiver.
EB3 Visa: EB3 visa is for people who may not fit within the EB1/2 visa, but are skilled workers, professionals, or other (unskilled) workers.
Naturally, each route has unique eligibility requirements and application processes. In general, however, they are all petition-based categories and require an employer sponsorship of the application. However, for the extraordinary ability within the EB-1 visa, foreign nationals may self-petition.
Another route to the Green Card is if you have a qualifying family relationship with a U.S. citizen or Green Card holder, who is willing to sponsor your Green Card application.
If you apply for a Green Card before the H1B expires, your status will update from H1B to Green Cardholder. However, if the H1B visa expires before your Green Card application, you may need to leave the U.S. back to Ireland, pending the approval of your green card.
Can my dependents join me in the US?
Dependents of the primary H1B holder may go to the US with them. Dependents are defined as the legal spouse or civil partner and unmarried children(s) under the age of 21. Dependents do not include extended families such as parents, grandparents, or cousins.
For your dependents to join you in the United States, they must apply for an H4 visa. H4 visas are temporary non-immigrant visas specifically for the dependents of the H1B holder. If approved for a dependent visa, family members of Irish nationals can then travel to the United States either with you or after you.
Dependents are permitted to stay in the U.S. as long as the primary H1B remains valid. All changes of status made by the H1B visa holder will impact the dependent's visa process.
H4 dependents are permitted to attend school, open a bank account, and get their driver's license in America. Spouses of the H1B holder are permitted to obtain employment, after applying and successfully receiving an Employment Authorization Document (EAD).
Advice Package
Comprehensive immigration advice tailored to your circumstances and goals.
Application Package
Designed to make your visa application as smooth and stress-free as possible.

Fast Track Package
Premium application service that ensures your visa application is submitted to meet your deadline.
Appeal Package
Ensure you have the greatest chance of a successful appeal. We will represent you in any case.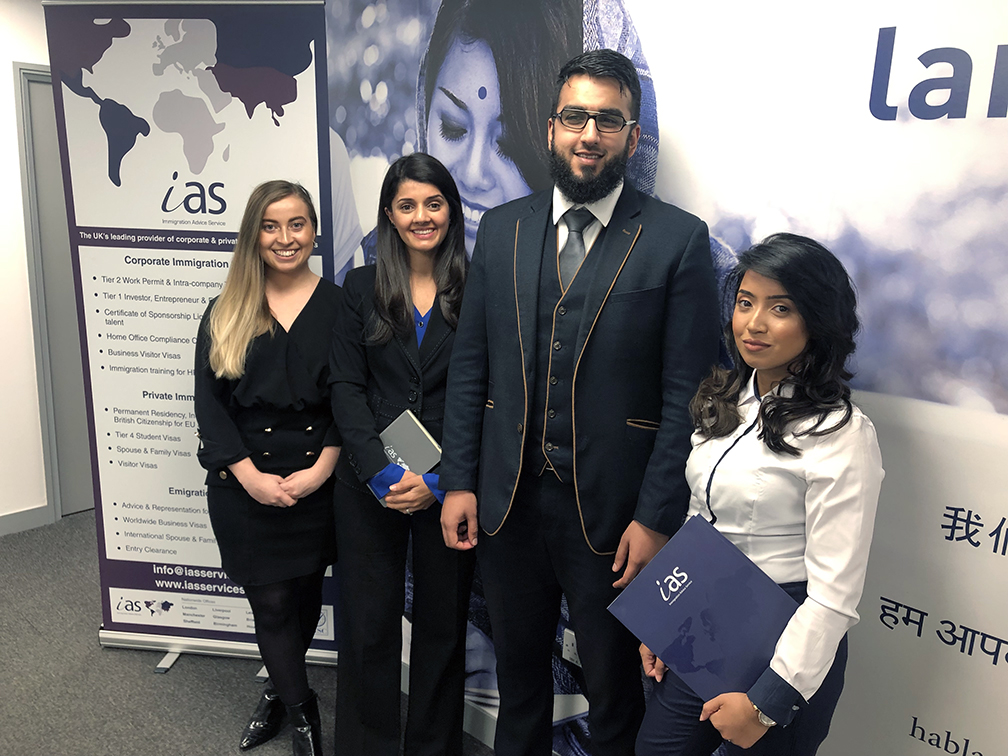 The Advice Package
During this untimed Advice Session with our professional immigration lawyers in London, you will receive our comprehensive advice, completely tailored to your needs and your situation.
Request the Advice Package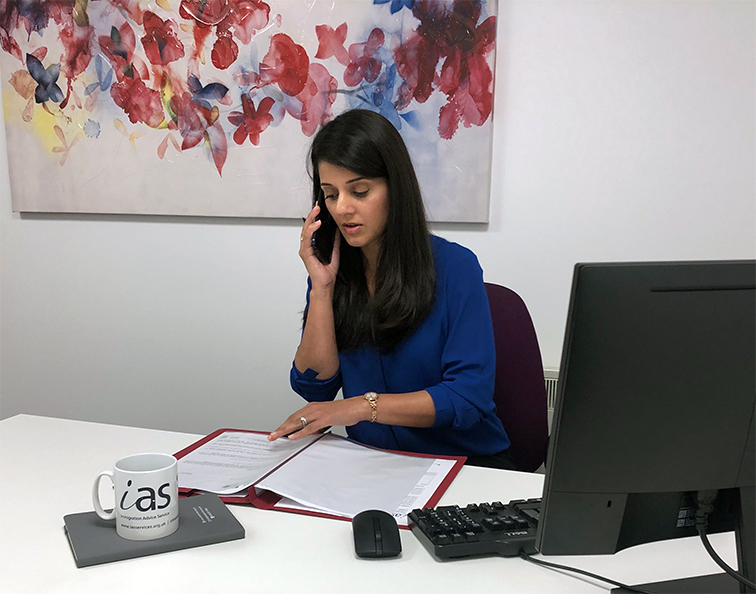 The Application Package
With our Application Package, your dedicated immigration lawyer will advise you on your application process and eligibility. Your caseworker will then complete and submit your forms to the Home Office on your behalf.
Request the Application Package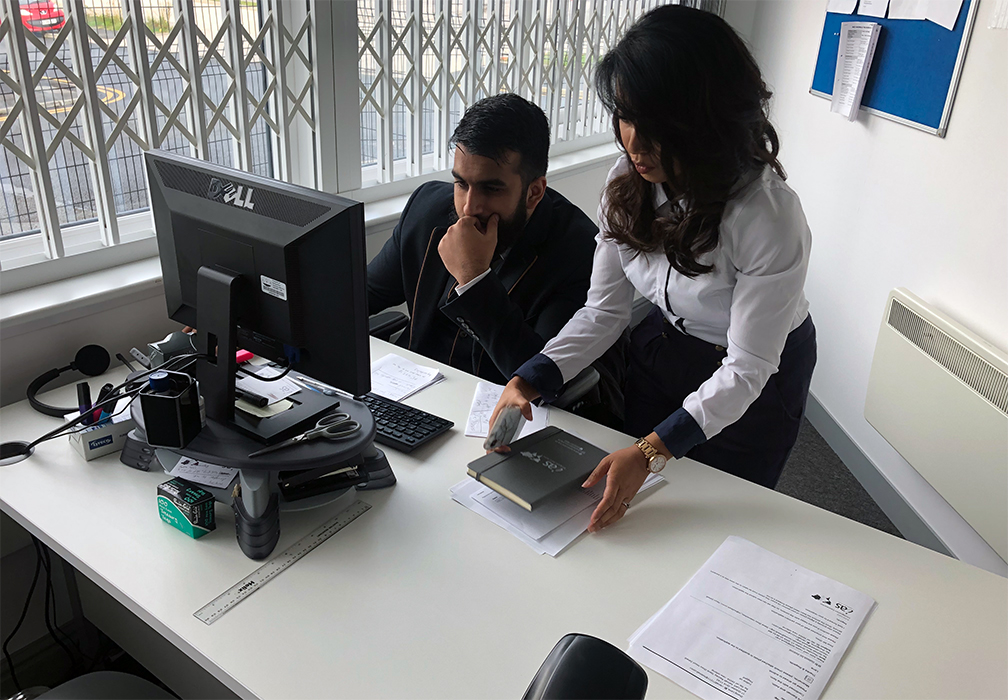 The Fast Track Package
Our Fast-Track Application Package is a premium service for those who need to submit their application in time with their deadlines. Your case will become a top priority for our lawyers and you will benefit from our highest-quality services.
Request the Fast Track Package
The Appeal Package
By choosing our Appeal Package, you can rely on our lawyers' legal knowledge and experience to ensure you have the highest chance of a successful appeal. We will also fully represent you in any hearings/tribunals.
Request the Appeal Package
Related pages for your continued reading.
Frequently Asked Questions
No, this is not possible. The H1B visa must be petitioned for on your behalf with a job offer from a US company/job/company. To apply for this visa, you must have a job offer from a U.S. company or organization.
This is possible. To be eligible for H1B transfer, the H1B Irish worker generally should:
Be in the US
Submit Form I-94 and the last 2 months' pay stubs from Company A.
Company B will need to submit relevant paperwork for your H1B visa transfer on your behalf. You do not need permission from Company A to do this.
The H1B visa duration is up to 6 years. If you wish to return on an H1B visa, then you have to stay outside the USA, for at least one year, before re-entering. In some circumstances, you can stay beyond 6 yrs, up to 10 for specific jobs or if your green card is in process.
Yes. The US has very strict tax laws, and H1B visa holders are responsible to pay all state and federal taxes. Since H1B visa holders are eligible for Social Security benefits, they must pay Medicare and Social Security taxes as well.