B1 Business Visitor Visa: Apply From Ireland
If you need to travel to the US temporarily for business purposes then you could be eligible for the B1 Business Visitor Visa, find out more about the eligibility requirements and application process.
Get in touch with our expert immigration lawyers today on (+353) 061 518 025 for assistance with your B1 Visa application.
What is the B1 Business Visitor Visa?
A B1 Business Visitor visa is a nonimmigrant visa that allows foreign citizens to enter the United States temporarily for business purposes. It allows foreign citizens to take part in business activities as well as legal proceedings and negotiations in the United States for up to six months.
The visitor visa category includes the B1 Visa and B2 Visa, both allowing for temporary travel to the United States. However, the B1 visa is primarily used for foreign citizens to come to the United States for business purposes. The B2 visa can be used for a variety of other temporary purposes such as studying, tourism, or entertainment.
If you will be coming to the United States on a B1 Business Visitor Visa and you would like your family to accompany you, they will need to apply separately for a B2 Visa.
"I'm very happy with the standard of training received on the OISC Level 1 course, i passed my exam. Thank you!"
"My application was approved and a huge weight has been lifted from our shoulders this year "
"We used this service for the spouse visa extension application to assure that all the information was valid and correct."
Is the B1 Business Visitor Visa Right For You?
Citizens of certain countries who are in the Visa Waiver Program, do not need to apply for a US Business Visitor visa. Ireland is one of the 38 countries that participate in the Visa Waiver Program or VWP. This allows citizens of Ireland to travel to the United States without having to obtain a business visa.
However, to participate in the Visa Waiver Program you must apply for ESTA or Electronic System For Travel Authorization. If approved, you may be able to travel temporarily for business without the B1 Business Visitor Visa
Unlike a B1 Business Visitor Visa which is valid for travel in the US for six months, travel permits acquired through the ESTA program only last for up to 90 days. If you are an Irish resident who is travelling to the US on business and you do not qualify for the visa waiver program, you will then need to apply for a B1 Business Visitor Visa through the US Consulate or Embassy.
Eligibility Requirements for B1 Business Visitor Visa
There are a number of requirements you must meet in order to be eligible for the B1 Business Visitor Visa. However, the requirements are not as strict as some other US visas. In general, these requirements are to support that the reason for your travel to the United States is for legitimate business purposes.
Applicants must meet the following requirements:
The applicant's purpose for entering the United States is to remain for a specific limited period of time and is business related.
Applicant can provide proof of a residence outside of the United States that they have no intention of abandoning as well as other significant ties to which they will return once their visa period is over.
Applicant can provide proof of sufficient funds to cover the expenses of the business trip and the duration of their stay in the United States
Applicant otherwise admissible to the United States
What Can You Do With A B1 Business Visitor Visa?
It is important to note that families of B1 Business Visitor Visa holders are not eligible to travel under the same visa. If you would like your family to travel with you to the United States, they will need to apply for a B2 visa.
Under the B1 Business Visitor Visa, the visa holder may take part in a variety of business-related activities such as attending meetings or going on business trips. If the applicant wishes to study or participate in performances, a different visa will be required.
Example of Activities Allowed For A B1 Business Visitor Visa Holder:
Attending business meetings or functions
Consulting with business associates
Participating in business trips such as lectures, conventions, and conferences
Attending a professional, educational, or scientific exposition for business purposes
Conducting activities involved with settling an estate
Attending legal proceedings
Negotiating contracts
Example of Activities Not Allowed For A B1 Business Visitor Visa Holder:
Participating in non-temporary employment such as launching a foreign company's US branch or managing a business long-term
Working for a foreign country in the US as a journalist or member of the media or press
Traveling to the US in order to study
Participating in any type of paid performance or traveling for the purpose of performing in front of a paying audience
Traveling for the purpose of giving birth in the United States in order to obtain United States citizenship for your child
How to Apply For A B1 Business Visitor Visa
Once you meet the eligibility requirements and determine that a B1 Business Visitor Visa is right for you, you can begin the visitor visa application at your local United States Embassy or Consulate. The application process for the B1 Business Visitor Visa includes the following steps:
Submit Form DS-160, The Online Non-immigrant Visa Application
Gather together the required documentation for B1 Business Visitor Visa
Pay the B1 Business Visitor Visa fees
Attend your B1 Business Visitor Visa interview at the Embassy or Consulate
Form DS-160 is an online form used for most non-immigrant visas. This form will ask you about your background as well as the purpose of your travel. Make sure that the information that you enter on the DS-160 form is current as you will be asked questions pertaining to this information at your visa interview, and the answers you give must match your form. If the information does not match, your visa application may be rejected.
Once you have completed the form you will be given a confirmation page and number. It is important to print the confirmation page out and reserve it as it will be needed later in the B1 Business Visitor Visa application process.
When you attend your visa interview, you will need to make sure that you bring the necessary documentation with you, including the interview confirmation page, as you may be required to submit it to the consular officer at this time.
Documentation Required For The B1 Business Visitor Visa
When applying for the B1 Business Visitor Visa, you will need to make sure that you have provided the required proof to support your application. It is important to complete all documents thoroughly and completely to not delay the processing time. Documents that are not in English may be required to be translated prior to being submitted. The documents you may need to support your business visa application may include the following:
The confirmation page from Form DS-160
Interview confirmation page
A valid passport with an expiration date not less than six months after you will be in the US
The receipt of the paid visa application fee
Your social media account information
A photo that meets the requirements for the US Visa photo. This can also be uploaded online.
A letter from your employer detailing the purpose of the trip and your job position
Paystubs from the last 3 months
Financial statements to show that you have enough funds to support yourself for the duration of your trip while traveling in the United States
Supporting documents to show you have significant ties to your home country such as mortgage or lease agreements, employment documents, proof that you have a family
Criminal records
Any documents relating to past U.S. visas (if applicable)
A letter detailing the purpose of your trip
Processing time can be sped up by submitting all of your documentation as requested. There is no limit or cap on the number of B1 Business Visitor Visas that can be issued per year, so the processing time is considerably faster than other types of visas.
Advice Package
Comprehensive immigration advice tailored to your circumstances and goals.
Application Package
Designed to make your visa application as smooth and stress-free as possible.

Fast Track Package
Premium application service that ensures your visa application is submitted to meet your deadline.
Appeal Package
Ensure you have the greatest chance of a successful appeal. We will represent you in any case.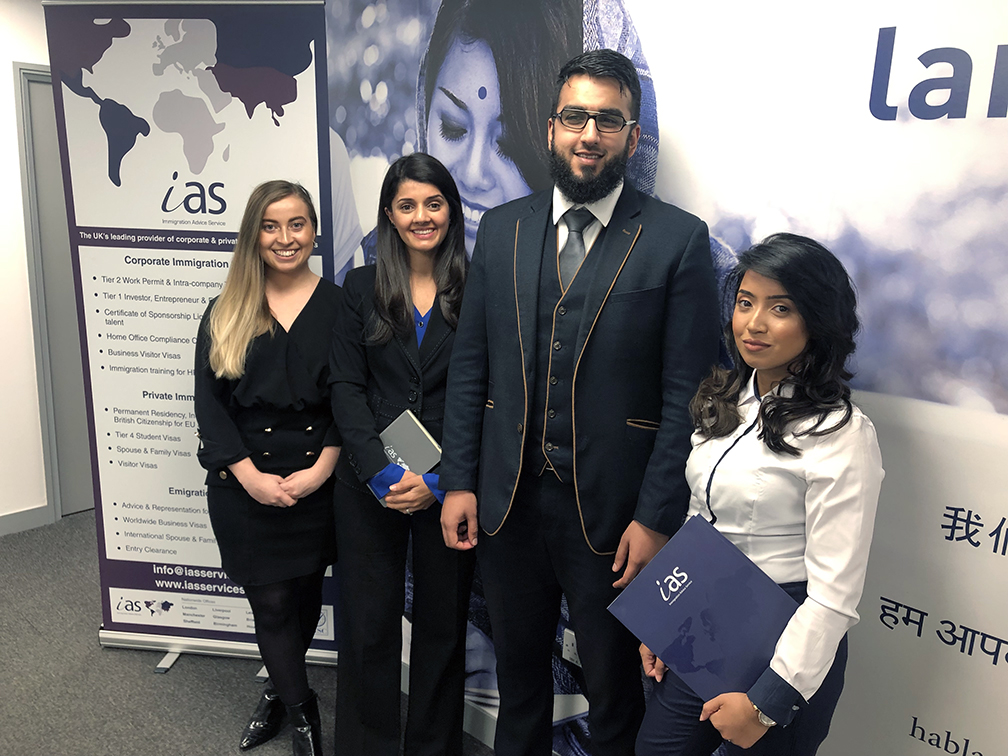 The Advice Package
During this untimed Advice Session with our professional immigration lawyers in London, you will receive our comprehensive advice, completely tailored to your needs and your situation.
Request the Advice Package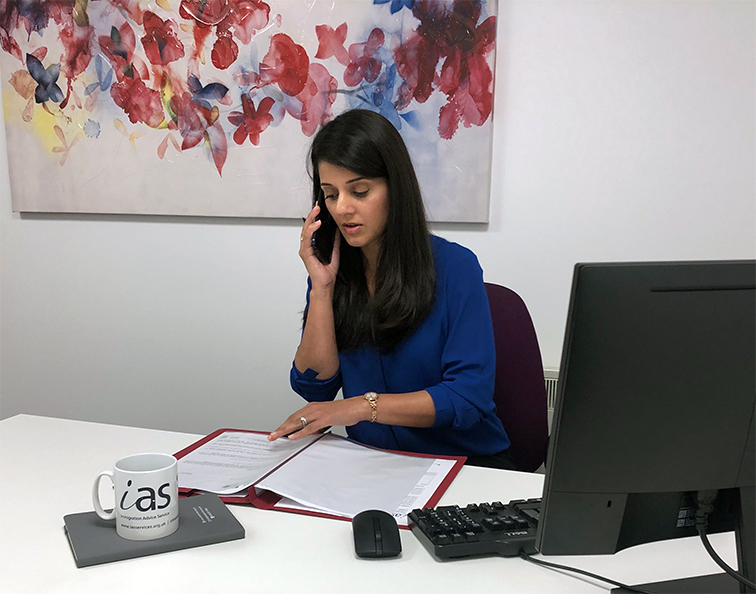 The Application Package
With our Application Package, your dedicated immigration lawyer will advise you on your application process and eligibility. Your caseworker will then complete and submit your forms to the Home Office on your behalf.
Request the Application Package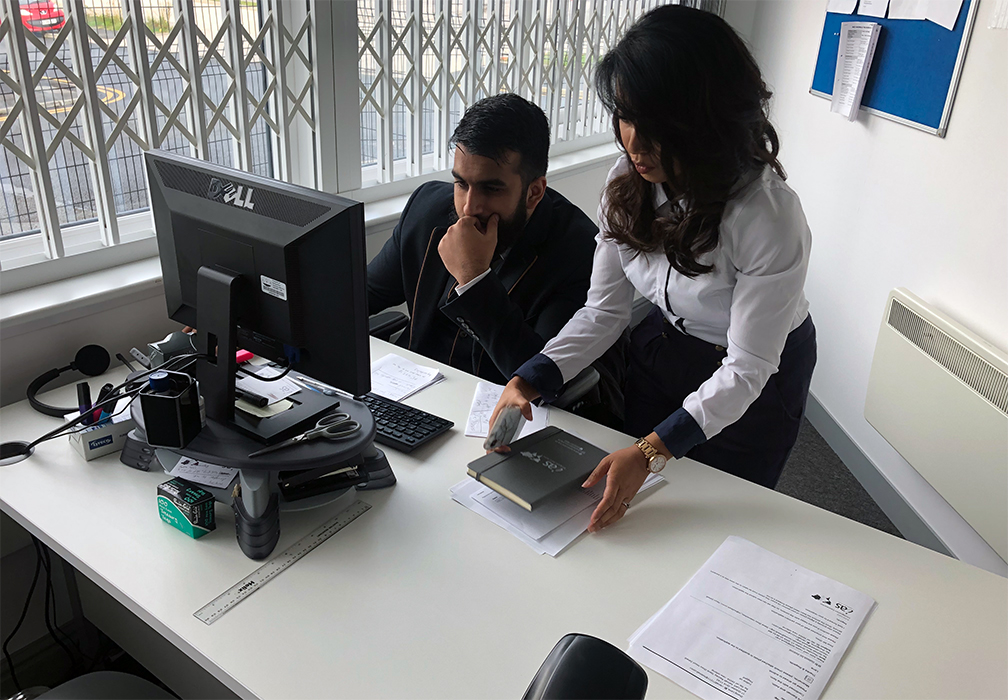 The Fast Track Package
Our Fast-Track Application Package is a premium service for those who need to submit their application in time with their deadlines. Your case will become a top priority for our lawyers and you will benefit from our highest-quality services.
Request the Fast Track Package
The Appeal Package
By choosing our Appeal Package, you can rely on our lawyers' legal knowledge and experience to ensure you have the highest chance of a successful appeal. We will also fully represent you in any hearings/tribunals.
Request the Appeal Package
Related pages for your continued reading.
Frequently Asked Questions
Once your application is approved and you have successfully attended your interview, you will be free to travel to the United States. When you reach the port of entry an immigration official will authorize your admission to the United States. If you are eligible for admission you will be admitted for the time needed to conduct your business activities up to the maximum period, although your B1 Business Visitor Visa may actually be valid for longer than this time.
The maximum initial period of stay for the B1 Business Visitor Visa is six months.
How long your B1 Business Visitor Visa is valid vary. Generally, it can range from 1 month to 10 years. The allowed period of stay will be recorded by the Customs and Border Protection officer at the U.S. port of entry on the I-94 Form.
If you need to stay beyond the time given, you must additionally file Form I-539, Application to Extend/Change Nonimmigrant Status. Additional supporting documents may be required to be submitted to USCIS. This must be filed before your B1 Business Visitor Visa expires.
If the United States Citizenship and Immigration Services (USCIS) approves your supporting documents, you will be granted a B1 visa extension for up to a further six months. The total maximum allowable stay is one year in total.
It is important not to overstay your visa for any length of time. According to the Immigration and Nationality Act (INA), failure to leave the United States before your visa's expiration can result in you becoming ineligible for both non-immigrant and immigrant visas in the future.
Fees associated with the B1 Business Visitor Visa are mainly:
$160 Application Fee
Fees Associated With Obtaining Documents From Third Parties (such as accountants or translators)
You will need to pay the application fee prior to your visa interview. It is non-refundable and needs to be paid each time you apply for a B1 Business Visitor Visa.