EB4 Visa for Irish Citizens & Residents
The EB4 Visa is the fourth priority workers visa that allows Irish immigrants to move to the US permanently. This visa allows 'special immigrants' to move to the US for employment purposes.
If you need assistance with your visa application, feel free to call us on  (+353) 061 518 025, or you can request a call back through our live chat feature.
What is the EB4 visa
The EB4 Visa is an employment-specific immigrant visa that allows specific Irish immigrants (foreign nationals) to move to the US permanently.
The EB4 visa for Irish citizens allows for 'special immigrants' to move to the US for work. In this instance, special immigrants are defined as Irish citizens who are members of a not-for-profit, religious denomination in the US.
An EB4 Visa allows an Irish worker to apply to become a lawful permanent resident after having lived in the United States for five years. This may be the right route for you to take if you wish to move yourself and your family and settle permanently in the United States.
If you are already in the US, you may be able to adjust your status from a non-immigrant status to an EB4 Visa.
If you have any questions regarding the EB4 Visa or other citizenship and immigration services, you can contact our experienced immigration attorney to discuss any concerns you may have, or for some help navigating the application process.
You can call us on (+353) 061 518 025, or contact us online seven days a week via our live chat.
"I'm very happy with the standard of training received on the OISC Level 1 course, i passed my exam. Thank you!"
"My application was approved and a huge weight has been lifted from our shoulders this year "
"We used this service for the spouse visa extension application to assure that all the information was valid and correct."
Who is eligible for the EB4 immigrant visa?
The EB4 is a visa category reserved for special immigrants and it is accessible to a wide variety of Irish citizens, including:
Religious workers who have worked for a minimum of 2 years in a recognized non-profit religious organization in the United States.
Irish citizen journalists who are coming to work for the United States Agency for Global Media.
Retired G-4 Irish citizen officers or NATO-6 civilian employees and their families.
Foreign-based US federal employees and their families
Employees of the Panama Canal Company or the Panama Canal Zone
Certain licensed physicians and medics in the United States as of January 9th, 1978
Unmarried juveniles (under the age of 21) living in the United States that depend on the juvenile court due to neglect, abandonment, etc.
Iraqi or Afghan translators or interpreters for the U.S. military
Iraqis who worked for the U.S. government for at least one year and who are under serious threat or Afghans who worked for the U.S. or the ISAF (ISAF)
Who qualifies as a religious worker?
A religious worker is someone who is authorized by a recognized religious denomination to conduct religious activities. This includes:
Minister
Priests
Rabbis
Salaried Buddhist monks
Practitioners and nurses of the Christian Science Church,
Commissioned officers of the Salvation Army
Ordained deacons
Liturgical workers
Religious instructors,
Religious counsellors
Cantors
Catechists
Workers in religious hospitals or religious health care facilities
Missionaries
Religious translators or religious broadcasters.
It does not include workers performing nonreligious functions such as maintenance workers, receptionists or clerical staff, fundraising and development staff, or singers. It also does not extend to volunteers.
How Irish Citizens that are eligible can apply for the EB4 Visa 
To apply for an EB4 visa, applicants need to prove they have a valid job offer from a US employer that is not seasonal or temporary, and within their area of expertise.
The majority of EB4 visa applicants must have their employer file a petition on their behalf. Only in rare instances, which is defined as cases of parents, children and spouses of abusive American citizens, can a person self-petition and file a Form I-360 on their behalf.
As such, the large majority of applicants will have their employer petition for them. This application is as follows:
Your US employer must submit a petition for approval from USCIS by The filing Form I-360: Petition for Amerasian, Widow(er) or Special Immigrant. Upon submitting this form, the employer must include documentation to prove the eligibility to hire and the financial means to support you.
Documents they may have to provide include their tax returns, financial statements, and proof of employment offer.
Upon approval of your employer's petition, the case will be transferred to the National Visa Centre (NVC), at which point you will receive a welcome notice, the case number, ID number and invoice ID number.
You must then apply for the EB4 visa by completing Form DS-260: Immigrant Visa and Alien Registration Application, and form DS-261: Online Choice of Address and Agent. The DS-261 is a form that tells the Department of State your preferred method of communication for the process. All fees must be paid, which at this stage is $220, and you should save all confirmation recipients in a safe place.
Supporting Documents
For your application for an EB4 Visa, you will need to provide the supporting documents:
A passport that is valid for more than six months after you depart from Ireland and arrive in the US
Approved petition form I-360
2x photographs that meet the US visa photograph standards
Proof of medical examination and vaccination records
Copies of any court or criminal records
Birth and marriage certificates (if applicable)
Any other document requested of you
These documents will need to be scanned and uploaded onto the online portal in JPG or PDF format, not exceeding 2 MB in size.
Documents should be coloured, and well oriented. Be sure to upload all documents asked, as without, your application could experience delays. Paperwork should not be mailed by post unless you receive specific instructions to do so.
Documents for Religious Skilled Workers
Religious, skilled workers required documents include:
The required documents for religious workers attempting to enter the US on an EB4 visa include the following:
A valid determination letter from the IRS that establishes that the religious organisation is a tax-exempt organisation
Evidence of the religious nature and purpose of said organisation
An employer attestation and a completed certification signed and dated by an authorised official of the petitioner
Substantial evidence of how the employer intends to compensate the applicant, for both salaried and non-salaried compensation
Potential evidence that the beneficiary has been working after having turned 14 in a religious position in Ireland, for at least two years before the petition
Evidence of the beneficiaries qualification to perform the duties of the proposed job whilst in the US
As there are so many categories that fall under the EB4 Visa, it would be best to contact our professional immigration lawyers to find out the exact documents that you will need, as well as any other criteria that you must meet for whichever EB4 Visa you choose that applies to you and your circumstances.
The visa interview
The visa interview is the final step in the EB4 Visa application process. This interview should occur at the US Embassy in Dublin, unless you are already in the US, in which case you will be interviewed at a local USCIS office instead. If you are in America already, you will not need to travel back to Ireland for your interview.
The purpose of the interview is to establish your eligibility. If you have any dependents that will be moving to the US with you, they must attend, unless the child is under the age of 14.
Should the immigration officer be satisfied with your responses and documentation, they may approve your visa application on the spot. If this is the case, you will be provided with a sealed packet which you must not open at any stage and should be provided to the immigration control at the point of entry when you arrive in the US.
The costs of the EB4 Visa
The exact fees paid will depend on if you're self-petitioning, or if you're being petitioned by a valid U.S. employer. General fees, which can all be paid online, include:
USCIS Form I-360 petition filing fee (if self-petitioning): $435
Biometrics fee (if required): $85
USCIS Immigrant fee: $220
You will also likely have to pay for your medication examination and vaccinations. There are fees associated with a translator for your interview should you require one.
As all of the documents you need to provide in the application must be in English, you may have to pay to get the documents translated, if applicable. Additional costs may also incur, dependent on the EB4 Visa category you're applying for.
Processing time for the EB4 visa
The processing time of any visa will vary depending on which country you are applying from, and whether or not there is a USCIS backlog of visa applications.
The EB4 Visa processing time will also depend on the time it takes for your priority spot to become available in the Visa Bulletin.
As it is a capped visa with an annual quota, the process may take several years from beginning to end.
Also, incorrect documents, an incomplete application, or an error at any point in the application process can result in a delay. You can see the assistance of expert immigration lawyers to prevent this. Call us today on  (+353) 061 518 025.
Can dependents go to America with the EB4 visa holder?
Upon successfully obtaining an EB4 Visa, your immediate relatives, or dependents, from Ireland may join you in the United States.
Dependents are defined as your legally recognized spouse or civil partner, and any unmarried children under the age of 21. Unfortunately, this does not extend to parents, grandparents, or siblings of the primary EB4 Visa holder.
The spouse of an EB4 Visa holder under all subcategories can apply for an Employment Authorisation Document bracket (EAD), which grants them the right to work within the United States, while they are there with you.
Advice Package
Comprehensive immigration advice tailored to your circumstances and goals.
Application Package
Designed to make your visa application as smooth and stress-free as possible.

Fast Track Package
Premium application service that ensures your visa application is submitted to meet your deadline.
Appeal Package
Ensure you have the greatest chance of a successful appeal. We will represent you in any case.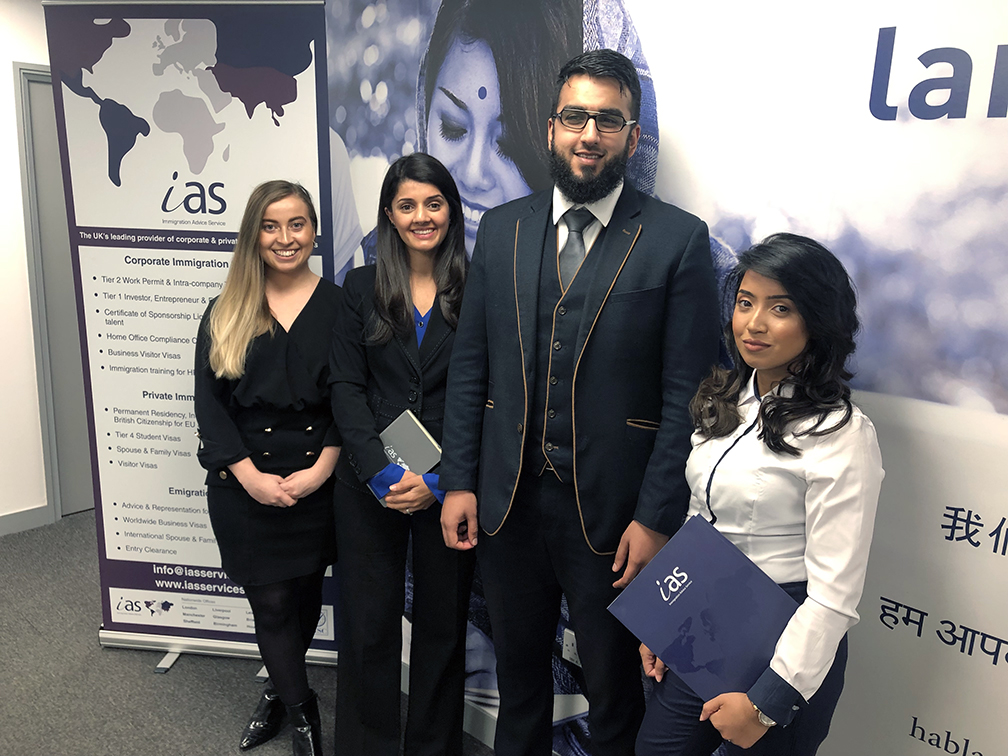 The Advice Package
During this untimed Advice Session with our professional immigration lawyers in London, you will receive our comprehensive advice, completely tailored to your needs and your situation.
Request the Advice Package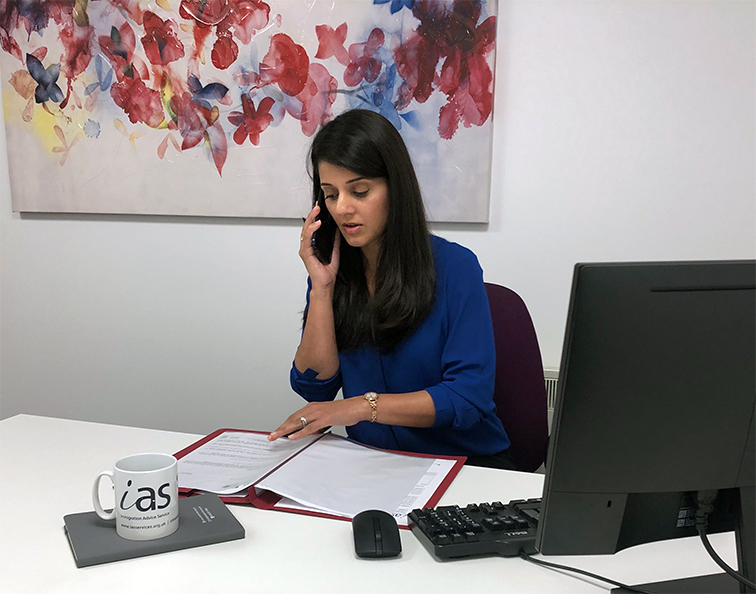 The Application Package
With our Application Package, your dedicated immigration lawyer will advise you on your application process and eligibility. Your caseworker will then complete and submit your forms to the Home Office on your behalf.
Request the Application Package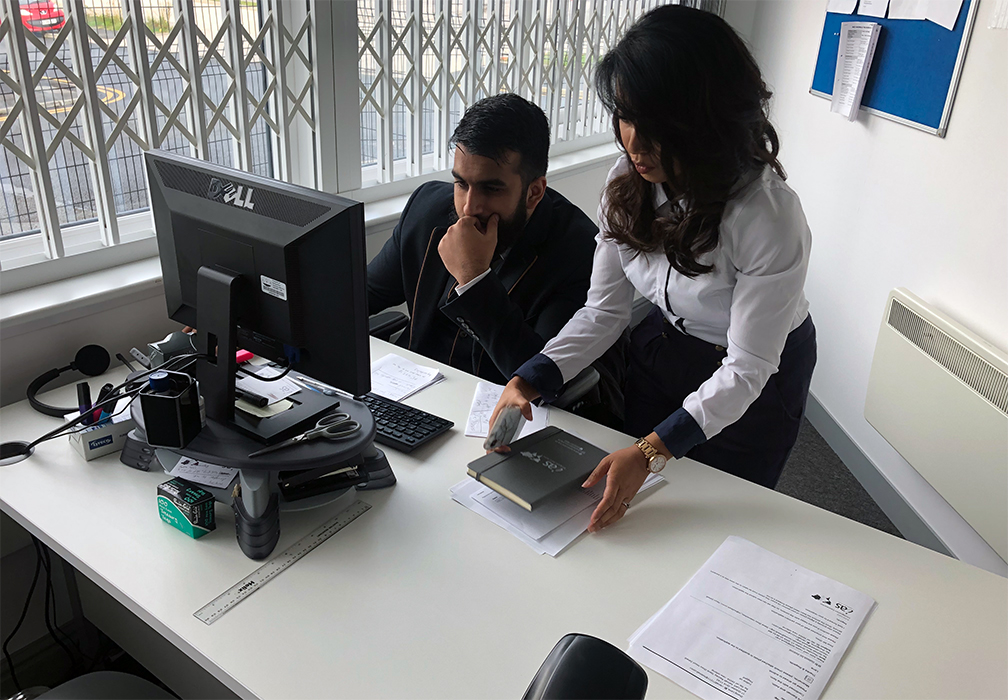 The Fast Track Package
Our Fast-Track Application Package is a premium service for those who need to submit their application in time with their deadlines. Your case will become a top priority for our lawyers and you will benefit from our highest-quality services.
Request the Fast Track Package
The Appeal Package
By choosing our Appeal Package, you can rely on our lawyers' legal knowledge and experience to ensure you have the highest chance of a successful appeal. We will also fully represent you in any hearings/tribunals.
Request the Appeal Package
Related pages for your continued reading.
Frequently Asked Questions
'Minister' means an individual duly authorised by a recognized religious denomination to conduct religious worship and to perform other duties, usually performed by authorised members of the clergy of that religion. In all cases, there must be a reasonable connection between the activities performed and the religious calling of the minister.
Yes, you must have compensation, and you must intend to receive compensation for your position with the petitioning employer. This can be either salary or non-salary pay. Your employer must attest that it has the intent and capability to pay sufficiently so you will not become a public services "burden."
Yes,  EB-4s are permitted to bring their legal spouse, civil partner and unmarried children(s) under the age of 21 to the United States.
Yes, you can access and receive medical care in the U.S. with an EB4 visa. It is important to note that the cost of medical care in the United States is among the highest in the world.
Regardless of the type of visa you select for your circumstances, the best step is to get in touch with the team at Total Law, so you know that you are guaranteed the right path, and stand for a much higher success rate for your immigration application. You can contact us seven days a week, either on the phone or by using the online chat function to speak with one of our client care agents.