Canada Student Visa From Nigeria
Getting a Canada student visa from Nigeria can be easy if you follow the guidelines correctly. The Canadian Visa Application Centre (CVAC) is authorised to accept applications and process Canada student visas from Nigerian citizens. Talk with our immigration lawyers for expert advice regarding Canada student visa.
For more information about Canada student visa from Nigeria, call us on +44 (0)333 305 9375 or contact us online for immediate assistance.
Overview of Canada Student Visa From Nigeria
The Canada student visa is a visitors' permit (officially called a study permit) that allows Nigerian students to come, stay, and study within Canada. Nigerians interested in getting a Canada student visa can do so in Nigeria only when they provide all the required documents.
Total Law lawyers can ensure your application has the correct information to get a Canadian study visa for Nigerian citizens.
A significant number of international students in Canada are from Nigeria. Nigerians who want to study in Canada would benefit from it as Canada offers many benefits for international prospective students such as great educational facilities, as well as strong employment opportunities.
However, in order to get a Canada Visa from Nigeria, you need to meet certain requirements, apply appropriately, pay the required fees, and meet other financial obligations. This is why you may need an immigration lawyer to help you with your visa application.
"I'm very happy with the standard of training received on the OISC Level 1 course, i passed my exam. Thank you!"
"My application was approved and a huge weight has been lifted from our shoulders this year "
"We used this service for the spouse visa extension application to assure that all the information was valid and correct."
Types of Canada Student Visas
The Canada student visas come in two forms, depending on your course duration. They include:
A student visa for students whose course duration lasts longer than six months.
A valid visitor visa, often known as a temporary resident visa, if your course duration lasts less than six months.
Eligibility Criteria for Canada Student Visa
To be eligible for a Canada student visa from Nigeria, you need to meet certain criteria. They include:
Proof of your good health, in the form of a health checkup certificate.
No involvement in immigration-related or criminal convictions.
Possess a Designated Learning Institution (DLI) letter of admission.
Proof of sufficient finances to cover your whole tuition and living expenses.
Evidence that you will leave Canada once you've finished your studies.
Canada Student Visa Process
In order to get a Canada student visa, you need to do certain things, you will have to:
Get an acceptance letter from a DLI in Canada.
Apply online for the study permit.
Obtain the letter of introduction, which includes the reference number for your study permit.
Document the receipt of your visa application after making payments.
Do a medical checkup with a panel doctor registered in your country.
Provide your Immigration Medical Exam (IME) results.
Canada Student Visa Processing Time
Although there is no set amount of time, the processing time for a Canada student visa typically takes 90 days. Within 20 days, the processing time might also be completed. However, the situation in Nigeria has the greatest influence on the processing time.
How to Apply for the Canada Student Visa From Nigeria?
In order to get a Canada student visa from Nigeria, you need to follow a step-by-step guide and application process.
Gaining Admission
Apply for admission at a Canadian college or university. It is crucial to obtain admission initially because obtaining a letter of admission and acceptance from a Canadian university is one of the fundamental conditions for applying for a student visa in Canada.
Gathering Supporting Documents
Complete the student permission form. Afterward, get all the aforementioned documents. These documents are significant because they serve as your representation at the embassy. Each document should be photocopied, and if at all possible, it should be scanned into an electronic device, such as a computer or flash drive.
Applying for the Canada Student Visa From Nigeria
Nigerian students who need a student visa to study in Canada will have to:
Apply online or on paper for a Canada student visa. You'd need to visit a visa application centre in Nigeria to submit your documents if you applied on paper.
Provide biometrics. Despite how you choose to apply, your biometrics will be required at the visa application centre.
Be invited for a visa interview. Depending on your situation, there's a possibility you'll be invited for a visa interview after the analysis of your application.
Travel to the United Kingdom, London, and undergo a medical examination by a certified medical officer.
After Submitting at the Visa Application Centre
Your application will be processed after you have made the necessary payments and received a receipt with a tracking number. The tracking number will be used to monitor the status of your visa application. Be prepared for an interview as well.
Tracking Your Application Online
Online tracking of your application will help you to follow the progress of your application and know when you can pick up your passport.
Collecting Your Passport
The next step is to go to the VFS-managed visa application centre to pick up your visa once it is issued. It should be noted that you will receive a notification when it is ready for pickup.
What Are the Canada Student Visa Requirements for Nigerian Citizens?
Nigerian citizens need to meet some requirements in order to make their visa application process easy. They include:
Your two most recently captured colour photographs. Ensure your entire face can be seen in the photographs. Additionally, it must be captured clearly on a plain background and its size should be between 35 to 40 mm.
The original and photocopy of your Nigerian passport. Your passport must at least have two blank spaces and at least a six-month validity of your stay in Canada.
Present your flight reservation ticket, showing the date and time of your arrival in Canada.
Show a confirmation of your hotel reservation if your school has no provision for accommodation.
Get your cover or motivation letter that shows the consular officer how passionate you are about your course of study and why your application is worthy to be granted.
Provide your proof of acceptance given to you by the Canadian institution that has offered you admission. You should also include this in your student permit application.
Get a medical report showing your medical history and of course, the proof of your good health.
Proof of your financial capabilities to support yourself financially while studying in Canada. The authorities of Canada expect you to have about $11,000 (CAD) for your upkeep apart from your tuition fee payment. This may come in the form of a bank statement of account. However, you must include a sponsorship affidavit in your document if you have the bank statement of your sponsor.
Bring certificates of your social ties. This includes the birth certificates of your child (if applicable) and your marriage certificate (if you're married).
Get an introduction letter from your employer.
Bring all the certificates of the previous institutions you have attended. Additionally, you can bring transcripts and other evidence showing your earlier attendance at other institutions before your application.
Canada Study Permit Application
You can start off your application for a Canadian study permit once you have been accepted and enrolled in your University of choice.
You have two options for applying for a study permit in Canada: online or in person at a visa application centre in your home country.
It is important that you submit an application for a study visa as soon as you obtain an acceptance letter from a Canadian institution or university. The time it takes to get a study permit might range from one to three months, depending on the nation where you are applying.
Normally, a study permit needs to be applied for before you enter Canada. However, it is occasionally possible to apply for a study permit from within Canada. In some situations, you may be able to apply at the Canadian port of entry but be sure of the options you have.
How to Get a Study Permit in Canada?
To obtain a study permit in Canada you'll need:
A valid travel document or passport.
An acceptance letter from a DLI.
Ensure that the institution you want to attend (either college or university) is on the DLI list.
A study permit will be issued to you for the duration of the courses you need to take in order to be admitted to your programme. Apply to extend your permit when you have been accepted into the programme of your choice by the college or university.
Current provincial regulations state that if you intend to enrol in a college or university in Quebec, you can only do so at a designated learning institution selected by the Quebec government. And the Canadian government also has to provide you with a study permit to study in Quebec.
Canada Student Visa Fees
Students who plan to remain for less than six months will pay a fee different from the one paid by those who plan to stay for more than six months. The student visa fees include:
CAN$150 application fee for the Canadian Study permit. The Canadian authorities may allow you to pay this fee through a bank transfer, online or at a visa application centre in Nigeria depending on your situation.
CAN$85 if your course lasts less than six months.
CAN$150 if your course lasts longer than six months. Plus, a service fee of CAN$45 and CAN$85 for biometrics.
CAN$350 for restoration of student status (your status restoration CAN$200, and CAN$150 for a new study permit).
Travel costs to London for your medical examination.
Payments for the medical examination (if needed).
What Is a Statement of Purpose (SOP) for Canada Study Permit?
In order to study in Canada, an applicant must submit an SOP to the university as well as during the immigration process.
Overview
The SOP for a Canada Study Visa is an essay in which you describe your educational objectives, post-study plans, and the factors that influenced your decision to enrol in the specific programme and university.
You may also use the same Statement of Purpose for both your university admissions and visa applications.
What You Should Include in a Statement of Purpose?
There are some things you need to include in your statement of purpose to make it strong and effective. They include:
Personal background
Academic details
Financial background
Professional experience (full/part-time, voluntary)
Why you wish to study at the institution of your choice.
Immediate and long-term goals.
Why you're interested in the chosen field.
About extra-curricular activities.
Papers submitted (if any).
Published works (if any).
Interests, hobbies.
Tips for Writing a Strong and Effective Statement of Purpose
Consider the following tips in order to write a catchy statement of purpose. They include:
Make the information simple and stick to the overview.
Avoid compiling an exhaustive family history.
Keep your financial details private. You will need different documentation if you're applying for scholarships.
Write professionally and discuss life experiences rather than writing casually.
Do not use more than the required word count.
Be direct and avoid using flattering phrases.
Don't use too many technical terms.
Lying in your statement of purpose could get you rejected.
Avoid using coloured papers or creative fonts.
Don't say that the institution wasn't your first option in your essay.
Humour can backfire, so beware.
If you doubt you can write the statement of purpose by yourself, just reach out to our immigration lawyers at Total Law.
For expert guidance on how to write a strong and effective statement of purpose you can contact us online or call us on +44 (0)333 305 9375.
Documents Required for Canada Student Visa
One of the essential things you need to prove when applying for your visa is that you can support yourself financially during your study in Canada.
You will be required to prove that you can pay CAN$833 if you are going to study in any other province except Quebec and CAN$917 either from your bank account or from an external source if you want to study in Quebec.
Nigerian students won't need to provide documentation that they speak English fluently enough to enrol in a Canadian international university. Nonetheless, these language skills can help you adapt in Canada and certainly help you in classes.
Before arriving in Canada you are required to take a medical checkup.
Students from Nigeria won't have to open a Restricted Bank Account.
The amount of money you may withdraw from this kind of bank account each month is capped, and you can only access it after you get to Canada.
How to Choose a Course of Study in Canada
To choose the right course of study in Canada, there are some factors you need to consider.
Your Personal and Professional Goals
You need to consider your short, medium and long term goals in order to choose the course of study that is in line with your goals. Therefore, you should know:
Why you are in Canada
Whether you want to gain work experience.
If you aim to earn a higher income
If you aim to extend your stay in Canada.
There isn't much purpose in taking a course unless it prepares you for a rewarding and successful profession.
You must carefully examine the type of career you want to pursue if learning is your motivation for changing your career path.
Ensure Your College of Choice is Certified by Canadian Government
The number of people who ultimately struggle with this issue will surprise you. Remember that as an international student, the basis for your student visa is that you are enrolled in a study programme with a specific set of requirements at an institution recognised by the Canadian government.
On some occasions, the immigration process has confused a lot of people. You must, however, confirm that the Canadian college you have selected is valid for your visa.
Do Your Research
Make a list of potential courses and do research on each one. Information can be obtained on the internet, online courses and brochures provided by various colleges or universities, or even from family and friends. Visit college websites to learn more about the disciplines covered in your course as well as the details of each module's content.
Check their Academic Offer
As you already know what your professional project in Canada will be, therefore, you should know the college that has the requirements needed for you to apply as an international student. Additionally, you should know if they offer the kinds of studies that interest you, and the best places for you to study (a certain city or area).
How Can Total Law Help?
To get a Canada student visa from Nigeria, you'll need to follow a step-by-step guide. Also, there are other rigorous processes involved that might become confusing along the way. Because of this, you must be very careful while providing all the required documents and meeting financial obligations involved.
Additionally, you have to include a well-written statement of purpose in your document while applying for a student permit. You might not really know how to craft a strong and effective SOP that will give you a chance to have your visa granted.
We recommend you seek expert guidance from our immigration lawyers at Total Law in order to help you out. This is because your application may be rejected if you don't have a good SOP or follow the application guidelines provided by the Refugee and Citizenship Canada (IRCC). If this happens, it means you'll need to pay for re-application costs, visa appeals, not to mention the stress of re-applying for another Canada student visa from Nigeria.
For more information about a Canada student visa from Nigeria, reach out to a member of our team today. Contact us online or call us on +44 (0)333 305 9375.
Advice Package
Comprehensive immigration advice tailored to your circumstances and goals.
Application Package
Designed to make your visa application as smooth and stress-free as possible.

Fast Track Package
Premium application service that ensures your visa application is submitted to meet your deadline.
Appeal Package
Ensure you have the greatest chance of a successful appeal. We will represent you in any case.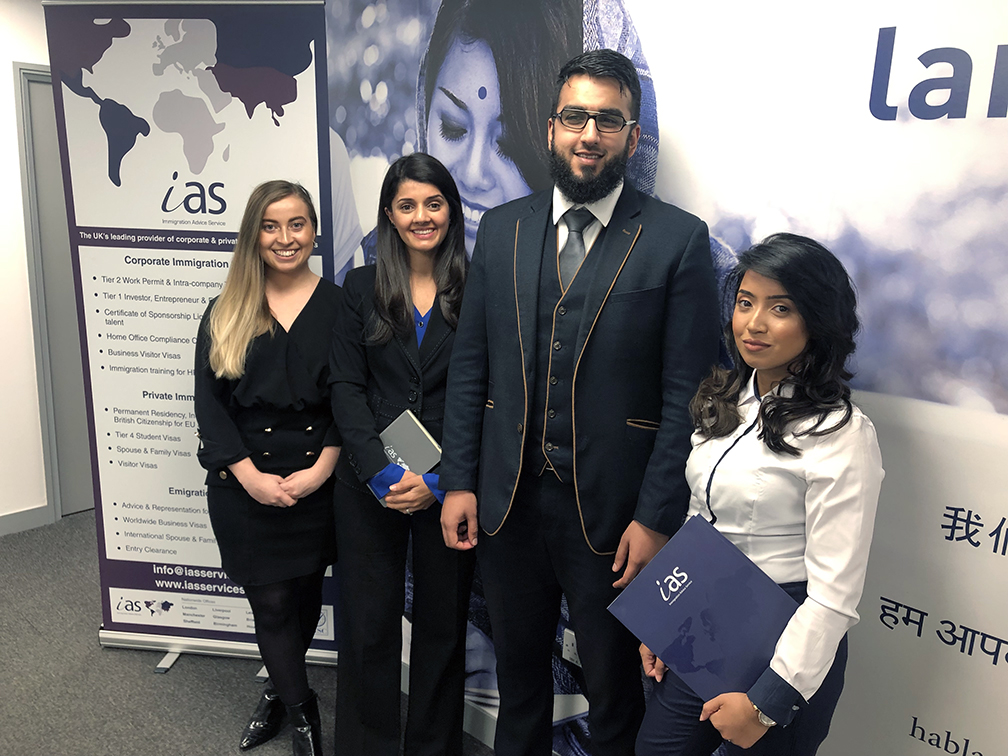 The Advice Package
During this untimed Advice Session with our professional immigration lawyers in London, you will receive our comprehensive advice, completely tailored to your needs and your situation.
Request the Advice Package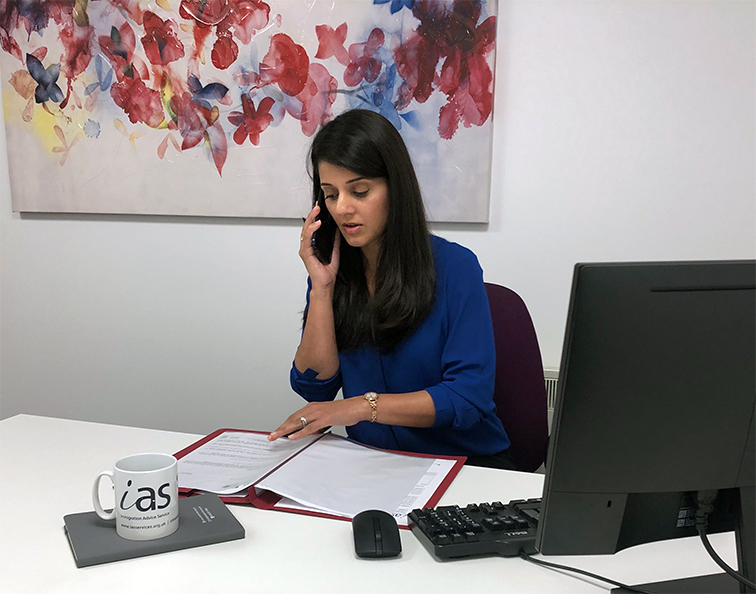 The Application Package
With our Application Package, your dedicated immigration lawyer will advise you on your application process and eligibility. Your caseworker will then complete and submit your forms to the Home Office on your behalf.
Request the Application Package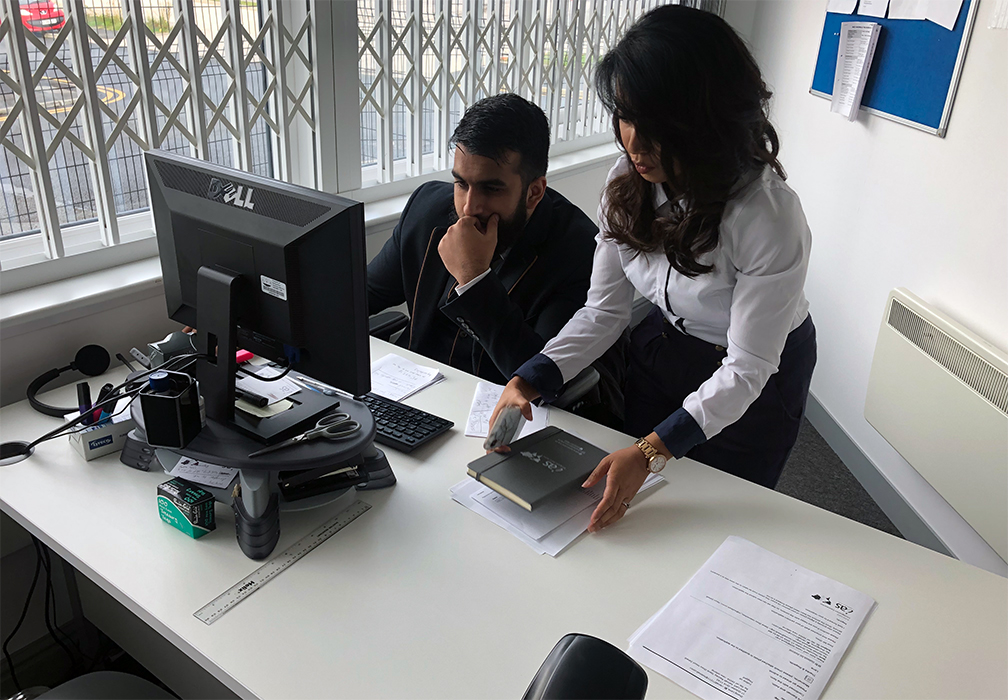 The Fast Track Package
Our Fast-Track Application Package is a premium service for those who need to submit their application in time with their deadlines. Your case will become a top priority for our lawyers and you will benefit from our highest-quality services.
Request the Fast Track Package
The Appeal Package
By choosing our Appeal Package, you can rely on our lawyers' legal knowledge and experience to ensure you have the highest chance of a successful appeal. We will also fully represent you in any hearings/tribunals.
Request the Appeal Package
Related pages for your continued reading.
Frequently Asked Questions
Ensure you give your visa application extra time, but you can begin your application for the Canadian student visa as soon as you have been admitted to and enrolled in the university of your choice. You should apply for your university degree programme 4-6 months before it begins. Therefore, anticipate waiting approximately 112 days after applying for the decision.
For the Canada Visitor Visa, Nigerian travellers must pay a normal processing price of USD84.99 through iVisa with the government fee excluded.
Your tuition costs will vary depending on the degree programme and institution or school you choose. You will need between CAN$13,000 and CAN$40,000 to cover this per year.
NECO or WAEC certifications are widely recognised and accepted in Canada, so you can use them to study in Canada without further A-level qualifications in order to engage in undergraduate courses.
There is no specific age limit to get a Canadian student visa.