Canada PR from the United Arab Emirates
The United Arab Emirates is known as a country of immigrants, with 7.8 million migrants in a population of 9.2 million. However, thousands also choose to migrate away from Dubai each year, and Canada is a popular destination.
The Permanent Resident status is one of the best ways to do this, and you can find out more about the process by reading this article and contacting our expert immigration advisors at Total Law online or at +44 (0)333 305 9375.
Overview of the PR UAE Residents to Canada
Since 2017, over 7,500 Express Entry Invitations to Apply (ITA) have been given to residents of the United Arab Emirates. The UAE resident can apply for permanent residence after receiving this crucial documentation. This gives them all the key rights required to live a fantastic life in Canada.
Why Move to Canada from Dubai
Canada is a highly popular country for migrants from the United Arab Emirates to travel to, primarily because of the economic opportunities that can be found there in skilled sectors. Canada is one of the leading countries for ICT, health, science, and engineering. Many experts in these fields from the UAE choose Canada as a way to make an excellent living.
Canada is also popular because it is a society with a great standard of living and very happy people. LGBTQ+ people may also feel comfortable in Canada as they were one of the earliest nations to legalise same sex marriage (2005).
Finally, Canada is a great place for people from the Arab world to find communities of people with a similar origin. There are currently 350,000 people of Arab origin living in Canada, or just over 1% of the population. Furthermore, you will be able to find religious affinity inside Canada. This is because Islam is the second most popular religion, followed by 4.9% of the population (1.8 million).
"I'm very happy with the standard of training received on the OISC Level 1 course, i passed my exam. Thank you!"
"My application was approved and a huge weight has been lifted from our shoulders this year "
"We used this service for the spouse visa extension application to assure that all the information was valid and correct."
Requirements to Immigrate to Canada from the United Arab Emirates
The exact requirements to get PR in Canada vary depending on the type of immigrant most relevant to your situation. However, you can expect to have to fulfill the following demands:
Possessing a minimum of a post-secondary diploma or degree.
Be at least 18 years old.
Have worked for at least one year in the last ten.
Score CLB-4 (fluent basic) in an English language test. This means you can speak in short sentences and maintain a conversation with some difficulties.
Have enough money to settle in Canada.
It will also be helpful for your application if you already have a job offer, but this is not always necessary.
Rights Under Permanent Residence for Migrants to Canada from the UAE
PR in Canada is so popular because it gives people from the UAE access to nearly as many rights as full Canadian citizens. These benefits vary slightly depending on what province you are living in, but the general rights include the following:
The right to live, work, and study anywhere in Canada.
Access to the publicly funded healthcare system.
Access to social benefits like the Canada Pension Plan.
Protection under Canadian laws against discrimination and persecution.
The right to freely travel for short-term periods outside Canada without losing your right to permanent residency.
These rights are secured for the five years that your PR Card is valid for. You can renew your PR Card at the end of the five years and continue enjoying these rights so long as you can prove that you remained in Canada for at least 730 days as a permanent resident.
Keeping hold of these rights is also conditional on properly following Canadian laws and fulfilling your tax obligations.
Applying for PR in Canada
Applying for PR in Canada can be slightly confusing as there are multiple different types of applications, each of which has a slightly different way of applying. Furthermore, each province of Canada runs its own immigration system to target the demands of its own labor market. We break down this complexity in the following section.
Types of PR Application
You can make several different types of applications to earn PR in Canada. Each one has different demands and varies greatly in terms of how competitive they are. The main types of PR to be aware of are as follows:
Federal Economic Class
Provincial Economic Class
Quebec Immigration
Business Immigration
Transfer from Temporary Residence
Family Class Sponsorship.
Generally, these applications will take around 6-8 months to process, but you can expect the Family Class Sponsorship to be slightly faster than the other forms of PR.
Overview
Due to the growing community from Dubai that are located in Canada, you might have family that are already permanent residents or Canadian citizens. There is a range of different relations that you will be able to sponsor for a PR visa which includes the following:
Children (adopted or biological).
Your spouse.
Parents.
Grandparents.
What are the Requirements to Become a Sponsor?
Your family member must fulfill a range of requirements to be able to sponsor you for a PR visa. Firstly, they need to be a Canadian citizen or permanent resident. They also need to be over 18 years old.
Next, they must be able to support you by matching the following requirements:
Ability to support you financially from the point of arrival.
Ability to meet your basic needs for food, shelter, and clothing.
Ensuring that you don't need social assistance.
How to Apply to be a Sponsor?
Having confirmed that they meet the requirements to sponsor you, your family member must apply to become a sponsor.
They will need to register as a potential sponsor with the Immigration and Refugee Board of Canada. Thousands of potential sponsors are selected each year to accept 15,000 applications. Usually, over 20,000 are selected to apply.
Having been selected, you can complete your application online by filing various forms. A filing fee of $850 will apply for adult applicants and $230 for child applicants. If your application is successful, you must pay a further Right of Permanent Residence fee of $515.
What Forms Will I Need to Complete for Family Sponsorship for a Permanent Residency?
Your sponsor must submit an array of forms during the application to prove that they are appropriately positioned to sponsor you. The forms include the following:
Your invitation to apply letter includes a confirmation number.
Application to Sponsor, Sponsor Agreement, and Undertaking (IMM 1344). This is the formal application for your family member to sponsor you and it needs to be signed by both of you.
Financial evaluation (IMM 1283). This form confirms that your family member has sufficient finances to support you.
Medical Condition Statement (IMM 0133). This document confirms that you are healthy enough to move to Canada and don't carry infectious diseases.
Statutory Declaration of Common-Law Union (IMM 5409). This document is only required if you are related through a common-law union.
When making your application, use the "Document Checklist" because missing documents can severely harm your application.
Also, note that forms can only be filled out by people that are over 18 years old. Children will need to have the form filled out by a parent, guardian, or representative on their behalf.
Other ways of getting access to a PR visa in Canada are heavily reliant on the Express Entry system, which decides who will get a chance to be a permanent resident in Canada. This is a points-based system that prioritizes skilled workers.
How Does Express Entry Work?
Under Express Entry, you must submit a profile before applying. Each profile will get a score on the Comprehensive Ranking System out of 1,200. The core factors which define how many points you will get are the following:
Age.
Education.
Work experience.
English or French language capabilities.
A job offer.
Transferability of your skills.
Circumstances surrounding your spouse or common-law partner.
Family in Canada, even if you are not applying to be a family-sponsored immigrant.
Sometimes, a province may support your application through the provincial nominee program. Being a beneficiary of this is worth 600 points.
All applicants that reach a minimum number of points will get an invitation to apply (ITA), which allows you to make a formal application and will outline the specific conditions that you are applying under.
Immigration Programs Eligible for Express Entry
There are currently three federal immigration programs that make use of the express entry system as part of the federal economic class programs. Once you have received your ITA, you must then make another application to whichever of these programs is most relevant for you.
The Federal Skilled Worker program also uses a points system. It is designed to find the ideal applicants for the most in-demand occupations in the nation.
The Federal Skilled Trades program is similar, but it is focused on managerial and supervisor positions in technical trades rather than desk-based occupations. Examples include transportation officers and controllers, supervisors in natural resources and agriculture, and aircraft assembly inspectors.
Finally, the Canadian Experience Class program is for those with at least 12 months of work experience in a job in TEER categories 0, 1, 2, or 3 in the National Occupation Classification. This category has no points system. Instead, you will either "pass" or "fail" its requirements.
These categories are complex, and each has very different and specific requirements. It can be hard to tell if your occupation and experience will apply. Our immigration advisors and lawyers at Total Law can provide the information you need to determine which program is most relevant for you. Call us at +44 (0)333 305 9375 to learn more about how we can help.
Making Your Application After a Successful Express Entry
Overview
After you receive your invitation to apply, you will get 60 days to submit your application and pay the initial filing fee of $850. After this, you must wait around six months for a decision. The application process has multiple stages, including the following:
Gather your documents
Register online and complete your application form.
Pay fees and submit your application.
Attend Interviews
Receive approval and pay fees.
Arrival in Canada from Dubai.
This exact process is described in more detail below.
Gather Your Documentation
Before you do anything, you must ensure you have all of the documentation needed for people from the UAE to apply for PR. The documentation you will need includes the following:
A valid passport issued by the government of the UAE.
Passport-style photographs of you.
Education documents and work experience documents proving that you have the skills and qualifications for whatever visa you are applying for.
Certificates from an accredited English language test to prove that you have a minimum CLB-4 level of English.
Your criminal record if you have broken the law in Dubai or any other country.
Medical examination results from an approved physician.
A current job offer if relevant.
Register Online and Complete Application Forms
Once you receive your express entry ITA, you have 60 days to submit your application. This begins with creating an account with Immigration, Refugees and Citizenship Canada.
Once your account is created, you will receive a personalized document checklist, which outlines the specific documents you must complete and submit. On top of these forms, if you are using a representative such as an immigration lawyer, you must submit a Use of a Representative form (IMM 5476).
It is possible to complete your documents in Arabic if you cannot read and write in English. However, you are required to submit them in English and French and will need to employ a certified translator to do so.
As of May 2023, the Government of Canada is undergoing labour disputes and disruption due to worker dissatisfaction. This may delay other aspects of your application but will not get in the way of you applying online and managing your online account.
Pay Fees and Submit Your Application
Once you have completed all your forms, you can submit them and pay the $850 filing fee. This can all be done from inside the online system.
With the forms submitted, it is time to wait for an answer. This takes an average of six months, depending on the complexity of your application and the state of the backlog. The IRCC maintains updates for average waiting times on their website, so check in with this when you apply.
Attend Interviews
While you are waiting to hear back about your application for permanent residence, you might be asked for an interview at a Canadian embassy or consulate. These are rare for Express Entry applications, being much more common for family sponsorship applications. However, good performance at the interview can define whether or not you receive PR in Canada, so you must stay prepared for an interview.
There is no set length for an interview, but the process will go much faster if you are well-prepared. Make sure that you come prepared with the following:
Any documentation you were asked to bring with you in the invitation for an interview.
Appropriate and smart dress to make sure you make a good first impression.
All information about your experience, qualification, and a job offer.
It might also be worth practicing the most common questions. These include the following:
Why do you want to move to Canada/Why do you want to migrate from Dubai?
What is your source of income?
What is the average cost of living in Canada?
Do you have any friends or family that are already in Canada?
Are you married, and do you have children?
What would you do if your application is not approved?
Receive Approval and Pay Fees
If you have completed your application properly and are applying for a program for which you have good eligibility, you will receive an online Confirmation of Permanent Residency (COPR).
To complete the process required to move to Canada, you must pay the final fee: Right of Permanent Residency Fee (RPRF). At the time of writing, this stood at $515.
Arrival in Canada from Dubai
With a successful application, you are now ready to bring your life to Canada from the UAE. When you arrive in Canada, present your passport and COPR to immigration officials at the border. They will then issue you a Permanent Resident Card, and you will be ready to settle in Canada permanently.
The Provincial Nominee Program
Overview
All of the forms of PR discussed so far are federal programs. However, Canadian provinces have some power over deciding who becomes a permanent resident in Canada through the Provincial Nominee Program.
Each province will have different permanent residence requirements and bring immigrants in via unique streams. These streams tend to target students, business people, skilled workers, and semi-skilled workers.
The Provincial Nominee Program is a way for people from the UAE to migrate to Canada as a beneficiary of the Express Entry system, but also for individuals who do not meet its requirements.
Provincial Nominee Program (PNP) for Express Entry Beneficiaries
There are two key ways to apply for PNP via the Express Entry system. The first is for people from the United Arab Emirates who have not yet applied for the Express Entry system. You must contact a province or territory you want to move to and apply for their nominations. If you win a nomination, you can begin Express Entry. Most candidates who can show a nomination from a province will automatically be successful.
Alternatively, you might get access to a provincial nomination as someone who has already created an Express Entry profile. If you score highly and have a sought-after specialism, a province might send you a "notification of interest." From here, you can apply for their nomination. If you are successful, they will send a nomination certificate to your account.
Provincial Nominee Program (PNP) for Non-Express Entry.
Getting a provincial nomination outside of the Express Entry program is also possible. However, this will have a substantially longer processing time and will require more research.
Each province has non-Express Entry streams where they seek workers who would not score well under Express Entry. You must find a stream that is relevant for you and appropriate for your skills, qualifications, and experience and follow the application process.
How Can Total Law Help?
Canada is an amazing place for skilled workers from the UAE to move to. It has a growing Middle Eastern population with plenty of opportunities to connect with your culture. Canadians are also very welcoming to immigrants, and you will easily be able to integrate with whatever local community you move into.
However, just because Canadians are welcoming does not mean the immigration system is easy to navigate. Getting permanent residency is a difficult process that heavily favors people with family already in Canada or who are leading professionals in their industry due to the Express Entry system.
Because of these difficulties, thousands of prospective Canadian migrants choose to employ the services of immigration lawyers and advisors to maximize their chances of success. Total Law is one of the best, with experience working closely with residents of the UAE to help them migrate to Canada. Contact us at +44 (0)333 305 9375 or online to find out how we can help.
Advice Package
Comprehensive immigration advice tailored to your circumstances and goals.
Application Package
Designed to make your visa application as smooth and stress-free as possible.

Fast Track Package
Premium application service that ensures your visa application is submitted to meet your deadline.
Appeal Package
Ensure you have the greatest chance of a successful appeal. We will represent you in any case.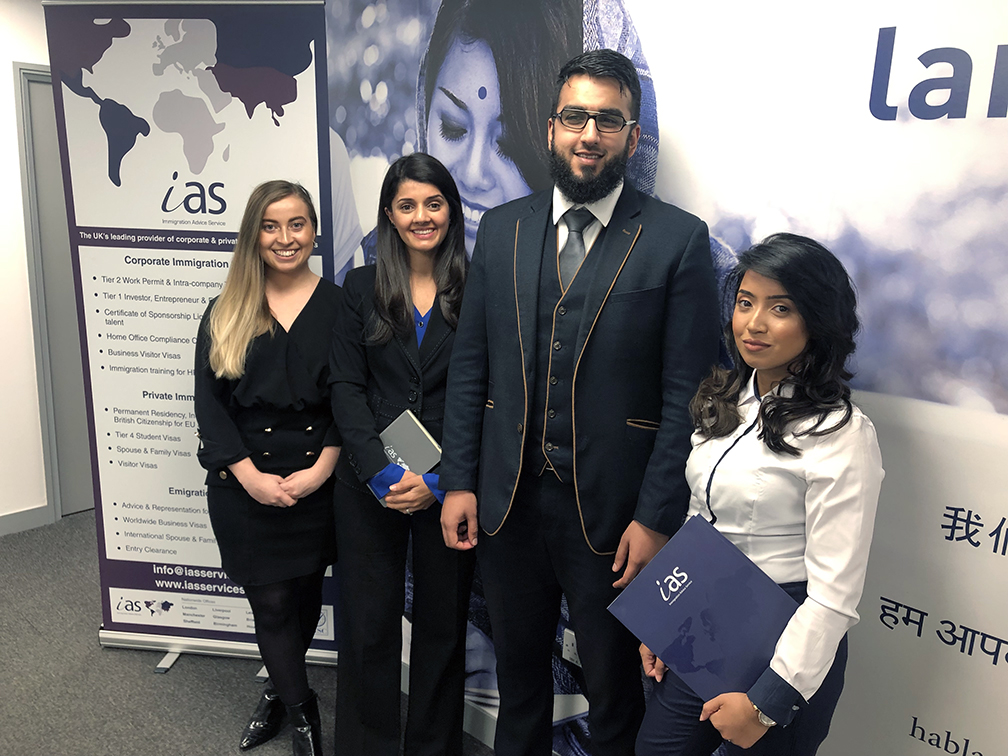 The Advice Package
During this untimed Advice Session with our professional immigration lawyers in London, you will receive our comprehensive advice, completely tailored to your needs and your situation.
Request the Advice Package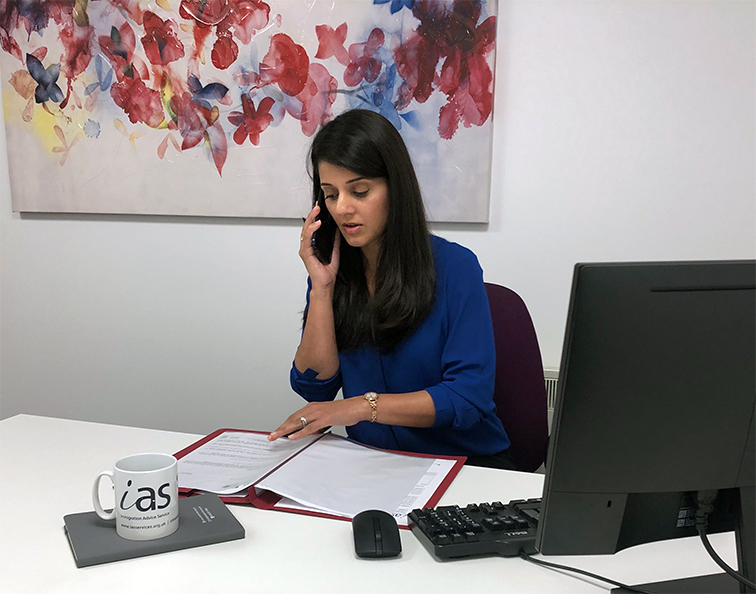 The Application Package
With our Application Package, your dedicated immigration lawyer will advise you on your application process and eligibility. Your caseworker will then complete and submit your forms to the Home Office on your behalf.
Request the Application Package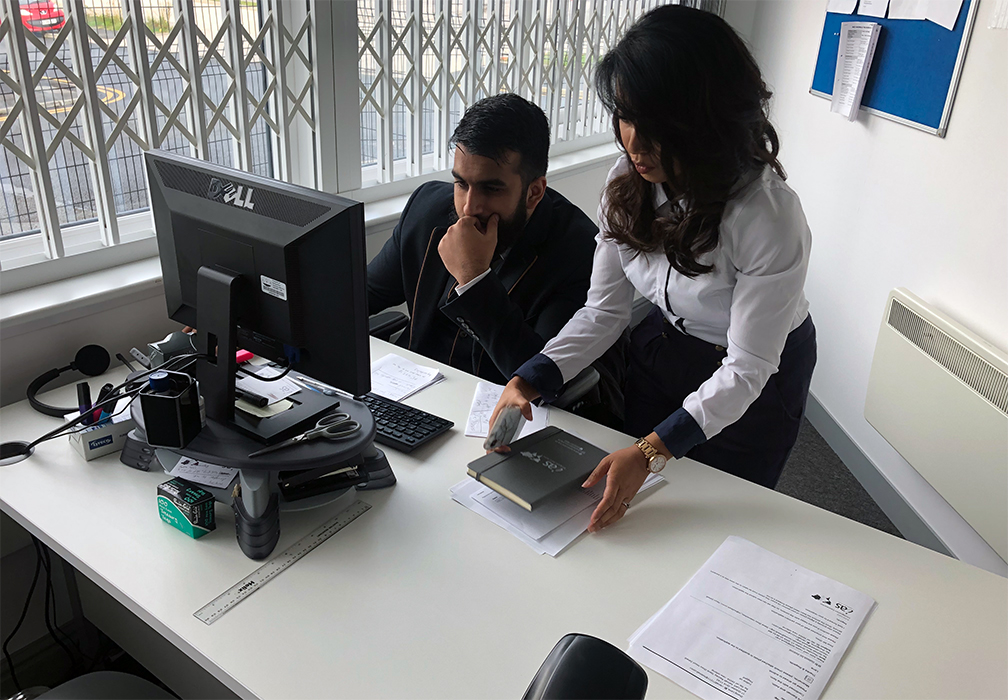 The Fast Track Package
Our Fast-Track Application Package is a premium service for those who need to submit their application in time with their deadlines. Your case will become a top priority for our lawyers and you will benefit from our highest-quality services.
Request the Fast Track Package
The Appeal Package
By choosing our Appeal Package, you can rely on our lawyers' legal knowledge and experience to ensure you have the highest chance of a successful appeal. We will also fully represent you in any hearings/tribunals.
Request the Appeal Package
Related pages for your continued reading.
Frequently Asked Questions
One of the best ways to improve your comprehensive ranking score is to apply for a job offer for a highly-skilled role. Depending on the skill level, you will earn 50-200 points. This is a great boost to your score, which will get you well on your way to getting an invitation to apply.
Another great way to boost your score is to secure a provincial nomination. This is usually worth enough points to guarantee your success in Express Entry.
You are allowed an interpreter for all stages of select permanent residence applications, including in the immigration interview. Visit the IRCC's "program-specific procedures for using interpreters" to determine if you will be eligible for an interpreter. If you lack any confidence in your English or French, it is well worth using an interpreter if you are allowed to ensure that you are not misunderstood in the interview.
Having decided that you will use an interpreter, you need to choose one. Many applicants ask for one from the IRCC and will be assigned someone to work with free of charge. However, you can also choose an accredited interpreter if you prefer, but you will have to pay for their services.
Canada is one of the most tolerant and welcoming countries. In its cities, you can expect to find diverse and inclusive populations. The three most popular cities for Arabic-speaking Canadian residents include the following:
Montreal, Quebec: Montreal has a strong Arabic population, and you can enjoy great Arabic restaurants. The community has also created an Arabic news website – Montreal Arabic – and the Arabic-speaking Middle East Radio.
Ottawa, Ontario: The capital of Canada is known for celebrating its multicultural population. Here, you can enjoy Arabic events and festivals.
Edmonton, Alberta: Edmonton has a new but growing Arabic population. The local government is helping this community to thrive by providing resources and support for Arabic-speaking people and building Arabic community centres and schools.
Having enjoyed their time in Canada on a temporary work permit, lots of residents of the UAE are looking for ways they can transfer to PR. They must follow the same procedure as anyone else in order to access PR. However, work experience in Canada should enhance the likelihood of success for most applications.
Changing from a Tourist Visa to PR provides similar difficulties. You will only find an easier route to PR if you find a partner or spouse while you are in Canada or if you become able to qualify for refugee status.
Permanent residency is a great path for people from the United Arab Emirates to get Canadian citizenship. The base requirement is to have been a permanent resident for at least three of the last five years. You will also have to fulfil the following obligations:
Have filed taxes correctly while in Canada.
Pass a citizenship test.
Reach a CLB level of 4 in French or English. This is the same level as required for permanent residency, so you are unlikely to have problems with this.
If you think you match these requirements, you can apply for citizenship. The processing cost is $530. If you are successful, you must pay a further right of citizenship fee of $100.