Irish Citizenship Through Marriage for Canadian Citizens
If you are a non-EEA national married to an Irish citizen, you can apply for Irish citizenship through marriage if you meet all the requirements.
For advice and assistance with your Irish citizenship application, contact us today at +1 844 290 6312 or use the online contact form to get in touch.
What is Irish Citizenship through Marriage?
One of the easiest ways to gain citizenship in Ireland is through marriage. If you are married or have been in a civil partnership with an Irish citizen, you may be eligible for Irish citizenship through marriage.
You must have been married to your partner for at least three years and hold at least three years of reckonable residence in Ireland. Even then, note that Irish citizenship is not a right but a privilege. The Minister for Justice and Equality has the absolute discretion to grant you citizenship through marriage or waive the conditions for naturalization if you are of Irish associations.
When you become Irish, your children automatically become Irish citizens with you, but you have to register their birth on the Foreign Births Register.
As a Canadian citizen, you can get dual citizenship, with Ireland being your other country of citizenship which allows you to travel within the EU and to live in Northern Ireland or the Irish State without restrictions.
"I'm very happy with the standard of training received on the OISC Level 1 course, i passed my exam. Thank you!"
"My application was approved and a huge weight has been lifted from our shoulders this year "
"We used this service for the spouse visa extension application to assure that all the information was valid and correct."
Requirements for Citizenship through Marriage/Civil Partnership
Being in a civil partnership with an Irish citizen does not automatically give you the right to become an Irish citizen; the citizenship is granted on the basis that the individual meets the requirements of good behaviour, has a familial link to the Irish State, and also meets other criteria.
These requirements are:
You must be at least 18 years of age.
You must be married or in a recognized civil partnership with an Irish citizen.
Your marriage/civil partnership must be valid under Irish law.
You must pass the 3 years reckonable residence within the last 5 years of your application which includes 1 year of continuous residence in Ireland immediately before the date of application.
You and your Partner must be cohabiting together as a married couple or as civil partners.
You must be able to prove you are of 'good character.'
You must have plans to continue living in Ireland and make a declaration of fidelity to the nation and loyalty to the State.
You must have kept your registration and immigration permission up-to-date with no gaps.
Good Character Test
When applying for Irish citizenship through marriage, you must be able to pass the good character test.
The good character test ensures that you have no 'undesirable' immigration or criminal history before applying for citizenship. If there is an act of deception during or after the application, the Irish State can reject the application or revoke the citizenship if it has been granted.
Also, if the Irish State deems your marriage to be fraudulent, meaning you entered into it for immigration advantages, the application will be rejected.
If you give any false information in your application, intentionally or innocently, these actions can be used against you, affecting your citizenship application being refused.
Calculating Reckonable Residence
Reckonable residence is another important requirement to meet when applying for citizenship through marriage. You must be able to accumulate 'reckonable residence' to gain any form of permanent settlement in Ireland.
To apply for Irish citizenship through marriage, applicants need to have resided in the State for a period of at least 3 years in the past 5 years to qualify for citizenship. It is important that you surpass the 3 years of reckonable residence to be eligible. Let's break it down.
For the last 1 year before claiming citizenship, you must have continually stayed within the State.
In the 4 years before that, you must have completed at least two reckonable residence, which means being on a stamp or visa that counts.
There are cases where living in Ireland before your marriage to your Irish Partner does not automatically count towards the residence period. For example, if you were permitted to remain in Ireland before your marriage or for short-term purposes like tourism or study visa, these periods you lived in Ireland on this basis will not be counted as part of your reckonable resident.
Required Documentation for Irish Citizenship through Marriage
There are documents you need to present and submit when applying for Irish citizenship through marriage; these documents will help prove your eligibility for Irish citizenship through marriage:
Birth certificate and original passport to prove your identity and nationality
Civil partnership or marriage certificate to prove your partnership is legally binding to an Irish national and that it is recognized in Irish law
The birth certificate or naturalization certification of the Irish citizen to verify the identity of the Irish partner.
Evidence that you and your civil partner are cohabiting together, including a sworn affidavit, a portfolio of payslips, and bank statements that demonstrate regular payments of utility bills.
Proof that you are of good character.
Proof that you have been living on the island of Ireland for at least 3 years to pass the 'reckonable residence' requirement.
These documents help prove your identity and satisfy the immigration officer that the marriage or partnership is genuine.
Application Process for Irish Citizenship through Marriage
When applying, you will need to fill out Form 8, gather the supporting documentation and send them to the Immigration Service Delivery (ISD) along with the fees.
Also, you are required to make a statutory declaration, which is a written statement swearing your details are true and witnessed by an authorised person. Such an individual can be a solicitor, commissioner for oaths, peace commissioner or notary public. Both you and your Irish spouse must make a statutory declaration.
Your application will be assessed by the Minister for Justice and scored based on your identification and residence history. Each piece of evidence you submit to prove your identity and residence in Ireland may score some points. You must get at least 150 points in this area to qualify.
If your application is successful, you will be invited to attend a citizenship ceremony to declare your fidelity and loyalty to the Irish state, and declare that you will observe Irish laws and respect its democratic values.
Application Fee
To apply for Irish citizenship by marriage, you will need to pay a fee of €175 for applying. If your application is successful, you will need to pay for a citizenship certificate which costs €950.
Besides this cost, there are additional hidden fees that you may still pay, such as document translation fees.
Application Processing Time
You should expect a reply no longer than 6 months for a response on your application. However, if you submit the wrong documents or give false information, it may result in processing time being delayed.
Also, note that applications are processed sequentially according to how the applications are received. So, if many applicants are before you, your application may take longer than six months to process.
How can Total Law help?
Total law's excellent immigration lawyers are vastly experienced in dealing with Irish citizenship applications and provide advice and support to make your application process smooth.
Our immigration lawyers will help you determine if it is right for you and that you meet the eligibility criteria, help you gather the supporting documents to ensure there are no delays or denials, and help you file an appeal should your application be denied.
Call us today at +1 844 290 6312 for immediate support or advice.
Advice Package
Comprehensive immigration advice tailored to your circumstances and goals.
Application Package
Designed to make your visa application as smooth and stress-free as possible.

Fast Track Package
Premium application service that ensures your visa application is submitted to meet your deadline.
Appeal Package
Ensure you have the greatest chance of a successful appeal. We will represent you in any case.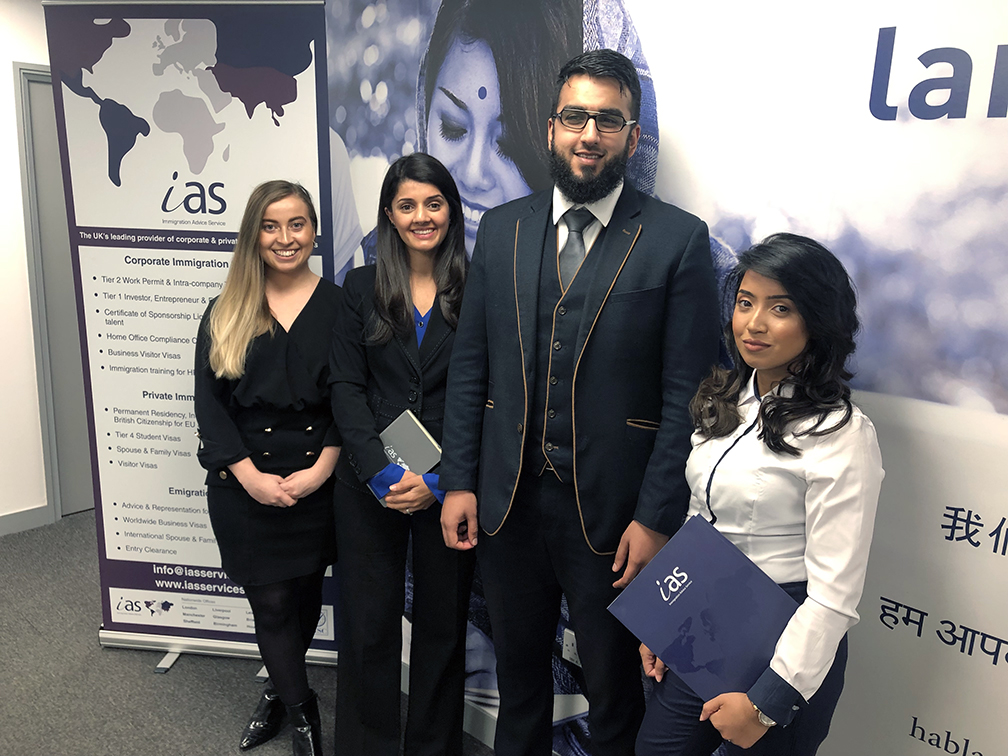 The Advice Package
During this untimed Advice Session with our professional immigration lawyers in London, you will receive our comprehensive advice, completely tailored to your needs and your situation.
Request the Advice Package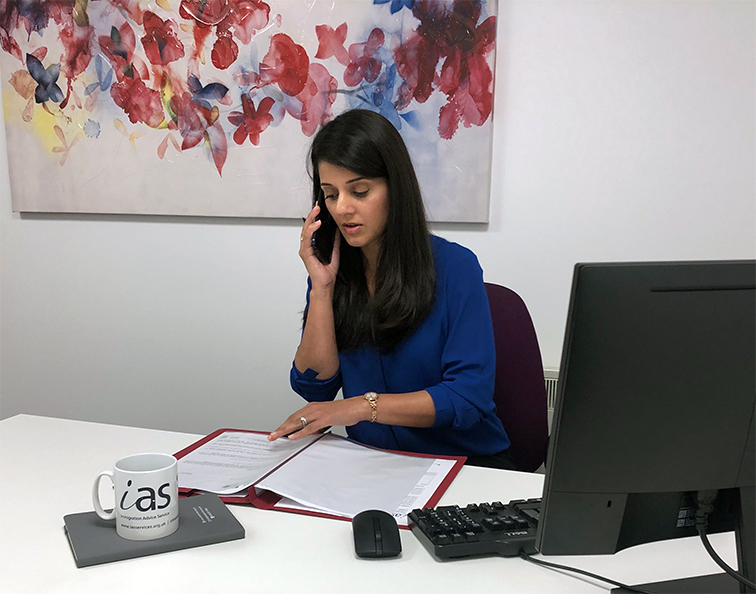 The Application Package
With our Application Package, your dedicated immigration lawyer will advise you on your application process and eligibility. Your caseworker will then complete and submit your forms to the Home Office on your behalf.
Request the Application Package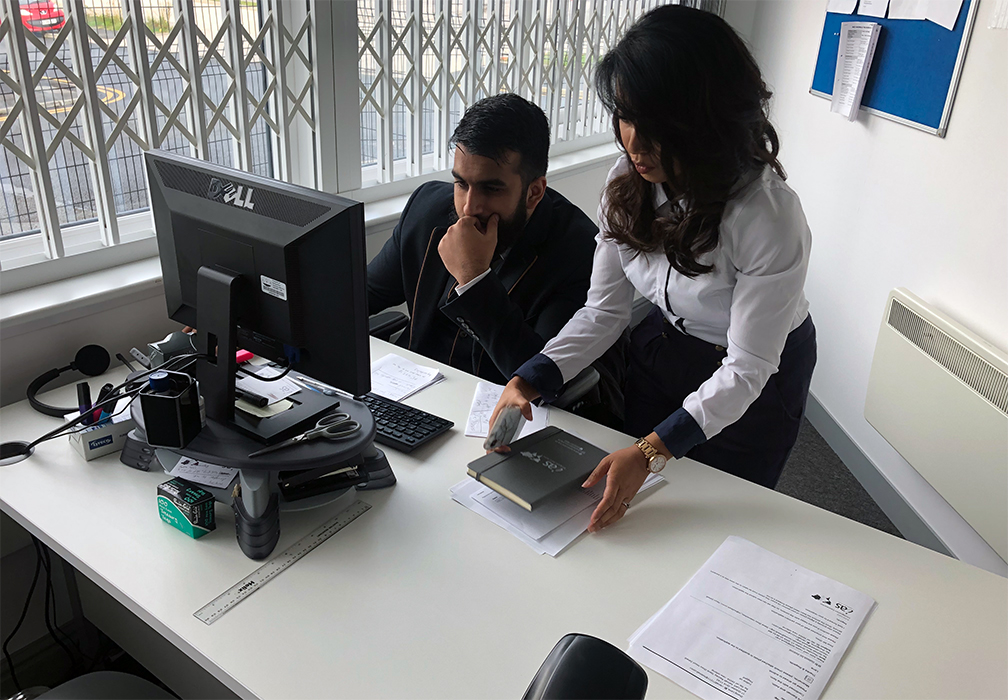 The Fast Track Package
Our Fast-Track Application Package is a premium service for those who need to submit their application in time with their deadlines. Your case will become a top priority for our lawyers and you will benefit from our highest-quality services.
Request the Fast Track Package
The Appeal Package
By choosing our Appeal Package, you can rely on our lawyers' legal knowledge and experience to ensure you have the highest chance of a successful appeal. We will also fully represent you in any hearings/tribunals.
Request the Appeal Package
Related pages for your continued reading.
Frequently Asked Questions
Yes, you can get an Irish passport through marriage. You can apply for an Irish passport after you go through the process of becoming an Irish citizen. That includes applying for citizenship, attending the citizenship ceremony and getting your certificate of naturalization.
Once your passport application has been processed, you will need to send your information to the Immigration Service Delivery (ISD) for passport collection.
With your Irish passport, you get the freedom to move across all the European Union member states with other benefits attached.
No, both Canada and Ireland allow their citizens to become citizens of other countries without having to renounce citizenship. So, you can become an Irish citizen while still keeping your Canadian citizenship status.
The requirements for Irish citizenship by naturalization are very similar to Irish citizenship by marriage; however, the main difference is that the number of years for reckonable residence through marriage is three years and five years through naturalization.