Irish Marriage Visa For Those in Canada
The Marriage Visa is reserved for the Canadian partner of an Irish citizen or resident who wishes to get married or enter into a civil partnership in Ireland.
You can contact our expert immigration legal advisors to discuss any questions that you may have regarding a marriage visa application or Irish immigration; give us a call at +1 844 290 6312 or contact us seven days a week via our live chat.
What is the Irish marriage visa?
The Marriage Visa permits Canadian citizens and other foreign citizens who are partners of an Irish citizen or permanent resident to enter Ireland to get married or enter into a civil partnership. The marriage visa is also open to same-sex marriages who can obtain a civil partnership certificate.
This Irish visa is considered a short stay 'C' Visa, which means that the visa holder is permitted to only stay in Ireland for a limited period of time. If you need to stay longer, you may obtain permission to remain through another visa like the Spouse visa, work or other Long Stay D visa or stamp.
"We used this service for the spouse visa extension application to assure that all the information was valid and correct."
"Super helpful and knowledgable staff, everyone I dealt with has been so friendly and professional plus, reasonable pricing. Wish I knew about them sooner!"
"Sudipta was very helpful during our initial advice session. She answered all of our questions with clarity, and we didn't just feel like clients - we could tell she really wanted to help us."
What are the eligibility requirements for the Irish marriage visa application?
To make a visa application to join your partner in Ireland for marriage or to obtain a civil partnership certificate, you must ensure the following:
You hold an original passport that is valid for at least six months after your proposed leave date from Ireland
You provide adequate personal or financial information for yourself and your family members while in Ireland
You provide evidence of the relationship history between you and your partner, including valid intent to marry
You're able to prove strong ties to your home country to prove that you'll leave Ireland after you marry or enter into a civil partnership
You provide details of your accommodation in Ireland
What is the application process for the marriage visa?
The first step of making an application for a marriage visa is obtaining permission from the Registrar to confirm the relationship. After getting that confirmation, you are permitted to begin the application process for the Marriage Visa.
You will then need to apply online and complete an online application form. After you submit the online form, you will get a summary application form, which must be printed and signed. There will be a detailed list of the required documentation that you need to submit, and then be asked to pay the application fee.
Once you have completed all these steps, you can submit your application to the visa application office. When you do that, you will receive a Visa Application Tracking reference Number which you can use to track your application.
Upon landing in Ireland, you must report to Irish border control and show your passport, visa and acknowledgement from the Registrar of Civil Marriages to the immigration officer.
A border control immigration officer will consider your documents and information, and if they are satisfied, you will be granted official permission to enter. If immigration officials have any suspicions about your application or the information you provide, it is possible you could be refused entry into Ireland.
What are the supporting documents needed for the Irish marriage visa?
Whilst the specific required documents may differ somewhat depending on your individual circumstances, there are several documents that are required.
The required following documents required are:
Valid passport
Signed and dated application summary sheet
A signed letter highlighting:

Your reasons for travelling to Ireland
How long you intend to stay
Who you plan to stay with
Financial information on how you will fund the trip
You will also need to confirm your commitment to the conditions of the visa and that you won't be a financial burden on Ireland as you won't be able to access public funds

Two-color passport-size photographs
Bank statements
Evidence of your relationship history and intention to get married or enter into a civil partnership
Documents that show you'll return to your home country of Canada.

This evidence needs to be sufficient to demonstrate strong family, social or economic ties to Canada.
If you are employed, you will need to provide your three most recent payslips, a letter from your employer on how long you have been employed at the company, the dates which you were absent from the company, and the proposed date of your return to work.
If you are a student, you will need to provide a letter from your college explaining the course(s) you are studying, how many years you have been a student at the college and the time of years/terms you have remaining at the college.
The documents must be submitted in their original form and in English or Irish, and if they are not, need to be translated by an official, accredited translator.
What is needed to prove the relationship is genuine?
It is important to show you and your partner's genuine relationship as part of the application. This will be looked heavily on by the immigration officer.
Information documents included are:
Evidence of an in-person relationship between you and your partner, such as travel documents that show you and your partner have travelled to visit each other a number of times. If your relationship was formed solely over the internet or through text messages, such circumstances would not be considered.
Acknowledgment from the Registrar confirming the intended date of marriage in Ireland.
Marriage Registration Form with proposed date or marriage.
Civil Partnership Registration Form.
Up-to-date bank statements, with money going out and coming into your account over the past six months. (This applies regardless of whether you are funding your expenses or if someone else is).
Evidence of your intention to marry/enter into a civil partnership.
In the case that your or your partner was previously married or in a civil partnership, you must also provide their:
Marriage/civil partnership certificate.
Divorce/dissolution of the civil partnership certificate.
If somebody else is funding your expenses in Ireland and will bear complete financial responsibility, you will need to show your relationship to this person. The information needed is as follows:
Your name, address, account number and type of account must be visible on statements.
Bank statements on official headed paper.

If providing a bank statement from a savings account, you must include a letter from the bank institution explaining how much you can withdraw from the account.
What are the cost and processing times of the Ireland marriage visa?
Cost
The visa application fee is €60 (81.41 Canadian Dollars) if you are getting a single entry visa or €100 (135.68 Canadian Dollars) if you are applying for a multi-entry visa.
Processing time
While the majority of applications are processed within eight weeks, the processing time does vary.
Upon approval, you will be able to start preparing for your trip and upcoming marriage in Ireland. The Marriage Visa is a short stay 'C' Visa, which means you will be able to stay in Ireland for 90 days. After that, you will have to leave Ireland.
Entering into a marriage is one of the biggest decisions in anyone's life, which is why it's important to ensure that you get the process of acquiring a visa right.
The Total Law team has top immigration services that support couples in successfully obtaining marriage visas. Our fantastic team can support you with the entire application and provide advice on how to best complete your application and submit paperwork.
Whether you need help determining your eligibility for a marriage visa, require assistance with liaising with the Irish immigration authorities, or simply in need of a one-to-one advice session with an immigration lawyer to help discuss your issues, we can help.
We are open to supporting you seven days a week, either by phone call or by online chat, whatever you prefer. Call us on +1 844 290 6312 or contact us seven days a week via our live chat.
Advice Package
Comprehensive immigration advice tailored to your circumstances and goals.
Application Package
Designed to make your visa application as smooth and stress-free as possible.

Fast Track Package
Premium application service that ensures your visa application is submitted to meet your deadline.
Appeal Package
Ensure you have the greatest chance of a successful appeal. We will represent you in any case.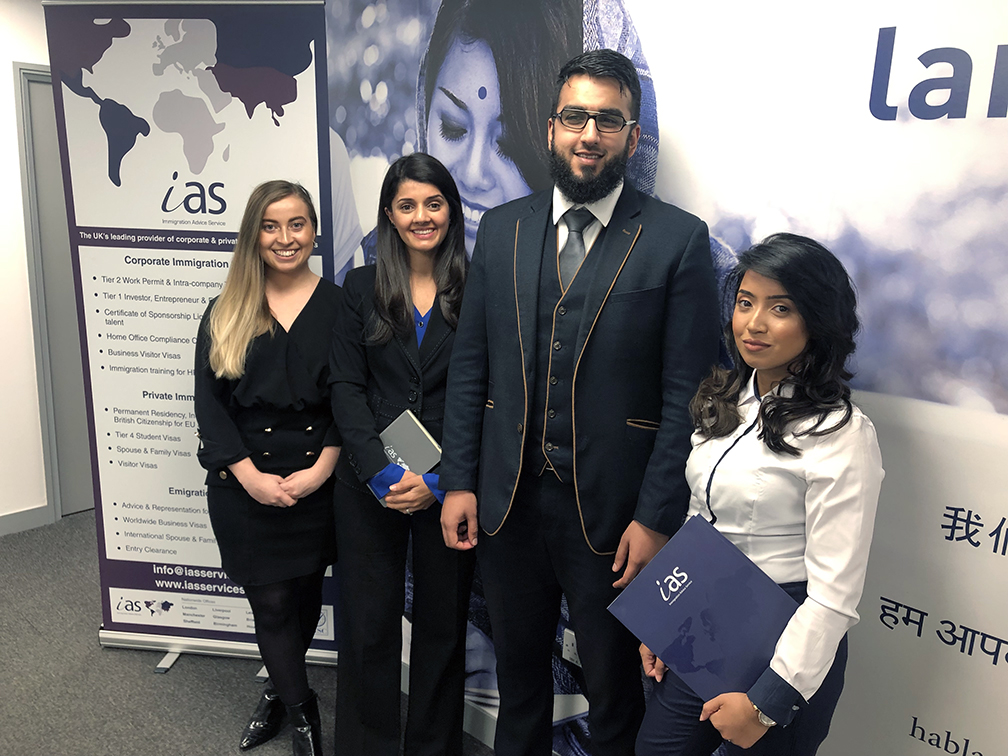 The Advice Package
During this untimed Advice Session with our professional immigration lawyers in London, you will receive our comprehensive advice, completely tailored to your needs and your situation.
Request the Advice Package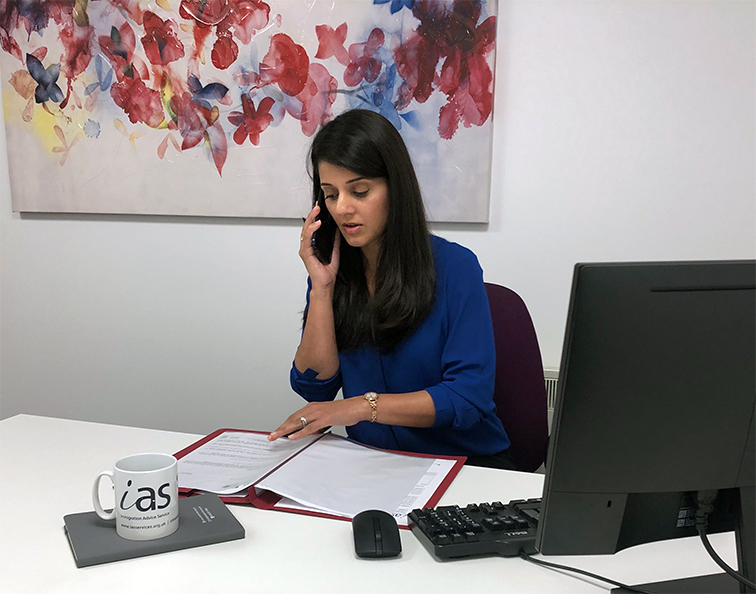 The Application Package
With our Application Package, your dedicated immigration lawyer will advise you on your application process and eligibility. Your caseworker will then complete and submit your forms to the Home Office on your behalf.
Request the Application Package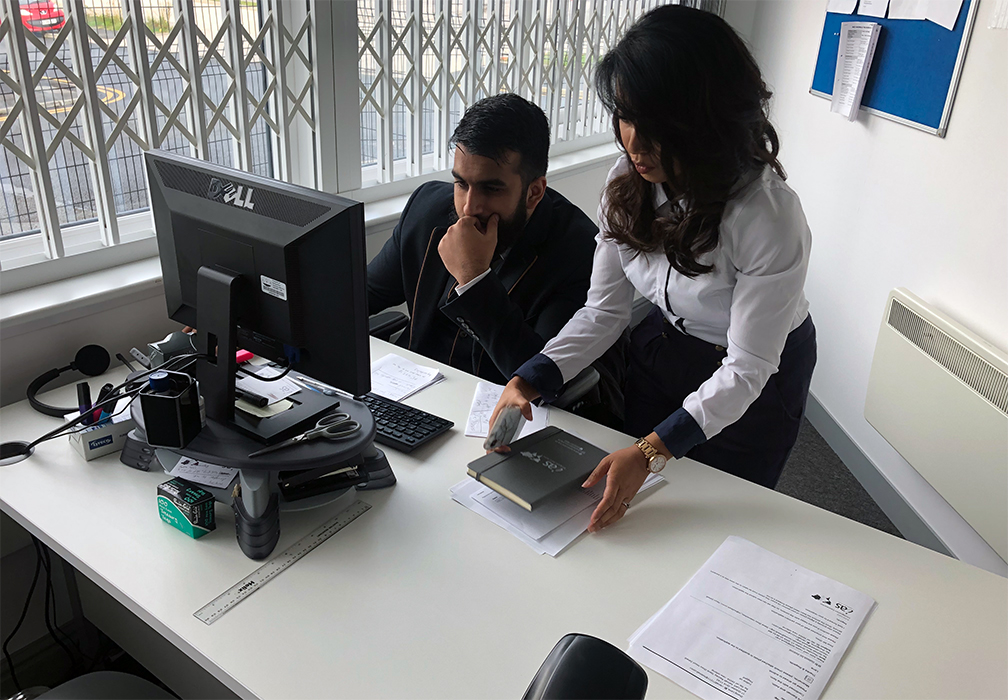 The Fast Track Package
Our Fast-Track Application Package is a premium service for those who need to submit their application in time with their deadlines. Your case will become a top priority for our lawyers and you will benefit from our highest-quality services.
Request the Fast Track Package
The Appeal Package
By choosing our Appeal Package, you can rely on our lawyers' legal knowledge and experience to ensure you have the highest chance of a successful appeal. We will also fully represent you in any hearings/tribunals.
Request the Appeal Package
Related pages for your continued reading.
Frequently Asked Questions
The marriage visa is a short stay 'C' visa meaning that despite getting married, you cannot stay in Ireland for longer than 90 days.
However,  it is possible to stay in Ireland and apply for the long-stay 'D' Join Family Member Visa.
If you have lived lawfully in Ireland for a specific period of time, it's possible to become an Irish citizen through this route. Typically, any time spent in Ireland under the marriage visa will not usually be counted as reckonable residence towards citizenship in Ireland.
If you want to become a citizen, you will need to meet the following requirements:
You must have been in a relationship with the Irish citizen for at least three years.
You will have to have lived in Ireland for 1 year of continuous reckonable residence and a total of three of the five years immediately prior to the application.
You must be able to demonstrate good character and intend to continue living in Ireland for the foreseeable future.
You may not travel to Northern Ireland using a marriage visa issued by the Republic of Ireland due to the fact that they are different countries. Northern Ireland is in the United Kingdom. That means that if you are interested in visiting Northern Ireland, you will need a visa issued by the United Kingdom.