Irish Family Visas From Canada
If you are planning to travel from Canada to Ireland to join an Irish citizen family member, you may need to apply for an Irish family visa.
If you are in the process of applying for an Irish visa, contact Total Law for assistance. Speak to one of our expert immigration advisers today. Call +1 844 290 6312 or use the online contact form to access our immigration services.
What is an Irish Family Visa?
The most popular Irish family visa is called the Join Family Long Stay 'D' Visa. A family visa is a type of travel document that gives a Canadian citizen permission to visit an eligible family member in Ireland for a period of time that is longer than 90 days.
The family visa is part of the family reunification program in Ireland. All family members may not qualify to sponsor or apply for this visa. Family members who are considered eligible to apply for the visa are immediate family such as:
The sponsoring family member must meet certain eligibility qualifications, including being an Irish national or holding qualifying Irish residence. Citizens applying on the basis of a family member in Northern Ireland will need to apply for a UK family visa instead. Contact an immigration lawyer at Total Law for assistance.
Note that whether or not you need a visa depends on the length of time you plan to stay in Ireland. Canadian citizens are only required to apply for the Join Family Long Stay 'D' Visa for stays of over 90 days.
"We used this service for the spouse visa extension application to assure that all the information was valid and correct."
"Super helpful and knowledgable staff, everyone I dealt with has been so friendly and professional plus, reasonable pricing. Wish I knew about them sooner!"
"Sudipta was very helpful during our initial advice session. She answered all of our questions with clarity, and we didn't just feel like clients - we could tell she really wanted to help us."
Eligibility for the Irish Family Visas
There are a number of eligibility requirements the applicant and sponsor must meet in order to apply for a family visa in Ireland.
Financial Requirements:
Minimum income requirements that must be met in order to be eligible for the family visa are generally €30,000, although the number can increase based on the number of dependent children.
Family Relationship Requirements:
Applicants and sponsors must meet eligibility requirements for the types of family relationships that can be considered. An applicant must be:
A legally married spouse
A minor child under the age of 18
A dependent child under the age of 23 who is enrolled in full-time education
A de facto partner or civil partner in a relationship that is lawfully recognized in Ireland. A de facto relationship is a cohabiting relationship that has lasted longer than two years. Civil partnerships must meet certain cut-off dates in order to be legally recognized in Ireland.
An elderly parent
Exemptions:
Some people are exempt from the above requirements for family sponsorship when applying for a family visa. These may include individuals with legal refugee status, international protection beneficiaries, or participants of the Afghan Admission Programme.
Visa requirements may vary slightly for each category as you will need to provide evidence to support your claim. Once a family visa holder has stayed in Ireland for 5 years of reckonable residence on valid immigration status, they may be eligible to apply for naturalization in Ireland.
Residence Permission:
In order to stay in Ireland for 90 days or more, even on a long-stay visa, all non-EEA nationals will need to apply for and be granted permission for continued residency at a local immigration office in Ireland. Once your residence is approved, you will be given a residence permit or residence card by the Department of Justice.
Required Documents for the Family Visas
Visa applicants will need to submit a portfolio of supporting documents as proof to verify their claim for the family visa.
Requirements may include the following documents:
A certified and notarized statement of your reasons for moving to Ireland
Contact details of your Irish citizen sponsor/ family member
Your passport and prior passports
Proof of private medical insurance
A copy of your sponsor/Irish partner or family member's Irish citizenship, passport, and residency
A marriage certificate or certificate of civil partnership if applicable
Proof of your genuine relationship with your family member
Copies of the 6 most recent months of bank statements from both the applicant and the sponsor.
Proof of income for the applicant and sponsor. Acceptable financial evidence includes paystubs from a job or bank statements and tax forms if you are self-employed.
Proof that you have paid the visa application fee
Original documents will be returned to you by mail to the address you provide. Photocopies will be kept by the Irish visa office.
Certified translated copies are required for all documents that are not originally in English or Irish. In order to obtain a certified copy, you will have to locate a qualified third party such as a solicitor or barrister.
It is important that you submit all required documentation along with your visa application. This is what the Irish immigration officer will use to make a decision on your family visa application. The most common reason for visa applications to be rejected is inaccurate or incomplete documentation or applications. During the application process, you may be asked to submit additional evidence. You must submit all requested documents by the date given.
How To Apply from Canada
Most non-EEA nationals require a visa to enter Ireland. As a Canadian citizen, you may enter Ireland without a visa for up to 90 days. At border control, an immigration officer will issue you a landing stamp after reviewing your documents and reason for entering the country.
Keep in mind that you are not automatically guaranteed entry to Ireland. If you are not issued a landing stamp when you arrive, you must leave Ireland immediately. If you intend to stay longer than 90 days, you can apply for the Long Stay Join Family Visa with the Irish Immigration Service Delivery. The visa application process is as follows:
Fill out the visa application online at the government website
Pay the visa application fee
Submit all required documents
Wait for your evidence to be reviewed by the visa office. Family visa decisions are made by the Irish Department of Foreign Affairs in the chronological order they are received
Once you enter Ireland, you will need to apply for permission to remain from a local immigration office when staying beyond 90 days
If your visa application is approved, you must register your details with the local immigration office before your landing stamp expires. Immigration permission can be applied for in-person at the registration office in Dublin or the Garda National Immigration Bureau. Once you receive your Irish residence card, put it somewhere safe and carry it with you as you may be asked to show this to immigration control.
If your application is denied, you will receive a letter stating the reason for the decision. In many cases, you will be able to apply again, or you may be able to appeal the decision.
Because the application process can be lengthy, it is recommended to apply for the visa up to three months prior to your planned date of travel.
Costs and Fees
Approximate application fees for the long stay 'D' visa in Canadian dollars are:
Single entry visa fee is 102 CAD.
Multiple entry visa fee: 171 CAD.
Transit visa fee is 42 CAD.
The Irish Residence Permit is about 413 Canadian dollars.
A small additional fee may be charged for the return of your original documents by mail. You may also incur additional fees for other services, such as translating documents.
Processing Time
Family members of Irish citizens should plan to receive their visas up to six months after submitting all documentation.
Family members of non-EU/EEA nationals should expect to receive their visa from six to twelve months after submitting all documentation.
There is no exact timeline given for the processing of family visa applications. Visa applications are processed in chronological order, or in the order in which they are submitted. Fortunately, you do not have to wait to leave Canada if you need to be in Ireland by a specific date. Canadians are permitted to visit Ireland for up to 90 days without a family visa. It is recommended to plan ahead when applying for this visa.
With Total Law, professional visa services are provided by our team of expert immigration lawyers, who ensure your documentation is correct and your application package has the best chance of approval.
Your Total Law advisor will provide you with all the necessary advice to obtain a family visa, work visa, or other Irish visas.
For further information, contact us today at +1 844 290 6312 or use our online contact form to get in touch with our team of qualified immigration lawyers.
Advice Package
Comprehensive immigration advice tailored to your circumstances and goals.
Application Package
Designed to make your visa application as smooth and stress-free as possible.

Fast Track Package
Premium application service that ensures your visa application is submitted to meet your deadline.
Appeal Package
Ensure you have the greatest chance of a successful appeal. We will represent you in any case.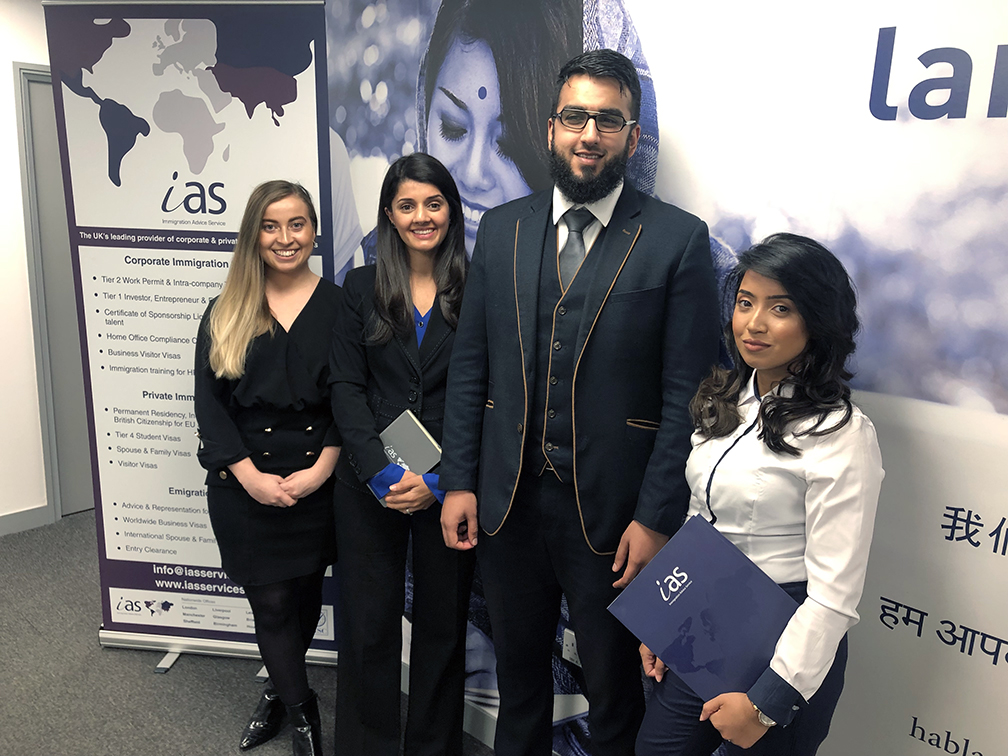 The Advice Package
During this untimed Advice Session with our professional immigration lawyers in London, you will receive our comprehensive advice, completely tailored to your needs and your situation.
Request the Advice Package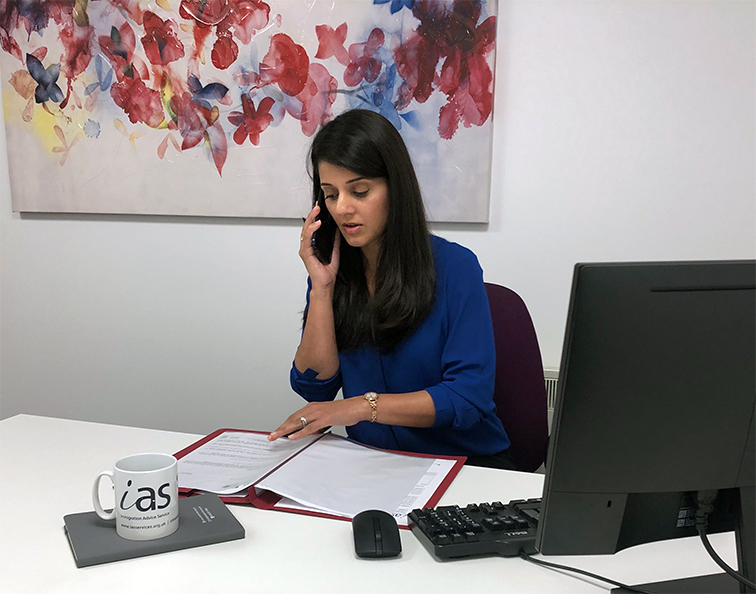 The Application Package
With our Application Package, your dedicated immigration lawyer will advise you on your application process and eligibility. Your caseworker will then complete and submit your forms to the Home Office on your behalf.
Request the Application Package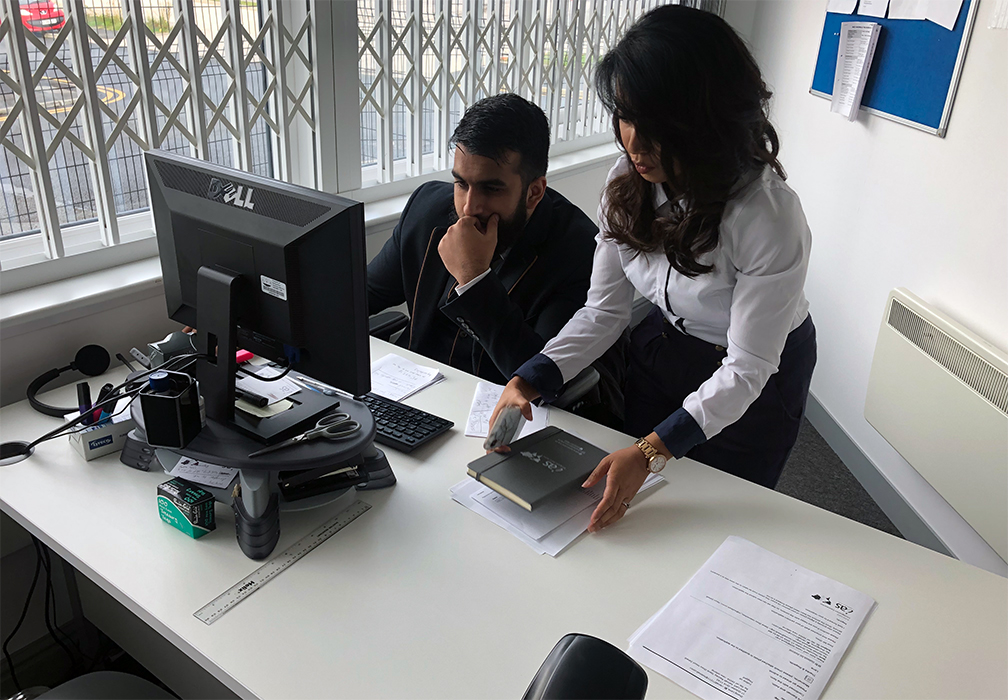 The Fast Track Package
Our Fast-Track Application Package is a premium service for those who need to submit their application in time with their deadlines. Your case will become a top priority for our lawyers and you will benefit from our highest-quality services.
Request the Fast Track Package
The Appeal Package
By choosing our Appeal Package, you can rely on our lawyers' legal knowledge and experience to ensure you have the highest chance of a successful appeal. We will also fully represent you in any hearings/tribunals.
Request the Appeal Package
Related pages for your continued reading.
Frequently Asked Questions
Some family visa holders are permitted to work without applying for a work visa. Typically, this is when your sponsor is an Irish citizen or if your sponsor holds a critical skills employment permit for a skilled trade. If your sponsor holds another permit such as a general work permit, you may have to apply for your own employment permit. In order to apply for a work permit in Ireland, you will need a valid job offer.
Irish nationals must pass certain eligibility requirements in order to apply to bring a Canadian spouse or family member to Ireland for longer than 90 days. Spouses, partners, and family members will not automatically be given entry to the country or permanent residency. Ireland has a family reunification program that supports the reunification of family members, but you must follow the immigration process that is laid out by the Irish government.
In the event that your visa is not approved, you will receive a letter telling you why it has been refused and if you are allowed to appeal the decision. If it is suspected that you have submitted inaccurate information purposefully, you won't be able to appeal the visa decision and you may be blocked from applying for a visa in Ireland for up to 5 years. If the letter states that you are allowed to appeal the decision, there is no fee.
There will be a two-month window from the date on the letter that you have to appeal the decision. In some cases, appealing the decision can take more time than reapplying for a visa. If your family visa was recently denied, contact Total Law for help with the immigration process.
Northern Ireland is considered to be part of the UK, so while you can apply for a family visa if you have family sponsorship in the UK, there will be different eligibility requirements than an Irish family visa. You must apply for a UK family visa with the UK government. Contact Total Law for assistance with your application for a visa in Northern Ireland.