Irish Long Stay 'D' Visas
Foreign nationals who are coming to Ireland for stays longer than 90 days and are from a visa-required country will need to apply for a Long Stay 'D' Visa.
If you have any questions about your Long Stay visa application or another Irish visa, call us today at +1 844 290 6312 or leave us a message in the chat. We're here to help you in any way we can.
Are Canadians eligible for a Long Stay 'D' Visa?
Long Stay Visas in Ireland are typically reserved for foreign nationals who plan to stay in Ireland for a period longer than 90 days and are from visa-required countries such as those which are outside the European Economic Area (EEA).
All visa applications for Irish Long Stay Visas must be submitted from the applicant's country of residence and approved prior to travel to Ireland.
Canada is visa-free for Ireland. So if you are a Canadian or from any other visa-free country, you can travel to Ireland without a visa.
However, you will need to request permission to enter and stay in Ireland from the immigration officer at Border Control. To do this, you must provide evidence of the reason for their travel, such as a letter of enrollment at an accredited academic institution, a valid work contract, etc. These documents will need to be submitted to Border Control upon entry into Ireland.
Also, you must register your stay once in Ireland to obtain a stamp that allows you to stay for longer than 90 days. Note that some Canadians may need to obtain pre-clearance.
"I'm very happy with the standard of training received on the OISC Level 1 course, i passed my exam. Thank you!"
"My application was approved and a huge weight has been lifted from our shoulders this year "
"We used this service for the spouse visa extension application to assure that all the information was valid and correct."
Irish Long Stay Visas
There are a number of Irish Long Stay Visas available to eligible applicants. These include the following visas:
Irish Study Visas for international students who will be studying at a higher educational institution or in an accredited study program in Ireland
Irish Work Visas for non-Irish or EU citizens who have a valid job offer and wish to work in Ireland
Family Reunification Visa (Join Family Visa) for non-EU/EEA family members who would like to be reunited with their dependent family member in Ireland
Working Holiday Visa for citizens of countries who have a Working Holiday agreement with Ireland
Internship Visa for non-EEA citizens who would like to work as paid interns in Ireland
Researcher Visa for non-EEA citizens who will be working as a researcher in Ireland under a hosting agreement
Minister of Religion Visa for Ministers of Religion who would like to work in a qualified religious body or faith community in Ireland
Volunteer Visa for non-EEA citizens who are in volunteer-related work roles in Ireland
Study Visas for Ireland
Non-EU/EEA citizens who are planning to study in Ireland for a period longer than 3 months will need to apply for a Study Visa. International students who are looking to apply for this Ireland Long Stay visa will need to be enrolled in a full-time program that is listed on the Interim List of Eligible Programmes. In addition to enrollment, students will also need to meet the following requirements:
The applicant must submit an acceptance letter from their accredited higher education institution in Ireland
The applicant must submit their past academic records (ex: certifications, qualifications, exam results, etc)
The student's academic course must be full-time with at least 15 hours of study per week
The applicant meets the English language requirements (unless coming to Ireland to improve their English skills)
The applicant submits a receipt of full payment of the cost of tuition
The applicant meets the financial requirements by having at least €7,000 for their first year of study
The applicant has obtained private medical insurance
The applicant proves that they have sufficient ties back to their home country
If the student is studying a specific course that is not related to their past educational history, the student must provide a written explanation
Join Family Visas
Non-EU/EEA spouses, partners, and other dependent family members can join their loved ones in Ireland by applying for a Join Family Long Stay visa. This Irish family visa must be sponsored by a family member who is currently residing in Ireland. Sponsors do not have to be Irish nationals in order to sponsor their family members for a Join Family Visa.
To apply for a Join Family Visa, applicants must submit the following supporting documents in their applications:
A notarized statement detailing the reasons for the dependent family member relocating to Ireland
Details of any other family relatives who are EU citizens
Copies that establish the sponsor's immigration status (this can include an Irish passport, residence permit, documents relating to Irish citizenship, an Irish Employment permit, or any other proof of settlement in Ireland)
Any documents that prove a genuine and pre-existing relationship between the sponsor and family member
Any documents that prove the sponsor and family member have sufficient funds to finance their stay in Ireland (this can include bank statements from the past 6 months and tax income statements)
Irish Employment Visas
Non-EEA nationals who are coming to work in Ireland will need to apply for an Irish Employment Visa. To apply for this work visa, the foreign national will first need to obtain an employment permit from the Department of Jobs, Enterprise and Innovation (DJEI). After the worker has received their employment permit, he/she can then apply for one of the following employment visas:
Intra-Company Transfer Employment Permit
Exchange Agreement Employment Permit
Dependant/Partner/Spouse Employment Permit
Contract for Services Employment Permit
Sport & Cultural Employment Permit
General Employment Permit
Reactivation Employment Permit
Applications for long-stay employment visas will need to include the following documents:
A copy of the Irish employment contract
A letter from the Irish employer confirming the job offer and salary
Details regarding the worker's qualifications and work experience
An official bank statement detailing the transactions of the past 6 months
Ireland Volunteer Visas
Volunteers who are non-EEA nationals and working for a qualified organization in Ireland can apply for an Irish Volunteer Visa. This visa allows volunteers to stay in the country for up to one year and work in the following sectors:
Arts, tradition, and culture
Community service and welfare
Health services
Religious and spiritual activities
Sport and recreation
Youth and education services
Volunteers can change their volunteer organization every 12 months and apply for a one-year extension if they wish to remain in Ireland longer. It should be noted that volunteers are not permitted to engage in paid work while on this visa, nor are they allowed to have access to state benefits, change their immigration status, sponsor family relatives to come to Ireland, or stay in the country for a period longer than 2 years.
To apply for a Volunteer Visa, applicants must be able to meet the following visa requirements:
The volunteer is at least 18 years old
The applicant is a person of good moral character
The volunteer is not an EU/EEA or Swiss national
The applicant is volunteering at an approved organization
The applicant is qualified for the volunteer role
The volunteering organization must financially support the volunteer throughout their stay in Ireland
The volunteer has the appropriate clearance to work with children or vulnerable individuals (where applicable)
The volunteer must have an insurance policy covering expenses for medical-related treatments from an authorized Irish company
Irish Minister of Religion Visa
Ministers of Religion who would like to work for an eligible religious body or faith community in Ireland can apply for an Irish Minister of Religion visa. This visa is valid for up to 3 years and can be extended for an additional 3-year stay. To apply for an Irish Minister of Religion Visa, the religious worker must have preclearance and letter of invitation from a faith community or religious body in Ireland where the minister intends to work. This letter must contain the following information:
Proof that the minister has a demonstrable need
Evidence that the minister is qualified to execute his or her duties and responsibilities
Proof that the minister has a clean police record
Evidence that the minister has the appropriate clearance to work with children and vulnerable adults
Evidence that the religious body or faith community in Ireland has child protection policies in place
Proof that the religious body or faith community in Ireland can financially support the minister during their stay
In addition to the letter of invitation, the minister of religion will also need to submit the following documents:
Any evidence demonstrating that the sponsoring organization will financially support the minister during his or her stay in Ireland
The sponsor's audited financial accounts from the past 6 months
Bank statements from the past 6 months from the religious worker
Proof of the religious worker's qualifications
Any evidence showing that the religious worker has been a Minister of Religion for at least 3 years
Police clearance from the religious worker
Any information regarding past visa refusals or deportations from the religious worker (if applicable)
Proof that the religious worker has medical and/or travel insurance
How to apply for a Long Stay Visa
Applications for Ireland Long Stay Visas can be made online through the AVATS online Irish visa application service. After submission of the visa application, the applicant will then need to print out the summary form shown at the end.
To complete the application, the applicant will then need to send this signed summary form along with the necessary supporting documents to the designated visa office (a local Irish Embassy or Consulate or an international visa application agency).
Relevant documents necessary for the visa application need to be sent to the designated visa office within 30 days of the AVATS application submission in order to be considered. If the visa application is approved, the foreign national will then be able to travel to Ireland. Upon arrival in Ireland, the foreign nationals will then need to pass Border Control and request permission to stay in Ireland.
If the foreign national is approved for entry, the immigration officer will then stamp his or her passport and allow entry. After passing immigration control, the visa holder will then need to register their presence with the local immigration office and apply for an Irish residence permit. To do this, applicants will need to book an appointment at their nearest immigration office at least 10 weeks ahead of time.
Documents Required for a Long Stay Visa
Documents required for an Irish Long Stay Visa will depend on the type of visa being applied for. In general, most visa applications will require the following documents:
The signed application form summary (After you have completed your online application, you will need to print and sign this form)
2 passport-sized pictures that are shot to Ireland visa photo standards
A valid passport
Copies of previous passports
An application letter that is written by the foreign national stating the reason for travel to Ireland. This letter should include details about the specific visa being applied for and any information regarding any family relatives who are currently in Ireland
Evidence demonstrating that the foreign national has sufficient funds that will allow him or her to support themselves financially while in Ireland
Any information regarding the applicant's past refusals of visas (if applicable)
Evidence that the private medical insurance
Visa Fees for Long Stay Visas
The foreign national applying for an Irish Long Stay Visa will need to pay the following visa fees:
Multiple entry visa fee: €100
Preclearance fees: €60 (if applicable)
Consular fees (if applicable)
Applicants will also be responsible for the cost of any other fees related to their visa application. It should be noted that regardless of the outcome, all fees are non-refundable as they cover the cost of processing.
Total Law can help
We know that visa applications can get complicated. However, we at Total Law are well-experienced in handling Irish visa applications and can help guide you in the process as stress-free as possible. That's why we offer a variety of services and packages tailored to your immigration needs.
Furthermore, our immigration experts can help assess your options and eligibility and inform you on the best way to proceed. We value helping our clients submit immigration-related applications completed to the highest standards.
For more information on how we can help you, give us a call contact us at +1 844 290 6312 or contact us through the online chat. We are here to help you in person, over the phone, or online.
Advice Package
Comprehensive immigration advice tailored to your circumstances and goals.
Application Package
Designed to make your visa application as smooth and stress-free as possible.

Fast Track Package
Premium application service that ensures your visa application is submitted to meet your deadline.
Appeal Package
Ensure you have the greatest chance of a successful appeal. We will represent you in any case.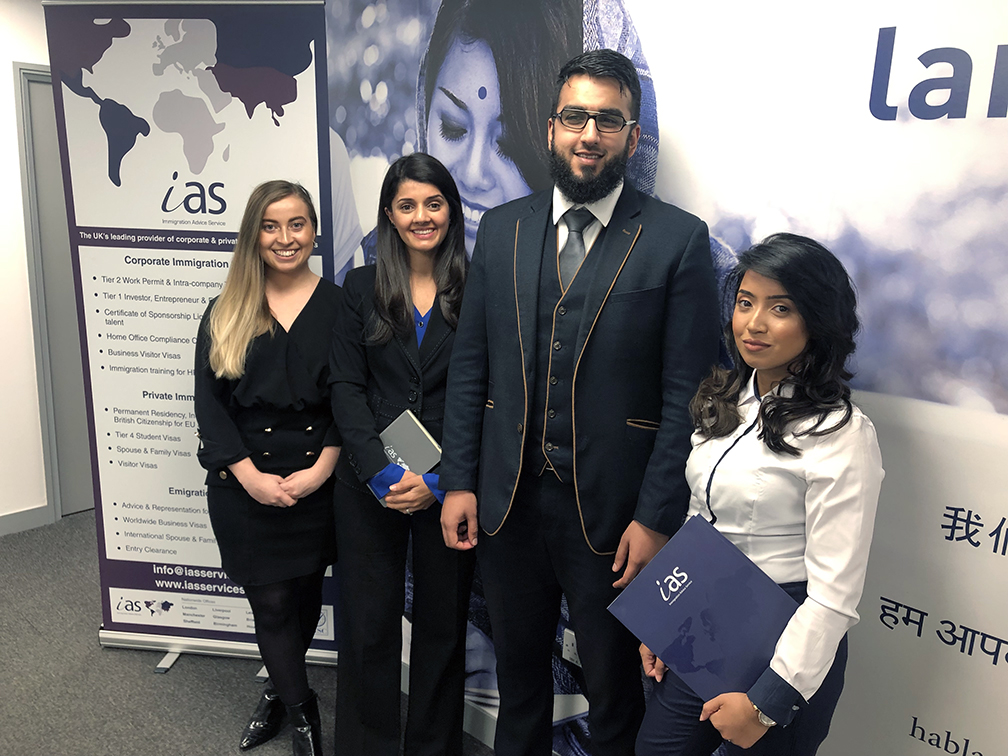 The Advice Package
During this untimed Advice Session with our professional immigration lawyers in London, you will receive our comprehensive advice, completely tailored to your needs and your situation.
Request the Advice Package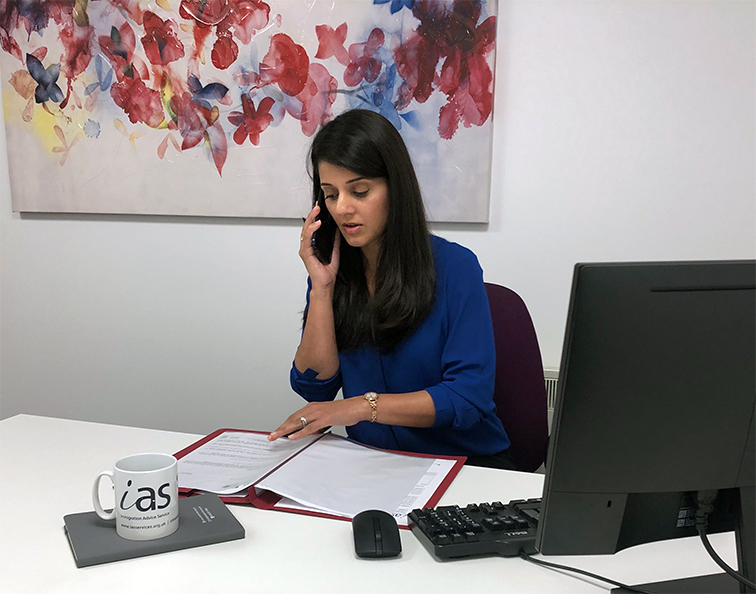 The Application Package
With our Application Package, your dedicated immigration lawyer will advise you on your application process and eligibility. Your caseworker will then complete and submit your forms to the Home Office on your behalf.
Request the Application Package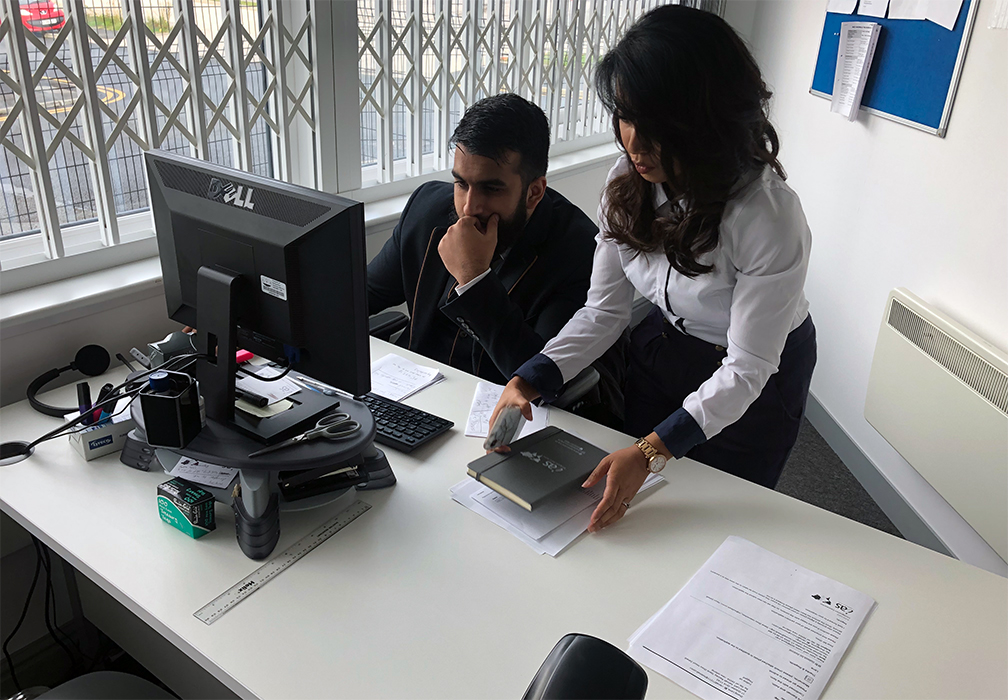 The Fast Track Package
Our Fast-Track Application Package is a premium service for those who need to submit their application in time with their deadlines. Your case will become a top priority for our lawyers and you will benefit from our highest-quality services.
Request the Fast Track Package
The Appeal Package
By choosing our Appeal Package, you can rely on our lawyers' legal knowledge and experience to ensure you have the highest chance of a successful appeal. We will also fully represent you in any hearings/tribunals.
Request the Appeal Package
Related pages for your continued reading.
Frequently Asked Questions
Most Long Stay Visa applications are processed within 8 weeks. However, if the visa application is missing documents or requires more information, this processing time can take longer.
Unlike other visas, Irish family visas however usually take up to 6 months to process due to the complexity of the application.
It should be noted that foreign nationals from non-EU/EEA countries that are not visa-exempt will need the proper visa to travel to Ireland and other countries depending on their visa policies.
For example, individuals who have a Schengen visa can only travel to the Schengen Area countries which does not include Ireland or the UK. Therefore, you will need a separate Irish visa to visit Ireland if you are traveling through Europe and are from a visa-required country.