Ireland Critical Skills Employment Permit from Canada
The Critical skills employment permit is for Canadians and other foreign nationals who want to work in Ireland and hold high-level, critical skills that are considered desired by the Ireland labour market.
Do you have questions regarding the Ireland work visa and the employment permit? Or do you want assistance with obtaining the Critical Skills Employment Permit? If yes, reach out to our team of immigration experts on +1 844 290 6312 or via our easy live chat.
What are the critical skills employment permits?
The Critical Skills Employment Permit is an employment permit reserved for foreign nationals, including Canadian workers, who are highly skilled or earning above a certain threshold in terms of annual salary.
If your application for the Critical Skills Employment Permit is successful, you will be able to apply for an Irish Stamp 4, which is valid for up to 5 years. After living in Ireland for a specific period of time, you can apply for permanent residency.
Canadians can also apply for immediate family reunification with an employment permit. That means that your spouse or partner, as well as any dependent children, can come to join you from Canada in Ireland.
"I'm very happy with the standard of training received on the OISC Level 1 course, i passed my exam. Thank you!"
"My application was approved and a huge weight has been lifted from our shoulders this year "
"We used this service for the spouse visa extension application to assure that all the information was valid and correct."
What are the requirements for the critical skills employment permit?
To be eligible for the critical skills employment permit potential permit holder must meet the following:
You must work in an occupation deemed to be highly skilled.
It must be a role deemed to be in shortage in the Irish labour market and considered important to Ireland's economy and labour market.
Professions must have a minimum annual salary of at least €64,00 ($87,538.90 Canadian Dollars) unless the job offer is an eligible job that is on the "Ineligible List of Occupants for Employment Permits".

Note that employment that has an annual minimum salary of at least €32,000 ($43,756.30 Canadian Dollar) has been added to the Critically Skilled Occupations List.
You can also be eligible for this employment permit if you are a non-EEA national with 1, 1A, 2, 2A, or 3 immigration stamps and you have a job offer for jobs on the Highly Skilled Occupations List.
What are the eligible jobs for the critical skills employment permit?
For the critical skills employment permit, it is important that your job in Ireland meets the following criteria:
The company, business, or employer who offered you the job must be formally trading in Ireland and is registered with Revenue and the Companies Registration Office
You will be directly employed and paid by the employer in Ireland, and not by a recruitment agency
The job offer and employment contract are for at least two years.
You must be able to prove that you have the relevant qualifications, skills, and work experience
The critical skills employment permit will not be granted if your employer's workforce does not comprise a minimum of 50% EEA nationals.
Examples of some occupations eligible for the Critical Skills Employment Permit are:
Chemists
Biologists
Engineers
Medical practitioners
Pharmacists
Nurses
Web development professionals
Architects
What is the application process for the Critical Skills employment permit?
To start the application process for the Critical Skills Employment Permit the applicant must use the Employment Permits online application form.
Here, your application must provide details of your specific skills and qualifications and your proposed job offer in Ireland, including the start date of your job and the annual salary you'll be getting. Other information you'll need to include is:
A description of your proposed job
The duration of the employment contract
Information about the employer who gave you the job offer
Information explaining what qualifications and experience are needed for this opening.
It is best practice to complete and submit your application for the critical skills employment permit 12 weeks, or three months, prior to the job starts.
If your application for the Critical Skills Employment Permit is successful, the next step is to apply for a Long Stay 'D' Visa to enter Ireland to stay for more than 3 months.
What is a Long Stay 'D' Visa for Canadians?  
An Ireland Long Stay Visa, or a "D" visa, is issued to foreign nationals who want to go to Ireland for a long-term period, such as for studying, joining a family member, or employment.
In addition to the documents required for the critical skills employment permit, you need to provide the following documents:
The signed application form summary, which you have printed after completing the online application.
Two passport-sized pictures, in line with Ireland photo requirements.
Your original passport.
Copies of any previous passports.
A letter of application, written by you, which states your reason for traveling to Ireland, details any family members you have in Ireland, and any details specific to your visa.
Proof of sufficient funds to support yourself during your stay.
Details of any previous visas you were refused.
Medical insurance
How much does the critical skills employment permit cost?
The fee that all foreign citizens, including Canadians,  are to pay for the processing of the Critical Skills Employment Permit application is €1,000 (1,367.48 Canadian Dollars).
This fee is partially refundable. If your application is refused, you will receive 90% of it.
If your application is successful, you will also pay for a Certificate of Registration which costs €300 (410.24 Canadian Dollars) for the Certificate of Registration.
Please note that you may incur additional fees depending on the work permit circumstances.
How do you renew the critical skills employment permit?
The renewal application must be submitted online with all of the required documents. It has to be submitted before your current permit expires but should not be done more than four months in advance.
If you submit your renewal application on time, you will be able to remain in Ireland and continue working even if your current permit expires before the new one is issued.
Please note, for the renewal to take place, you must:
hold a valid work permit
be employed by the employer listed on your permit (so you shouldn't change employer)
be able to provide evidence that the current permit requirements were satisfied
provide evidence that your employer is willing to keep you as an employee
What happens if I lose my job?
If you lose your job or are made redundant on a Critical Skills Employment Permit, you must notify the Employment Permits Section of the Department of Enterprise, Trade and Employment of the redundancy on the prescribed Notification of Redundancy Form within 4 weeks of the date of dismissal.
You will then have up to 6 months to look for another job.
If you can't find a new job within that time frame, you must then contact the Irish immigration authorities. If you opt to leave the country after this time and do manage to find another job in Ireland, you'll be able to apply for another employment permit if you're still eligible.
Can I bring my family with me to Ireland?
Yes. As a Critical Skills Employment Permit holder, you'll be able to apply for your spouse, partner or dependent children to come and join you in Ireland.
Your family members will receive Stamp 1G if they come to Ireland. This stamp will also allow your family members to take up employment in Ireland without them having to apply for separate employment permits for themselves. However, they will not be able to establish their own businesses, or be self-employed.
Time spent on Stamp 1G is considered reckonable residence in Ireland.
How can Total Law Help?
If you want to immigrate to Ireland to work, we can help.
Our immigration lawyers are well versed in the Irish and Canadian visas and immigration services and can support you in obtaining an Ireland work permit and visa.
Whether you wish to establish your eligibility for an Irish employment permit, find out what kind of immigration permission is right for you and your family, or just need some one-on-one advice with a legal expert. We can help.
We can also liaise with your local immigration officer in Ireland on your behalf to ensure that your application and residency in Ireland are as hassle-free as possible.
Our team is accessible seven days a week. You can reach us by telephone (+1 844 290 6312) or via our online chat function. We look forward to hearing from you.
Advice Package
Comprehensive immigration advice tailored to your circumstances and goals.
Application Package
Designed to make your visa application as smooth and stress-free as possible.

Fast Track Package
Premium application service that ensures your visa application is submitted to meet your deadline.
Appeal Package
Ensure you have the greatest chance of a successful appeal. We will represent you in any case.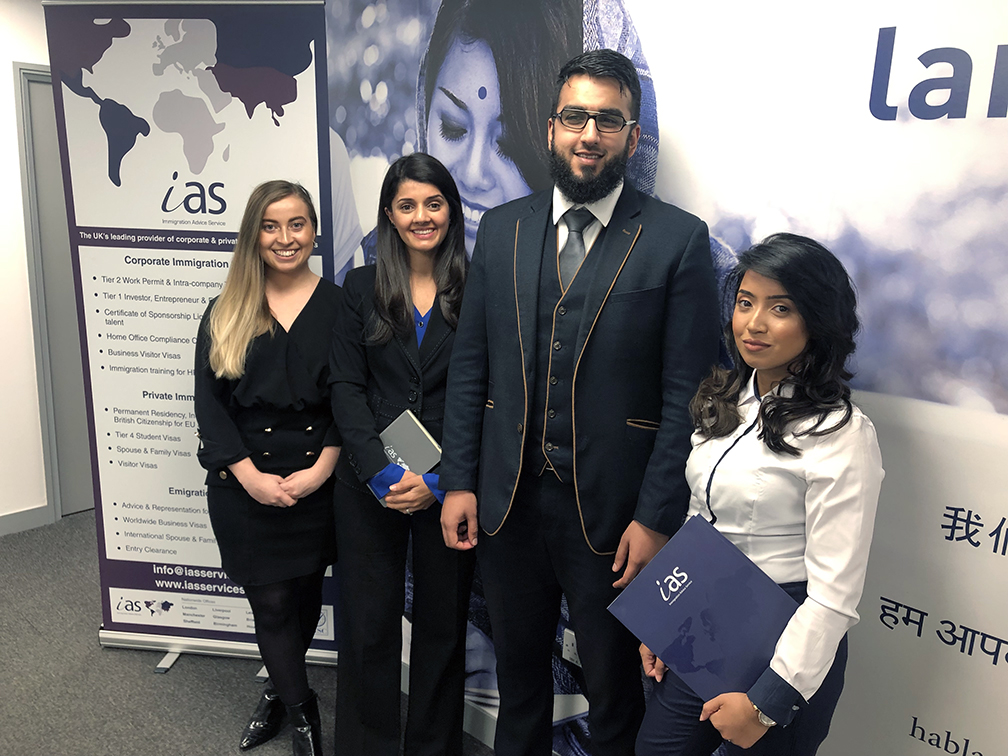 The Advice Package
During this untimed Advice Session with our professional immigration lawyers in London, you will receive our comprehensive advice, completely tailored to your needs and your situation.
Request the Advice Package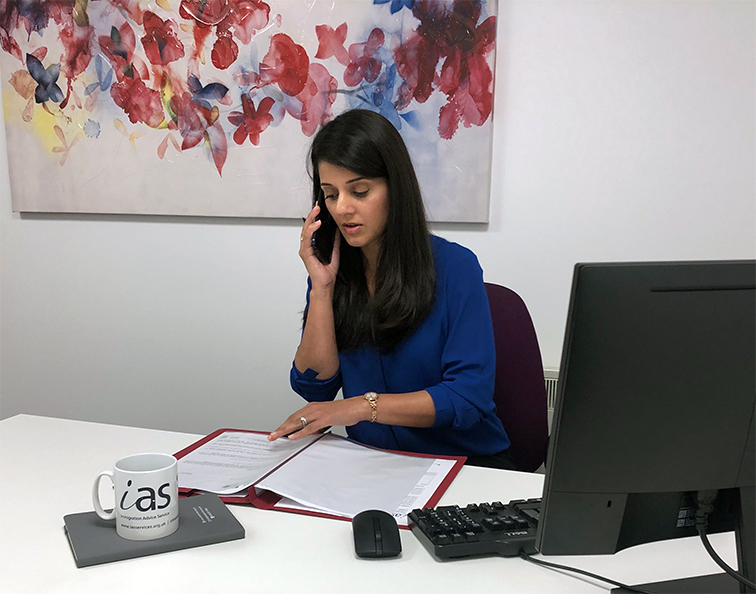 The Application Package
With our Application Package, your dedicated immigration lawyer will advise you on your application process and eligibility. Your caseworker will then complete and submit your forms to the Home Office on your behalf.
Request the Application Package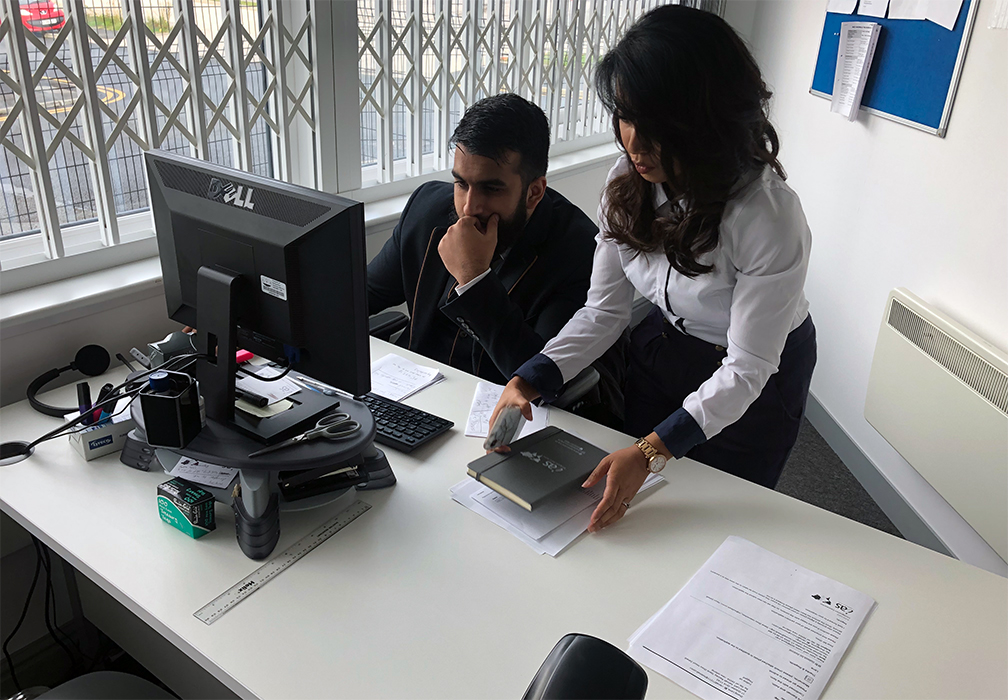 The Fast Track Package
Our Fast-Track Application Package is a premium service for those who need to submit their application in time with their deadlines. Your case will become a top priority for our lawyers and you will benefit from our highest-quality services.
Request the Fast Track Package
The Appeal Package
By choosing our Appeal Package, you can rely on our lawyers' legal knowledge and experience to ensure you have the highest chance of a successful appeal. We will also fully represent you in any hearings/tribunals.
Request the Appeal Package
Related pages for your continued reading.
Frequently Asked Questions
You will have to stay with the employer who initially employed you for at least 12 months (one year) upon entering Ireland.  The only exception to this is if there are unforeseen circumstances that mean you have to stop the role and seek a new one.
After the 12 months are up, you can look for another job with a different company or enterprise, but you will have to submit a new application for a Critical Skills Employment Permit in order to actually work for someone new.
The Critical Skills Permit is an official immigration status that permits the holders of this permit to live and work in Ireland for two years. Following those two years, permit holders are eligible to apply to live in Ireland without having to hold an employment permit.
One of the biggest advantages of the Critical Skills Employment Permit is that it can serve as a route to Irish citizenship. After five years of lawful residence in Ireland, you might be eligible to apply for Irish citizenship, provided that you meet all the requirements.