How Long Does It Take To Get a Green Card On EB1?
Canadian citizens who demonstrate extraordinary ability in their occupations may qualify for the employment-based EB1 green card to gain permanent residence in the US without going through the labor certification process.
The wait time for the EB1 can be much shorter than for other green cards. However, it is important to be aware of the factors that may affect your green card processing time to avoid unnecessary delays.
Call +1 844 290 6312 or use the online contact form to get in touch regarding your visa application.
What is the EB1 Visa?
The EB1 Visa is an employment-based visa that allows eligible foreign citizens to live in the United States as lawful permanent residents without obtaining a PERM labour certification. The EB1 Visa is considered a United States green card. Canadians who wish to apply for the EB1 Visa must:
Provide evidence of national or international acclaim in an eligible occupation including the performing arts, business, academics, or athletics
Have made a significant impact on their field of work and be able to demonstrate international recognition
Plan to continue their work once in the United States
Applicants may choose to apply under the categories of EB-1A Extraordinary Ability, EB1-B Outstanding Researchers and Professors, or EB-1 C Multinational Managers or Executives.
"I'm very happy with the standard of training received on the OISC Level 1 course, i passed my exam. Thank you!"
"My application was approved and a huge weight has been lifted from our shoulders this year "
"We used this service for the spouse visa extension application to assure that all the information was valid and correct."
General Processing Times for the EB1 Green Card
Once your EB1 visa application has been processed successfully and approved, a green card will be awarded. Then you will be able to move to the United States and remain there permanently, with no further visa or extension. It generally takes six to eight months from the time you submit your application for your EB1 visa to be approved. However, there are a number of factors you should be aware of that may cause your EB1 application to be delayed.
Filling out your application accurately and providing the correct supporting documentation is the best way to ensure that your EB1 visa is not delayed or rejected unnecessarily. Submitting inaccurate or incomplete supporting documents or submitting your application to the wrong location are some of the most common reasons for the EB1 visa to be delayed or even refused.
Priority Dates
One of the biggest factors that contribute to the processing time of the EB1 visa is the priority date system. EB1 is not the only green card category that is subject to the priority date system. Your EB1 priority date is marked as the date that the USCIS receives your EB1 petition form.
The Department of State, or DOS, releases a monthly list of final action dates for each green card category by country. You must wait for your priority date to become current with the final action date to take the next step in the EB1 application process.
A lawyer familiar with immigration law can help you to monitor the DOS visa bulletin priority date status and alert you when it is time for you to apply.
Step 1: Filing the I-140 Immigrant Petition
Once your priority date becomes current, you can file your I-140 Immigrant Petition if you are already in the United States. You do not necessarily need a job offer to apply for EB1, you may sponsor yourself if you meet all eligibility requirements.
Service center issues are one of the most common reasons for delay with this part of the application. However, applicants do not have control over which service center their application must be sent to. Service centers are assigned based on the location of the applicant and include the Texas Service Center and the Nebraska Service Center. There may be delays depending on the regional service center's caseload.
Step 2: Filing the I-485 Petition
Once your Immigrant Petition is accepted, you can file the I-485 application form. It takes an average of six to eight months to process the I-485 form. However, waiting for the priority date to be current can have a significant effect on the overall processing time.
This can take months or even years, so you should be prepared for a significant wait if your priority date is not yet current.
Filing Petitions I-140 and I-485 Together: EB1 Green Card Concurrent Filing
Concurrent filing is the process of filing both I-140 and I-485 forms together at the same time. This is one of the primary ways to shorten the processing time for the EB1 visa. However, everyone is not eligible to file the petitions concurrently.
To be eligible for concurrent filing of your I-140 and I-485 forms, your priority date must be current. A qualified immigration lawyer can advise you on whether filing concurrently can help you to receive a faster decision in your situation.
Filing From Outside of the US: EB1 Green Card Consular Processing
When you file for the EB1 visa from outside of the US, you must go through consular processing. Consular processing involves making an appointment with a designated U.S. Consulate or Embassy in Canada.
At your appointment, you will have an interview with a consular officer who will determine whether or not your EB1 visa case is legitimate. If your interview is successful, then your EB1 green card will be attached to your Canadian passport and sent back to you.
Premium processing is a service that shortens the processing time to just fifteen days. There is an additional premium processing fee of $1,440 for selecting this option. Note that premium processing does not increase your chances of having your EB1 petition approved. It only decreases the amount of time it takes for you to receive a decision.
Premium processing only applies when your priority date is current. If there is a backlog and you must wait for your date to become current, premium processing will not speed this up.
In addition, only certain EB1 visa categories are eligible to receive premium processing services. These include EB1A Extraordinary Ability Category and EB1B Outstanding Professors and Researchers categories. Those applying under the category of Multinational Executives and Managers are not able to opt for premium processing.
USCIS Request for Evidence
A USCIS Request for Evidence, or RFE, may increase your processing time. An RFE occurs when the immigration officer who is assessing your application believes that additional evidence is needed. This may be due to missing information or something more complex, such as additional proof of your claim for the visa.
The USCIS will give you a deadline by which to provide the evidence along with the specific evidence requested. You must respond by this deadline with the correct information in order to keep your application from being further delayed or rejected.
You may also receive a Notice of Intent to Deny or NOID. This is similar to an RFE, although a NOID means you must be even more careful to provide the exact information requested. If you do not supply the correct information, your application will be denied.
How Can Total Law Help?
With Total Law, immigration services are provided by our team of expert immigration lawyers. Your advisor will ensure your application package is complete and that your EB1 application has the best chance of being approved without unnecessary delays.
For further information, contact us today at +1 844 290 6312 or use our online contact form to get in touch with our team of qualified immigration lawyers.
Advice Package
Comprehensive immigration advice tailored to your circumstances and goals.
Application Package
Designed to make your visa application as smooth and stress-free as possible.

Fast Track Package
Premium application service that ensures your visa application is submitted to meet your deadline.
Appeal Package
Ensure you have the greatest chance of a successful appeal. We will represent you in any case.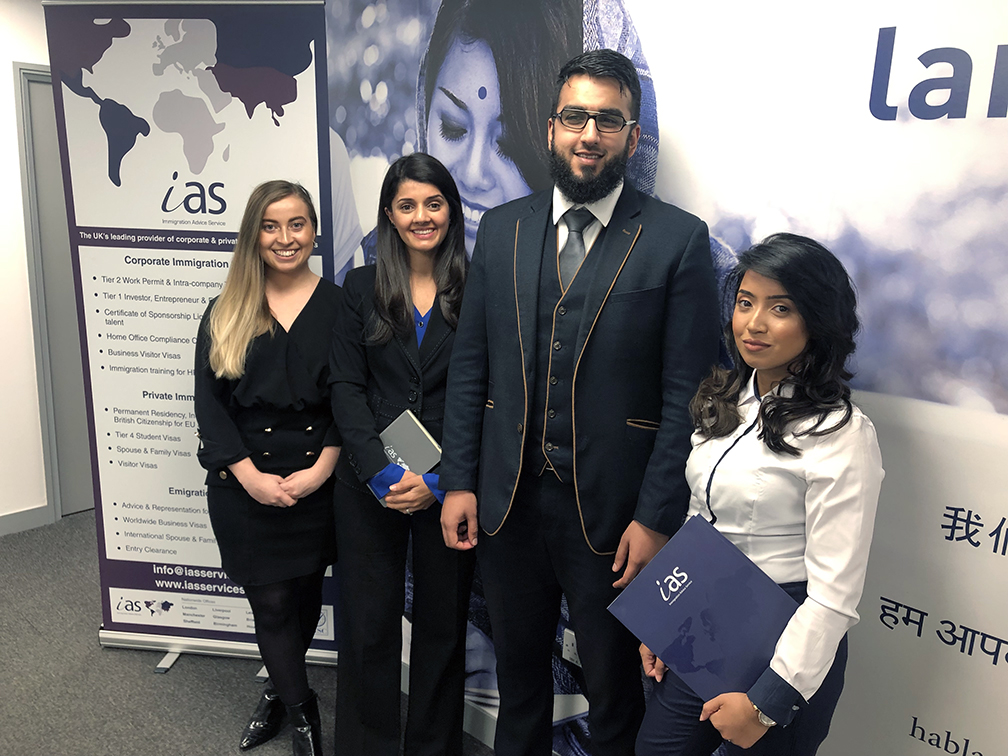 The Advice Package
During this untimed Advice Session with our professional immigration lawyers in London, you will receive our comprehensive advice, completely tailored to your needs and your situation.
Request the Advice Package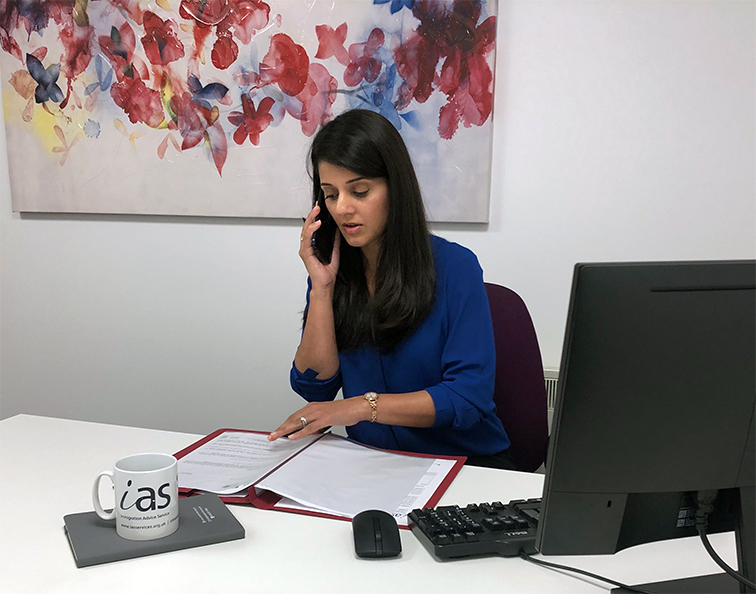 The Application Package
With our Application Package, your dedicated immigration lawyer will advise you on your application process and eligibility. Your caseworker will then complete and submit your forms to the Home Office on your behalf.
Request the Application Package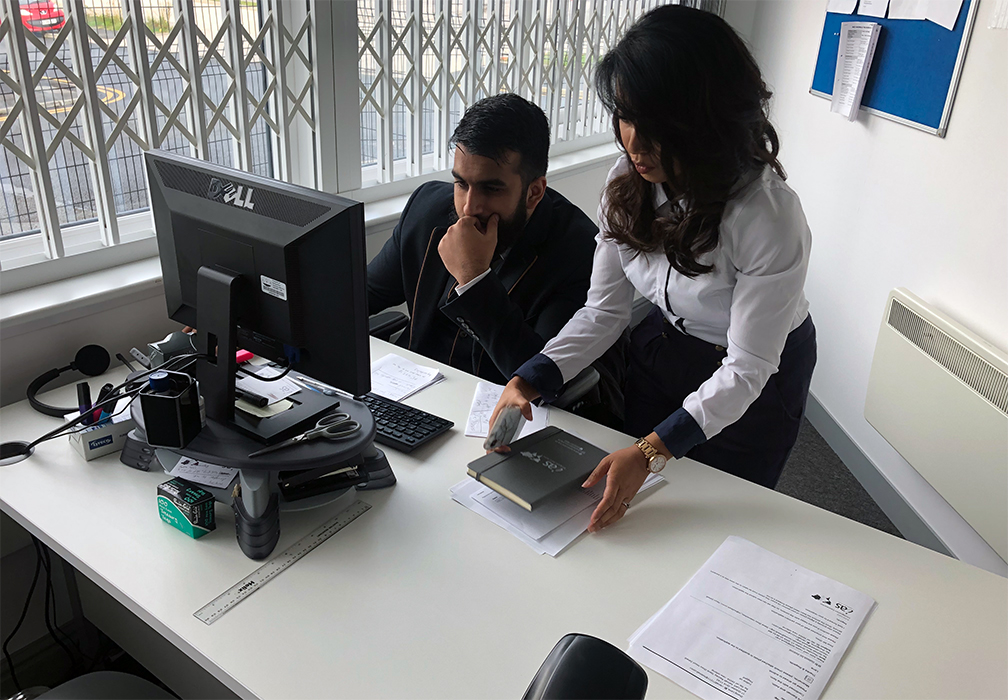 The Fast Track Package
Our Fast-Track Application Package is a premium service for those who need to submit their application in time with their deadlines. Your case will become a top priority for our lawyers and you will benefit from our highest-quality services.
Request the Fast Track Package
The Appeal Package
By choosing our Appeal Package, you can rely on our lawyers' legal knowledge and experience to ensure you have the highest chance of a successful appeal. We will also fully represent you in any hearings/tribunals.
Request the Appeal Package
Related pages for your continued reading.
Frequently Asked Questions
If your EB1 Visa application is rejected by USCIS, you will receive a letter detailing the reason for the decision. If you wish to appeal the decision, an immigration attorney from Total Law can help you to file an appeal to the USCIS Administrative Appeals Office. In some cases, you may wish to re-apply rather than appeal the decision.
A qualified immigration attorney such as at Total Law can assist you in identifying all of the options available to you when going through the EB1 application process for your category. Some categories have additional options available, such as premium processing, which may shorter the wait for approval in some cases. An immigration lawyer may also make recommendations to shorten the potential processing time based on their assessment of the priority date, category status update, and method of filing used.
A request for evidence may delay the processing of your green card depending in part on how long you take to respond to it. You must respond with the requested information or documents by the date given on the RFE to avoid your application being further delayed or even rejected. If you are unsure of the deadline for your RFE, consult a qualified immigration attorney who can assist you.