L2 Visa for Canadian Citizens
Immediate family members of L1 visa holders may be eligible to join their spouse or parent in the United States by applying for the nonimmigrant L2 visa for dependents.
If you need assistance with the L2 visa, feel free to call us on +1 844 290 6312, or you can request a call back through our live chat feature.
What is an L2 visa?
The L2 Visa allows an L1 Visa holder's dependent spouse and/or unmarried children under the age of 21 to enter the US alongside them. It is a non-immigrant visa and is only valid as long as the primary L1 Visa is valid. The L2 Visa is designed to keep families together when one member has to travel to the US for work-related purposes.
"I'm very happy with the standard of training received on the OISC Level 1 course, i passed my exam. Thank you!"
"My application was approved and a huge weight has been lifted from our shoulders this year "
"We used this service for the spouse visa extension application to assure that all the information was valid and correct."
What are the L1 visa categories?
There are two types of L1 Visas, which are as follows:
L-1A visa: This visa allows an employer to transfer an employee who holds an executive or managerial position in an office in Ireland, to an office in the US. These visa holders may stay on this visa for up to seven years.
L-1B visa: This visa is for individuals who have essential, and specialized skills that are crucial to the functioning of the business. Specialized knowledge capacity visa holders are also referred to as 'specialized knowledge employees'.
To qualify for the L1 visa, the applicant must demonstrate that there is a genuine need for them to undertake the role in the US. This means that the application must be accompanied by a significant amount of relevant supporting evidence and documentation. Both the employer and the employee must meet the L1 Visa eligibility criteria to have a successful application. Dependents who wish to accompany the primary L1 Visa will need to apply for the L2 Visa.
What are the requirements for an L2 visa?
The L2 Visa is specifically for the dependents of an L1 Visa holder. The only family members eligible to apply are the immediate family members such as spouses and children. Unfortunately, this does not extend to siblings, grandparents, or other extended family members. In simple terms, you must either be the spouse of an L1 Visa holder, or an unmarried child under the age of 21 of the primary L1 visa holder.
If you do not fall into either of these categories, you may still be able to enter the US to visit your family member under a different US visa. For example, you may be eligible to apply for a B2 Tourist Visa.
If the primary L1 Visa holder opts for a different visa category while they are in the US, the L2 Visa holder will also have to do the same, based on the category of the new visa.
L2 visa required documents
An L2 Visa application can be submitted alongside the original L1 Visa petition, or it can be filed at a later date. At whatever stage you submit the L2 Visa application, you will be required to gather certain documentation to support your application and approve eligibility. The documentation is generally as follows:
A completed Form DS-160 (Online Nonimmigrant Visa Application)
A valid passport, for everyone affected by the visa (the spouse, and each of the individual children)
One photograph of each applicant, which must adhere to the photograph guidelines issued by your local US consulate
An original birth certificate for every applicant under the age of 14
An original marriage certificate
A copy of the approved L1 petition, if it is available at this stage
A letter from the L1 Visa holders employer
A confirmation letter from the L1 Visa holder that you are a dependent family member of the primary L1 visa holder
Depending on your circumstances, you may be asked by the United States Citizen and Immigration Services (USCIS) to submit further documentation or information, which they will inform you about at the time. All necessary documentation should be gathered and submitted promptly, as missing documents are one of the most common reasons that US visa applications are rejected.
Working under an L2 Visa
The L2 Visa will allow a spouse to work, but the children will not be able to. They will, however, be able to attend public school in systems in the US.
L2 spouses will no longer need to apply for an employment authorization document. They are automatically work-authorized due to their L2 visa status.
Extending the L2 Visa
The L2 Visa can be extended so long as the L1 Visa has been as well, and in most cases, an L1 Visa extension will automatically lead to an L2 extension as well. The length of time that an L2 Visa can be extended for is determined by the amount of time that the L1 Visa can be extended for. This depends entirely on the type of L Visa that the primary holder is on. The L1 extension time has a maximum of 5 to 7 years.
If and when an L1 Visa expires, the L2 Visa Holder will have to return to Canada as well. If you wish to remain in the US, you may be able to follow another visa route while your current L2 Visa is still valid. If you are unsuccessful in gaining an alternative visa, you may have to choose a completely different route. In order to apply for a new visa, you will need to spend at least 12 months outside the US, which is a condition that applies to both the L1 and the L2 Visa holders.
Switching to a new visa from the L2 visa
You may be eligible to change your status from an L2 Visa to another visa category. Depending on your circumstances and wishes, you may be able to switch to the F1 Student Visa for study-related purposes, the H4 Work Visa for work-related purposes, or even to the L1 Visa alongside your primary visa holder, if you happen to meet the requirements.
Another route that may suit your circumstances, is that if you are currently employed by a company, you could request that your employer sponsor you for the H1B Visa. This will be done at your employer's discretion.
It is important to keep in mind that if your primary L1 Visa holder changes their visa category while you're in the US, your own immigration status will also change. For example, if your L1 Visa holder switches from an L1 Visa to an H1 Visa, you will also switch from the L2 Visa to the H4 Visa.
Advice Package
Comprehensive immigration advice tailored to your circumstances and goals.
Application Package
Designed to make your visa application as smooth and stress-free as possible.

Fast Track Package
Premium application service that ensures your visa application is submitted to meet your deadline.
Appeal Package
Ensure you have the greatest chance of a successful appeal. We will represent you in any case.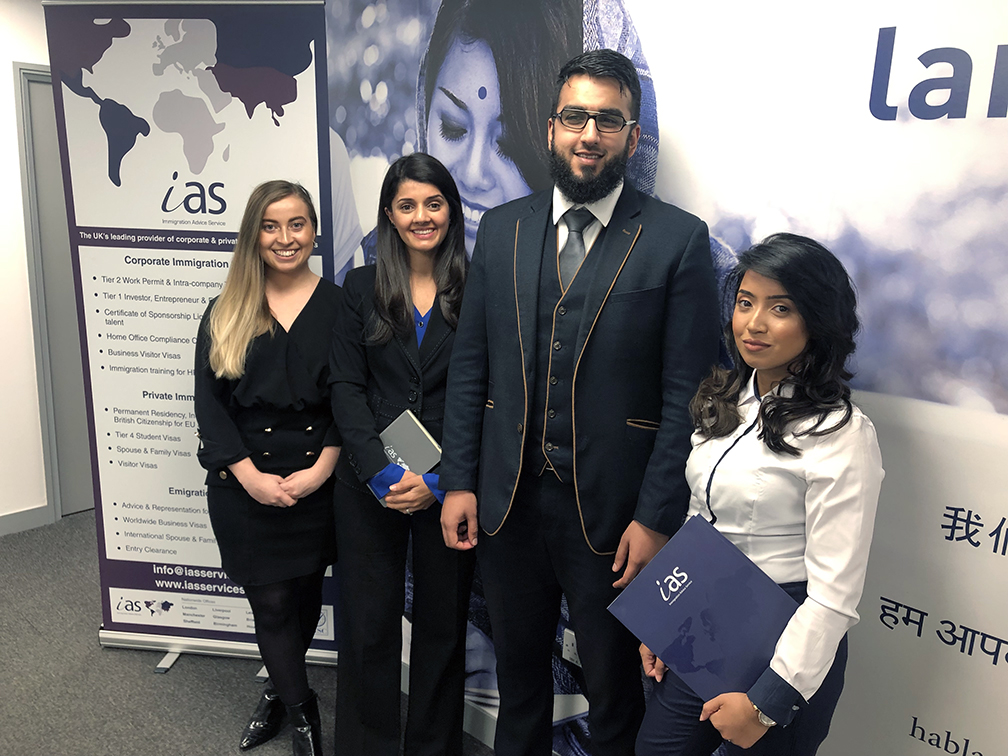 The Advice Package
During this untimed Advice Session with our professional immigration lawyers in London, you will receive our comprehensive advice, completely tailored to your needs and your situation.
Request the Advice Package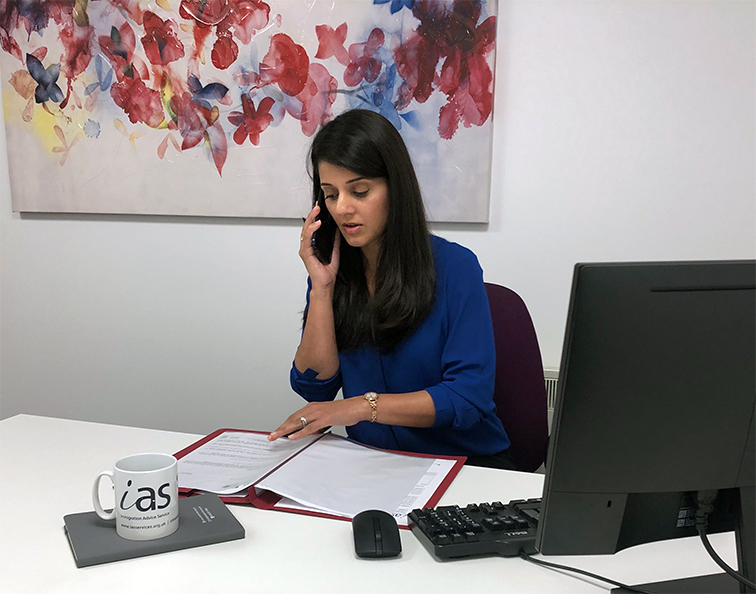 The Application Package
With our Application Package, your dedicated immigration lawyer will advise you on your application process and eligibility. Your caseworker will then complete and submit your forms to the Home Office on your behalf.
Request the Application Package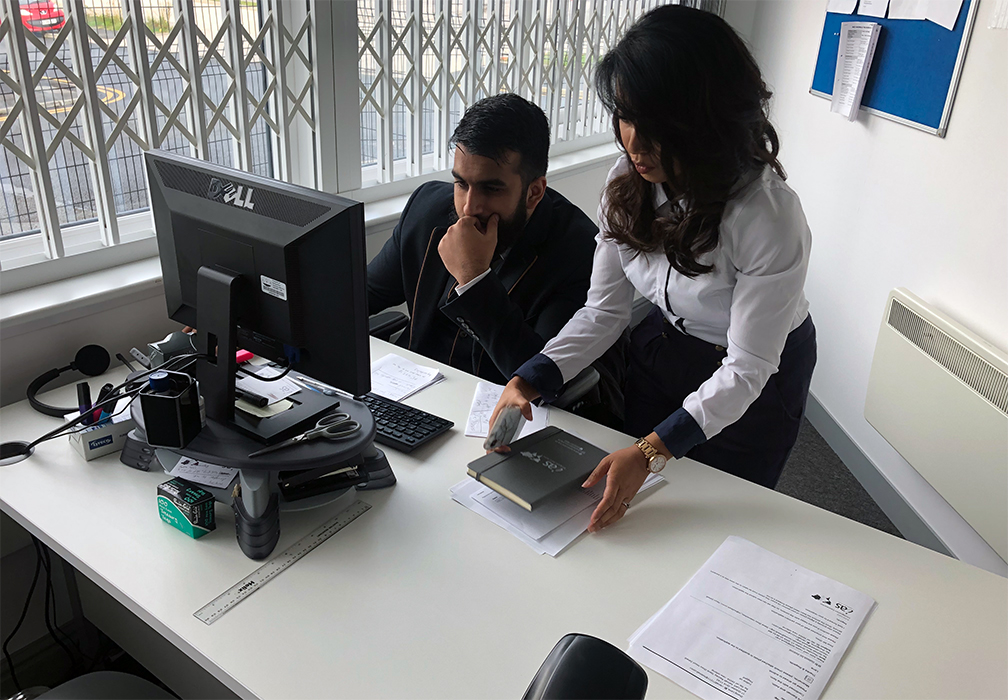 The Fast Track Package
Our Fast-Track Application Package is a premium service for those who need to submit their application in time with their deadlines. Your case will become a top priority for our lawyers and you will benefit from our highest-quality services.
Request the Fast Track Package
The Appeal Package
By choosing our Appeal Package, you can rely on our lawyers' legal knowledge and experience to ensure you have the highest chance of a successful appeal. We will also fully represent you in any hearings/tribunals.
Request the Appeal Package
Related pages for your continued reading.
Frequently Asked Questions
As an L2 visa holder, you will need to prove your relationship to the primary L1 visa holder in order to obtain dependent status. To do this, you will need to provide any relevant documents that prove your relationship as a spouse or child. These can include the following:
Birth certificates (for children)
Marriage certificates (for spouses)
Family tax returns
Wedding albums, family photo albums, etc
Here at Total Law, we understand all the ins and outs of the US immigration system. We know that it can be a challenge to navigate and that many applications can lead to delays or rejection of your visa application.
Our Total Law immigration lawyers can ensure your L2 Visa petition and application are completed to the highest standard and contain everything you need to maximize your chances of success. We will work with you at every stage of the process including the following:
Reviewing your situation
Assessing your eligibility for the L2 Visa
Preparing a letter of representation on your behalf to emphasize the merits of your visa application
Liaise with USCIS throughout the visa application process
Liaise with your L1 Visa holder as needed
Provide you with regular updates throughout the entire L2 application process
If you need any assistance with your US visa application, you can contact us anytime by calling +1 844 290 6312 or by using the online chat function to speak with one of our client care agents.