F4 visa
Family members of U.S. citizens or lawful permanent residents (LPRs) who want to come into the U.S. from a foreign country can do so through the F4 visa.
For advice and assistance with your application, contact us today on +1 844 290 6312 or use the online contact form to get in touch.
What is the F4 Visa?
The F4 visa is a part of the family preference visa category that allows U.S. citizens and lawful permanent residents to bring their family members living in a foreign country into the U.S. The F4 visa is a sibling visa, meant explicitly for brothers and sisters of U.S. citizens and LPRs and the wives and children of these siblings.
The F4 visa grants the holder LPR status in the U.S., meaning they have the freedom to live, study and work freely in the U.S.
The F4 visa is subject to the same annual cap as every other Family preference visa and has a cap of 65,000 each year. This cap limits the number of applications accepted and processed by the U.S. government each year, and F4 status will be granted when an applicant's priority date becomes current.
"I'm very happy with the standard of training received on the OISC Level 1 course, i passed my exam. Thank you!"
"My application was approved and a huge weight has been lifted from our shoulders this year "
"We used this service for the spouse visa extension application to assure that all the information was valid and correct."
Eligibility for the F4 Visa
As a Canadian citizen, you must meet specific requirements before applying for the F4 visa. In addition, your sibling who is a U.S. citizen or LPR must also meet some requirements to sponsor your application for F4 status.
As a Canadian applying for the F4 visa;
You must have a sibling who lives in the U.S. as a U.S. citizen or LPR
You must be resident in a foreign country at the time of your application
On the other hand, your sibling who wants to sponsor your F4 visa application must meet the following requirement.
They must be a U.S. citizen or lawful permanent resident.
Must be at least 21 years old
They must be residents in the U.S. and have a valid house address
Must have documents that prove their familial relationship with the person they want to sponsor
Once you and your sponsor meet all the requirements, then you can start your application.
Applying for the F4 Visa
The F4 visa application process starts with your U.S. citizen sponsor filling a petition for their family member to join them in the U.S.
Only when the petition is approved will you be eligible to submit your F4 visa application.
Filing the Petition for Alien Relative
Your U.S. citizen sibling must file and submit Form I-130, Petition for Alien Relative, to the U.S. Citizenship and Immigration Services (USCIS). The petition will include your name as the primary person and must also list your wife's name and any children below 21 years if you're married and have children.
Once received, the USCIS will process the petition within a few months, after which they will inform your sponsor of their decision to approve or deny the petition.
If the petition is denied, the USCIS will specify the reasons so that your sponsor can make corrections and submit another application. Upon approval, the USCIS sends the documents to the National Visa Center (NVC), which will then send you a package bearing instructions regarding when and how you can begin your F4 visa application; and documents that contain your case number and invoice ID number, which you will need to pay the application fees and to apply for the visa.
Due to the limit on the number of F4 visas issued each year, you cannot start your application until it is your turn in the chronological order of applicants. Thus, if your number is 76,463, this is beyond 65,000, and you'll have to wait for the next year to resume your application.
Applying for the visa
Once your priority date becomes current, the National Visa Center will inform you to start your application process. You and each dependent will submit a separate visa application, and the application process takes place in the following steps.
You and your dependents will file the Form DS-260, Immigrant Visa Electronic Application. You will access the form online using your NVC case number so that it can link to your approved petition. After submitting the form, a confirmation page will be generated, which you must print.
You and your dependents will complete the mandatory medical examinations and vaccinations required for permanent residence in the U.S. The NVC will inform you of the required checks and vaccines, and you must obtain a signed report from a licensed medical professional. This report will state that you have carried out the checks and received the vaccines.
You must compile all the necessary documents, and complete medical examination and vaccination reports that support your visa application. These documents will be sent to the NVC and presented at the U.S. Embassy or Consulate.
When you have submitted all your required documents to the NVC, they will contact you to schedule an interview at the U.S. Embassy in Ottawa or any U.S. Consulates within Canada.
You and any other dependent applying for the visa must attend the scheduled interview. There, the Consulate officer will ask questions to determine your eligibility for the visa.
If the Embassy approves your visa, your passport will be stamped. The Embassy will then give you a package you must take to the U.S. You must not open the package until you get to a U.S. port-of-entry. There, an immigration officer will open the package and determine whether you can enter the country or not.
Supporting Documents for F4 Visa Application
During your F4 application process, you will need to submit documents to convince the NVC and U.S. Embassy of your eligibility for the visa. The required documents include;
Your passport must be valid for more than six months after your planned entry into the U.S. You must also present your spouse's and children's passports if they are entering the U.S. with you.
A signed Form I-864, Affidavit of Support from your U.S petitioner (your sibling)
Form DS-260 confirmation page
Medical examination and vaccination report
Two passport photographs that meet the Photo Requirements for an American Visa
Your valid marriage certificate to prove your marriage. If you have been previously married, you must bring divorce or death certificates to prove the marriage was officially terminated.
Birth certificates or adoption documents of your children
Court and criminal records and police certificate
If you served in the military, you must bring your military records
Not providing any of the documents can cause a delay in your application process. Speak to a Total Law immigration lawyer to help you prepare the documents and guide you through the application process to make it seamless.
What happens at the F4 Visa Interview?
You must attend an interview at the U.S. Embassy in Ottawa or any of the six U.S. Consulate offices within Canada. The purpose of the interview is to test your eligibility for an F4 visa and ensure that the information you filed on Form DS-260 is correct.
You will need to present to the Embassy any other dependents applying for the visa. There you will be privately interviewed by an Embassy or consulate official. There are no specific questions asked. The questions will typically revolve around your background and will seek to verify that;
You don't have a criminal record or terrorist links
You don't have a sinister motive for visiting the U.S.
Your relationship with your sponsor is genuine.
Your sponsor is a real U.S citizen.
Your marriage is genuine (if you want to bring your spouse along)
If everything goes well at the interview, you will get a decision right away, but you will not receive your visa immediately since the USCIS will send it through the mail, which can take several weeks to get to you.
Sometimes, the officer may not be thoroughly convinced and will require several weeks to decide, which can cause more waiting time for you. However, contacting Total Law's expert immigration advisers will help you avoid this situation.
F4 Visa Processing Time and Costs
The F4 visa has a limit to the number issued per year, and this significantly causes the processing time to belong. As a result, the time between filing the petition by your U.S. sibling and approval of your visa may be as short as one year if you're lucky or as long as ten years or more.
The cost of the F4 visa depends on your circumstance and how many persons you're applying for. The official fees paid during the application process include;
$535 to process the Form I-130. Your U.S. sponsor will pay this fee to the USCIS when submitting the petition.
$325 to process the Form DS-260. You and each dependent will pay separately for each Form DS-260
$120 to process Form I-864, Affidavit of Support.
$220 for the USCIS Immigrant Fee, which is to be paid after applicants have received their F4 visa and before they enter the U.S. You will not be issued a green card if you don't pay this fee
Other fees include;
Fees for medical checks and vaccinations
Fees for obtaining and translating all supporting documents
How can Total Law help?
Total Law's excellent immigration lawyers are highly knowledgeable on the intricacies of U.S. visa processes. They will provide advice and support to make your application process seamless.
Total Law's expert immigration lawyers will help you determine that you meet the eligibility criteria, help you gather the supporting documents, guide you through the interview process and likely questions you may face so that you are confident during the process, and will help you file an appeal should your visa be denied.
Total Law is on hand 24/7 to help you out. So do reach out to us, and let's make your visa application journey stress free.
Advice Package
Comprehensive immigration advice tailored to your circumstances and goals.
Application Package
Designed to make your visa application as smooth and stress-free as possible.

Fast Track Package
Premium application service that ensures your visa application is submitted to meet your deadline.
Appeal Package
Ensure you have the greatest chance of a successful appeal. We will represent you in any case.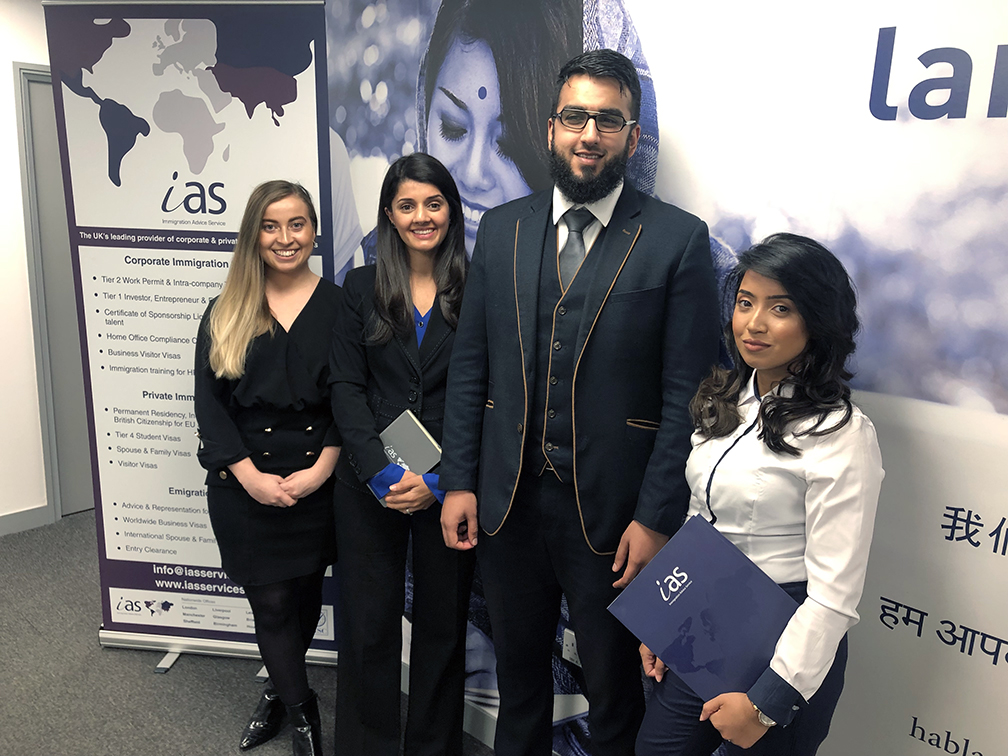 The Advice Package
During this untimed Advice Session with our professional immigration lawyers in London, you will receive our comprehensive advice, completely tailored to your needs and your situation.
Request the Advice Package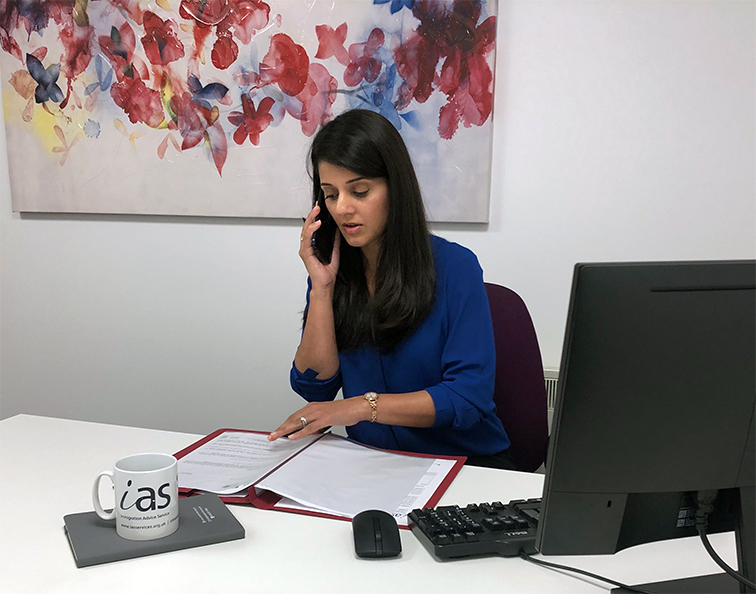 The Application Package
With our Application Package, your dedicated immigration lawyer will advise you on your application process and eligibility. Your caseworker will then complete and submit your forms to the Home Office on your behalf.
Request the Application Package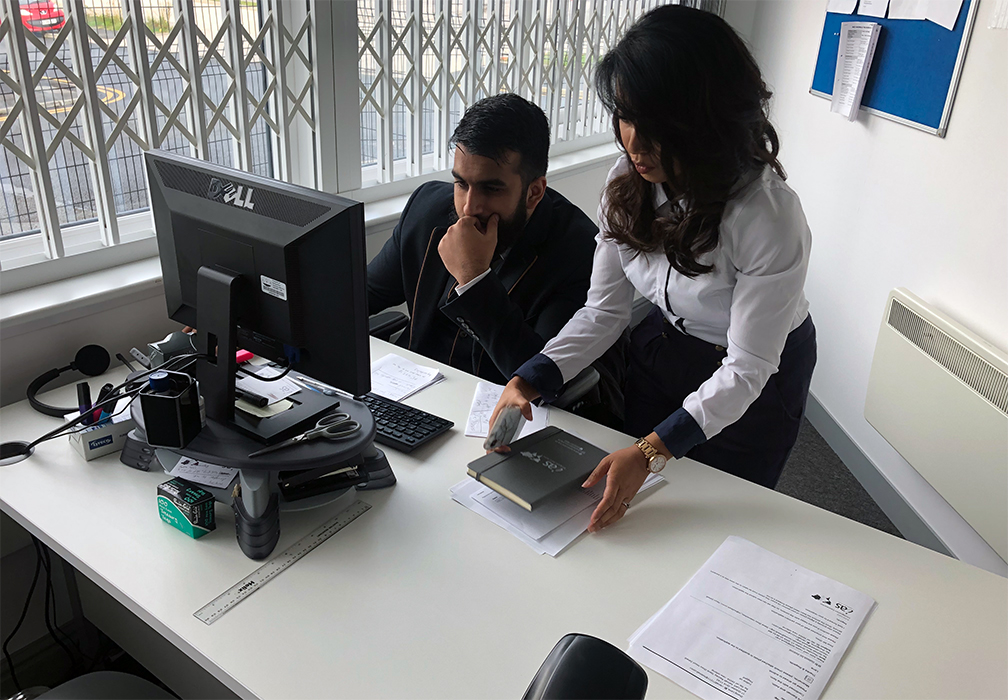 The Fast Track Package
Our Fast-Track Application Package is a premium service for those who need to submit their application in time with their deadlines. Your case will become a top priority for our lawyers and you will benefit from our highest-quality services.
Request the Fast Track Package
The Appeal Package
By choosing our Appeal Package, you can rely on our lawyers' legal knowledge and experience to ensure you have the highest chance of a successful appeal. We will also fully represent you in any hearings/tribunals.
Request the Appeal Package
Related pages for your continued reading.
Frequently Asked Questions
Yes, you are eligible for healthcare. However, ensure that you get health insurance to avoid paying exorbitantly for healthcare services.
Even though the F4 visa is a family preference visa, it only covers siblings of U.S. citizens or LPRs and their dependents. Parents of U.S. citizens may enter the U.S. through the IR5 visa.
Contact Total Law's expert immigration attorneys for inquiries on how you can speed up the application processing times.
Yes. Your sponsor will have to show that they have the financial means to take care of you until you become a U.S. citizen. Typically, this will be in the form of income or assets 125% above the poverty line. The specific amounts in earnings will also be dependent on the number of people entering the U.S., and whether your sponsor is on active military duty.
Get in touch with a Total Law immigration attorney to find out if and how you can meet the financial requirements for an F4 visa.