How Long Do Work Visas Last in the US?
UK citizens who are applying for or currently hold a US work visa should be aware of the time limits of their visas. It is important to maintain valid visa status and not to overstay the terms of your visa to avoid potential fines or penalties. You may also want to plan to apply for an extension, a different type of visa, or a US green card prior to the expiration of your work visa.
Call 0333 305 9375 or use the online contact form to get in touch regarding your application process.
Getting a US Work Visa
If you are applying for a petition-based visa, you will first need to get a job offer or employment contract from a prospective employer. Once you have an approved petition, you can then continue with your work visa application.
As part of the process, you will need to submit supporting documents, pay the visa insurance fee, and in some cases attend a visa interview. Visa processing times typically take about six to eight months from the time that the United States Citizenship and Immigration Services (USCIS) receives your application.
The length of time you are permitted to work in the United States is determined by the category of visa you apply to and is important you are aware of when your visa is due to expiry.
Within the two main categories of immigrant and non-immigrant visas, there are many sub-types that may have their own eligibility requirements and rules.
For example, students who are taking part in practical training programs will be held to a different standard than a temporary work visa holder in the Investor Treaty category.
If you are unsure of which category of visa is best for your situation, contact a qualified immigration attorney to help you determine the best visa for your situation.
"I'm very happy with the standard of training received on the OISC Level 1 course, i passed my exam. Thank you!"
"My application was approved and a huge weight has been lifted from our shoulders this year "
"We used this service for the spouse visa extension application to assure that all the information was valid and correct."
Non-Immigrant Temporary Work Visas
Temporary work visas are not always issued for the same length of time. How long you are permitted to stay in the United States depends on your occupation and the terms of your visa.
H-1B visas and some other types of temporary visas allow the visa holder to stay in the US for the same length as their employment contract, or up to six years total. Extensions beyond six years are not typically granted.
In the case of an extension past six years, you may apply for an adjustment of status. Adjustment of status means that you are seeking a green card or permanent residence in the US.
Temporary workers with TN work permits must leave the US after three years unless an extension is granted, compared to top executives and some self-employed professionals may have E-category visas that are valid for up to five years and permit periods of stay in the US of up to two years as long as their activities are determined to be "conducive to substantial trade."
Visa holders of a non-immigrant temporary work visa must stop working and exit the US upon the expiration date of their visa.
The EAD, or work permit, is typically granted to foreign citizens who intend to permanently reside in the United States. Those who apply for the EAD may have an immigration status that is either permanent or temporary. Your EAD may have a different length of valid time depending on your occupation and circumstances.
If you are pending an Adjustment of Status or have Temporary Protection of Status, you may qualify for an EAD card to work.
Foreign nationals who take part in the Deferred Action for Childhood Arrivals (DACA) program can receive EAD cards to work that last up to two years.
EAD holders may be able to stay in the US beyond the expiration of their work permits if they are pursuing resident status. No matter what your expiration date is, working without a valid EAD is illegal and could result in severe consequences.
If your employment authorisation has expired, contact a qualified immigration lawyer to assist you. Do not risk violating the terms of your visa.
How Can Total Law Help?
With Total Law, quality immigration services are provided by our team of professional immigration lawyers.
Make sure you have the best application package and avoid unnecessary delays or denial.
Your Total Law advisor will provide you with current information on USCIS standards for work visa applications and help you to navigate US immigration laws.
For further information, contact us today at +1 844 290 6312 or use our online contact form to get in touch with our team of qualified immigration lawyers.
Advice Package
Comprehensive immigration advice tailored to your circumstances and goals.
Application Package
Designed to make your visa application as smooth and stress-free as possible.

Fast Track Package
Premium application service that ensures your visa application is submitted to meet your deadline.
Appeal Package
Ensure you have the greatest chance of a successful appeal. We will represent you in any case.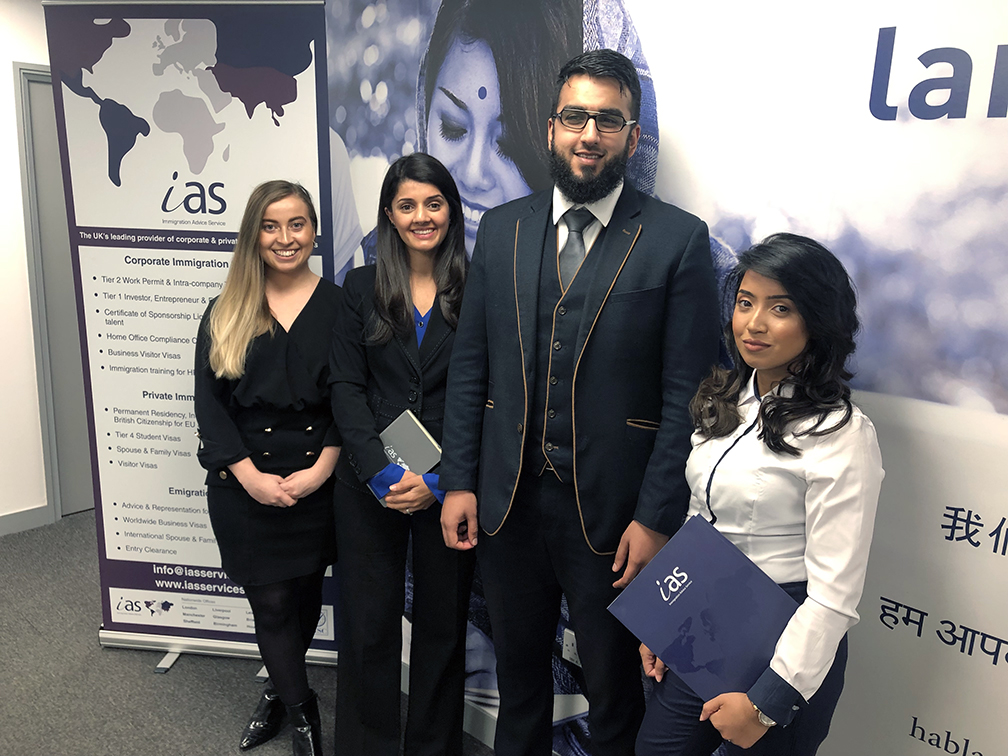 The Advice Package
During this untimed Advice Session with our professional immigration lawyers in London, you will receive our comprehensive advice, completely tailored to your needs and your situation.
Request the Advice Package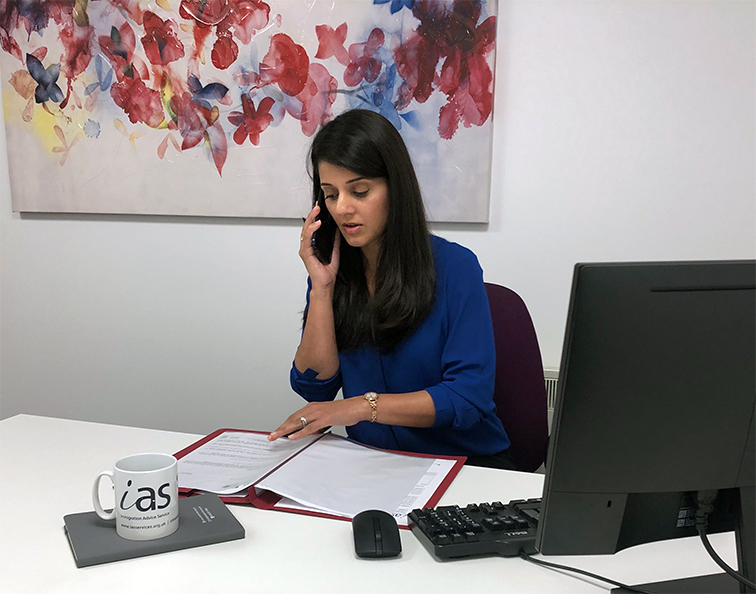 The Application Package
With our Application Package, your dedicated immigration lawyer will advise you on your application process and eligibility. Your caseworker will then complete and submit your forms to the Home Office on your behalf.
Request the Application Package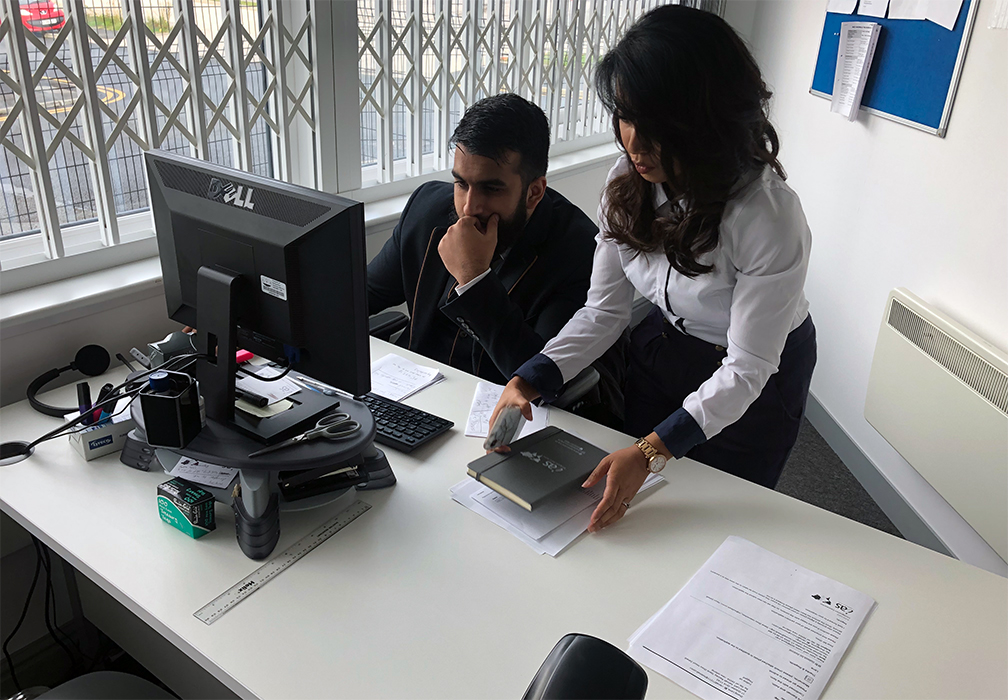 The Fast Track Package
Our Fast-Track Application Package is a premium service for those who need to submit their application in time with their deadlines. Your case will become a top priority for our lawyers and you will benefit from our highest-quality services.
Request the Fast Track Package
The Appeal Package
By choosing our Appeal Package, you can rely on our lawyers' legal knowledge and experience to ensure you have the highest chance of a successful appeal. We will also fully represent you in any hearings/tribunals.
Request the Appeal Package
Related pages for your continued reading.
Frequently Asked Questions
Typically a US work visa dictates that you must work for the same employer for the duration of your visa. If you wish to switch jobs to work for another employer or company within the same visa category, contact a qualified immigration attorney who can help you navigate your options. If you wish to switch to a job in a new visa category, you will typically have to re-apply for the visa in order to stay in the United States. This is because different types of visas may have different requirements for eligibility. You must apply and be approved for your new visa before your current visa expires to avoid being in the United States illegally.
A qualified immigration attorney or law firm can help you to navigate the overwhelming process of applying for a work visa in the US. They can inform you of your legal rights as a foreign citizen under a specific visa, help you to determine which visa is best for your situation, and can be trusted with sensitive or confidential information that other visa services may not be. Legal fees can vary depending on your circumstances. Talk to Total Law about your situation before you pay legal fees and find out how a personal immigration advisor can assist you.
Eligibility for the H-1B Visa is dependent on the category you are applying under. Generally, you will need a valid passport, supporting documents such as an employment contract, proof of your post-secondary degree involving a specialty occupation, evidence of your extraordinary ability in your field, etc. Because the H-1B Visa is a petition-based visa for temporary employment, you will need a job offer from a qualifying employer before you apply for the visa. The job your H-1B is based on must be a position requiring specialized knowledge, a position, of managerial or executive capacity, or a position requiring extraordinary ability.
Citizens of some designated countries, including the UK, are eligible for the Visa Waiver Program and can travel to the US for business or tourism purposes without a visa for stays of up to 90 days. However, you are not permitted to seek employment in the US under the VWP, nor can you adjust your status once in the US.