L1 Visa
Canadian citizens who are relocating to the United States to work for their parent company's U.S.-based affiliate office may be eligible for an L-1 (Intra-Company Transfer Visa).
If you are applying for an L1 visa as an employer or employee and would like assistance with your work visa application, give us a call at +1 844 290 6312. We are here to help you online, over the phone, or in person.
What is the L1 visa?
Also known as the intercompany transfer Visa,  the L1 Visa is a popular route for eligible Canadian citizens who wish to go to the US for the purposes of working in a US branch of their current company. The L1 Visa was designed for individuals who are employees of a multinational business that has operations in new or existing US parent company branches.
The L1 Visa is typically divided into the 2 categories:
L-1A visas allow an employer to transfer an employee who holds an executive or managerial position in a Canadian office to an office in the US. These visa holders may stay on this visa for up to seven years.
L-1B visas are for individuals who have essential, and specialized skills that are crucial to the functioning of the business. Specialized knowledge capacity visa holders are also referred to as 'specialized knowledge employees'.
As the L Visa category is a dual intent visa, it means that the individual may be able to apply for local permanent residency status after the qualifying period.
"I'm very happy with the standard of training received on the OISC Level 1 course, i passed my exam. Thank you!"
"My application was approved and a huge weight has been lifted from our shoulders this year "
"We used this service for the spouse visa extension application to assure that all the information was valid and correct."
Employer Eligibility
To qualify for the L1 visa, the applicant must demonstrate that there is a genuine need for them to undertake the role in the US. This means that the application must be accompanied by a significant amount of relevant supporting evidence and documentation. Both the employer and the employee must meet the L1 Visa eligibility criteria to have a successful application.
The employer of an L1 Visa applicant must fulfill the following requirements:
The employer must have an appropriately qualifying relationship with an affiliated foreign office e.g. the parent organization, subsidiary, or affiliate, also known as qualifying organizations.
The organization is currently doing business as a US-based employer, and in at least one other country, most likely Canada in your personal situation
The regulations state that the business must be viable, but there is no stipulation that it must be engaged in international trade
The United States Citizen and Immigration Services (USCIS) defines 'doing business' in the following way:
Regular systematic and ongoing provision of goods and/or services
Undertaken by a qualifying organization
The organization exists as an entity and is not simply an agent or an office that exists in the US and other countries
Employee Eligibility
If you are an employee who is applying for the L1 Visa, you should fulfill the following requirements to be eligible:
You must have worked for the qualifying organization outside the US for at least one continuous period of one year, and within the three years prior to applying for admission to the US
You intend to travel to the US to provide a service in an executive or managerial capacity within a branch of your qualifying organization
According to USCIS, the term 'executive capacity' relates to the ability of the employee to be able to make decisions without significant oversight. 'Managerial capacity' however, refers to the employee's ability to oversee and control the work of the organization's employees, as well as managing the organization, one or more departments, its functions, or another component.
L1-A visa for executives and managers
The primary difference between the L-1A and the L-1B visas is the nature of the work that the visa holder is permitted to carry out while in the US. You may be classed under the L-1A Visa for executives if your work meets the following requirements:
If you are charged with managing the organization or a major department/function of the business
If you have the ability to create and implement policies and procedures within the organization
If you have 'wide latitude' in making key business decisions for the company
If you are granted supervision or instruction from senior executives, the organization's board, or the shareholders.
Workers who are not an executive may also qualify as managers under the following L-1A Visa criteria:
If you are in charge of managing the organization of a department, or another component of the business
If you oversee and supervise the work of a number of reports, or alternatively, are the manager of an essential function within the business
If you are trusted to hire new employees and make other personnel recommendations for the company
If you have control over the daily operations of the business function
L1-B visa for workers with specialized knowledge
The L-1B visas for specialized knowledge roles may be the more appropriate option for you if the following criteria apply to you:
If you have specialist knowledge based on products, services, research and development activities, equipment method, intellectual property, etc, which are vital to the interests of the organization
If you have advanced or unique knowledge of the organization's processes and procedures
When considering if the L-1B Visa is appropriate for you, it is important to identify the nature of your skills and expertise. For the purposes of this visa, specialized knowledge refers to individuals who are key employees that have extraordinary knowledge, which would not be easy or possible to transmit to another individual.
USCIS will seek to confirm that you have obtained the specialized knowledge based on years of service within the business, and if you were unable to come to the US branch, the company would not be able to operate as effectively.
How to apply for the L1 Visa
The L1 Visa process is complex and requires the successful completion of several steps. The application process is generally as follows:
You must be an eligible employee in a qualified organization that has been offered an opportunity to transfer to a qualifying branch of the business
Your employer will file form I-129 on your behalf
Your employer will pay the filing fee, make sure they keep a copy of this receipt on file
You will file online form DS-160 (Online Nonimmigrant Visa Application)
You will pay the L1 Visa application fee, make sure you keep a record of this receipt
You will need to schedule an appointment for your L1 Visa interview
You will need to submit all of your supporting documentation as part of your application
When you attend your visa interview, you will arrive with all of the requested documents, including the confirmation page from your DS-160 application, and your receipt from your application fee
What documents do you need for an L1 visa?
If you are a foreign worker who is relocating to your parent company's U.S.-based office, you may be eligible for the L-1 (Intra-company Transfer Visa). Some of the documents required for the L1 Visa application include the following:
Valid passport or travel document that is valid until at least six months after the expiry of your visa
A photograph that aligns with the US visa photograph requirements
A copy of the DS-160 application confirmation page
Proof of having paid the visa fees
Evidence of your scheduled visa interview date
Copies of Form I-129 and Form I-797
In the case of multiple petitions, Form I-129S (2x copies) and Form I-797 (3x copies)
A letter from your employer outlining the nature of the qualifying organization, your transfer offer, and a detailed job description
Evidence that you have been employed by a branch of the company for at least one year in the last three years
Letters from past employers with their contact information included
Contact details of at least two colleagues from both current and past roles
Internal and external photographs of your workplace
A detailed and current CV
Advice Package
Comprehensive immigration advice tailored to your circumstances and goals.
Application Package
Designed to make your visa application as smooth and stress-free as possible.

Fast Track Package
Premium application service that ensures your visa application is submitted to meet your deadline.
Appeal Package
Ensure you have the greatest chance of a successful appeal. We will represent you in any case.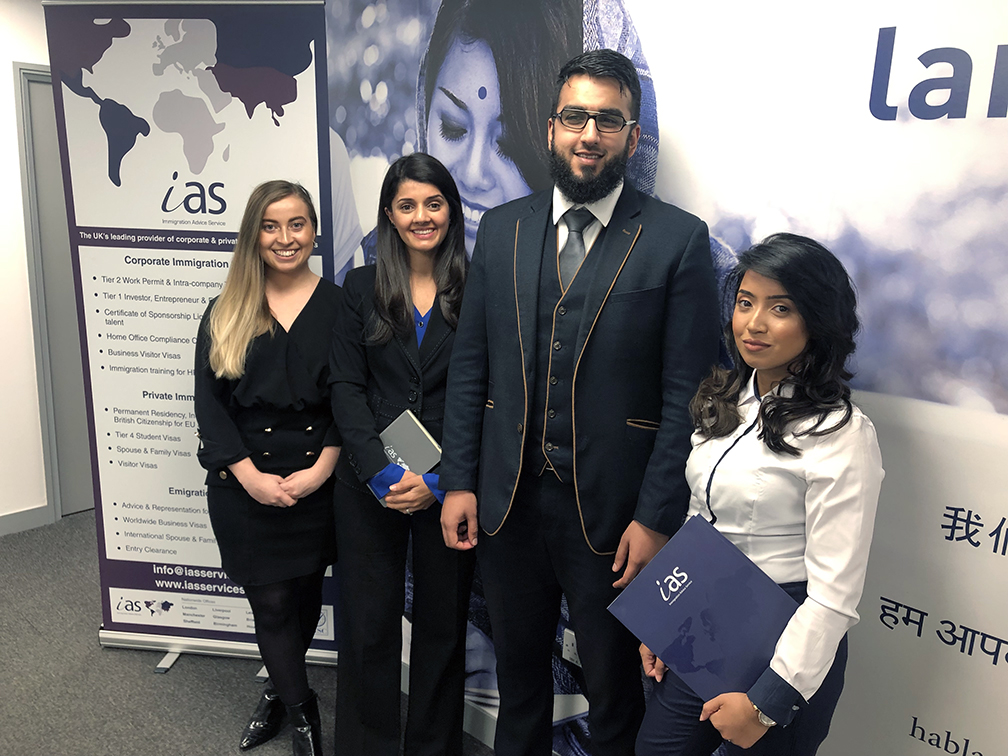 The Advice Package
During this untimed Advice Session with our professional immigration lawyers in London, you will receive our comprehensive advice, completely tailored to your needs and your situation.
Request the Advice Package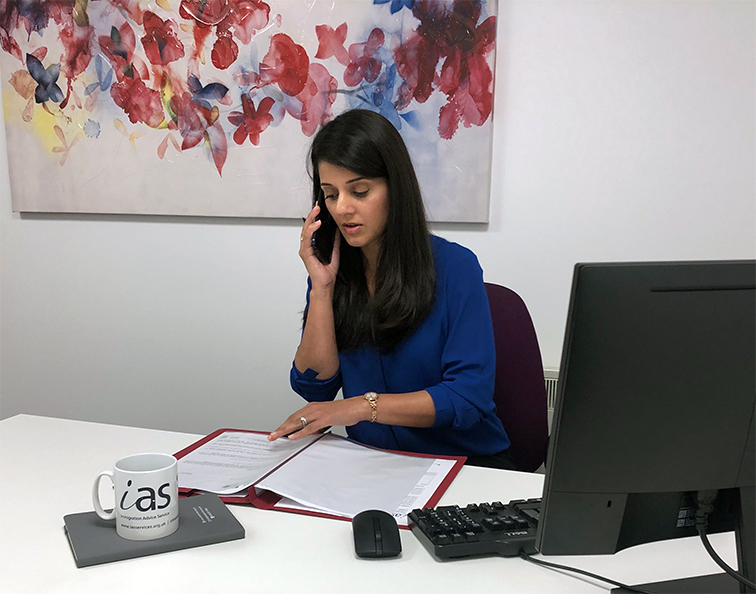 The Application Package
With our Application Package, your dedicated immigration lawyer will advise you on your application process and eligibility. Your caseworker will then complete and submit your forms to the Home Office on your behalf.
Request the Application Package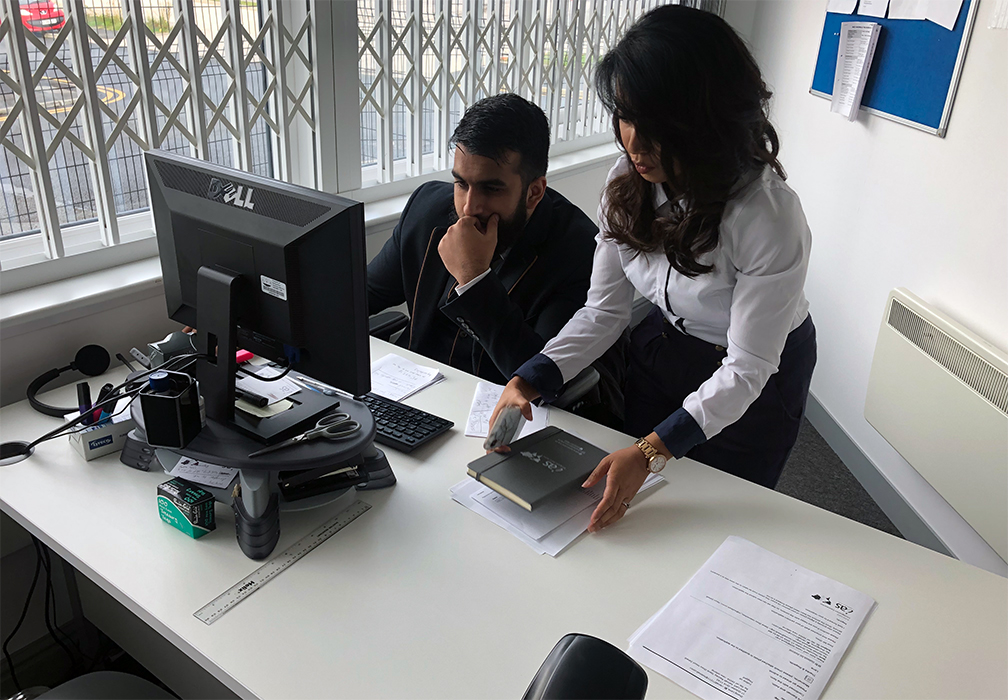 The Fast Track Package
Our Fast-Track Application Package is a premium service for those who need to submit their application in time with their deadlines. Your case will become a top priority for our lawyers and you will benefit from our highest-quality services.
Request the Fast Track Package
The Appeal Package
By choosing our Appeal Package, you can rely on our lawyers' legal knowledge and experience to ensure you have the highest chance of a successful appeal. We will also fully represent you in any hearings/tribunals.
Request the Appeal Package
Related pages for your continued reading.
Frequently Asked Questions
There are many different costs involved with applying for the L1 Visa, and they are as follows:
Filing fee for form I-129: $460
Anti-fraud fee: $500
Where the organization has over 50 workers in the US with half the staff on the L1 Visa: $4500
American Competitiveness and Workforce Improvement Act (ACWIA) training fee:  $750 for businesses with 25 or fewer employees or $1500 for businesses with 26 or more employees
Online form DS-160: $190
If you wish to fast-track your application, you can apply for premium processing, and pay a fee of $2500 to get an application result within 15 days.
As a nonimmigrant visa, the L1 Visa is a temporary visa granted for an initial three years but has the potential to be extended depending on your circumstances.
The L-1A and L-1B visas are issued for different time periods, so you will need to be aware of which version of the visa you are on.
The L-1A Visa is issued for a maximum of seven years, whilst the L-1B is for a maximum of five years. You will be required to submit a new petition if you wish to extend your visa.
As the L1 visa is a dual intent visa, it means that even though you arrive in the United States on a time-limited visa, you may also get the opportunity to apply for a green card, and gain lawful permanent residency once you become eligible.