France Temporary Worker Permits
If you are a business based in France and your employees are UK citizens or non-EU/EEA/Switzerland nationals, you need to apply for Work Authorisation, and your employee must apply for an adequate Work Permit to work in France.
Contact Total Law at +44 (0)333 305 9375 or chat with us online, to learn more about French Temporary Worker Visas and Permits
France Temporary Worker Visa: Overview
France offers Temporary Worker Visas and Permits to employees coming to France for more than three months but less than one year. Eligible workers must apply for a Long-Stay Visa (VLS-TS) for Temporary Worker (Travailleur Temporaire).
The Temporary Worker Permit enables foreign workers to work and live in France on a fixed-term employment contract. Applicants planning to stay in France to work for more than three but less than a year must also apply for a Temporary Residence Card.
Employers should request a Work Authorisation for their foreign workers before they start employment in France and has to be submitted as part of the visa application.
"I'm very happy with the standard of training received on the OISC Level 1 course, i passed my exam. Thank you!"
"My application was approved and a huge weight has been lifted from our shoulders this year "
"We used this service for the spouse visa extension application to assure that all the information was valid and correct."
Types of France Temporary Work Visa
There are a number of Temporary Work Visas available in France.
Temporary Worker Residence Permit – for employees on fixed-term contracts of more than 3 months and allows holders to engage in salaried activity if not eligible for a multi-year Passport Talent Residence Permit.
Working Holiday Visa (Visa Vacances-Travail France Autorisation De Travail) – for certain foreign nationals aged 18-30 or (or up to 35 from Canada) to travel to France for tourism with an opportunity of work for up to 12 months. Applicants do not need a Work Authorisation or a Residence Permit, but they must be from the following countries: Argentina, Australia, Brazil, Canada, Chile, Colombia, South Korea, Ecuador, Hong Kong, Japan, Mexico, New Zealand, Peru, Russia, Taiwan, Uruguay.
Intra-Corporate Transferee (ICT) Visa – for non-EU workers employed by a foreign company established outside the EU who are temporarily transferred to a branch in France. Applicants are issued with a Long-Stay Temporary Worker Visa, which permits a stay in France for 3 to 12 months.
Researcher Visa (Temporary Residence Permit) – for non-EU citizens wishing to work as part of a research project in France. This type of Temporary Work Permit is valid for up to 12 months and serves as a Work Permit and Residence Permit.
Trainee Visa for Paid Employees – for non-EU nationals wishing to carry out an internship as a student and want to do a professional work placement in France or as an employee of a company established out of France. For students, this type of Work Permit is valid for 6 months and is not renewable. For employees, the validity is 12 months and can be renewed for a maximum of 6 months.
Job Search/Business Creation Residence Permit – for graduates of higher education who wish to look for work in France or start their own business. This Permit is valid for 12 months and is not renewable.
Seasonal Worker Permit – for non-EU citizens wishing to carry out seasonal work in France for more than 3 months but less than 6 months.
Eligibility for France Temporary Work Visa and Residence Permit
There are various eligibility requirements that you need to fulfil to employ a foreign Temporary Worker in France. Your employee can apply for a Temporary Work Permit if they meet the following requirements:
Have a job offer in France
Be at least 18 years old
Have a fixed-term employment contract
Demonstrate that they have enough money to support themselves during their stay in France
Have a clear criminal record
Have a Work Authorisation from their employer
Supporting Documents for a Temporary Work Visa to France
To show the applicant's eligibility for the French Temporary Work Visa, they must provide all the supporting documents specified for the type of French Work Visa they are applying for. Temporary Work Visa applicants must provide the following documents:
Valid passport with an expiry date of a minimum of 3 months after the intended return from France. The passport must have two blank pages for visa stamps.
Three recent passport photographs.
Proof of funds – applicants must demonstrate that they have sufficient financial resources to support themselves during their stay in France by meeting the minimum income in France – the minimum wage in France is referred to as salaire minimum de croissance and is €1,747 per month. This income must be stable and proven with an employment contract, recent bank statements, or a declaration letter from a sponsor.
Certificate of clear criminal record.
Work Permit from employer
Diploma or qualification certificate (if applicable) – to demonstrate that the applicant can be employed in the role offered.
Evidence of relevant professional experience.
Completed visa form with the proof of paid visa fee.
Proof of address in France – for example, a utility bill or lease agreement, hotel bookings.
Complete French Office for Immigration and Integration (OFII) form – completed to apply for a Temporary Residence Permit once the applicant arrives in France.
Medical Certificate issued by the OFII.
If you are still determining what documents to provide in support of your employee's application or you would like their eligibility to be assessed for a Temporary Work Visa, call Total Law on +44 (0)333 305 9375 or contact one of our advisers online to get professional assistance on your case.
Visa Application Process for Temporary Workers in France
The application process for a Temporary Worker Permit involves you as the employer based in France and your foreign employee.
To apply for a Temporary Work Permit, the employer must submit an application for Work Authorization to the Foreign Labour Service of the Regional Directorate for Enterprises, Competition, Consumption, Labour and Employment (DIRECCTE). The application is submitted online and must supporting documents along with the completed Work Authorization application.
After the applicant receives the Temporary Work Permit, they can apply for a Long-Stay Visa for Temporary Workers (VLS-TS) serving as a Residence Permit at the French Consulate or Visa Centre in the applicant's home country. The visa application process can be started 3 months before the date of arrival in France.
If the applicant is already living in France under a different type of Residence Permit, they must apply for a change of status at their local prefecture to switch to a Temporary Work Residence Permit, which will be valid for 12 months and can be renewed. They can make their application 2 months before the end of validity of the current Residence Permit.
Once the visa is issued, the applicant must validate the visa online through the OFII website. The OFII may contact the applicant and schedule an appointment to carry out a medical check-up at the Immigration and Citizenship Office in France. The visa must be validated within 3 months of your arrival in France.
The applicant can then submit a Temporary Residence Permit application at their local prefecture in France.
Cost, Processing Time and Validity of the France Long-Stay Visa for Temporary Workers
The Long-Stay Visa fee is €99. Applicants must also pay a tax of €200 for the Work Permit application and a stamp duty of €25.
The processing time for the Temporary Work Permit application is between 8 to 12 weeks. If granted, the visa is valid for up to 12 months, and the exact validity will depend on the validity of the employment contract. The Residence Permit can be extended as long as the applicant continues to work under the fixed-term contract and meets the eligibility criteria.
Extending Temporary Worker's France Temporary Worker Permit
Temporary Residence Permit holders can extend their stay in France by submitting a renewal application at the prefecture of their place of residence. The renewal application must be submitted 2 months before their current Residence Permit expires and costs €225.
To successfully extend the permit they must prove they are still eligible for the Temporary Work Residence Permit and submit relevant supporting documents as evidence for their continued eligibility. The Residence Permit will be extended for the period set out in the employment contract.
Arranging for Families to Join Employees on Temporary Work Visa
The Temporary Visa holders can bring their relative dependents (spouse and minor children) to join them in France.
To apply, the eligible family of the Temporary Worker relative must contact their nearest French Consulate, Embassy or Visa Application Centre and submit an online application for an entry permit and a Long-Stay Visa through OFII.
Along with their application, each eligible applicant must submit documents, including:
Valid passport
Two passport photos
Evidence of a genuine relationship to the Temporary Worker – birth certificate or adoption certificate for children, and marriage certificate for spouses
Proof of sufficient income for the duration of stay
Residence Permit of the Temporary Worker
Proof of health insurance
Certificate of criminal record
How Can Total Law Help?
Working in France on a Temporary Work Permit is popular among foreigners worldwide. However, no matter what the job role, they must apply for a visa to work for you legally. The visa application process can be complicated and requires adequate information to be successful.
Total Law is a team of reliable and experienced immigration lawyers offering assistance and legal advice to employers and employees applying for Temporary Work Permits in France.
Our advisers can work with you to assemble the required documents for a work permit and assist you throughout your employee's visa application to ensure the highest chance of approval.
Contact Total Law today to receive immediate advice on your case. Call +44 (0)333 305 9375 or chat with one of our advisers online.
Advice Package
Comprehensive immigration advice tailored to your circumstances and goals.
Application Package
Designed to make your visa application as smooth and stress-free as possible.

Fast Track Package
Premium application service that ensures your visa application is submitted to meet your deadline.
Appeal Package
Ensure you have the greatest chance of a successful appeal. We will represent you in any case.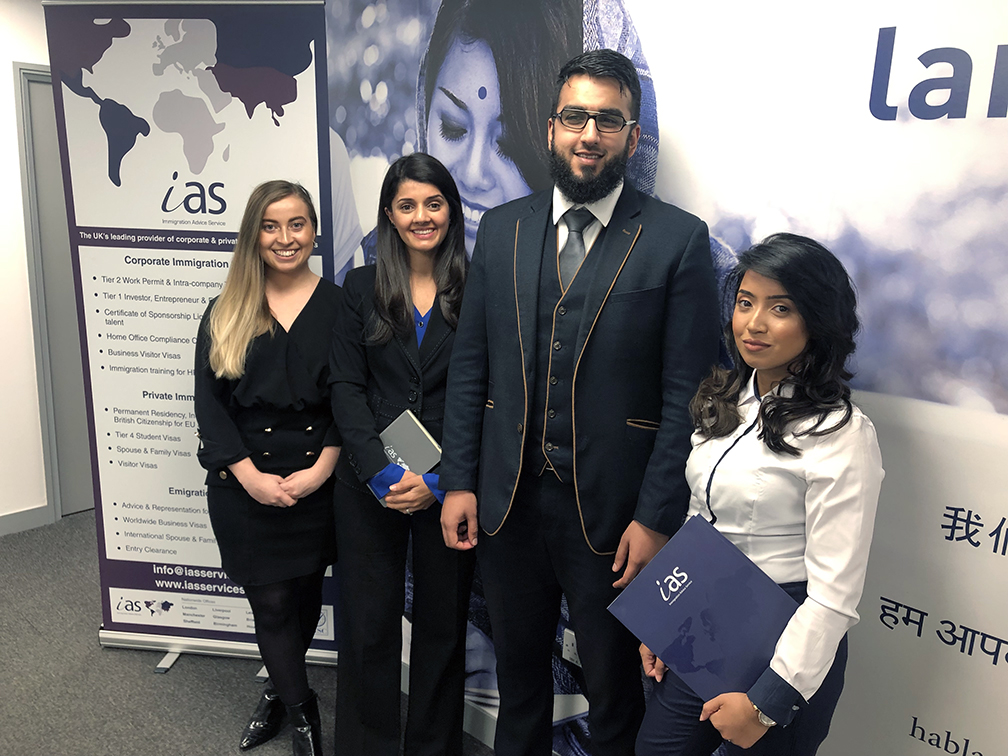 The Advice Package
During this untimed Advice Session with our professional immigration lawyers in London, you will receive our comprehensive advice, completely tailored to your needs and your situation.
Request the Advice Package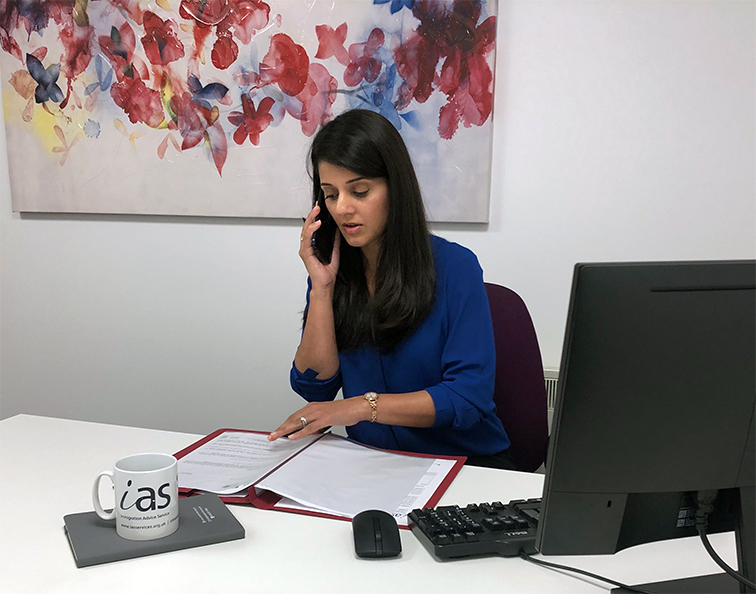 The Application Package
With our Application Package, your dedicated immigration lawyer will advise you on your application process and eligibility. Your caseworker will then complete and submit your forms to the Home Office on your behalf.
Request the Application Package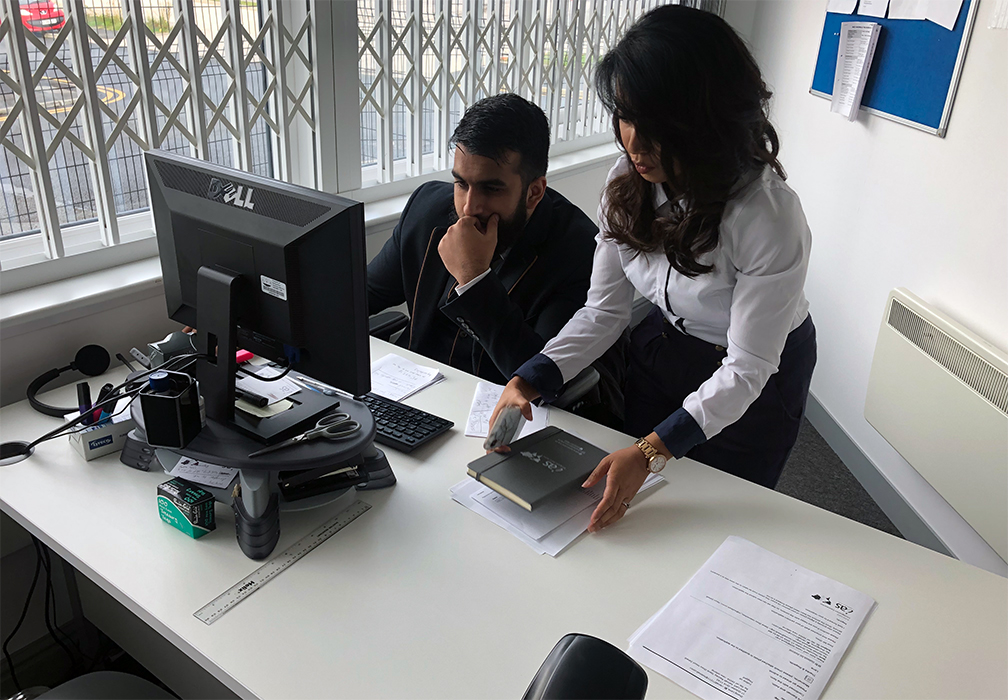 The Fast Track Package
Our Fast-Track Application Package is a premium service for those who need to submit their application in time with their deadlines. Your case will become a top priority for our lawyers and you will benefit from our highest-quality services.
Request the Fast Track Package
The Appeal Package
By choosing our Appeal Package, you can rely on our lawyers' legal knowledge and experience to ensure you have the highest chance of a successful appeal. We will also fully represent you in any hearings/tribunals.
Request the Appeal Package
Related pages for your continued reading.
Frequently Asked Questions
One of the key benefits of a Temporary Work Visa in France is that you have a right to salaried activity in France; you can stay and access employment in France as long as you meet the eligibility requirements. You can also bring your dependents to come and join you during your stay in France.
Additionally, as a temporary worker, you are eligible for social security benefits. You and your employer can apply for a French social security number, giving you access to the health system, unemployment benefits, maternity and paternity benefits and more. With social security, employers pay up to 50% of their employee's monthly public transportation spending through monthly paychecks.
Yes. The key eligibility requirement for a Temporary Work Visa to France is securing a job offer before visa application.
No. Currently, there is no limit to the number of Temporary Worker Visas issued in France. However, as immigration to France rises, the French government is expected to debate the issue and implement annual quotas for different types of Work Visas and Permits in the future.