France Company Representative Visa Requirements
France is a European country with a thriving economy and an active commercial scene. If you have a company with an office in France and you want to send a company director to France as the company's legal representative, they may be able to obtain a French Talent Passport long-stay visa.
At Total Law, we have many years of experience in helping businesses handle the immigration journeys of their employees. Contact us today on +44 (0)333 305 9375 to learn more about how we can help you.
An Overview of France Company Representative Visa
If you have a business and are looking to send a foreign company director as legal representative to your French office, the multi-year Talent Passport long-stay visa for company directors may be your best option. It allows the holder to stay in France for up to four years, and can be renewed once the four years have passed. This visa will be necessary if your company director intends to stay in France for more than 3 months.
When in France, your legal representative will fulfil such functions as overseeing the management of the French office and liaising with shareholders. They will also be responsible for ensuring that the company complies with French employment law.
Under this type of visa, the company director's spouse and dependent minor children will also be eligible to join them in France.
"I'm very happy with the standard of training received on the OISC Level 1 course, i passed my exam. Thank you!"
"My application was approved and a huge weight has been lifted from our shoulders this year "
"We used this service for the spouse visa extension application to assure that all the information was valid and correct."
Eligibility And Requirements Of The Company Director Talent Passport Visa
In order to be eligible for the Talent Passport visa, your company director will need to satisfy the following criteria:
They will act as legal representative in France for a company which has a French office
They must have at least 3 months of experience working as an employee or corporate officer in a company which is in the same group as the company which they will legally represent
They must have a gross annual remuneration which is at least three times the statutory minimum wage. This will generally equate to around € 60,000, though this varies from year to year.
They will also need to submit a number of documents in support of their application. These documents are detailed later in this article.
The Application Process
To apply for this visa, the applicant must first submit a visa application to their local consulate or embassy.
The applicant should start their application within 3 months of the date on which they plan to arrive in France. If they are already residing in France, they should start the application three months before the expiry of their current residence permit.
Once the visa has been issued, the visa holder will then legally be able to enter France. They will need to bring the visa with them.
Upon arrival in France, they will need to apply online for a residence permit.
The applicant will therefore need to obtain two main documents in order to secure legal status in France: a visa before arrival, and a residence permit after arrival.
If the applicant is already living in France, they will instead need to apply online for a change of status on the 'Étrangers en France' (Foreigners in France) website. They will need to prove their eligibility for the new residence permit, and to pay the associated fee.
What Documents Will I Require?
When applying for this residence permit, company directors will require a number of documents, including the following:
Their passport
Their birth certificate
Their marriage certificate (if applicable)
Their child(ren)'s birth certificate(s) (if applicable). Note that this will only be necessary in cases where the company director will be joined by their family
3 passport photos which meet the French specifications
Cerfa form
Verification from the employer for whom they will work
Evidence of at least 3 months employment with the company or with another company in the same group (e.g. an employment contract)
Proof of visa application fee payment
If the applicant is already residing in France, they will also need to provide proof of address. This proof should be no older than 6 months old.
Cost Of The Visa
There are a number of costs associated with this visa type. Firstly, applicants will need to pay €200  in tax to France's Immigration and Citizenship Office (Office français de l'immigration et de l'intégration). They will also need to pay €25 in stamp duty for the residence permit.
The long-stay visa itself will cost €99. Any additional family members will also have to pay €99 for their own visa.
Companies may also choose to pay for legal assistance with the application. Contact Total Law today on +44 (0)333 305 9375 to learn more about how we can help with this.
How Long Does The Application Take?
Whilst exact processing times will vary, applications should be submitted within three months of the expected arrival date and will, unless there are exceptional circumstances, be successfully processed within this time.
Processing times may vary based on the number of other applications being processed, the country from which the applicant is applying, and whether or not there are any issues with the application, for example if it is missing necessary documents. In order to minimise how long the application takes, applicants should make sure to have all the necessary supporting documentation when they apply.
Family Joining The Company Representative in France
Under this programme, the family members of Talent Passport residence permit holders will also be eligible to apply for residence permits. Specifically, the spouse and dependent minor children will be able to join the main applicant.
The spouse will need to apply for a Talent Passport – Family residence permit. The family of the main applicant will then be able to join them for the duration of their own stay in France. The family members will themselves also be authorised to work in France, for as long as they have valid legal status.
Regarding the costs, the spouse's residence permit will cost €225 and the visas will cost €99 for each additional family member.
Extending The Stay Under The France Company Representative Visa
Under this visa type, it is possible to extend the company director's residence permit. Visa holders will need to submit their renewal request within the three months before the residence permit expires.
They must provide evidence that they still satisfy the eligibility conditions of the visa type. They must also prove that they continue to earn the minimum remuneration level.
The cost of extending the residence permit is €225.
If the family ultimately wants to settle in France, that may also be an option. If the visa holder lives legally in France for five years, they will then be able to apply for a residence card. This will be valid for ten years, and can be extended once the ten years have passed. Residence cards allow foreign nationals to reside in France and to work in any capacity for which they are qualified.
What If I Am Self-Employed?
It is often possible to obtain a visa for a creation project in France. If you have a business creation project in mind and wish to set up in France, you can apply for a long -stay visa. Your visa will be labelled as 'entrepreneur/profession libérale'.
The visa will be valid for one year, although you must validate the visa within 15 days of your arrival in France.
Prior to being granted a visa, you will need to demonstrate that your proposed project is financially viable and that you have sufficient financial resources to support the project. There may also be specific regulations which your company will need to meet, depending on the activity in which your company will engage.
How Total Law's Lawyers Can Help
France offers companies a chance to expand into a thriving market in a vibrant and culturally rich country. France has much to offer in terms of culture, economy, history, and travel. As such, many companies choose to send representatives to France, from numerous global destinations.
However, the process of sorting out your employees' immigration status can be time-consuming and confusing. As such, at Total Law we are adept at helping companies handle the immigration journeys of their employees. Our immigration advisers have many years of experience in offering bespoke legal advice in situations just like this. We can help with the entire application process, from gathering the right documents to applying for a residence permit.
Contact Total Law today on +44 (0)333 305 9375 to get more information on how we can help you and your employees with the immigration process.
Advice Package
Comprehensive immigration advice tailored to your circumstances and goals.
Application Package
Designed to make your visa application as smooth and stress-free as possible.

Fast Track Package
Premium application service that ensures your visa application is submitted to meet your deadline.
Appeal Package
Ensure you have the greatest chance of a successful appeal. We will represent you in any case.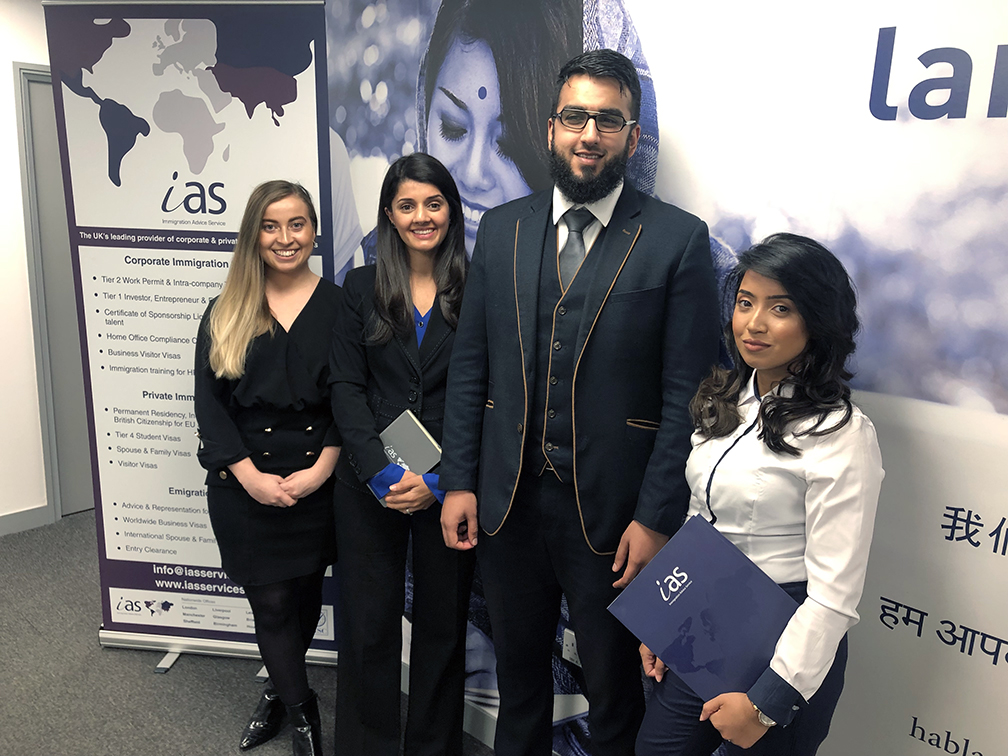 The Advice Package
During this untimed Advice Session with our professional immigration lawyers in London, you will receive our comprehensive advice, completely tailored to your needs and your situation.
Request the Advice Package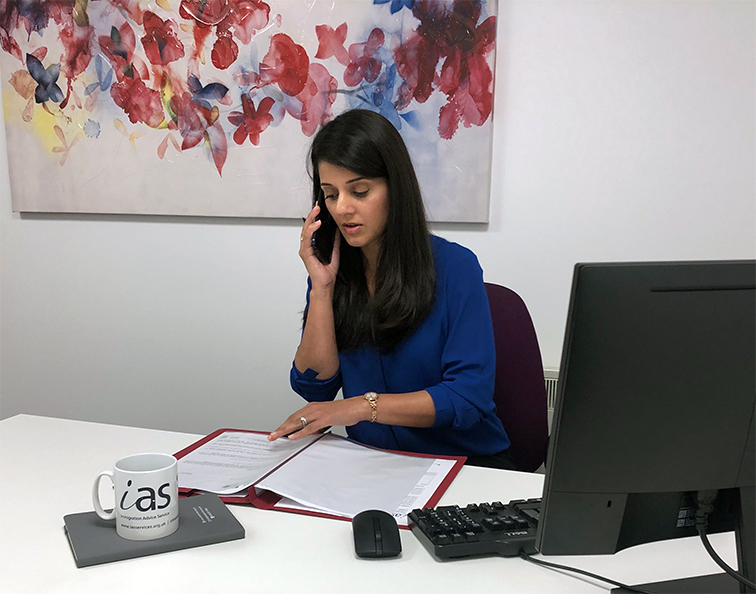 The Application Package
With our Application Package, your dedicated immigration lawyer will advise you on your application process and eligibility. Your caseworker will then complete and submit your forms to the Home Office on your behalf.
Request the Application Package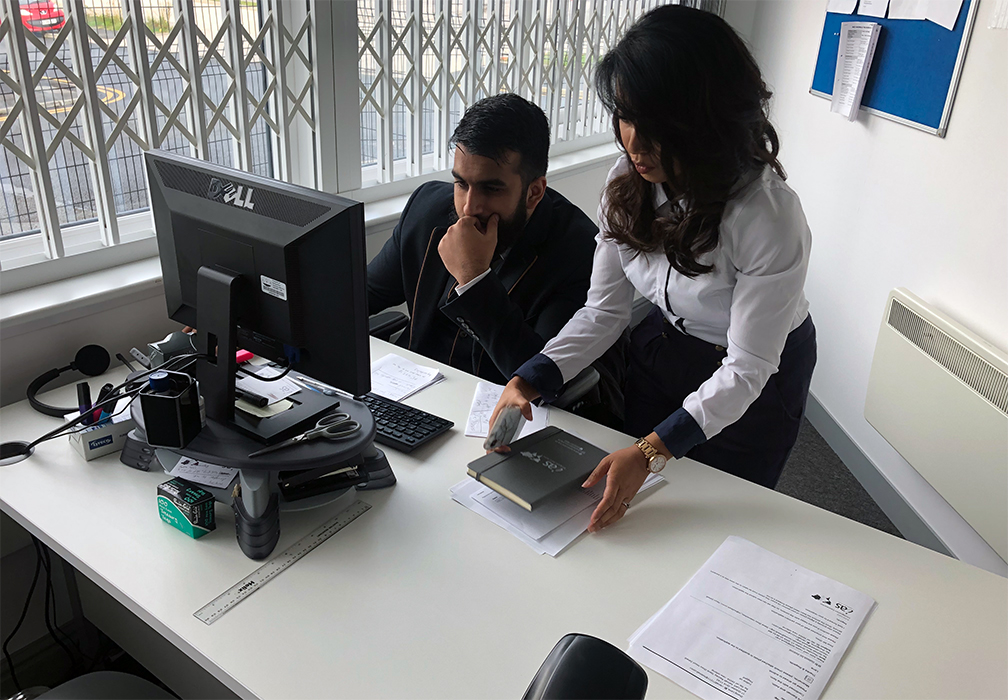 The Fast Track Package
Our Fast-Track Application Package is a premium service for those who need to submit their application in time with their deadlines. Your case will become a top priority for our lawyers and you will benefit from our highest-quality services.
Request the Fast Track Package
The Appeal Package
By choosing our Appeal Package, you can rely on our lawyers' legal knowledge and experience to ensure you have the highest chance of a successful appeal. We will also fully represent you in any hearings/tribunals.
Request the Appeal Package
Related pages for your continued reading.
Frequently Asked Questions
If you are attending a conference in France and require a visa in order to enter the country, you will need to apply for a short-stay visa. This will allow you to legally remain in France for up to 3 months. You will need to provide a number of supporting documents to demonstrate your involvement in the conference, such as an invitation, request letter, or admissions card.
Note that EU citizens will not require a visa in order to enter France.
France has a thriving economy which offers multiple work opportunities. For many people, obtaining a French work visa allows them to harness these opportunities.
However, getting a French work visa will depend on whether or not you are able to satisfy the eligibility criteria.
Your application will be smoother if you make sure to have all the necessary documents at the time of the application and that you are eligible for the type of work visa for which you are applying.
You may also choose to seek legal assistance to make the application process as simple as possible. Contact Total Law today on  +44 (0)333 305 9375  to learn more about the services which we provide.
France is a country which has much to offer its visitors, including culture, areas of natural beauty, and a rich history. Getting a French work visa allows you to experience France as a local, and to experience more of the country than would otherwise be possible.
You do not need to speak French in order to get a French work visa. However, you may find that proficiency in the French language improves your ability to integrate into the French working environment.