France Seasonal Work Visa (Work Permit)
Employers and business owners in France can employ seasonal workers overseas but must sponsor their visa applications.
For more information on how to sponsor a prospective employee to get a France work visa, dialling +44 (0)333 305 9375 or send us a message online.
France Seasonal Work Visa: An Overview
The Seasonal Work visa France is a permit that authorises non-EU citizens to work in France temporarily. This is a chance for foreign nationals to work in France for a minimum of 3 months and a maximum of 6 months in 1 year.
If a seasonal work visa application is approved, it permits the holder to work in France for 3 years, and it is renewable.
However, the seasonal work visa allows the holder to stay in France only for 6 months in a 12-month period. Note that the actual time your prospective employee will spend working for you depends on the duration approved by the French Embassy.
Businesses and employers who wish to get seasonal workers from abroad must also sponsor them. This means that you have to offer a job contract to the prospective employee and obtain authorisation from the Labour authorities to sponsor them before they can apply for the visa.
There are specific workers that can apply for the seasonal work visa:
Ski instructors.
Lifeguards.
Campsite staff.
Vegetable and fruit pickers.
Farmers.
Restaurant staff
Hotel and cleaning staff.
The industry that has the most jobs for seasonal workers is the agricultural sector.
For your employees to get a visa approval, they must prove they'll leave France once their visa expires. Your employees cannot also come to France with their family members. You and your employee must also meet specific eligibility requirements for the issuance of the visa.
"I'm very happy with the standard of training received on the OISC Level 1 course, i passed my exam. Thank you!"
"My application was approved and a huge weight has been lifted from our shoulders this year "
"We used this service for the spouse visa extension application to assure that all the information was valid and correct."
France Seasonal Work Visa Eligibility & Requirements
If you want to employ seasonal workers from abroad, you must meet the seasonal work visa requirements France:
Work Authorisation
As an employer, to get a foreign worker to work for you temporarily, you'll have to obtain a work authorisation which shows you want to sponsor an overseas worker. You'll need to apply for this work authorisation online. When applying for work authorisation, you must convince the labour authorities of the need to employ overseas and the role your prospective employee will perform.
Proof You Tried to Hire Locally
Before you receive authorisation to employ an overseas worker for a seasonal job, you must show the efforts you have made to hire a worker from France or other countries in the European Union.
SIREN Number
The SIREN number is a unique identification number given to every registered business in France. Before you can employ a seasonal worker overseas, you have to show that your business exists legally in France. You do this by presenting the SIREN number.
Proof of Tax Payment
To get approval to sponsor a seasonal worker, you have to show that you have been diligent in paying taxes.
Social Contributions
Another requirement you must meet as an employer is showing that you have been contributing to the social security of already existing employees in your establishment.
Eligibility and Requirement for the Seasonal Worker
Overview
Prospective employees who want to apply for a seasonal work visa must meet the seasonal work permit requirements France.
Here are the eligibility requirements:
Have a Valid Job Offer
Before applying for the France seasonal work visa, you must prove that you have a valid job offer from an employer in France. The job offer's validity must be at least 3 months and a maximum of 6.
Note that even if your employer wants you to work for 6 months, the actual duration you'll work depends on the duration the French Embassy or Consulate approves.
Age
All applicants for the France seasonal work permit must be at least 18 years old.
Qualification
When applying for a seasonal work visa in France, you must prove to the Embassy that you have the necessary qualifications to do the work for which you are being employed. This is particularly important if you'll be working as a chef, ski instructor or lifeguard.
Non-EU National
You must be a citizen of a country outside the EU to apply.
Means of Subsistence
If you intend to do seasonal work in France, you must show the Embassy that you have enough money to cater for yourself for the duration of your stay. This requirement can be waived if your employer offers to sponsor your movement to and from France.
Criminal Record Certificate
You must prove that you have not been convicted of any criminal offence in any country where you have held residence.
Medical Insurance Policy
You must also prove to the Embassy that you have a medical insurance policy that is valid in every country in the EU. The policy must also be worth at least €30,000.
Valid Passport
You also need to prove your nationality and identity. This is typically done by presenting a valid passport. The passport you'll use for your application must have two empty pages where your visa will be attached. It must also be valid for 3 months after your visa expires.
Accommodation in France
To apply for this visa, you must prove you have a place to stay in France. You must show evidence that you have booked a hotel or Airbnb, rented an apartment, bought a property, or have been invited to stay with a friend or family member for the duration of your stay.
Documents Required for the French Seasonal Work Visa
For Employer
Letter outlining why you need an overseas worker and the role they'll perform on arrival to France.
Passport of your prospective employee.
Proof that you announced the vacancy for the job market in France.
Evidence of the experience and qualification of the prospective employee.
Kbis Extract or SIREN number.
Extract K to prove you are tax-compliant.
Copy of the last social contribution that you made.
For Prospective Employee
Valid passport or travel document. This document must be valid 3 months after your seasonal work visa expires.
Residence permit card.
Recent passport photographs. The 3 passports must meet the photo requirement rules of the EU. Every detail of your face must show clearly. If you wear medicated glasses, you must ensure that they don't reflect the light from the camera.
Birth certificate to prove that you are at least 18.
Dematerialised work authorisation approval from the OFII (The French Office for Immigration and Integration).
Signed job offer from an employer in France.
Evidence that you have paid the stamp duty fee of €25.
Receipt of visa fee payment of €50.
Proof of domicile, which shows you have a place to stay in France. This can be replaced by an invitation letter from a family or friend.
Medical certificate from the OFII.
Letter to the French Embassy promising to leave France once your visa expires.
Criminal record certificate from the Police of your country and any other country you have dwelt in the past 5 years.
Bank statements or sponsorship letters from employers.
Flight itinerary showing your ties to home.
Diplomas or certificates showing you are qualified for the work you will do in France.
Signed and completed seasonal work visa application form. Note that unsigned forms will lead to a visa refusal.
How To Hire Overseas Seasonal Workers In France
To hire overseas seasonal workers in France, you have to take the following steps below:
Step 1: Obtain Work Authorisation
To employ a seasonal worker from overseas, you must first request authorisation to sponsor the foreign worker. This work authorisation is done online. You must submit documents proving that you have tried hiring in France and the EU without success. On the form, you have to explain why you want to hire a foreigner and what their duties would be.
Before you submit the form, you must attach all of the supporting documents listed above for the employer category and then wait for a decision.
If your application is successful, your work authorisation will be sent to the OFII and the French Embassy in the country of the prospective employee.
You can then send the work authorisation document to the prospective employee so they can apply for a visa.
The work authorisation issued to you to get a foreign employee also states how long the employee would work. If the work authorisation permits the worker to stay in France for 3 months, the employee will apply for a short-stay visa.
On the other hand, if the employee gets authorisation to work for more than 3 months, they'll have to apply for a long-stay visa.
Step 2: Gather Supporting Documents
After you get the notification from your French employer that you have been permitted to work in the country, the next step is to gather your documents. You can use the documents required section above as a checklist to know the necessary documents.
Should you need further help with gathering your documents, reach out to any of our case workers at Total Law by dialling +44 (0)333 305 9375 or sending us a message online.
Step 3: Apply Online for the Seasonal Work Visa France
After gathering your documents, you have to make an online application. You can get the form by visiting the website of the French Embassy in your country. After completing the online form, you are expected to print it, sign it and attach it to other supporting documents.
Step 4: Schedule an Interview
After you complete the online form, you'll have to schedule an interview with the French Embassy in your country. Note that the French Embassy or the visa application centre does not allow walk-in interviews. You must schedule a visa interview before going.
Step 5: Pay the Seasonal Work Visa Fee
You can pay this fee via a money order issued in favour of the French Embassy, Consulate or visa application centre. It is also possible to pay online. You can also pay the visa fee at the Embassy on the day of your interview. However, ensure you attach the receipt to the visa fee payment to your supporting documents.
Step 6: Attend Your Interview
On the day of your interview, take all your supporting documents with you. You are to present them before the visa official reviewing your application. After the interview, your biometrics will be collected.
Step 7: Pick Your Visa
If your application is successful, you'll be issued a multi-year residence visa permit to enter France. The Embassy will send you an email to notify you of their decision. They'll also tell you when and where to pick up your visa.
Step 8: Apply for Temporary Residence
It is essential that once you arrive in France, you go for your temporary resident permit. That is what gives you the right to keep staying on French soil.
Note that you'll pay €19 before the temporary residence is issued. The residence permit will bear the title travailleur saisonnier, which means seasonal worker.
Processing Time For Seasonal Work Visa Applications
It could take 10 to 20 days for the work authorisation of the employer to be approved.
It could take 15 to 60 days for the French Embassy to decide on your application.
The processing time depends on the workload of the French Embassy in your country.
France Seasonal Work Visa Validity Period
The seasonal work visa you will receive is valid for 3 years. But within these 3 years, you are only permitted to work for a stretch of 6 months within a 12-month period. After the 6 months elapse, you are expected to vacate France.
If you are interested in continuing the work or doing another kind of seasonal work in France, then you'll have to reapply anew.
Extending The Seasonal Visa For Employees
If your employee received a visa with a validity of less than 6 months, they can apply for the visa to be extended. The application for an extension is made online. Your employee can extend their seasonal work visa for at least 2 months before it expires.
If the employer has a 6 months approval, they are not eligible to apply for a visa extension.
How Total Law Can Help Businesses With The Seasonal Work Visa?
At Total Law, we have a dedicated and experienced team of immigration and employment lawyers. If you need advice concerning the seasonal work visa application, you can contact us for an expert opinion.
Again, we can assess your documents to know if you are eligible to sponsor an employee from overseas. We can also evaluate the eligibility of your prospective employee.
Our services also include fast-tracking your application process. If you need an employee urgently, you can speak to one of our caseworkers, and we'll gladly give you a faster service.
If you have any challenges when applying for a visa, like a work authorisation rejection or the French Embassy denying the prospective employee, don't fret. We have competent lawyers who can appeal a visa decision after careful review.
For more information about the services we offer and what we can do for you, call +44 (0)333 305 9375 or send us a message online.
Advice Package
Comprehensive immigration advice tailored to your circumstances and goals.
Application Package
Designed to make your visa application as smooth and stress-free as possible.

Fast Track Package
Premium application service that ensures your visa application is submitted to meet your deadline.
Appeal Package
Ensure you have the greatest chance of a successful appeal. We will represent you in any case.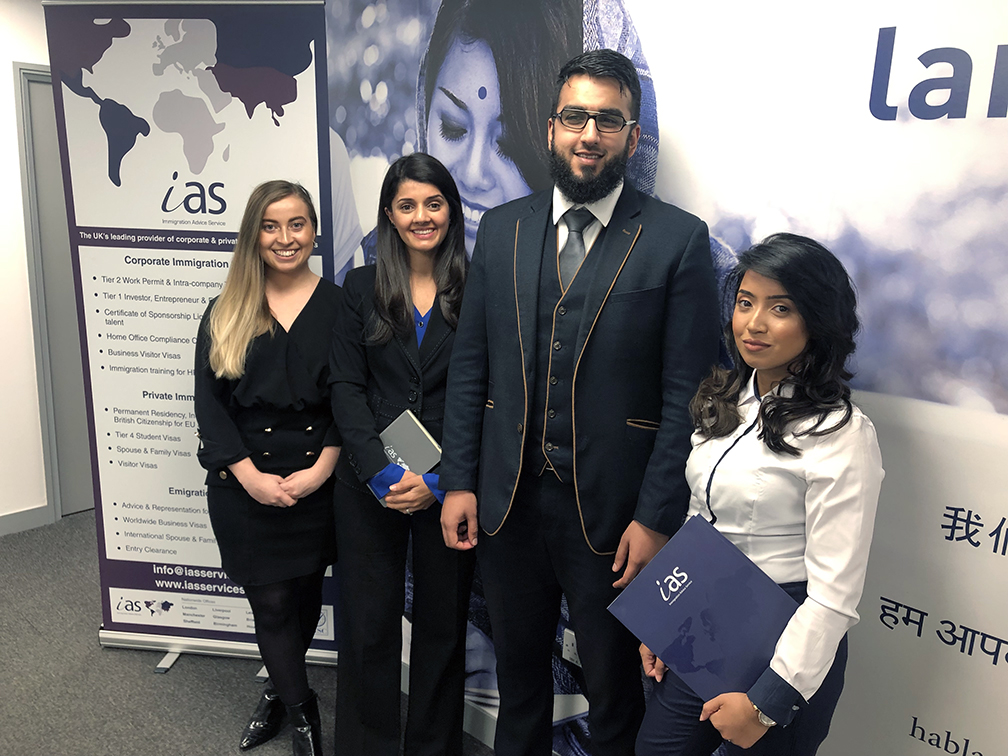 The Advice Package
During this untimed Advice Session with our professional immigration lawyers in London, you will receive our comprehensive advice, completely tailored to your needs and your situation.
Request the Advice Package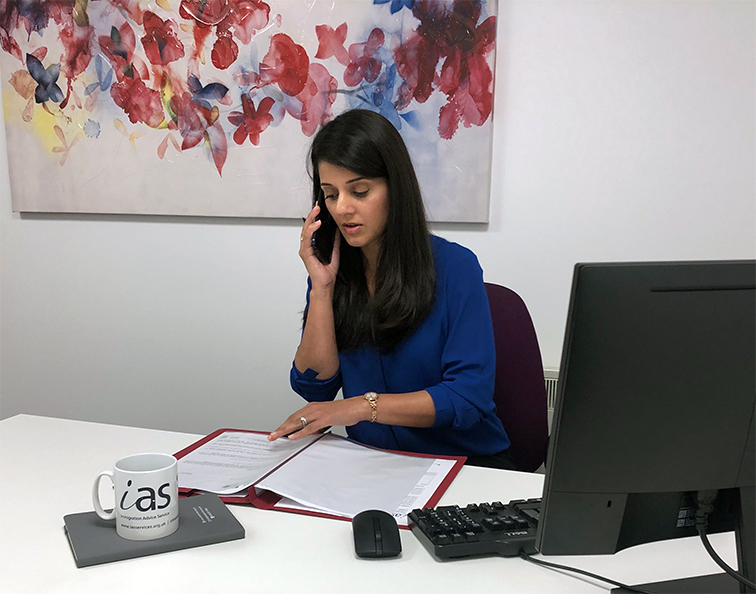 The Application Package
With our Application Package, your dedicated immigration lawyer will advise you on your application process and eligibility. Your caseworker will then complete and submit your forms to the Home Office on your behalf.
Request the Application Package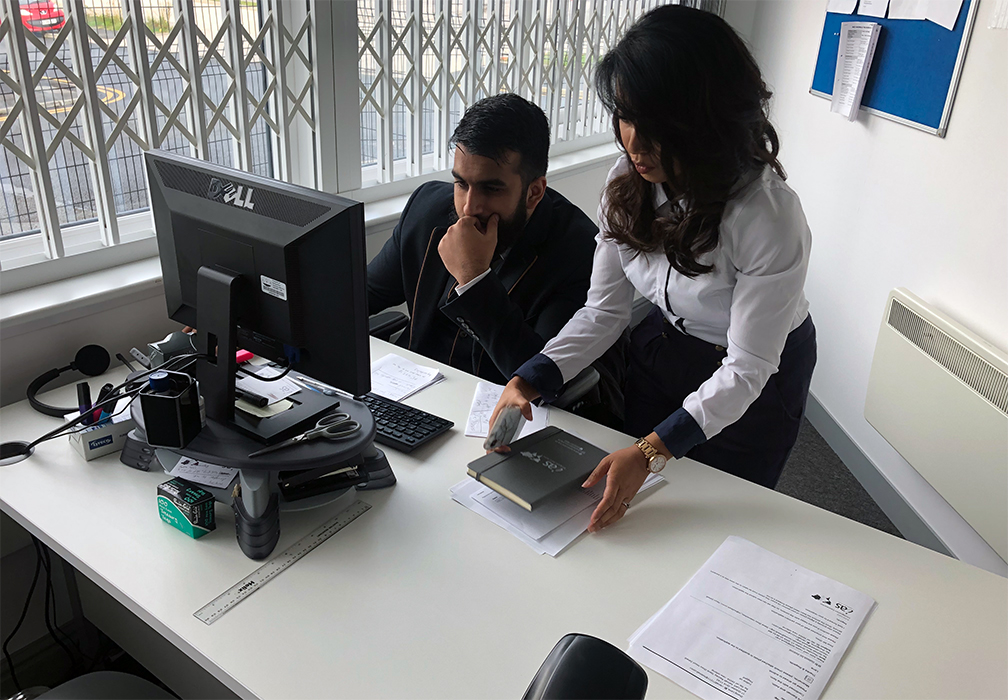 The Fast Track Package
Our Fast-Track Application Package is a premium service for those who need to submit their application in time with their deadlines. Your case will become a top priority for our lawyers and you will benefit from our highest-quality services.
Request the Fast Track Package
The Appeal Package
By choosing our Appeal Package, you can rely on our lawyers' legal knowledge and experience to ensure you have the highest chance of a successful appeal. We will also fully represent you in any hearings/tribunals.
Request the Appeal Package
Related pages for your continued reading.
Frequently Asked Questions
There are no language requirements to obtain a seasonal work visa in France. But it would be much easier to adapt to the country if you knew how to speak French.
To get a seasonal work visa in France, you must prove you have a place to stay in France.
These are the housing options for you as a seasonal work visa:
You could be in a hotel or Airbnb.
You could rent an apartment.
You bought a property.
You could stay with your friend or family member.
If you overstay your seasonal work visa, you risk being jailed for immigration breach or being forcefully removed. This can impact negatively if you want to apply for a visa to France or any other EU country in the future.