France Work Visa Types (A Guide for Employers)
Employers who want to bring foreign workers to France need to apply for a work permit on their behalf and the employee will require a Work Visa.
The immigration lawyers at Total Law can assist your company in determining which work permit and visa are best suited to your hiring needs. Call us today on +44 (0)333 305 9375 or contact us online for more information about our services.
Who Needs a Visa to Work in France?
A French Work Visa will be required by most foreign nationals coming to work in France regardless of the duration or nature of the employment contract.
Exceptions include citizens of the European Union (EU), European Economic Area (EEA) and European Free Trade Association (EFTA) member states.
Some professions are exempt from Work Visa requirements if employed for three months or less and exercising a professional salaried activity such as participating in sporting events or guest lecturing.
Work permits issued in overseas departments such as Réunion, French Guiana, Guadeloupe, Martinique or Mayotte are only valid in those departments, while those issued in mainland France cannot be used in overseas territories.
"I'm very happy with the standard of training received on the OISC Level 1 course, i passed my exam. Thank you!"
"My application was approved and a huge weight has been lifted from our shoulders this year "
"We used this service for the spouse visa extension application to assure that all the information was valid and correct."
Types of French Work Permits and Visas
Overview
Employers based in France or abroad must apply for a work permit when hiring foreign nationals unless the worker already holds a Residence Permit or a Talent Passport.
Regardless of the duration of stay, the employee will require a Work Visa. The employer must first apply for a permit to enable the worker to apply for a visa.
Many work permits are also dependent on the particular profession of the employee.
Secondment for Providing Services in France
Companies based outside the EEA requiring an employee to work within a French company or provide services for a French client must apply for a work permit. The permit can be applied for by the employer or the hosting company.
For work lasting less than 90 days the employee needs a short-stay visa, while longer employment contracts require a Long-stay visa equivalent to a Residence Permit known as a visa de long séjour valant titre de séjour or VLS-TS.
The temporary visa must be validated by the French Immigration and Citizenship Office (Office français de l'immigration et de l'intégration –OFII) within three months of the employee's arrival in France.
The work permit from the employer must be attached to the employee's visa application along with all supporting documents.
Recruitment or Secondment by French Company Belonging to International Company Group
As a company outside the EEA but which belongs to an international group of companies, you can send an employee to work for a French company within that same group. The worker must have been employed for at least three months before the secondment or recruitment by the French company.
You, as the employer or the French company receiving the employee must apply to the French administration for a work permit/
The employee requires a short-stay visa for work lasting less than 90 days, while a VLS-TS is needed for more than 90 days of salaried activity.
Intra-group Mobility
An employer based outside the EEA but belonging to an international group of companies can recruit senior management workers or those with a Higher Education Diploma to work for a French company as long as the employee has been employed for at least three months.  The employee must have worked for at least three months for the sending company.
This route is also available for employees who are undergoing training via the receiving French company or as part of an internship agreement.
If the duration of the secondment is longer than 12 months the worker will require a VLS-TS marked seconded employee ICT. This visa is valid for three years but the employee must complete the application for a multi-year Residence Permit within two months of arrival in France.
For employment lasting less than a year and training which cannot exceed 12 months, a VLS-TS showing ICT trainee is needed.
Families including a spouse and children under 18 years of intra-group mobility workers can accompany them to France. They will need to apply for a temporary or multi-year Residence Permit which indicates either a seconded ICT employee or ICT trainee.
The duration of their visas will be equivalent to that of the employee's Residence Permit and they are also authorized to work in France.
Employee Recruitment and Seasonal Workers
Companies or individual employers based in France who recruit foreign nationals on a fixed-term or indefinite basis will need to apply for a work permit.
Depending on the characteristics of the employment contract the employee must apply for a short or long-stay visa. A short-stay visa will be valid for up to 180 days and allows a presence in France of at least 90 days which can be continuous or not.
In this situation, the long-stay visa, valid for 12 months, will make it clear if the worker is permanent or employed on a fixed term. A copy of the work permit will need to be provided as part of the visa application.
Foreign seasonal workers cannot work in France for more than six months per year but may have several employers. Each employer has to apply for a work permit for the worker. Such workers can apply for a seasonal worker long-stay visa. They can then apply to their prefecture for a multi-year Residence Permit which states they are a seasonal worker.
Teaching Activity
Language assistants may be recruited by the public French education system at the primary or middle school level for a minimum of seven months. A work permit will be required as well as a temporary worker VLS-TS.
A visa application is made via appointment once the language assistant receives their appointment order from the relevant education authority. The visa must be validated within three months of arrival in France.
It is also possible for teachers or tutors to come to France as part of an international exchange between higher education establishments. Depending on the length of their contract they will need a long or short-stay visa.
Proof of recruitment by a higher education establishment will be needed for the visa application.
Modelling
Models or accompanying make-up artists, hairdressers and photographers can work in France in collaboration with a French modelling agency. If the salaried work lasts longer than three months the modeling agency must submit a request for a work permit.
When applying for a visa, models or their attendants must attach the collaboration agreement completed by the agency to their application form. The visa required will be a VLS-TS for a maximum of one year.
French or foreign employers can directly employ models and their technical teams in France. A work authorization will be needed if the salaried work lasts longer than three months with an employment contract required as evidence to support the request.
Medical Professionals
Practitioners with medical degrees from an EU country or who hold a diploma from their home country with authorization from the Ministry of Health to practice in France can work in the French public hospital system.
Employers must obtain a work permit for medical professionals recruited from countries other than France. This must be attached to their visa application. Medical professionals on fixed-period contracts will require a VLS-TS indicating that they are temporary workers.
Associate attached practitioners or contract practitioners must apply for registration with the Conseil National de l'Ordre des Médecins, the French medical council, on their arrival in France.
Employee Internships
Foreign employers can send employees as interns to French training organizations or companies with which they have a commercial relationship. Training that lasts less than three months will require a short-stay visa.
If the duration of the internship is more than three months an intern VLS-TS is needed. This should be validated within three months of arrival in France. A validated internship agreement must be submitted with the VLS-TS application.
Trainee doctors, pharmacists and nursing interns from other countries can take part in practical training in a French public hospital as part of international hospital cooperation. A VLS-TS marked intern is needed and must be validated within three months of arrival.
Talent Passport
A Talent Passport is equivalent to a work permit without the requirement of a separate Residence Permit for the first year. As such the holder of this permit can engage in professional salaried activity with no obligation to apply for additional residence or employment authorisation.
Various categories of workers with an employment contract may be eligible for a Talent Passport including graduates or employees transferred within a company group.
General requirements include holding an employment contract, having at least three months of service with the employer and a set minimum salary.
After the first year, holders of a Talent Passport must apply to their prefecture for a Residence Permit or carte de séjour, applicable to their situation.
Foreign workers coming to France will require a visa corresponding to their work permit, profession and duration of stay.
Short-stay Visa
Short-stay visas are valid for up to 90 days within any 180-day period and are single entry only. They do not allow multiple entries to the country and can not be renewed.
The supporting documents for a Short-stay visa include:
Passport issued in the last 10 years and valid for three months after the planned departure date
Completed, signed and dated visa application form
Two recent passport photographs
Evidence of financial sufficiency
Insurance covering medical and hospital expenses to a minimum of €30,000
Proof of return to the foreign national's country of residence following completion of employment
Reasons and conditions of the employee's stay in France
Letter of invitation or employment contract from host company or business
Internship agreement, where applicable
Long-stay Visa
A long-stay visa allows holders to remain in France for more than 90 days but is valid for a specified period.
During the duration of its validity, the visa grants the same rights as a Temporary Residence Permit. When it expires it is possible to apply for a permanent Residence Permit.
The supporting documents required for a Long-stay visa application include:
Passport issued in the last 10 years and valid for three months after the planned departure date
Completed, signed and dated Long-stay visa application form
Two recent passport photographs
Other supporting documents relevant to the employee's particular situation
Long-stay Visa Equivalent to Residence Permit (VLS-TS)
The VLS-TS is a category of long-stay visa equivalent to a Residence Permit. Within three months of arriving in France, VLS-TS holders must register with OFII. A long-stay visa is only equivalent to a Residence Permit when it is approved by OFII.
Employee VLS-TSs are issued for foreign workers employed by companies located in France and is valid for 12 months or more.
A Temporary Worker VLS-TS is available for foreign employees such as posted workers who can work in France for between 3 and 12 months.
The ICT VLS-TS is used for intra-company transferees for stays of less than a year.
Alongside EU and Swiss nationals, citizens of Monaco, San Marino, Andorra and Vatican City are exempt from the VLS-TS requirements.
How to Bring Overseas Workers to France
Companies hiring foreign workers in France on a permanent contract, a fixed-term contract or as a posted worker must follow the proper procedure to ensure that the employee is hired legally.
The process involves actions from both the hiring employer and the prospective employee. An employer applies for a work permit, while the employee has to apply for a visa or Residence Permit.
In some cases, the levels of employment in the profession and region will be reviewed by the French administration. This may mean an employer must advertise the job offer for three weeks in a public employment agency before starting the work permit application process.
All applications for work permits related to hiring foreign employees are processed online. The administration will also check the list of occupation shortages in the employment area and profession concerned to ensure the foreign worker's skills, qualifications and experience match the proposed job's criteria.
The offered salary and employment conditions are also reviewed to ensure that they are comparable to other employees in a similar role or occupational sector and the salary must be at least equal to the statutory national minimum wage.
Other checks will include reviewing employer compliance with employment legislation and ensuring accommodation offered to the overseas worker is suitable.
Work permit decisions are usually made within two months. However, if the application is refused, the reasons for the decision will be given in writing, along with information on how to appeal.
In most cases, the reason for refusal is due to the criteria not being met such as the position suitable for an already settled French worker.
If you feel that you have grounds for appeal call Total Law on +44 (0)333 305 9375 or contact us online to speak to one of our immigration specialists for advice on how to proceed.
General Work Visa Requirements in France
Each Work Visa will require specific documentation depending on the applicant's situation but there are general requirements that apply to all applications for a Work Visa in France.
Documents for France Work Visa
Every applicant must provide the following documents:
A passport, the original and a copy, issued within the last 10 years. The passport must be valid for three months after the planned departure date from France and should have at least two blank pages.
For a long-stay visa, valid for at least three months, the applicant's passport must have three months validity following the visa's expiry date.
Two recent passport photos
Completed and signed application form
Other supporting documents, originals and copies, will depend on the type of visa applied for and any Residence Permit issued when the visa expires. Documents which are not in English or French may need to be translated into French.
Work Visa Application Process and Fees
To begin the visa application process employees must gather all the required documentation and apply online. They will then need to book an appointment with their nearest visa center.
The appointment will allow biometric data to be taken and for the supporting paperwork to be reviewed by officials.
Applicants will be notified when their passport is ready for collection. Processing times are typically 15 days but in some circumstances can be up to 45 days.
Visa fees are payable for all visa applications and are due at the time of applying. The full rate administrative fee for a short-stay visa is €80 and a long-stay visa application fee is €99. If your visa is rejected the fee will not be refunded.
Extending the Stay of Employees on a Work Permit
If you are the employer of a foreign worker holding a VLS-TS visa you must request a renewal of the work permit two months before its expiry date. The employee can apply for a Residence Permit at the prefecture or sub-prefecture where they live two months before the expiry of the VLS-TS.
The same procedure applies if the foreign worker has a Residence Permit which was issued after they received a work permit. The employer must request a renewal of the work permit before the expiry date of the employee's Residence Permit.
A request for renewal of their Residence Permit must be submitted by the employee two months before the end of its validity. However, prefectures can differ and some require the renewal request as much as five months before the Residence Permit expiry date.
Employers of workers with a temporary work permit must submit a renewal request within two months of the expiry date of the permit.
Some work permits do not allow for extensions. For example, a posted worker must leave the country once their mission in France is completed.
Along with the renewal request for a work permit employers must submit four copies of Form Cerfa no. 15186*02. The last three payslips of the employee, an excerpt of the annual social security return or the employer's electronic report about the employee should also be submitted.
If there is a possibility that the renewal will be rejected because a French replacement could be found, employers should provide evidence of their efforts to find such a replacement from the French labour market.
Where applicable a new permanent or fixed-term employment contract or amended existing contract should be included with the renewal request.
How Total Law Can Help You
Total Law has extensive experience in guiding employers and businesses through the process of applying for French work permits and visas for their foreign workers.
Our knowledgeable immigration lawyers can help you with your application and provide the information you need to complete all the formalities of hiring a foreign national to work in France.
If your company is hiring a citizen from a non-EU, EFTA or EEA country we can assist you in assessing the best visa for your needs including recommendations that may be better suited to your situation.
With our in-depth and up-to-date knowledge of the French immigration system, we are ideally placed to support your company in bringing employees to France. Let us help you get it right the first time and save your business both time and money.
Call us today on +44 (0)333 305 9375 or contact us through our online chat to find out more about our services.
Advice Package
Comprehensive immigration advice tailored to your circumstances and goals.
Application Package
Designed to make your visa application as smooth and stress-free as possible.

Fast Track Package
Premium application service that ensures your visa application is submitted to meet your deadline.
Appeal Package
Ensure you have the greatest chance of a successful appeal. We will represent you in any case.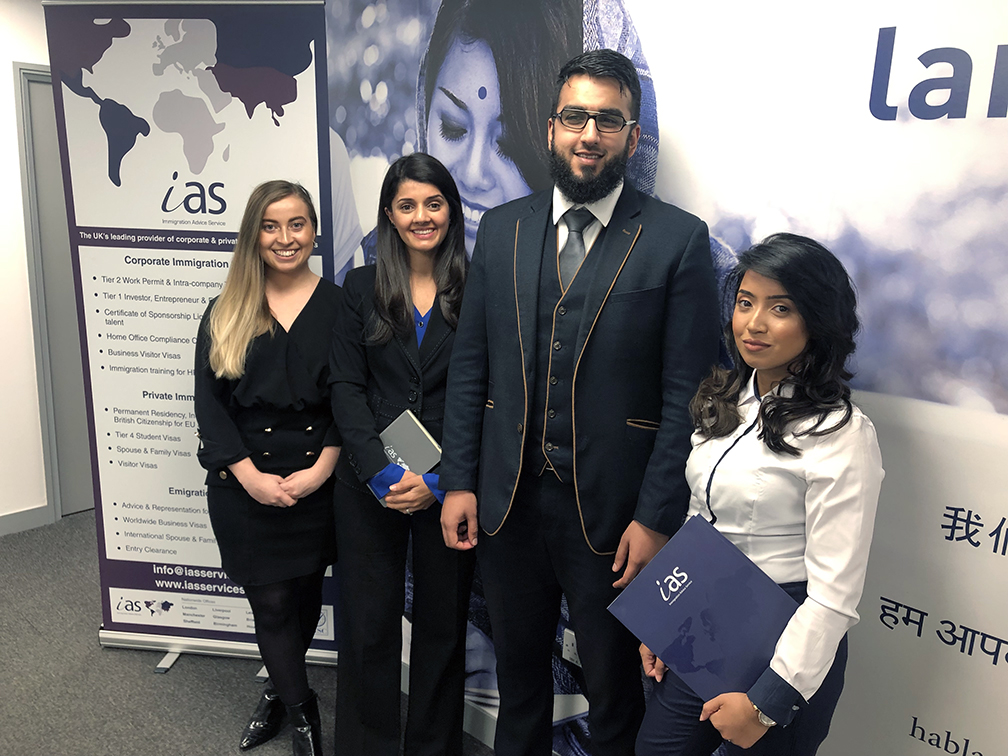 The Advice Package
During this untimed Advice Session with our professional immigration lawyers in London, you will receive our comprehensive advice, completely tailored to your needs and your situation.
Request the Advice Package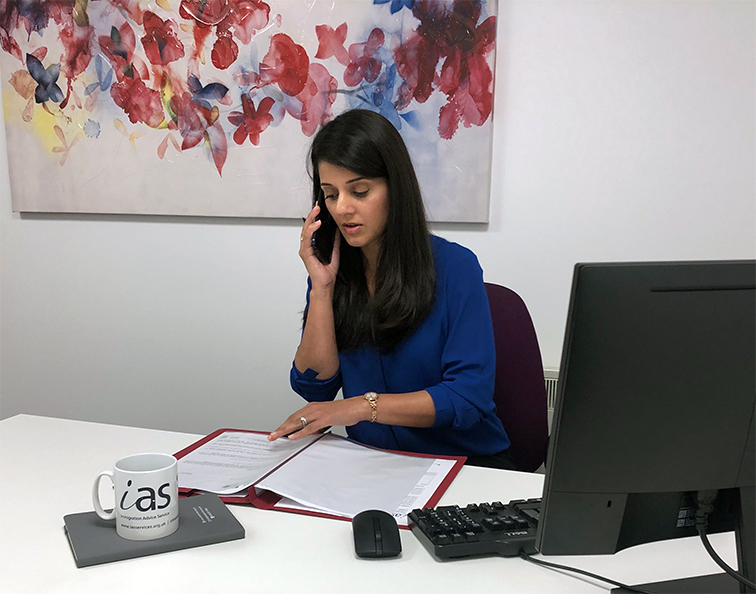 The Application Package
With our Application Package, your dedicated immigration lawyer will advise you on your application process and eligibility. Your caseworker will then complete and submit your forms to the Home Office on your behalf.
Request the Application Package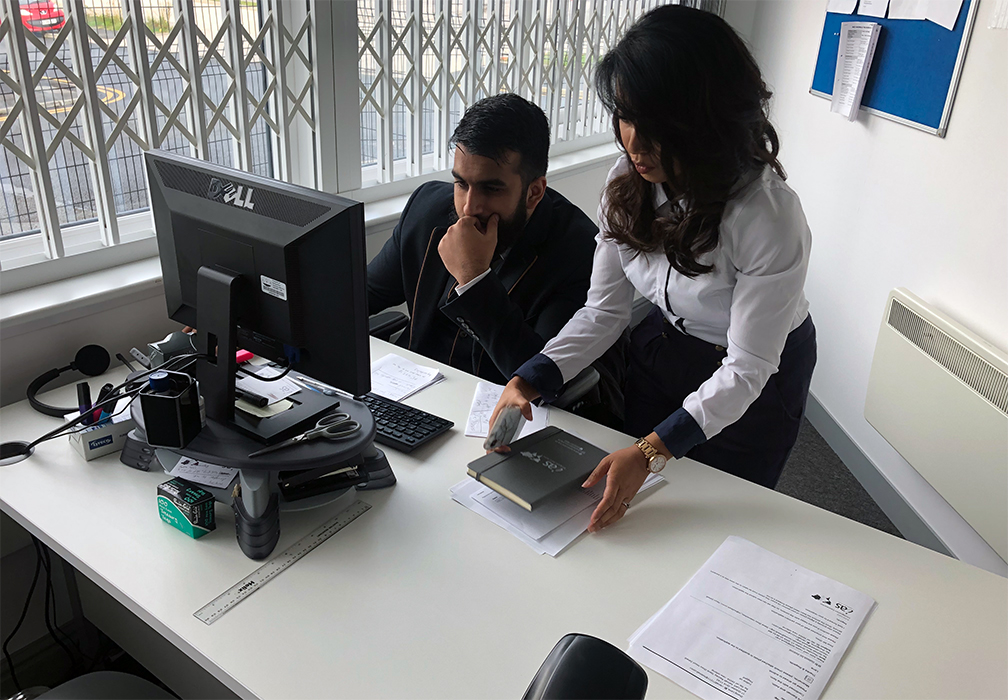 The Fast Track Package
Our Fast-Track Application Package is a premium service for those who need to submit their application in time with their deadlines. Your case will become a top priority for our lawyers and you will benefit from our highest-quality services.
Request the Fast Track Package
The Appeal Package
By choosing our Appeal Package, you can rely on our lawyers' legal knowledge and experience to ensure you have the highest chance of a successful appeal. We will also fully represent you in any hearings/tribunals.
Request the Appeal Package
Related pages for your continued reading.
Spending more than six months of the year in France means that you are considered a resident and that France is the centre of your economic and domestic life. This makes you fiscally resident in the country.
Staying in France without a valid visa or Residence Permit can have serious consequences. You risk being fined, deported and potentially prevented from returning to the country in the future. Working in France without a Work Visa or one that has expired could land you a fine, prison term or both.