Changing Student Visa to Work Visa France
France boasts some of the world's finest educational establishments, so it's no surprise that employers often look to hire students directly from them. If a foreign student wishes to stay in France to work, they will need to change their student visa for a work permit.
If you're looking to hire a foreign student to work in France for your business, Total Law can help with the processing of the employment contract and the conversion of visa class. Give our team a call on +44 (0)333 305 9375 to discuss your hiring requirements.
Eligibility Criteria for Changing Student Visa to Work Visa
In France, the work permit that a student could convert their visa to is known as a Carte de Sejour Salarie, which roughly translates as an Employee Staying Permit.
There is a set eligibility criteria for individuals to be able to formally process the change of status from student to worker with the French immigration services. Employers are advised to carefully consider whether those they intend to hire meet these requirements – and should not make an offer of employment or issue an employment contract until they are sure that this is the case.
A foreign student must meet the following requirements if they are to be successful in their work permit application:
The applicant must be resident in France under a valid and legally sound student visa
The applicant must have a valid and legal employment contract from a French employer
The applicant must be able to produce all relevant supporting documentation upon request (the exact documents to be presented do vary on a case-by-case basis)
The applicant must be suitably qualified for the role and able to demonstrate that their studies have been relevant to the salaried role they intend to work
The applicant must be able to pass a basic French language test; or, if for whatever reason this test isn't passed, they must enrol in regular French language lessons. If the applicant already has a French qualification, proof of this may grant them a bypass from the test.
The employer is responsible for the filing of the work permit application and will likely be interviewed as part of the process: in particular to justify why the visa holder is the most appropriate candidate for a role over and above an existing French national.
"I'm very happy with the standard of training received on the OISC Level 1 course, i passed my exam. Thank you!"
"My application was approved and a huge weight has been lifted from our shoulders this year "
"We used this service for the spouse visa extension application to assure that all the information was valid and correct."
Documents Required for Changing From a France student Visa to Work Visa
The employer and the intended employee must both submit various documents to the prefecture appropriate for the workplace's location in order to trade in a student visa for a work permit.
Further documents may be requested from all parties, but this list is the standardised request.
From the employer
The employer will, in most cases, be interviewed by the relevant immigration service in the prefecture but still must submit various supporting documents to complement the application for a work permit.
Documents proving the company's registration and status: usually a Kbis (corporate ID documents) or carte d'artisan (a craftsperson card), tax records, statutes of the company
(For businesses with more than 50 employees) Copies of the declaration des mouvements de la main d'oeuvre (the declaration of labour movements)
(For businesses with less than 50 employees) Copies of the current personnel register
Copies of the last two dockets submitted to the URSSAF or MSA
A copy of the employment contract for the future employee
Proof of the job role being advertised externally to the company
A letter detailing the reason for the hire of the foreign national; explaining and evidencing why they are more appropriate for the role than a French citizen.
If the business has requested work permits for foreign nationals before, they must also present the last three payslips of these employees as well as deposit slips for their social contributions.
From the intended employee 
The student visa holder must submit the following documents to support their application to work in France:
A valid passport and 4 recent passport-style photos
A copy of the student visa documentation
A copy of the current residence permit (if applicable)
A copy of a valid birth certificate (with a certified French translation)
Proof of current residence
A copy of the work contract for the intended employment
A signed declaration of the employer's commitment to pay the relevant fee.
While the employer is responsible for the application filing, it will not be processed without the intended employee's supporting documentation being submitted.
Costs Associated With Switching From a Student Visa To Work Visa
Employers are responsible for the payment of fees associated with work permits being granted but the exact amount to be paid depends on the type being applied for.
Those present in France under a valid student visa may work for up to 964 hours per year in paid employment before an application for a work permit is required. Employment up to this threshold requires no application and therefore no fees are payable.
Where a short-stay visa permitting foreign students to work in France for less than a 90-day period is needed, the application fee is €60. This fee is only payable for those citizens of territories outside of the EU, EEA or Switzerland. There are several other countries' nationals exempt from this visa and employers are advised to check ahead of issuing any contracts what is applicable for their target talent.
Where a long-term visa permitting foreign students to work in France for over a 90-day period is needed, the applicable fee is €99.
If an employer is also processing an application for their target employee to obtain a French residence permit, they must pay an application fee of €269.
All application fees are non-refundable, even in the event of the work visa being declined. No application for a work visa will be processed without the employer paying the fee upon application submission.
How to Change France Student Visa to Work Visa
There are several steps employers should follow to convert their prospective employees' student visa to work visa:
Carry out background checks and prepare employment contract
Before offering any individual a job, the employer should carry out background checks into the validity of their current student visa and the requirement for a new visa to be obtained. It is recommended specialist advice is sought – such as that of Total Law. Call the Total Law team today on +44 (0)333 305 9375 to learn more. An employment contract can be drawn up at this point.
Apply for work permit
The conversion of a study visa to French work permit can be carried out online. While this can be completed by the prospective employee, they will need to be granted power of attorney over the request and so it is always recommended that this is completed by the employer. The employer is likely to be interviewed as part of this process.
Submit file to prefecture
If the work permit request has been granted by the relevant authority, the immigration file must be submitted to the local police headquarters (prefecture). This can be done online or in person and an appointment will be booked. At the processing appointment, various identification documents must be presented and the fee must be paid for the residence permit application.
Start working together!
Once all steps have been successfully completed, the employee is free to begin work with the employer and reside in France with the legal permission to do so.
How Total Law Can Help
Total Law are a specialist team of leading immigration lawyers, advising both individuals and businesses around the world. Our expert team can help employers carry out background checks on their prospective new hires, write relevant clauses in employment contracts and guide them through the process of converting student visa into work permits.
Employers who hold a hiring preference for students specifically from French universities and educational establishments may choose to work with the Total Law team on an ongoing basis, and we're happy to discuss building a long-term professional relationship rather than just working together on a one-off transactional basis. Let our team make your team stronger!
Total Law are contactable on +44 (0)333 305 9375 for a free and no-obligation chat.
Advice Package
Comprehensive immigration advice tailored to your circumstances and goals.
Application Package
Designed to make your visa application as smooth and stress-free as possible.

Fast Track Package
Premium application service that ensures your visa application is submitted to meet your deadline.
Appeal Package
Ensure you have the greatest chance of a successful appeal. We will represent you in any case.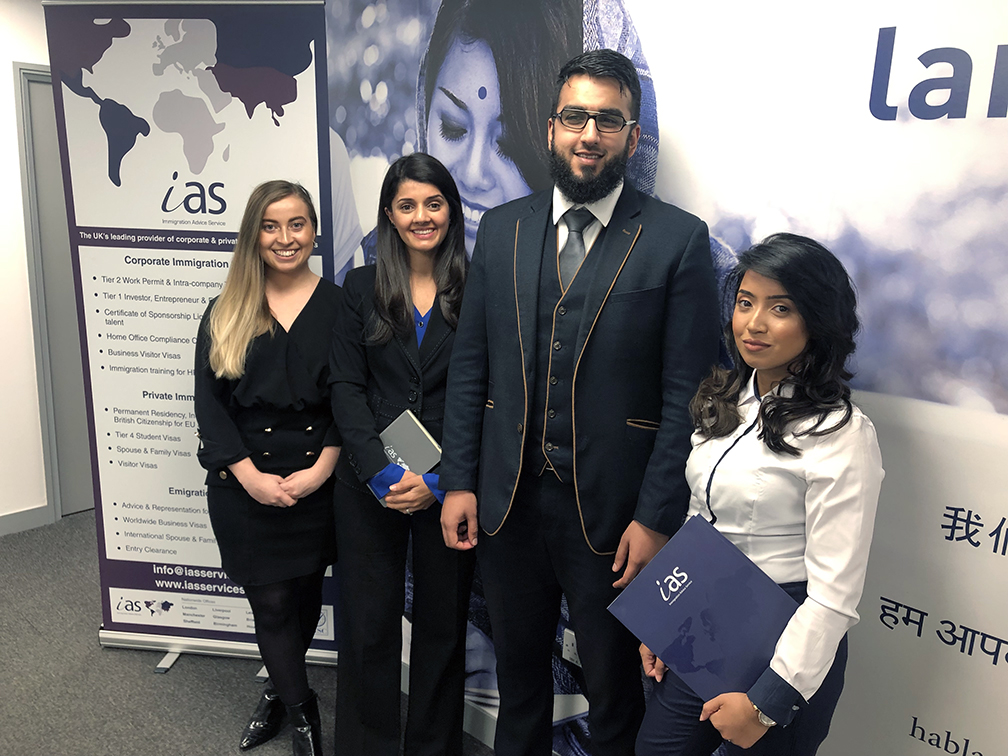 The Advice Package
During this untimed Advice Session with our professional immigration lawyers in London, you will receive our comprehensive advice, completely tailored to your needs and your situation.
Request the Advice Package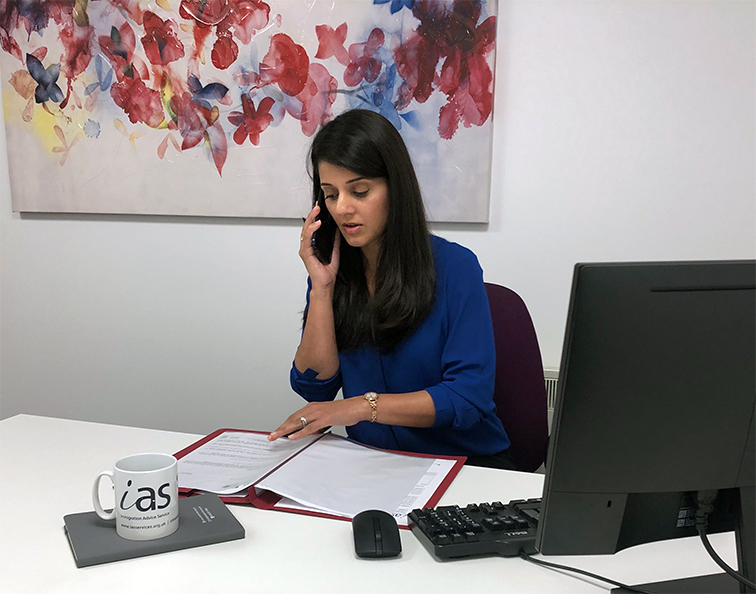 The Application Package
With our Application Package, your dedicated immigration lawyer will advise you on your application process and eligibility. Your caseworker will then complete and submit your forms to the Home Office on your behalf.
Request the Application Package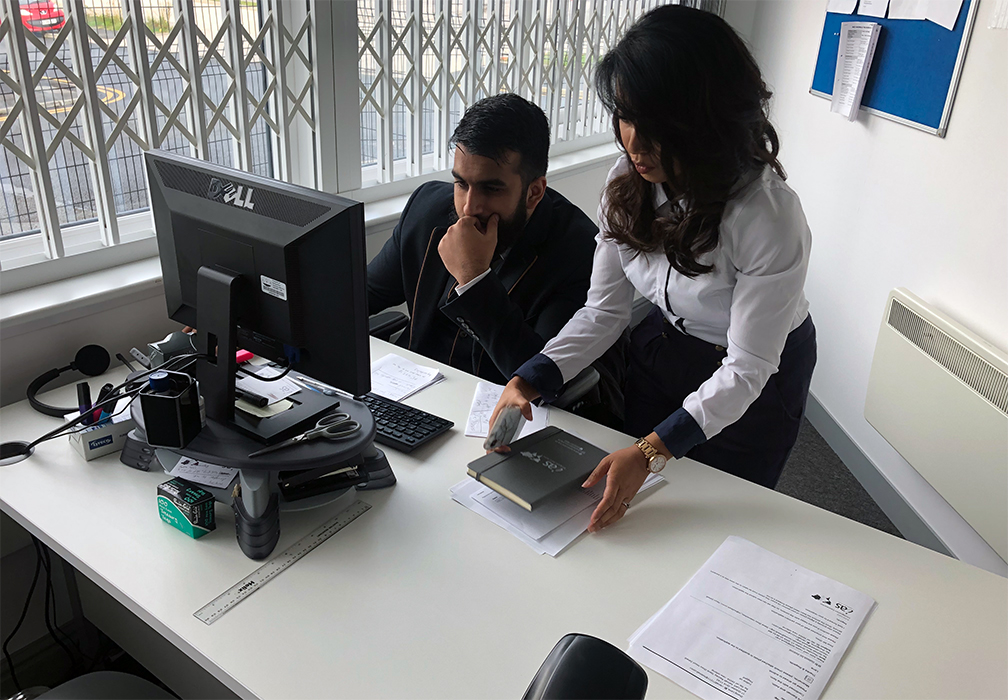 The Fast Track Package
Our Fast-Track Application Package is a premium service for those who need to submit their application in time with their deadlines. Your case will become a top priority for our lawyers and you will benefit from our highest-quality services.
Request the Fast Track Package
The Appeal Package
By choosing our Appeal Package, you can rely on our lawyers' legal knowledge and experience to ensure you have the highest chance of a successful appeal. We will also fully represent you in any hearings/tribunals.
Request the Appeal Package
Related pages for your continued reading.
Frequently Asked Questions
Those residing in France to study under a relevant visa are permitted to work in paid employment for up to 964 hours a year under standard conditions.
Providing an employer has made an appropriate job offer with a contract in place and is willing to sponsor an individual's work permit application, the student visa may be upgraded to an employment visa.
As long as a valid work permit is in place, employment may begin immediately.
It is expected that those working in France hold at least a conversational level of French, and if this isn't clearly demonstrated in the application, a French test may be required.