Facilitation Visa
If you're a Canadian citizen with dual nationality, there may be exceptional circumstances when you can travel to Canada without a Canadian passport.
For more information about facilitation visas, Canadian passport requirements, or any other immigration issue or question you might have, contact our Canadian legal experts on +1 844 290 6312 or contact us online.
What is a Facilitation Visa?
For Canadian nationals abroad, responsibility of their care falls to Global Affairs Canada (GAC) rather than Immigration, Refugees and Citizenship Canada (IRCC).
Canadian citizens should usually be referred to the consular section if they wish to travel to Canada without a Canadian passport.
However, there may be exceptional circumstances where IRCC issue a facilitation visa to dual nationality Canadian citizens to allow for travel to Canada without a Canadian passport.
A facilitation visa is a type of temporary resident visa (TRV). It is a counterfoil placed in the passport of the Canadian citizen's other nationality and will normally only allow for one single entry into Canada. It will also only be valid for the period needed to travel.
"I'm very happy with the standard of training received on the OISC Level 1 course, i passed my exam. Thank you!"
"My application was approved and a huge weight has been lifted from our shoulders this year "
"We used this service for the spouse visa extension application to assure that all the information was valid and correct."
Why Are Facilitation Visas Issued?
Facilitation visas are usually only issued in exceptional circumstances.
This means that they won't be issued for minor cases, such as those to simply alleviate inconvenience for the Canadian citizen unable to travel.
Instead, facilitation visas will be issued in cases where not facilitating travel would result in undue hardship, particularly in circumstances that were outside of the Canadian citizen's control.
In addition to this, IRCC will not usually provide assistance to those who are dishonest or deceitful about their Canadian citizenship from a foreign government that does not permit dual citizenship.
It's important to note that documents that provide evidence of Canadian citizenship, such as birth certificates or citizenship cards, cannot be used as travel documents. You will not be able to use these documents with transport companies or airport check-in staff as prima facie evidence of Canadian citizenship.
When Might a Facilitation Visa be Issued?
Before considering whether a facilitation visa would be justifiable, IRCC officers will first verify the status and identity of the applicant through written confirmation from a consular officer.
This includes whether or not the applicant has a Canadian passport on record or documentary evidence of citizenship.
Below are some of the circumstances that might warrant a facilitation visa then being issued:
When new, replacement or emergency passports cannot be issued in a timely fashion and where the travel is urgent:

For Canadians in distress (lost/stolen documents)
For dual nationals coming to Canada for the first time
For dual nationals who did not obtain a Canadian passport prior to leaving Canada; and

For children born in Canada to foreign nationals who have returned to their country and do not wish to assert their Canadian citizenship acquired automatically at birth
For children who go through the citizenship adoption process overseas and where their country of birth only allows them to leave on that country's national passport
For presumptive Canadians under the age of 18 who are coming to Canada either to reside with their Canadian parent(s) or for humanitarian and compassionate reasons as determined by the visa officer

The person must also be in possession of a valid foreign national passport or travel document in order for the facilitation visa to be issued. Satisfactory evidence (a Canadian birth certificate, citizenship certificate, etc.) must be presented to prove that at least one parent is Canadian and the visa officer must be satisfied of the parent-child relationship
Being issued with a facilitation visa should not negatively affect visa applications for presumptive Canadians under the age of 18 years who do not wish to assert their Canadian citizenship and who wish to be considered as a foreign national.
What Documents Do I Need to Provide?
You will need to provide the following supporting documents with your facilitation visa application:
Your valid government issued passport from the country where you have your second citizenship
Proof that you are a Canadian citizen, such as:

Your Canadian Certificate of Citizenship
Birth Certificate from a Canadian province or territory
Naturalization Certificate issued before January 1st, 1947
Registration of birth abroad certificate issued between January 1, 1947 and February 14, 1977
Certificates of retention issued between January 1, 1947, and February 14, 1977

Proof that you could not get a Canadian passport for reasons beyond your control
Proof that you need to go to Canada due to an emergency
Proof that you have enough funds for the trip to Canada, such as bank statements
A Declaration Letter from you to the Government of Canada where you explain why they should give you a Facilitation visa
Two photos that meet the Canada Photo Requirements
Medical examination forms, if necessary
Your employment or education status through a resume or diplomas, as well as a letter from your employer stating that you have contractual obligations to fulfil and you must return to your home country
You may also have to attend an interview and/or give your biometrics when you submit your application.
How Do I Apply for a Facilitation Visa?
The process of obtaining a facilitation visa differs from other temporary resident visas in that you must submit an application directly to the Canadian consulate or embassy in the country where you have your second citizenship.
You will normally have to submit the same forms as a regular temporary resident visa.
The consulate or embassy may take a few days to process your application. If your application is approved, they will place the facilitation visa in your passport.
If your application is refused, your passport will be returned to you with an explanation as to why your application was refused.
Facilitation visa applications may be denied for a number of reasons. If you require assistance in understanding why your application was refused, or if you need additional help with the application process, talk to one of our legal advisers on +1 844 290 6312 or contact us online.
What are the Fees and Processing Times?
Facilitation visas generally cost CAN$100 to obtain for most applicants.
There are special circumstances in which the visa fee would be waived, but this would only be for diplomats, consular officers, representatives or officials of foreign countries.
There may also be an additional biometrics fee of CAN$85 if you need to give your biometrics, such as if you're travelling from a country on the required list.
As facilitation visas are generally issued for emergency situations, the processing times are generally short. It may take a few days or shorter for your application to be processed.
How Long are Facilitation Visas Valid For?
Unlike most temporary resident visas, which are usually valid for up to six months, facilitation visas are generally only valid for as long as the reason for the visit.
This means that if you need to travel to Canada for a period of a few days because of an emergency, the facilitation visa issued to you would only be valid for those days.
The Canadian consulate or embassy will normally liaise with you to determine the exact appropriate length of your facilitation visa's validity.
How Can Total Law Help?
Facilitation visas are issued in rare, exceptional situations and only for specific situations.
If you're a dual nationality Canadian citizen requiring travel to Canada without a valid Canadian passport, it's important that you have all the information, assistance and advice you need in order to be cleared for travel.
Total Law can help. We are specialists in Canadian immigration and foreign affairs, and have experience working with individuals in difficult, urgent or emergency immigration situations.
We can help establish your eligibility for a facilitation visa and assist you in applying for one, or help guide you through alternative pathways for your urgent travel if you're not eligible. We can also liaise with immigration officials on your behalf to track the status of your application and ensure that it's processed smoothly.
For more information about the services we offer and how we can help you, don't hesitate to get in touch with us today. Call us on +1 844 290 6312 or contact us online.
Advice Package
Comprehensive immigration advice tailored to your circumstances and goals.
Application Package
Designed to make your visa application as smooth and stress-free as possible.

Fast Track Package
Premium application service that ensures your visa application is submitted to meet your deadline.
Appeal Package
Ensure you have the greatest chance of a successful appeal. We will represent you in any case.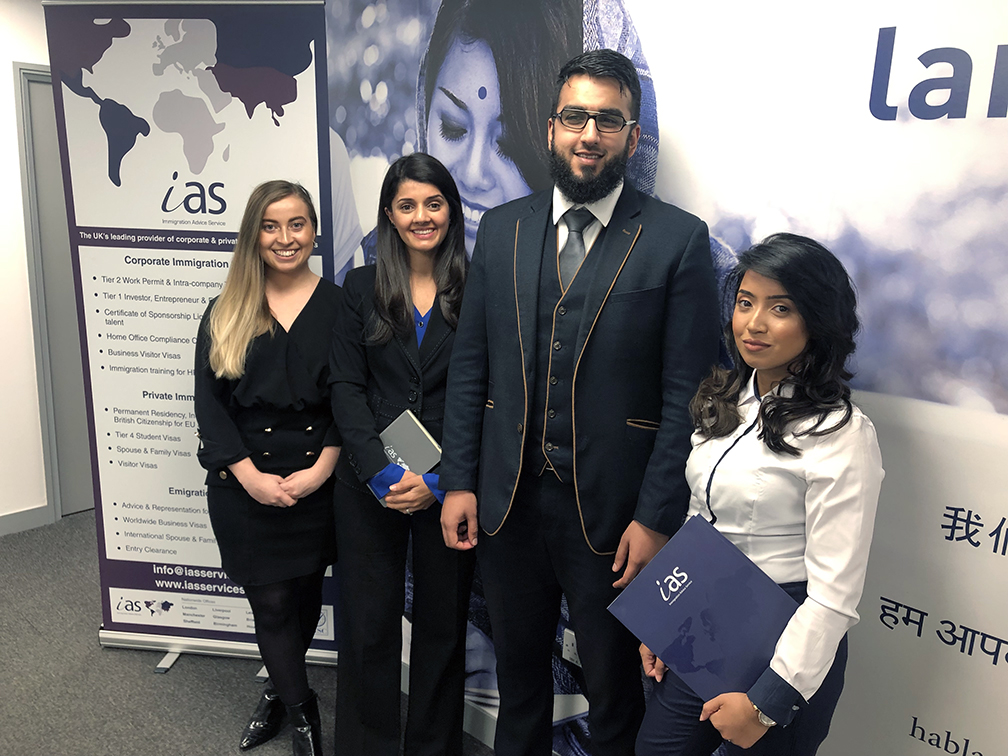 The Advice Package
During this untimed Advice Session with our professional immigration lawyers in London, you will receive our comprehensive advice, completely tailored to your needs and your situation.
Request the Advice Package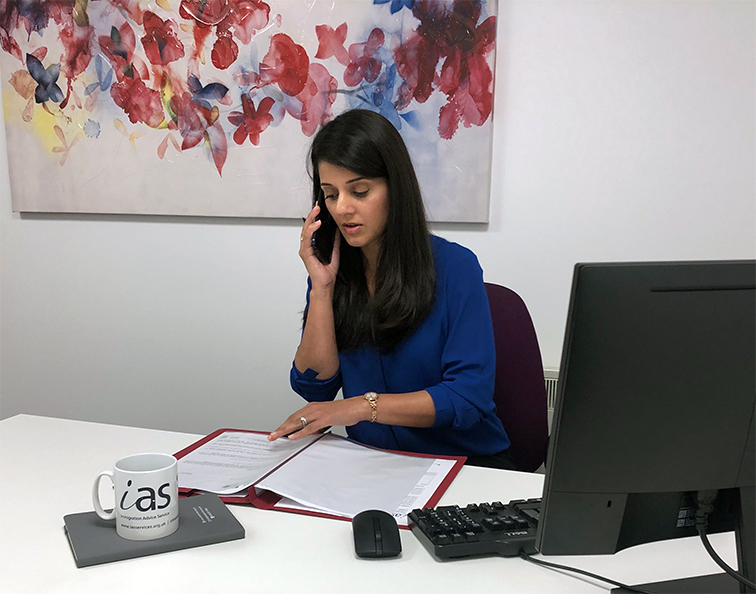 The Application Package
With our Application Package, your dedicated immigration lawyer will advise you on your application process and eligibility. Your caseworker will then complete and submit your forms to the Home Office on your behalf.
Request the Application Package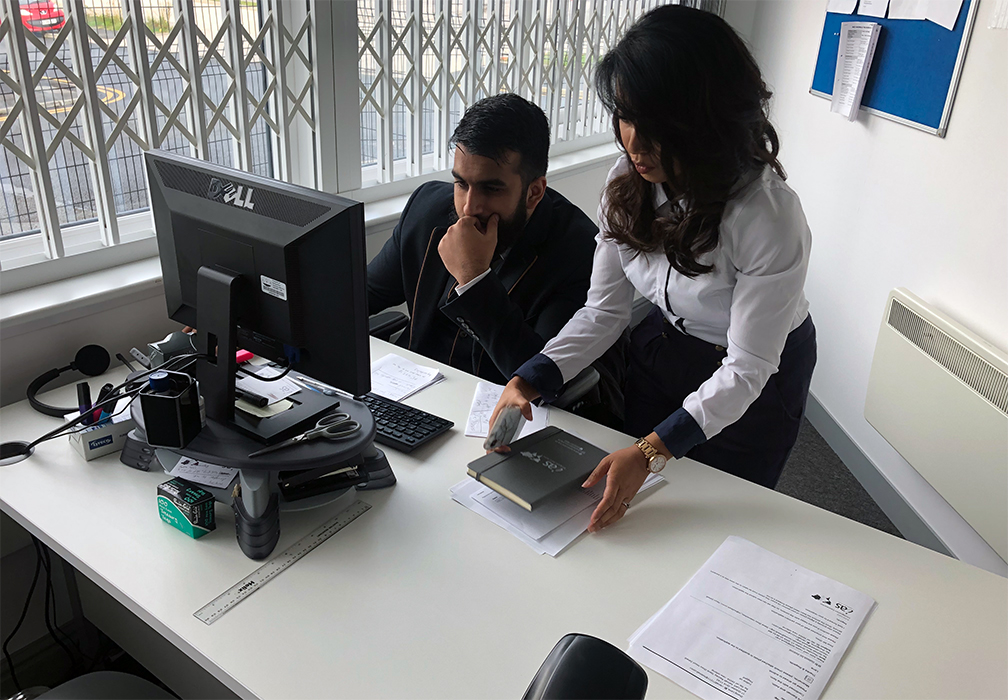 The Fast Track Package
Our Fast-Track Application Package is a premium service for those who need to submit their application in time with their deadlines. Your case will become a top priority for our lawyers and you will benefit from our highest-quality services.
Request the Fast Track Package
The Appeal Package
By choosing our Appeal Package, you can rely on our lawyers' legal knowledge and experience to ensure you have the highest chance of a successful appeal. We will also fully represent you in any hearings/tribunals.
Request the Appeal Package
Related pages for your continued reading.