Start-Up Visa Program
Are you an entrepreneur with an innovative business idea? If you can get support for your business idea from a designated organization, you and your family may be able to immigrate to Canada through the Start-up Visa Program.
To get help with applying for a Start-up visa, call Total Law's specialist immigration attorneys now on +1 844 290 6312.
What is the Canada Start-up visa program?
Canada's Start-up Visa Program is an opportunity for entrepreneurs and their families to immigrate to Canada as permanent residents in order to set up a qualifying new business. The business must be innovative, create new jobs for Canadians, and be able to compete on a global scale. Additionally, it must have the support of a designated entity.
With a Start-up Visa, you can bring dependents with you. Dependents are your spouse, common-law partner, or children under 22 years old who do not have a spouse or a common-law partner. 
While waiting for their permanent residence to be granted, Start-up Visa applicants are eligible for a temporary work permit, so that they can travel to Canada to set up their business.
There are several advantages of the Canada Start-up Visa Program:
The visa gives permanent residence to successful applicants
Dual citizenship is allowed
The visa processing time is relatively fast
Ability to live, work and study upon approval
Access to high quality subsidized education
Access to advanced health and welfare systems
Sponsorship of relatives to Canada is permitted
The chance to apply for Canadian citizenship after 3 years of permanent residence
"We used this service for the spouse visa extension application to assure that all the information was valid and correct."
"Thanking you so much for helping me and my wife live together for now and the distant future. We are grateful for your help and patience. "
"Spouse visa uk application was successful after working with your staff. I recommend this company the IAS for immigration services. "
Start-up Visa Program requirements
To be eligible for the Start-up Visa Program, you need to meet four main eligibility requirements, as follows:
1. Have a qualifying business
The business venture must qualify which means you must hold at least 10% of the voting rights across all shares of the company. The designated organization and the applicant must also jointly hold more than 50% of the voting rights in the business.
The applicant must have the business incorporated in Canada and must operate and manage the business from Canada.
2. Commitment from a designated organization
The applicant must have a letter of support from a designated organization. A designated organization is a venture capital fund, angel investor group, or business incubator.
To obtain this support, you to have pitch your business idea to the organization and demonstrate the benefits to them of investing in or supporting it. Once you have secured a designated organization, they will provide a Letter of Support. This needs to be included in your Start-up Visa application.
Unlike federal and provincial investor programs, where applicants must invest their own capital, no investment of your own funds is required with a Start-up Visa. Instead, the funding or support is secured from a designated organization. Note that you do however need settlement funds to show you can support yourself and your family upon arrival in Canada.
3. Language requirement
As part of the Start-up Visa application, you must evidence your language ability. For this, you must take an English or French language test from an approved agency. You need to show that you meet the minimum level 5 of the Canadian Language Benchmark (CLB) in speaking, reading, listening, and writing.
4. Proof of funds
You need to be able to show that you have sufficient funds to live in Canada in the initial period before you are able to take money from your business. This means having enough money to support yourself and any dependents once you arrive in Canada. The amount you need depends on the size of your family:
Single applicant – $13,213 CDN
2 family members – $16,449 CDN
3 family members – $20,222 CDN
4 family members – $24,553 CDN
5 family members – $27,847 CDN
6 family members – $31,407 CDN
7 family members – $34,967 CDN
For each additional family member: $3,560 CDN
In addition to the above four mandatory requirements, you must also meet the admissibility requirements to enter Canada, which are applicable to all applicants, not just Start-up Visa Program applicants. You and your family members must be in good health and have no criminal record.
Designated organizations for Start-up Visa
To be eligible for Canada's Start-up Visa Program, you must prove that your business is supported by a designated organization.
A designated organization is a business group that is approved by the Canadian government to invest in or support start-ups through the Start-up Visa Program.
You must secure the following investment or support via a designated organization:
Angel Investor Group – An investment of at least $75,000 CDN
Venture Capital Fund – An investment of at least $200,000 CDN
Business Incubator Program – Acceptance into a designated business incubator program (no investment capital is required)
To secure the above investment or support, you'll need to contact the organizations you feel could be a match for your venture and arrange to pitch to them. Each organization has its own pitching process and requirements that businesses must meet. For example, they may request an in-person presentation of your business idea or a comprehensive business plan.
The list of designated organizations is available here. You can consult this list to find potential matches for your business venture.
If you reach an agreement with a designated organization, they will send you a Letter of Support. This Letter of Support acts as proof that you have support from a designated organization for your business proposal. Letters of Support are valid for six months from their date of issue.
You will need the Letter of Support for your Startup Visa application. If you don't include the letter of support your application can be refused.
The designated organization that is supporting your business venture will also send a commitment certificate directly to IRCC.
How to apply & documents required
You can submit your application online, or as hard-copy via the mail.
The Start-up Visa Program application requires you to provide documentation to show you meet all four main requirements, as well as significant supporting documentation such as medical exams and police certificates. The full range of documents can vary depending on your circumstances and your business proposal, but in general, you'll need to submit the following:
Personal documentation such as passport
Photographs
Birth certificate, marriage certificate (if applicable)
Provide proof of language proficiency
Letter of Support from your designated organization
Language test proof
Police certificates and clearances
Proof of settlement funds such as bank statements
Receipt of payment of Start-up Visa fees
Sending your application
If you wish to send your application by mail, your completed forms, supporting documents and fee payment should be sent in a single envelope of size 23 cm x 30.5 cm (9″ x 12″), to one of the IRCC's addresses in Sydney, Nova Scotia on this page.
"Start-up business visa" should be written on the outside of the envelope.
Note that you must print out this document checklist and sign it. This must be included as the cover page of your application. You must also send 2 self-addressed mailing labels.
Unless specifically requested, copies of documentation (not originals) should be sent. You should keep a copy of the completed application and forms.
Medical Exams
You will need to take a medical exam before being able to move to Canada, and your family members must also have one, even if they aren't coming with you. IRCC will send you a letter to inform you how to get the medical exam, after they receive it.
Biometrics
Biometrics are your id in the form of your fingerprints and photo. For every permanent residence application, you submit, even if you gave your biometrics in the past, you'll need to give your biometrics. This applies to anyone between the ages of 14 and 79.
You will receive a letter from IRCC asking you to have your biometrics taken and where you can go. You must show this letter when you give your biometrics. Biometrics are given in person, and you must do this within 30 days from the date on the letter. Once IRCC receives your biometrics, they start processing your application.
Processing time
Applications are typically processed within 12 to 16 months. However, if you would like to begin working in Canada prior to approval of your permanent residence application, you may apply for a temporary work permit.
If your application is successful, the principal applicant and all accompanying family members will immediately receive permanent residence status in Canada.
Language testing
All applicants for the Start-up Visa Program must demonstrate proficiency in one of Canada's two official languages, English or French. To prove your language skills, you must take a language test given by an agency that is approved by IRCC, and include the results with your application.
You'll need to show proof of your English or French ability at Canadian Language Benchmark (CLB) Level 5 or higher. The test results must be less than two years old at the time of application.
Canadian immigration authorities currently accept English and French test results from the following test agencies:
English (CELPIP G-Test)
Paragon Testing Enterprises Inc.
English (IELTS)
Cambridge Assessment English
IDP Australia
The British Council
French (TEF Canada)
The Paris Chamber of Commerce and Industry
French (TCF Canada)
France Education International (FEI)
Note that Language Instruction for Newcomers to Canada (LINC) centers are not approved testing agencies for those applying for a Start-up Visa.
Here's what you need to do for language testing:
Arrange for testing by an approved agency
Pay the necessary fees
Include copies of your test results with your visa
Submit your original test along with your application
What are the Start-up Visa fees?
In most cases, the fees for the Start-up Visa Program are as per the below.
Main applicant
$1625 CDN – Application fee
$515 CDN – Right of Permanent Residence Fee (RPRF)
Accompanying family
$850 CDN – Application fee for spouse/common-law partner
$515 CDN – Right of Permanent Residence Fee (RPRF) for spouse/common-law partner
$230 CDN – Application fee for each dependent child
The RPRF is refunded if you withdraw your application, or if it is refused by IRCC.
You'll also most likely need to pay the Biometrics fee – currently, this is $170 CDN.
Additionally, there are third-party fees such as language tests, medical exams, police certificates, and translation of documents fees, if applicable.
IRCC provides a fees wizard (tool) that tells you the exact fees you need to pay depending on the chosen immigration pathway. You can also pay the necessary fees via this tool, by creating an account.
Get help with starting your business in Canada
The Start-up visa application needs to meet many requirements including securing a designated organization and submitting an array of supporting documents. There are also protocols to follow when sending your documents and application to the IRCC.
At Total Law we understand that there is a lot at stake when you're planning to start a new business in a new country. Our immigration attorneys specialize in Canadian immigration visa programs, and will be happy to assist you with this important step.
We offer a tailor-made service that includes the following:
Expert review of your situation
Assessment of your eligibility for the Start-up Visa
Support with preparing to pitch to designated organizations
Detailed support or direct handling of all stages of the application including:

document gathering
language testing
medical exams
police certificates
correct submission of the application form and documentation
application for a temporary work permit (if needed)

Liaison with IRCC on your behalf
Contact us via our quick online enquiry form, or call us on +1 844 290 6312 to discuss the best way we can help you make Canada your new permanent home.
Advice Package
Comprehensive immigration advice tailored to your circumstances and goals.
Application Package
Designed to make your visa application as smooth and stress-free as possible.

Fast Track Package
Premium application service that ensures your visa application is submitted to meet your deadline.
Appeal Package
Ensure you have the greatest chance of a successful appeal. We will represent you in any case.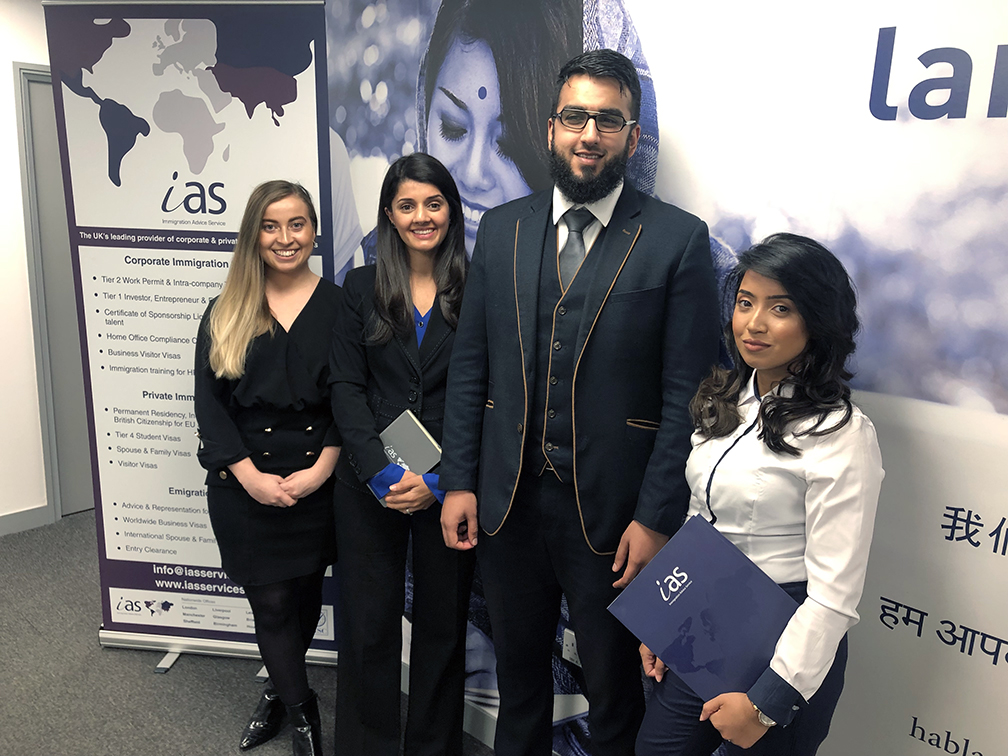 The Advice Package
During this untimed Advice Session with our professional immigration lawyers in London, you will receive our comprehensive advice, completely tailored to your needs and your situation.
Request the Advice Package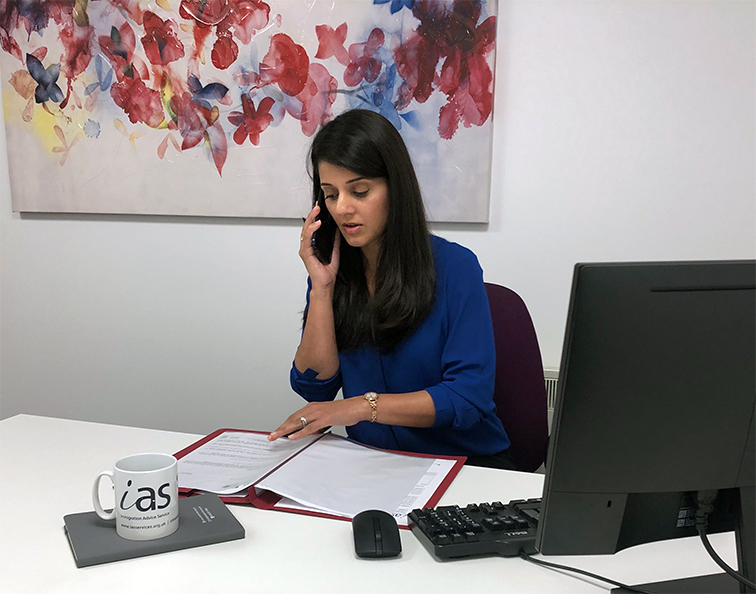 The Application Package
With our Application Package, your dedicated immigration lawyer will advise you on your application process and eligibility. Your caseworker will then complete and submit your forms to the Home Office on your behalf.
Request the Application Package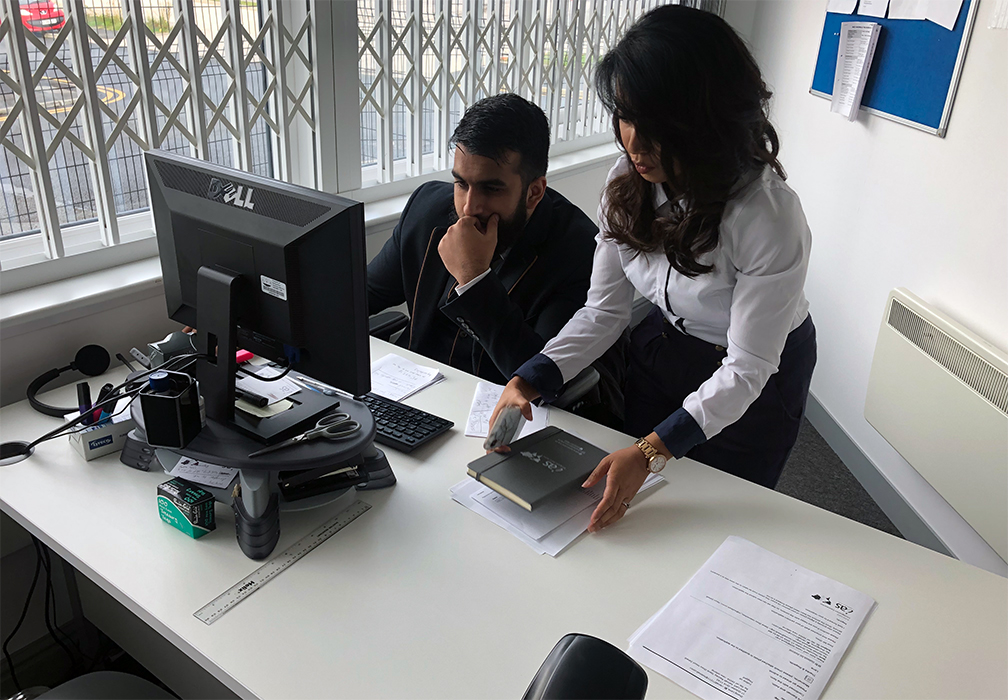 The Fast Track Package
Our Fast-Track Application Package is a premium service for those who need to submit their application in time with their deadlines. Your case will become a top priority for our lawyers and you will benefit from our highest-quality services.
Request the Fast Track Package
The Appeal Package
By choosing our Appeal Package, you can rely on our lawyers' legal knowledge and experience to ensure you have the highest chance of a successful appeal. We will also fully represent you in any hearings/tribunals.
Request the Appeal Package
Related pages for your continued reading.
Frequently Asked Questions
The processing time is 12 to 16 months, including the time you need to give your biometrics, if applicable.
Spouse / common-law partner
Dependent children of the applicant under 22 years old and who don't have a spouse or common-law partner