Express Entry to Canada
Express Entry is a competitive ranking system that manages applications for permanent residence in Canada from skilled workers. There are four Canadian immigration programs that you can apply for through Express Entry.
For help with your individual circumstances call Total Law on +1 844 290 6312. Our immigration attorneys are on hand to help if you wish to immigrate to Canada.
What is Express Entry to Canada?
Express Entry is a points-based immigration application management system used by Immigration, Refugees and Citizenship Canada (IRCC). It processes candidate profiles submitted by skilled workers to three of Canada's federal economic immigration programs and the Provincial Nominee Program:
It's a competitive ranking system that scores eligible candidates against certain factors and invites those with the highest ranks to apply for Canadian permanent resident status.
Candidates are ranked based upon their age, education, language proficiency, work experience, and other factors.
The Express Entry to Canada route allows individuals and families to be able to settle in Canada within a matter of months. It has no annual cap on applicants although the number of Invitations to Apply (ITA) issued is based on the Annual Immigration Level. Express Entry is open throughout the year.
The first step if you wish to immigrate to Canada as a skilled worker, is to create an online Express Entry profile. Applicants who have competitive CRS scores will receive an ITA for Canadian permanent residence during its Express Entry draws from the pool.
"We used this service for the spouse visa extension application to assure that all the information was valid and correct."
"Thanking you so much for helping me and my wife live together for now and the distant future. We are grateful for your help and patience. "
"Spouse visa uk application was successful after working with your staff. I recommend this company the IAS for immigration services. "
Express Entry eligibility requirements
Although Express Entry is the fastest way to immigrate to Canada not everyone is eligible for it. Below you will find the eligibility requirements for Express Entry.
Express Entry requirements
Age: Maximum points are gained if you are 18-35 years of age. If you are older, you'll be given fewer points
Education: The minimum educational level must be at least higher secondary education level in Canada. More points are given if your education is higher
Work experience: You'll need at least 12 months of skilled work experience to score the minimum points. More years of work experience equals more points.
Language ability: You must have at least 6 bands in your IELTS equivalent to CLB 7 to score the minimum points. Higher scores mean more points
Adaptability: If your family members or close relatives live in Canada and can support you, you'll score ten points. You'll also gain points if your spouse or legal partner is also planning to move with you to Canada
Arranged employment: A job offer from a Canadian employer provides ten points
Language ability requirements
Express Entry requires English or French language skills, which need to be evidenced through an approved language test. For this test you must:
Schedule your test with an agency approved by IRCC and pay the fees
Enter the test results into your Express Entry profile
Include the results with your application if you are invited to apply
The language tests accepted by the Canadian government are:
Tests are assessed according to the Canadian Language Benchmark Level (CLB). Each test has its own format and cost.
Requirements for Express Entry programs
If you would like to immigrate to Canada, you will need to consider which program to apply through. Each of the programs managed under Express Entry has its own requirements which you will need to meet, depending in which program you wish to apply for:
Canadian Experience Class (CEC)
One year's work experience in Canada in the last 3 years (full-time, part-time work or a combination of both). Your work experience must have been obtained under an official work permit
Skill type – O, A, B under the National Occupational Classification (NOC)
English or French skills – CLB 7 if your NOC is 0 or A
CLB 5 if your NOC is B
No job offer is required
There are no education requirements
Federal Skilled Worker Program (FSTW)
Express Entry applicants who want to be Federal skilled workers need the following:
One year of continuous work experience in Canada in the last 3 years (full-time, part-time work or a combination)
Skill type – O, A, B under the National Occupational Classification (NOC)
English or French skills – CLB
No job offer is needed
Secondary education required
67 points in the eligibility grid
Enough funds available to support you and your family members
Federal Skilled Trades Program (FSTP)
Two years of work experience within the last 5 years (combination of part-time, full-time or more than 1 job in your primary occupation).
Skill type – Canadian or foreign experience in a skilled trade under key groups of NOC B (Ref: National Occupational Classification (NOC))
English or French skills – CLB 5 for speaking and listening, CLB 4 for reading and writing
Have a full-time job offer for at least one year or a certificate of qualification of specialization in your skilled trade issued by a Canadian provincial, territorial or federal authority
Enough funds available to support you and your family members upon approval.
No education requirements are needed.
Provincial Nominee Programs (PNP)
There are 10 provinces and 3 territories in Canada that select candidates directly from the Express Entry pool. If you are selected, you will receive a Notification of Interest on your online profile and you will have several days to submit a complete application to the province.
If the province decides to nominate you for becoming a Canadian permanent resident through their program, you will be awarded 600 points on your profile, which is usually sufficient to trigger an invitation to apply (ITA) in the next Express Entry draw.
How to create an Express Entry profile
To submit your profile to Express Entry you need to create an account with IRCC and complete the online form. The profile will require information about your skills, work experience, language ability, education, and other details.
IRCC provides an eligibility tool that you can use to find out if you are eligible for Express Entry. The tool takes about 15 minutes to complete. At the end of the questions, you will be given a reference number which you can use to move your information from the tool to your Express Entry profile.
Note that if you're married or have a common-law partner who also wishes to move to Canada, you will need to decide which of you will be the main applicant. The main applicant should be the one who best meets the eligibility requirements and can secure the most points in the Express Entry's Comprehensive Ranking System (CRS). This person will submit an Express Entry profile and their spouse will be listed in it.
If you are eligible for one of the Economic programs, IRCC will accept your profile onto the Express Entry pool. This is when you will be scored under the Comprehensive Ranking System (CRS) based on the information you provided. You will be awarded points for language ability (English or French), work experience, age, education, spouse/partner attributes (if applicable), Canadian work experience, job offer (if applicable).
How to apply to an Express Entry program
Once you receive your ITA, you will need to submit a more substantial residency application for your chosen program. This will need to include a number of documents that will need to be uploaded to your online account. These can vary depending on the program, but in general you will need to upload the following documents:
Valid travel document like passport
Educational Credential Assessment (ECA), if your education was outside of Canada
International Credential Assessment of service of Canada.
Proof of funds, eg bank statements
Language test score
Job offer letter, if applicable
Provincial Nominee Certificate, if applicable
Marriage Certificates or Divorce Certificates, if applicable
Police clearance certificates
Medical examination results from an IRCC-recognized panel physician
Work reference letters from previous employers
Provincial Nominee Program
The Provincial Nominee Program is slightly different in its application process from the other three federal economic programs. There are two ways to apply to a Provincial Nominee Program:
Contact the province or territory and apply for a nomination. If your nomination is accepted you can then create (or update) your Express Entry profile and indicate your nomination.
Create an Express Entry profile and indicate the provinces and territories you are interested in within the profile. If accepted, you will receive a nomination through your Express Entry account, which you can accept electronically.
If you are invited to apply for Canadian permanent residence, you will have 60 days to submit an online application for Permanent Residence (PR). Once your application is submitted, all information within your profile is 'locked' and cannot be changed.
Note that if you wish to immigrate to Canada, you must also meet eligibility and admissibility requirements under Canada's Immigration Law.
What is the Express Entry cost?
There is no fee for creating an Express Entry profile. The point at which you will need to pay fees when you submit your application after you have received your ITA.
Once you have uploaded your application documents, the system shows you a list of fees you must pay to proceed. These fees include:
Processing fees: $850 CDN per adult, and $230 CDN per dependent child
Right of Permanent Residence fee $215 CDN
Biometrics fee $85 CDN per person
Fees are paid through your online account via debit or credit card.
In addition to processing and biometrics fees, you should bear in mind that you are likely to incur additional fees such as:
Educational credential assessments

Medical examinations

Police clearance certificates

Language tests

Provincial immigration fees, if you are applying for the Provincial Nominee Program
If you are applying under the Canadian Experience Class program or have a valid employment offer, you will need to show that you have sufficient funds to support your resettlement in Canada. Although these settlement fees are not paid to the government they must be accessible to you in order to be approved for permanent residence.
Note that you must give your biometrics (fingerprints and a digital photo) in person. After submitting your application, you will receive a letter confirming if this is required and where to go go to give your biometrics. You have to take this letter with you when you go to give your biometrics.
How long does Express Entry take?
How long does it take to receive an ITA?
IRCC issues regular draws (every 2-4 weeks) for Express Entry applicants. If you have a high-ranking score, you could receive an ITA within a matter of weeks, although not all profiles process this quickly. If you don't receive an ITA right away, your profile will remain active in the Express Entry pool for 12 months. You can resubmit a profile if you are not invited during that time.
How long does it take to receive a decision on a residency application?
Once you receive your ITA, you will have 60 days to submit a complete application. As the timeframe for submission of all the information is short, it is a good idea to gather the supporting documentation before you receive the ITA.
If your application is approved, you will receive a confirmation of permanent residence (COPR) document. With the COPR you will be able to apply for your Permanent Resident (PR) card. You can show this card as proof of your Canadian resident status when traveling outside the country.
The timescale from creating a profile in the Express Entry system to receiving a permanent resident visa is around six months on average.
What is the CRS score?
The Express Entry system ranks candidates using a points-based system called the Comprehensive Ranking System (CRS). The highest-ranking candidates from the pool are selected and invited to apply for permanent residence.
The CRS is used to assess you and your spouse, if any, in terms of these factors:
Age
Skills
Canadian work experience
Foreign work experience
Language ability – English and/or French
Education level
Other factors
The Government of Canada provides a CRS tool that you can use to check your CRS score. However, note that this tool is provided only for general guidance and the actual assessment of your score in the Express Entry process could turn out to be different from this.
There is a minimum cut-off score that changes for every Express Entry draw for each program. To provide an example of how this works, the CRS threshold for the Express Entry Canadian Experience Class draw on September 14, 2021 was 462 points. This meant that anyone who scored 462 points or more received an invitation to apply. The transparency of the Express Entry system makes it a popular pathway to settle in Canada.
Get help with emigrating to Canada
The Canadian Express Entry system has many options and criteria to consider and it may not be clear which immigration pathway is best or how you can increase your score. Even if you meet the minimum points requirement for Express Entry, there is no guarantee that you will receive an ITA. If your CRS score is below the minimum threshold to receive an invitation, you are unlikely to be invited. In this case, you can look at how you can increase your score.
Another factor to be aware of is that the timescale of 60 days to complete your application after receiving an ITA is quite tight.
For the above reasons, it is advisable to use the services of an immigration attorney who specializes in Canadian immigration programs.
At Total Law, our immigration attorneys are well versed in Canada's Express Entry system and all the immigration programs Canada offers. We have helped many clients successfully immigrate to Canada by ensuring clients achieve as many points as possible and assisting them throughout the whole process.
Bear in mind that Express Entry is not the only option to immigrate to Canada. Our Total Law attorneys will guide you as to the best immigration pathway for your circumstances.
We offer a tailor-made service that includes the following:
Expert review of your situation
Assessment of your eligibility for Express Entry
Assessment of your eligibility for a Canadian immigration program
Advice on ways to increase your CRS score, where needed
Liaison with IRCC on your behalf
Contact us via our quick online enquiry form, or call us on +1 844 290 6312 to discuss the best way we can help you make Canada your new permanent home.
Advice Package
Comprehensive immigration advice tailored to your circumstances and goals.
Application Package
Designed to make your visa application as smooth and stress-free as possible.

Fast Track Package
Premium application service that ensures your visa application is submitted to meet your deadline.
Appeal Package
Ensure you have the greatest chance of a successful appeal. We will represent you in any case.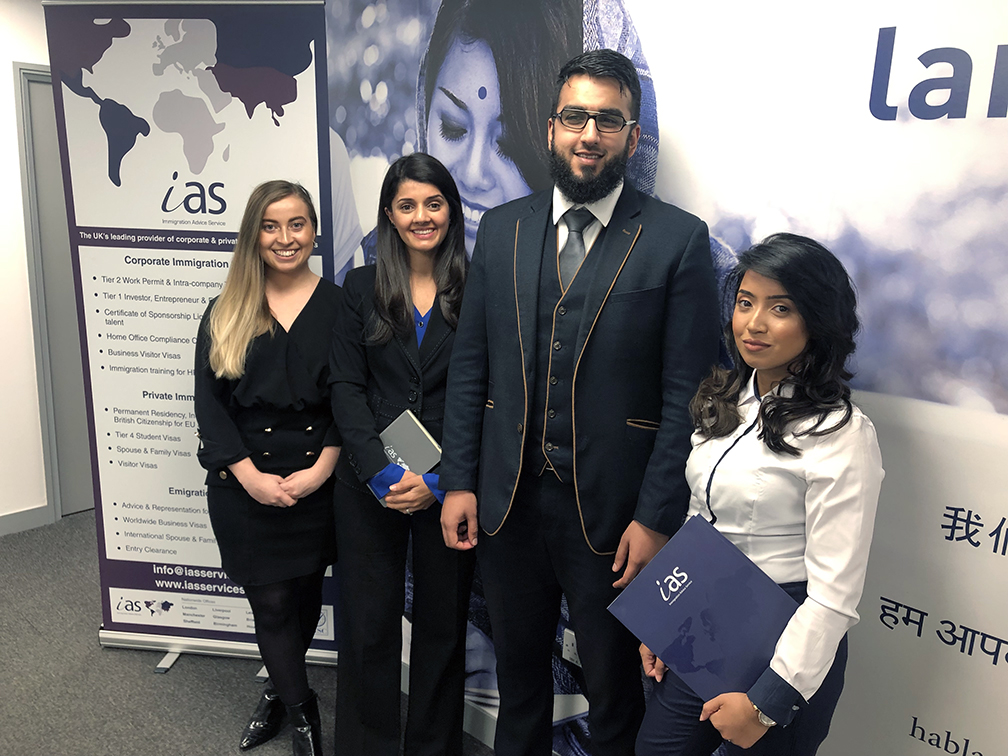 The Advice Package
During this untimed Advice Session with our professional immigration lawyers in London, you will receive our comprehensive advice, completely tailored to your needs and your situation.
Request the Advice Package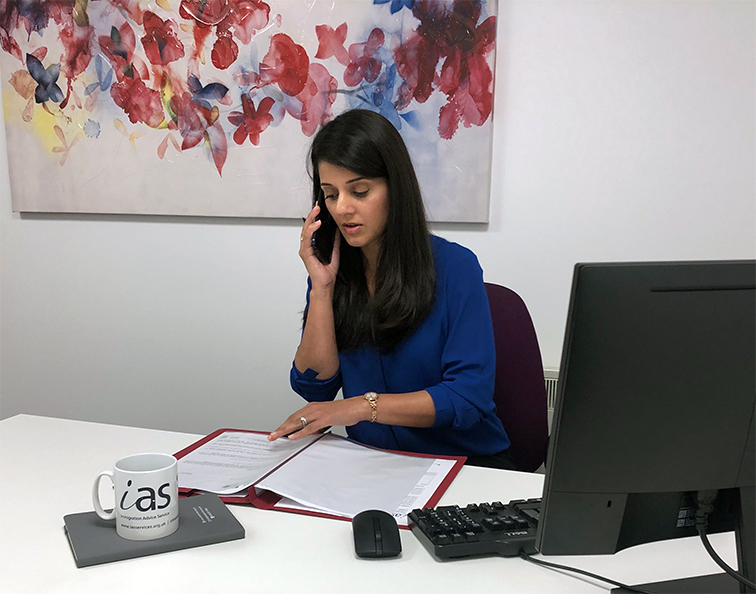 The Application Package
With our Application Package, your dedicated immigration lawyer will advise you on your application process and eligibility. Your caseworker will then complete and submit your forms to the Home Office on your behalf.
Request the Application Package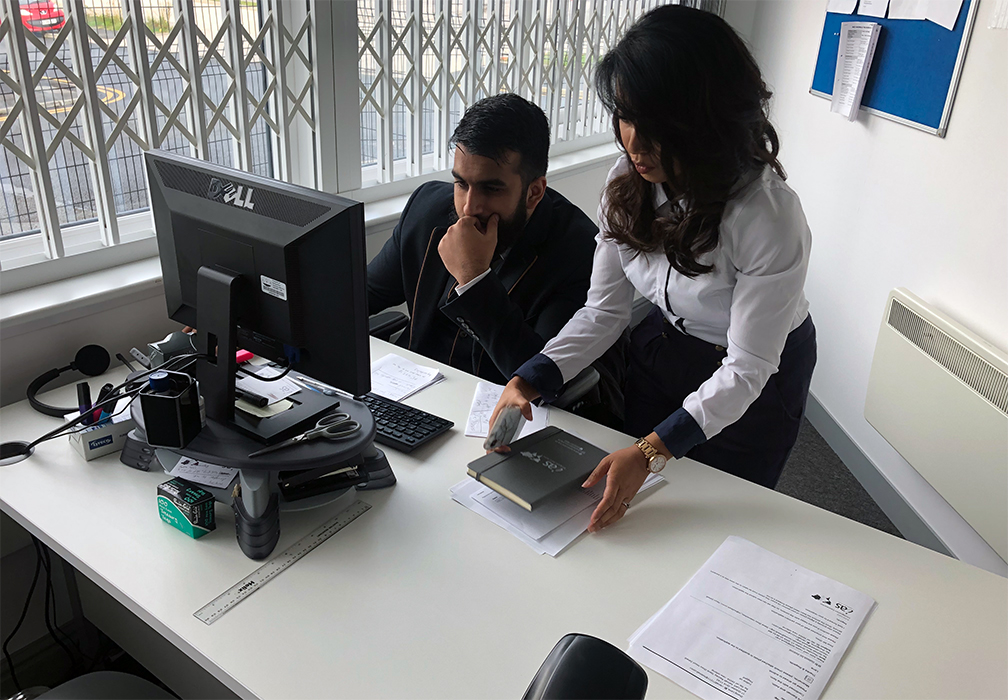 The Fast Track Package
Our Fast-Track Application Package is a premium service for those who need to submit their application in time with their deadlines. Your case will become a top priority for our lawyers and you will benefit from our highest-quality services.
Request the Fast Track Package
The Appeal Package
By choosing our Appeal Package, you can rely on our lawyers' legal knowledge and experience to ensure you have the highest chance of a successful appeal. We will also fully represent you in any hearings/tribunals.
Request the Appeal Package
Related pages for your continued reading.
Frequently Asked Questions
The Express Entry program manages applications for permanent residence from immigrants who can fill jobs where there is a lack of available skilled Canadian workers. Essentially it is designed for immigrant skilled workers.
If you do not have a full year's skilled work experience then the Canadian immigration system will not find you eligible.
If you are not sure about your immigration options for moving to Canada get in touch with Total Law's specialist attorneys now.
The Job Bank is a free government-supported recruitment service (database) that aims to connect employers with potential employees based on workers' skills and experience.
As an Express Entry candidate, you are not obliged to register in the Job Bank.
You are free to engage in other recruitment methods also, such as other online job boards and hiring agencies.
No one can predict whether the cut-off CRS scores will go up or down, not even IRCC. Express Entry is dynamic and will adjust based on the scores of candidates in the system. If there are a large number of candidates with high scores, the cut-off is likely going to be high; if the highest scores are on the lower side, then the cut-off will likely be lower.
Note that the cut-off scores can fluctuate in a matter of weeks, whether that is going up or down. So, it may get to you at some point.
While you wait, you can take action to improve your Express Entry score, such as improving your English or french language proficiency and taking another test to improve your language test results or seeking a provincial nomination.
The programs under Express Entry allow applicants to include their spouse or partner, and dependent children in their application. Note that dependent children are your children who are under 22 years of age and are not married or in a common-law relationship. If they are 22 or older, they may be able to come with you if you can prove that they depend on you for financial support because of a physical or mental health condition.
If the principal applicant is successful with their application and gets permanent residence, their accompanying family members will get permanent residence as well.
No, many Express Entry candidates successfully become permanent residents of Canada through Express Entry even though they didn't have job offers from Canadian employers when they became permanent residents. However, getting a job offer in Canada may increase your CRS score by 50 or 200 points if your job is eligible under Express Entry.
For your job offer to be eligible, it must be a recent valid job offer for a full-time job that is permanent (at least one year), falls under the National Occupational Classification of Skill O, A, or B, and must not be a job in an embassy, consulate, or high commission.
Furthermore, you must have written proof of the job offer, which details your duties, pay, and more. This can be your employment offer letter.
If you already have a job and are working in Canada with a work permit, that doesn't qualify as a job offer for Express Entry applications, but it may make you eligible for other Canadian immigration options, such as the Canada Experience Class.
Express Entry is not an immigration program per se; it is a system that is used to select candidates to be invited to apply for Canadian permanent residence. On the other hand, the provincial nominee program is a system used by provinces in Canada to invite candidates with much-needed skills to reside and work in their province. In return, the candidate gets permanent residence status.
Some provinces nominate their candidates from the Express entry pool. By doing so, a candidate's score is boosted by about 600 points which may increase their chances of success significantly.