Are Canadian H-1B Holders Eligible for EB-1?
If you are an H-1B holder you may wonder if this entitles you to a US green card. Unfortunately, there is no direct path from H-1B status to EB-1 status that guarantees you success. You will need to meet strict eligibility criteria and provide sufficient documentary evidence of your claim for the EB-1 green card. However, H-1B holders can obtain an EB-1 green card if they follow the correct steps.
If you are a Canadian H-1B holder who is thinking of applying for a US green card, contact Total Law for assistance. Speak to one of our expert immigration advisers today.
Call +1 844 290 6312 or use the online contact form to get in touch regarding your path to permanent residency in the US.
What is the EB-1 Green Card Option?
Visas for employment-based immigration are divided into five categories of preference.
The EB-1 is a first preference category of visa that results in a green card.
This category is for Canadians who are of extraordinary ability, outstanding professors and researchers, and multinational executives and managers. It includes the sciences, arts, education, business, and athletics.
You must have achieved documented accomplishments in your field of work and be able to provide extensive documentation to support your claim for this employment-based category. Some of the accepted evidence for this could include:
Proof of a job offer such as an employment contract
A high salary in your field of work
Proof of major significance or a leading or critical role in your industry
Internationally recognized prizes or awards
Proof of commercial success such as box office receipts, features in professional publications, or other comparable evidence
With EB-1, you will not need an additional labor certification. The EB-1 will give you lawful permanent residence in the US as a foreign national, and you will be able to live and work freely as a green card holder in the US.
"I'm very happy with the standard of training received on the OISC Level 1 course, i passed my exam. Thank you!"
"My application was approved and a huge weight has been lifted from our shoulders this year "
"We used this service for the spouse visa extension application to assure that all the information was valid and correct."
EB-1A
EB-1A is for foreign nationals with extraordinary ability who have achieved documented accomplishments in the areas of arts, science, business, or sports.
Documented accomplishments or outstanding achievements may include work in professional publications, international awards, features in major trade publications or other major media, significant commercial successes, or other comparable evidence of international acclaim or international recognition.
EB-1B
EB-1B is for outstanding professors and researchers who have outstanding achievements in a particular academic field.
You may need to show scholarly articles, published work that appears in professional publications or academic journals, or membership in prestigious academic organizations. As an outstanding professor, you must provide proof of documented accomplishments in the academic area. For example, tenure track teaching at either a university or other qualifying institution of higher education.
EB-1C
EB-1C is for multinational managers or those with managerial or executive capacity.
You must be able to prove your business-related contributions.
This is a tricky category to apply to as an H-1B holder because USCIS specifies that you must have worked for the foreign entity of your employer for one year prior to your application for EB-1C.
However, you would have likely spent recent years working in the US under H-1B.
This means you would need to return to Canada to work in an executive capacity in order to apply under the EB-1C category.
Green cards issued for the EB-1C category for multinational executives and managers are not eligible for premium processing.
The Application Process
The application process for the EB-1 green card can be overwhelming, and USCIS looks at application packages carefully.
You should not apply for the EB-1 green card as soon as you are approved for the H-1B as you will most likely be denied. A qualified immigration attorney can advise you on all aspects of the green card process including priority dates, immigration laws, required documents, and timelines. The basic steps of the application process are to:
File the petition
Gather your documents
Apply to adjust your status
Once you determine your eligibility for an EB-1 green card, you can submit your required documentation, petition, and fees to the United States Citizenship and Immigration Services, or USCIS.
For most categories, you will need a sponsor such as an employer to petition on your behalf. Your US employer must be the same employer you work for in Canada.
The petitioning employer will file the I-140 on your behalf with the USCIS. For some categories, you may be able to self-petition. Once your petition is approved you can file form I-485 to adjust your status from H-1B to EB-1.
Processing Times for the EB-1 Green Card
You will need to wait for your priority date to become current before you can submit your application. Although this stage of the application process can take up to a year in some cases, EB-1 priority dates are usually current. The Department of State provides final action dates in their monthly bulletin so you can monitor your priority date status.
Once your green card application is submitted, you may need to wait between four to twelve months to receive a decision.
Keep in mind that if you are outside of the United States when your priority date becomes current, you will need to apply using consular processing. In some cases, consular processing can actually be faster than simply adjusting your status. Some employment-based green cards may be able to be expedited with premium processing services.
How Can Total Law Help?
With Total Law, immigration services are provided by our team of expert immigration lawyers who can assist you in your path to a US green card.
Your Total Law advisor will provide you with current advice on H-1B holders and help you to put together an application package for the EB-1 with the highest chances of success.
For further information, contact us today at +1 844 290 6312 or use our online contact form to get in touch with our team of qualified immigration lawyers.
Advice Package
Comprehensive immigration advice tailored to your circumstances and goals.
Application Package
Designed to make your visa application as smooth and stress-free as possible.

Fast Track Package
Premium application service that ensures your visa application is submitted to meet your deadline.
Appeal Package
Ensure you have the greatest chance of a successful appeal. We will represent you in any case.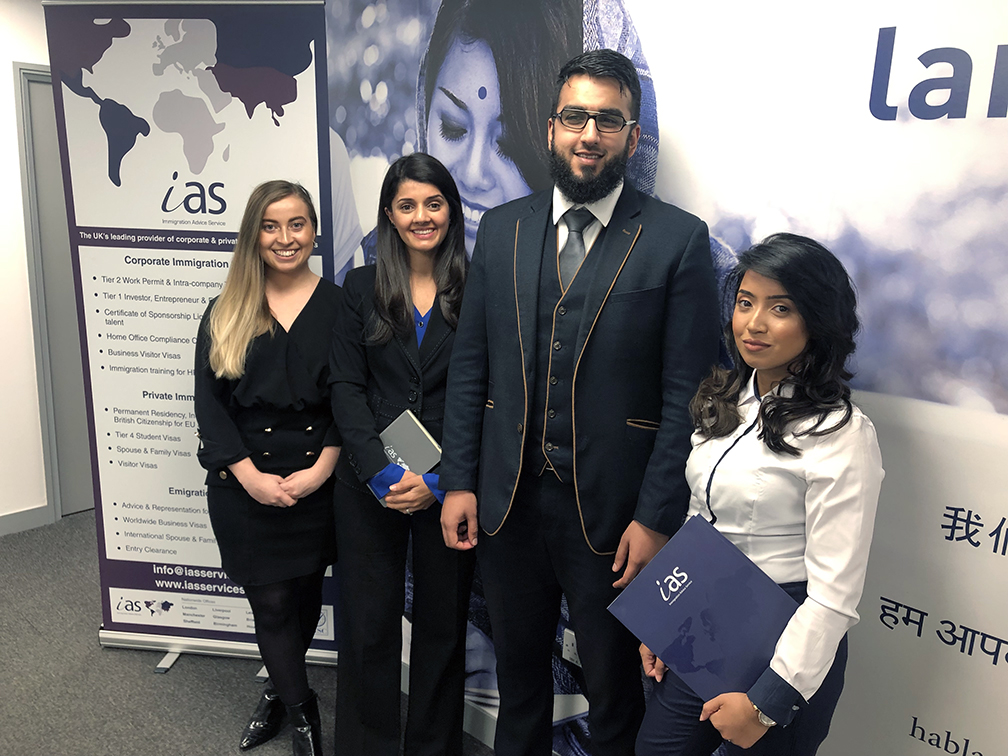 The Advice Package
During this untimed Advice Session with our professional immigration lawyers in London, you will receive our comprehensive advice, completely tailored to your needs and your situation.
Request the Advice Package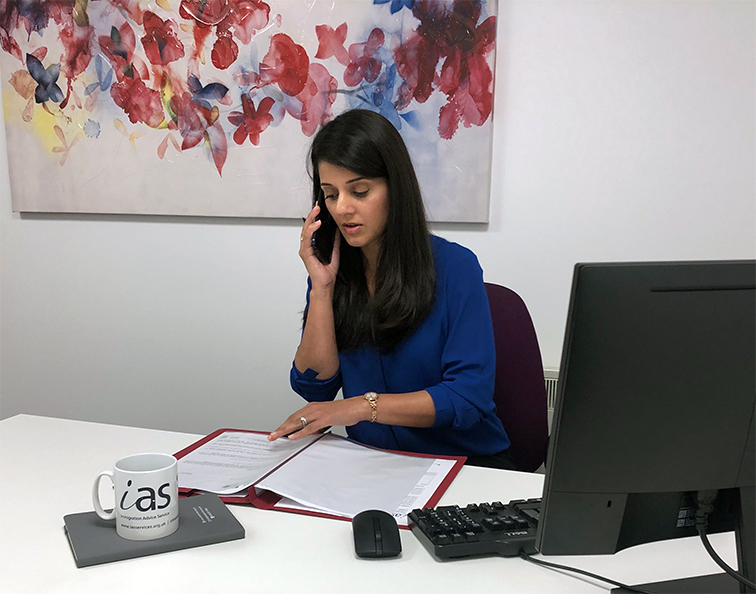 The Application Package
With our Application Package, your dedicated immigration lawyer will advise you on your application process and eligibility. Your caseworker will then complete and submit your forms to the Home Office on your behalf.
Request the Application Package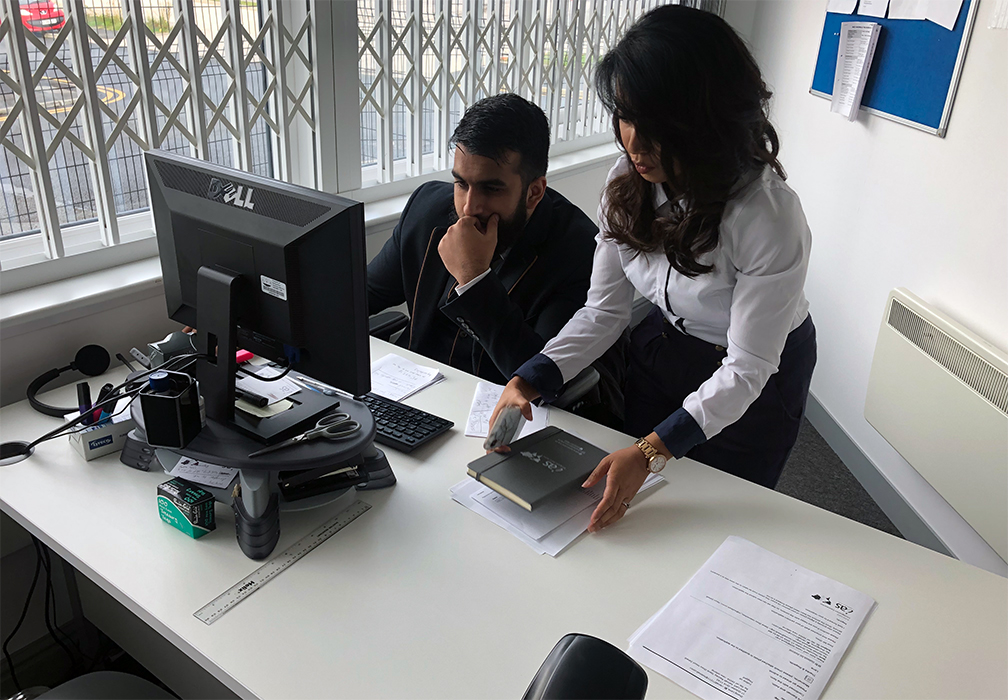 The Fast Track Package
Our Fast-Track Application Package is a premium service for those who need to submit their application in time with their deadlines. Your case will become a top priority for our lawyers and you will benefit from our highest-quality services.
Request the Fast Track Package
The Appeal Package
By choosing our Appeal Package, you can rely on our lawyers' legal knowledge and experience to ensure you have the highest chance of a successful appeal. We will also fully represent you in any hearings/tribunals.
Request the Appeal Package
Related pages for your continued reading.
Frequently Asked Questions
In order to be eligible to sponsor you for the EB-1 visa, your employer must be the same company or a branch of the parent company that employs you in Canada. The company must conduct business in both Canada and the US to qualify.
There is not an exact salary requirement for the EB-1 category, although USCIS will compare your salary among others in your field. You should demonstrate that you command a significantly high salary or remuneration in your industry. Your finances will be taken into consideration and you will need to submit pay stubs, tax documents, accountant letters, and other financial documents as part of your supporting evidence.
Some of the costs associated with becoming a lawful permanent resident in the US under the EB-1 green card may include:
I-140 fee for adjustment of status or consular processing: $700
I-485 basic filing fee: $750 – $1,140 depending on the applicant's age
Biometrics fee: $85
Affidavit of Support fee: $88
Attorney fees
Fees for translation of documents
Travel costs