EB1-2 Visa (Outstanding Researcher / Professor)
If you are an outstanding professor or researcher in the UK and are looking to live and work permanently in the US, you may be eligible to settle in the US with an EB1-2 immigrant visa.
For more information on applying for this immigrant visa or assistance with your application, we are here to help. Call us on 0333 305 9375 or fill the contact form to get a call back.
What is the EB1-2 visa?
The EB1-2 immigrant visa also called the EB1-B visa, is the second visa under the EB1 visa category. The EB12 visa is for outstanding professors or researchers who wish to immigrate to the United States from the UK and other countries.
Such individuals must prove at least three years of experience in their field, scholarly research contributions or business-related contributions written by them, major trade publications or professional publications written about them, and more to prove outstanding achievement.
This EB1 visa is a green card that grants permanent residency status to the holder, allowing them to live and work in the United States as long as they do not spend too much time abroad. Travelling abroad and spending too much time may lead you not to be allowed into the US and questioned on the grounds of potential abandonment of residency.
UK citizens that move to the US on this visa can apply for U.S citizenship after living in the United States on this visa for a continuous period of 5 years.
For any questions and concerns about this visa or for assistance with applying, reach out to our immigration lawyers. Call 0333 305 9375 or send an email to info@total.law.
"We used this service for the spouse visa extension application to assure that all the information was valid and correct."
"Thanking you so much for helping me and my wife live together for now and the distant future. We are grateful for your help and patience. "
"Spouse visa uk application was successful after working with your staff. I recommend this company the IAS for immigration services. "
Who is eligible for the EB1-B visa?
This EB1 visa sets a high standard for qualification and involves high scrutiny during the application to ensure that you meet the criteria.
To be eligible for the EB1-B visa, you must be an outstanding professor or an outstanding researcher that can show that you are recognised internationally for your achievements in your field.
In addition, you must have at least three years of experience in research or teaching in your academic field. Your reason for entering the United States must be to take a teaching or research position in an educational establishment or other higher education institution.
Furthermore, you must be entering the US to pursue a tenure or tenure track teaching or comparable research position at a higher institution, university, or private employer.
It also helps the foreign national to have evidence of internationally recognized prizes and awards, scholarly journals and other major media evidence to prove eligibility. Also, there are documents or requirements that you must provide before the USCIS can consider you for this visa.
What are the required documents?
Outstanding professors and researchers with outstanding achievements, international recognition, and at least three years of experience teaching or researching in their particular academic field must provide at least 2 of the following 6 requirements set by the USCIS:
Documents that prove that the applicant received major prizes or awards for outstanding achievements or excellence
Evidence that the applicant is a member of associations that require members to demonstrate outstanding achievement evidence
Copies of published material in professional publications or major trade publications written by others about the applicant's work in the academic field
Evidence of participation, on a panel or individually, as a judge of the work of others in the same or related academic field.
Copies of original scientific, scholarly research contributions, or business-related contributions of major significance done by the applicant in their academic field
Evidence of authorship of scholarly books or articles with international circulation in the field
In addition, the professor or researcher must provide evidence of a job offer from a U.S. based employer. The job contract or offer must state that the position is a permanent researcher position or tenure or on the tenure track teaching in a higher institution.
If you are to work for a private employer, the employer must provide documented accomplishments in their field and show that they employ at least three full-time researchers.
Also, you must provide evidence of your years of teaching or research experience in a leading or critical role in a respected organization. That evidence must show at least three years of experience in your academic field.
How to apply for EB1-B lawful permanent residence visa?
To apply for the Eb-1B visa, the U.S. employer (petitioner) doesn't need to have a labor certification like most other employment visas. To start the process, the prospective employer must file a Form I-140 (Petition for Alien Worker) on behalf of the professor or researcher that they have given a job offer.
After Form I-140 (Petition for Alien Worker) has been approved, it is sent to the National Visa Center, where it will be assigned a case number. At that point, the NVC will ask the applicant to complete Form DS-260 (Immigrant Visa and Alien Registration Application).
The Form DS-260 can be completed online. After submitting this form, you will get a confirmation page that you should print because it is necessary to submit it along with the required and supporting documents as part of the application.
During the visa application process, the employer will need to prove that they can continue paying the offered wage on the priority date. They can do this by providing the USCIS with an annual report, federal income tax return, or an audited financial statement.
Also, the petitioner must include documents that prove the foreign citizen's outstanding ability as a professor or researcher, three years of experience on the applicant's part, a permanent job offer and at least two of the six documents specified under the required documents section of this page.
After the USCIS has received Form I-140 and processes the application, the visa applicant will receive a notice to appear for an interview at a U.S. Embassy or Consulate in the UK. After the interview, you will get a notice of the USCIS' decision.
If approved, the applicant can travel to the US to seek admission into the United States. If approved to enter, they will get their green card in the mail at the provided US address in their Form DS-260 in about six weeks.
To ensure that your application is well put together and has the highest standards for higher chances of success, it is recommended that you reach out to immigration attorneys that are experienced in US immigration for UK citizens and residents.
Visa cost and Processing time
Cost of the EB1-2 outstanding researcher/professor visa
Applying for the EB1 visa comes at different costs depending on the embassy you file for the visa. Filling the Form I-140 costs $700, and the Form DS-260 costs $325. Also, you may be required to provide biometrics at the embassy, and the cost varies by the embassy.
Also, you may be required to provide proof of vaccination or medical examination and the costs of that vary. In addition, premium processing is available at $2,500 for this US immigration route with Form I-907 (Request for Premium Processing Service).
How long does an EB-1-B green card visa take?
Unlike most employment-based immigration visas, the US employer is not required to have a PERM labor certification, which makes this process of processing Form I-140 petitions quicker.
Also, the EB-1 visas have first preference for the permanent worker and E visa categories and are held in high esteem. As a result, it has a quicker priority than several other immigrant visas. Therefore there are fewer waiting times for the visa process. However, it may take between a few months to a few years.
Processing Form I-140 takes around 6-9 months, depending on the visa centre that processes the application. Premium processing is available for this visa, and the petitioner can apply for it to speed up the processing of this form. This will make the processing time to be 15 days.
The visa interview
The US visa interview is used by US immigration to ascertain your intent. Typically, you will be asked questions about your background, education, job offer, employer, and qualifications. The questions are at the US consular officer's discretion.
In addition, you will be asked for some documents that may include original copies of:
A passport that's valid for at least six months after the intended date you enter the US
The DS-260 confirmation page
Two photographs that meet the visa standards of the US
Employment offer letter
Completed proof of vaccination and medical examination
Required and supporting documents submitted as part of the application
If the immigration officer is satisfied with your answers and documents, your visa will be approved.
Dependents of the Eb1-B visa holder
An EB1-B visa holder can bring their dependents with them to the US. You can bring your spouse and unmarried children under the age of 21 to the United States.
To bring dependents, you must wait until your Form I-140 petition has been approved and then apply for an E-14 or E-15 immigrant status for your spouse or child. During the process, they must show proof of their relationship with you using documents such as a marriage or birth certificate.
Your spouse and children above 14 are required to attend a visa interview. During that, they may be asked questions around the marriage or relationship with you to establish genuineness.
E-14 and E-15 visa holders can get a green card when they get into the United States. Just like the EB1-B visa holder, they will receive the green card in about six weeks and become permanent residents as a result.
With permanent resident status, they can work legally with any employer or be self-employed in the US, get a social security number, pay taxes, and so on.
Applications for the EB1-B visa are closely scrutinised and aren't the easiest US visas to acquire. At Total Law, we ensure that your application is scrutinised by expert and experienced immigration lawyers and prepared with the highest standards to ensure it receives a successful outcome.
We can advise you and guide you and your sponsor (US employer) through the process. Our services include:
Evaluating your eligibility for the visa
Providing legal advice on your immigration options
Assisting your sponsor with the Form I-140 petition and process
Working with you for filing the application and guiding you through the visa interview
Filing all relevant paperwork on your behalf
Helping with gathering documents and evidence of eligibility
Liaising with the USCIS on your behalf
Our immigration lawyers are here to assist you and answer any questions you may have. For more information on how we can help you, get in touch with us today by calling 0333 305 9375.
Advice Package
Comprehensive immigration advice tailored to your circumstances and goals.
Application Package
Designed to make your visa application as smooth and stress-free as possible.

Fast Track Package
Premium application service that ensures your visa application is submitted to meet your deadline.
Appeal Package
Ensure you have the greatest chance of a successful appeal. We will represent you in any case.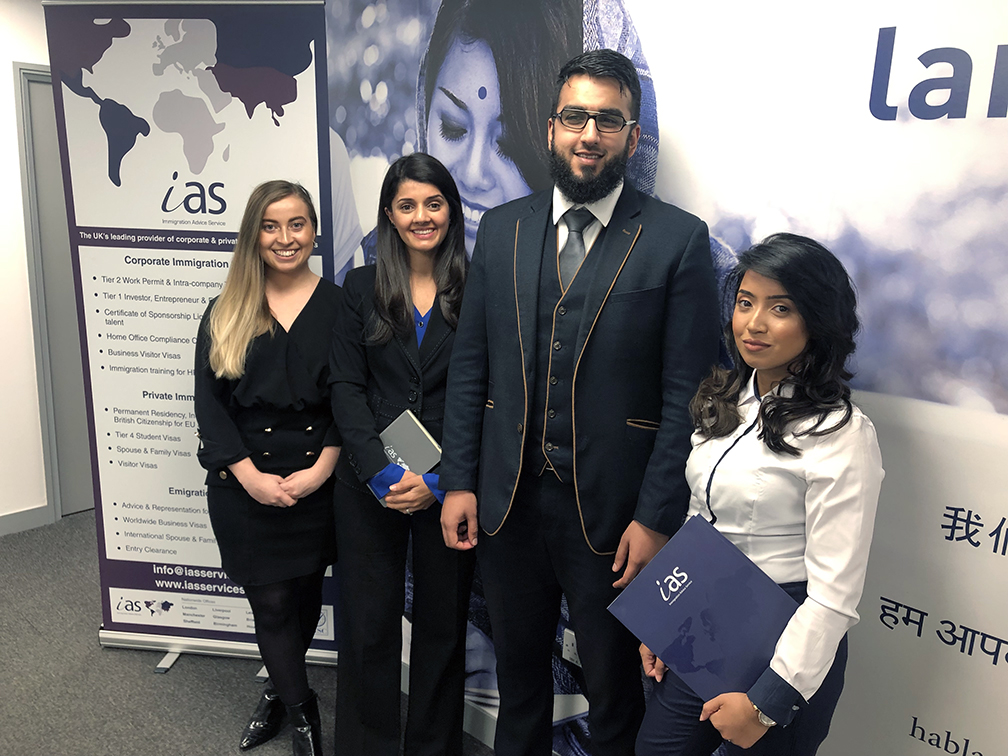 The Advice Package
During this untimed Advice Session with our professional immigration lawyers in London, you will receive our comprehensive advice, completely tailored to your needs and your situation.
Request the Advice Package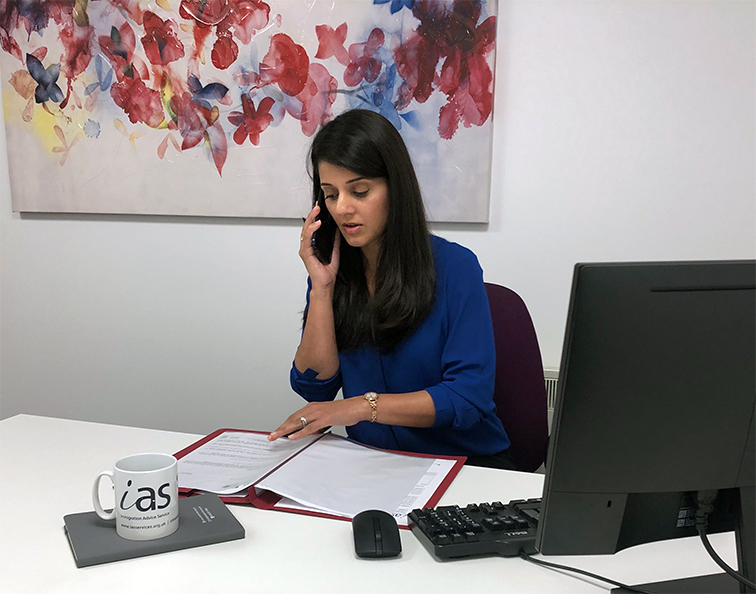 The Application Package
With our Application Package, your dedicated immigration lawyer will advise you on your application process and eligibility. Your caseworker will then complete and submit your forms to the Home Office on your behalf.
Request the Application Package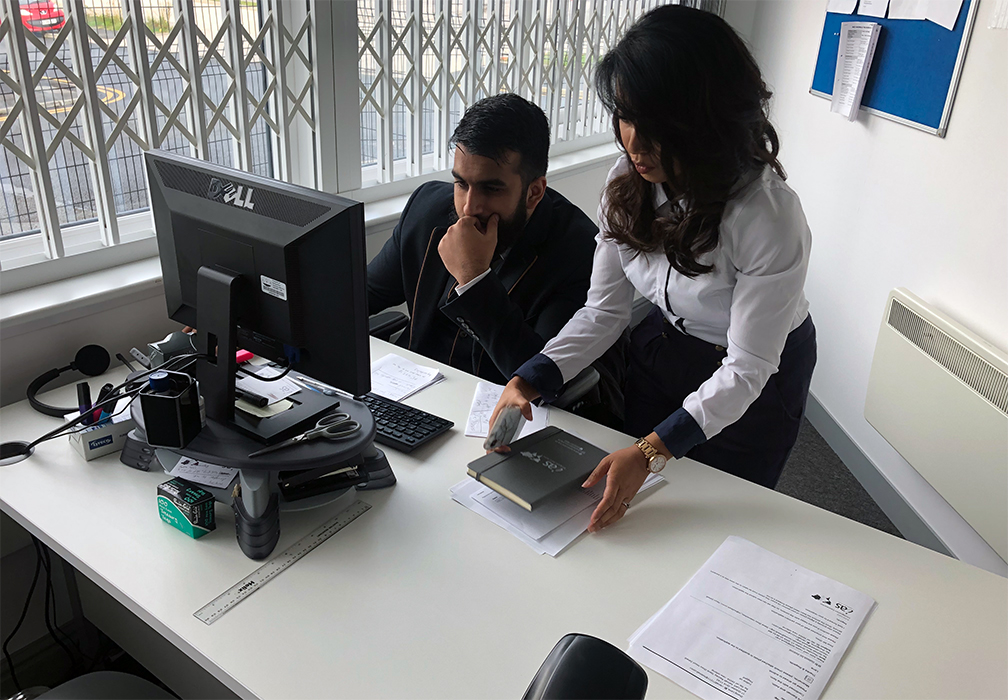 The Fast Track Package
Our Fast-Track Application Package is a premium service for those who need to submit their application in time with their deadlines. Your case will become a top priority for our lawyers and you will benefit from our highest-quality services.
Request the Fast Track Package
The Appeal Package
By choosing our Appeal Package, you can rely on our lawyers' legal knowledge and experience to ensure you have the highest chance of a successful appeal. We will also fully represent you in any hearings/tribunals.
Request the Appeal Package
Related pages for your continued reading.
Frequently Asked Questions
The EB1-A visa is for an individual with extraordinary ability. The extraordinary ability should be in the sciences, arts, education, business, athletics, or sustained national or international acclaim.
The EB1-B visa is for outstanding professors and researchers with outstanding achievements in their fields.
The EB1-C visa is for individuals working in a multinational in a managerial or executive capacity coming to work in the US for the same employer.
All three visas are EB1 employment visas. In the E-category, there's also the EB-2 visa which is for those with an advanced degree or exceptional ability.
To get lawful permanent residence, the first step is getting an approved Form I-140 petition. Afterwards, you can apply for your EB12 visa and come to the US. When in the US on the EB1 visa, you should file Form I-485 (Application to Register Permanent Residence or Adjustment of Status to USCIS) to get your green card in the mail within a few weeks. After five years of living in the US on the visa, you can apply for citizenship.
When applying for an EB-1 visa and any employment immigrant visa, a foreign national must complete a medical examination that proves they are healthy enough to live in the US without posing a risk to residents of the country. You must submit evidence of this during the visa application process.
Also, all applicants must take the required vaccinations and show proof that they have been vaccinated. Information on the required vaccines will be sent to you from the NVC, and evidence of them must be provided before your visa is approved.