H4 Visa
The H4 Dependent Visa is for eligible family members of H1B Visa holders who intend to work in the United States according to the condition of their visa.
If you need immigration advice and support, contact our expert legal advisers for a confidential discussion about how we can help.
Phone +1 844 290 6312 or use the online contact form and one of our agents will phone you back.
What is a H4 Visa?
The H4 Visa for UK citizens allows dependents to travel to the United States with the primary visa holder on a H Visa. The H4 Visa holder may be entitled to travel to the US with their main visa holder, or alternatively, reunite with them in the U.S.
As is the case with all visas, there are conditions attached to this visa outlining what holders can and cannot do for the duration of their stay in the US.
The H4 Visa is a nonimmigrant visa that enables holders to live in the US temporarily while the primary visa holder has permission to stay on their H Visa.
In some cases, a H4 Visa holder may be authorised to work in the United States (where their spouse is on an eligible H1-B Visa).
Contact us if you need support from an experienced immigration lawyer with applying for your H4 Visa.
"I'm very happy with the standard of training received on the OISC Level 1 course, i passed my exam. Thank you!"
"My application was approved and a huge weight has been lifted from our shoulders this year "
"We used this service for the spouse visa extension application to assure that all the information was valid and correct."
Who can apply for the H4 Visa?
The visa will most commonly be granted to the immediate family members of H Visa holders.
Immediate family is defined as the spouse of children under the age of 21 years.
The H Visa category includes the following: H1B, H1B1, H2A, H2B, and H3 Visas.
The H1B Visa is for people who have been given permission to work in the United States in a speciality occupation. This could be a role in which a US-based sponsor employer requires the theoretical, technical, or academic expertise of a foreign citizen.
The H-1B1 Visa is a temporary visa for individuals from Chile and Singapore in speciality occupations.
The H2A Visa enables US employers to bring temporary agricultural workers to the US for a limited period of time.
The H2B Visa is similar and allows for temporary non-agricultural workers.
The purpose of the H3 Visa is for foreign citizens to come to the US as a Trainee or Special Education Visitor.
There are a number of requirements for this visa, including providing proof of your relationship with the main visa holder.
How to apply
To apply for the H4 visa, the dependent family member is required to apply for their visa after their spouse of parent receives approval for their H4 Visa.
Most applicants will follow the below steps in order to apply for this visa:
Begin the application process by completing Form DS-160 (make sure to print the confirmation page to bring to the visa interview).
Pay the application fee and keep a copy of your receipt as proof of payment.
Choose a time for your visa interview at your country's embassy or consulate.
Gather the supporting documents you need to submit with your application.
Provide the required documents via the online form.
Attend your visa interview and provide evidence about why your visa should be granted.
Depending on your interview, you may be required to wait longer for a decision, or alternatively, you may receive an immediate decision
If your visa is approved, you may book travel arrangements to the US.
When you arrive at the port in the US, you must present evidence that you are eligible to enter the country and that you intend to abide by the conditions of your visa.
If you wish to switch to H4 status from another category, you can do so by submitting Form I-539 to the United States Citizenship and Immigration Services (USCIS).
What documents do you need?
You will be required to submit a number of documents to support your case for the H4 Visa application. Some of these documents include:
Completed DS-160 application form
Valid passport or travel document with a page available
Two US-immigration style facial photographs
Proof of application payment
Copy of the main visa holder's visa
Copy of the main visa holder's Form I-129, Form I-797 and their Labor Certification Application
Copy of the main visa holder's passport or travel document
Confirmation letter from the current and former employers of the main visa holder outlining their employment status
Where the spouse or parent is already in the US, proof of wages and filing taxes
Birth certificate (for children)
Marriage certificate (for spouse), or alternatively, other form of proof of the marriage
Depending on your circumstances, you may be required to submit further documents as part of your application.
If you are in doubt about the documents you should submit, contact an experienced immigration lawyer who can assist you.
Extending the visa
If you wish to extend the visa before your current visa expires, you should identify whether you are eligible based on your circumstances and situation.
The general rules for extending a nonimmigrant visa like the H-4 Visa include:
You entered the United States with the appropriate nonimmigrant permission
You have maintained a clean immigration record and have not committed a disqualifying act
There are no other reasons why you must leave the U.S. before applying to extend your visa
You are able to submit an extension application
Your passport is valid for your intended period of stay in the US
You should submit Form I-539 if you are applying to extend your stay in the United States. It is recommended that you file at least 45 days in advance of the expiry of your visa.
Can you work on a H4 Visa?
Since 2015, certain H4 dependent spouses were granted employment authorisation. H-4 dependent spouses can apply for work if they meet the following conditions:
Their spouse holds a H1B nonimmigrant visa and they are seeking lawful permanent residence status through an employment sponsor.
Their spouse holds an approved Form I-140, Immigrant Petition for Alien Worker OR
Their spouse was granted H1-B status for longer than six years under the American Competitiveness in the 21st Century Act
Please note that immigration laws change frequently and it may be necessary to consult with an immigration attorney for the latest advice on your situation. If you currently hold a H-4 Visa, you may be eligible to apply for permission to work if you are the spouse of a H1-B visa holder.
If you hold a H4 Visa and your spouse has any other type of visa, you can do the following:
Apply for a driver's license
Open a bank account
Receive an Individual Taxpayer Identification Number (ITIN) in order to pay taxes.
Undertake an academic course of study
Change status to a new category if you receive an eligible job offer.
How long does it take to get a H4 Visa?
There is no set amount of time when it comes to the processing time of the H-4 Visa as it depends on the resources of the local US embassy or consulate where you are applying.
An approximate timeline is between 30 – 90 days from the date of application to a decision being issued on your visa.
It may be possible for you to receive a decision if a premium processing service is available, but this is not guaranteed.
Additionally, if there are delays to your application due to errors or incompleteness, this may further extend the processing time.
If you need assistance with your H4 Visa application, speak to Total Law about how we can help you.
Can I get a green card with a H4 Visa?
The H4 Visa is a dual intent visa, which means that it is possible for you to seek lawful permanent residence (also known as a green card) without breaching immigration rules.
Some of the ways to get a green card on this visa include:
Your spouse could apply for a green card and then sponsor your F2A Visa (family-based green card route).
Your spouse could receive US citizenship and sponsor you on a marriage-based green card.
You submit a self-petition using the EB-1A or EB-2 green card alongside a National Interest Waiver
There may be an additional route available to you based on your circumstances.
Advice Package
Comprehensive immigration advice tailored to your circumstances and goals.
Application Package
Designed to make your visa application as smooth and stress-free as possible.

Fast Track Package
Premium application service that ensures your visa application is submitted to meet your deadline.
Appeal Package
Ensure you have the greatest chance of a successful appeal. We will represent you in any case.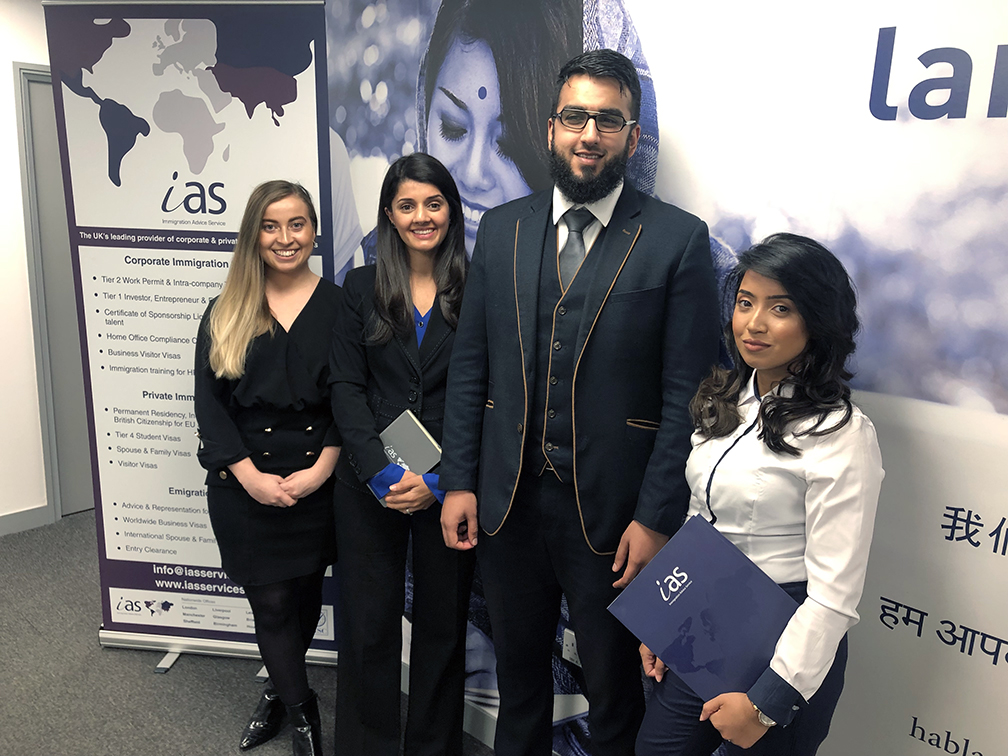 The Advice Package
During this untimed Advice Session with our professional immigration lawyers in London, you will receive our comprehensive advice, completely tailored to your needs and your situation.
Request the Advice Package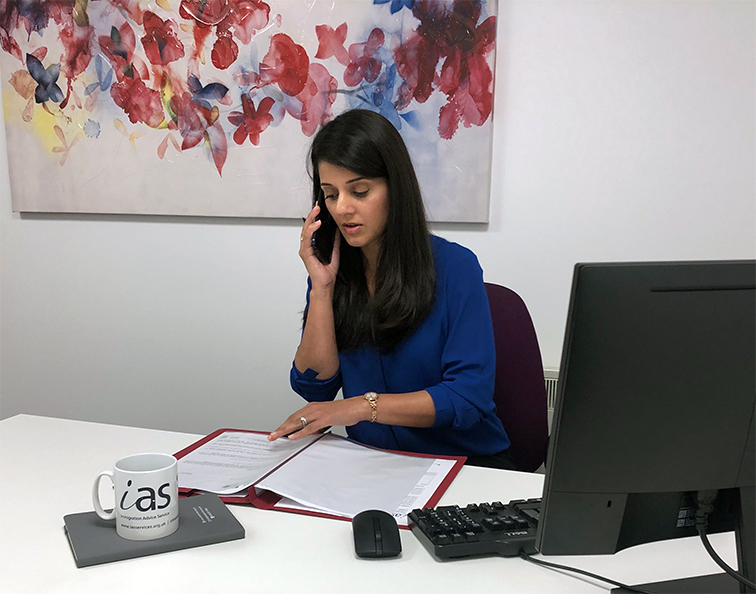 The Application Package
With our Application Package, your dedicated immigration lawyer will advise you on your application process and eligibility. Your caseworker will then complete and submit your forms to the Home Office on your behalf.
Request the Application Package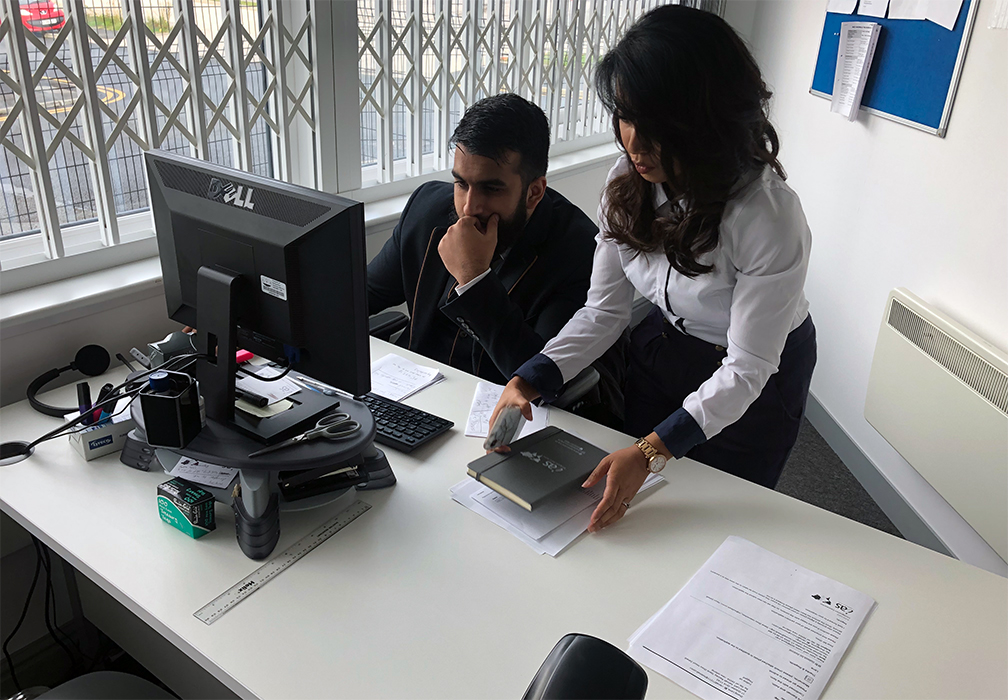 The Fast Track Package
Our Fast-Track Application Package is a premium service for those who need to submit their application in time with their deadlines. Your case will become a top priority for our lawyers and you will benefit from our highest-quality services.
Request the Fast Track Package
The Appeal Package
By choosing our Appeal Package, you can rely on our lawyers' legal knowledge and experience to ensure you have the highest chance of a successful appeal. We will also fully represent you in any hearings/tribunals.
Request the Appeal Package
Related pages for your continued reading.
Frequently Asked Questions
In order to obtain your H4 Visa, you should be prepared to submit the following documents:
Birth certificate or marriage certificate (depending on your relationship with the primary visa holder)
Bank statements, pay slips, or evidence of savings to show that you can support yourself in the US
Copy of your current passport
Proof of your spouse/ parent's immigration status and employment status (e.g., confirmation letters, copy of their visa, etc)
There is no set amount of time for the H4 Visa to be processed by the US embassy in the UK (which is located in Central London).
It may take between 30 – 90 days to receive a decision, or it may be much sooner. Some applicants may receive a decision on the day of their visa appointment.
With any U.S. visa, it is possible to be rejected for a number of reasons. Some of the reasons include:
Incomplete application
Ineligibility based on criminal or immigration history
False or misleading information in the application
Unable to satisfy border authorities you have the right to enter the United States based on the visa criteria
You may be able to avoid some of the pitfalls of a visa application by working with an experienced immigration lawyer to help you submit the strongest possible application.