UK Fiance Visa: Apply from Ireland
The Fiance Visa is one of the family visas which is designed for non-EEA nationals who wish to marry their British partner/British settled person in the UK. It is a short-term visa, lasting for a maximum of six months.
For further information on the Fiance Visa, visit our website or call us at +1 844 290 6312 for immediate help and assistance with your situation. We're here to help you in person, via the phone, or online.
What is the Difference Between the Fiance Visa and the Spouse Visa?
Both the Fiance Visa and the Spouse Visa are family visas, but there are key differences between them.
Fiance Visas enable a person to travel to the UK to get married, whereas the Spouse Visa is for partners of British citizens/settled persons who have already married their UK resident partner
The Fiance Visa lasts for just six months, and the Spouse Visa lasts for 30 months
Fiance Visas cannot be extended, Spouse Visas can be extended
That being said, Fiance Visas are granted in expectation that the applicant will apply for a Spouse Visa. Indeed, once the Fiance Visa has expired, the newly married non-EEA national will be able to apply for the Spouse Visa. The Fiance Visa can ultimately act as the preliminary step towards acquiring the much sought-after Spouse Visa.
Irish citizens can enter the UK to join their partner without having to obtain a visa due to the common travel area agreement between the UK and Ireland. However, legal residents of Ireland (who aren't citizens) will need a fiance visa to live in the UK longer than 30 days. This visa is usually valid for six months and you can obtain a Spouse visa before it expires.
This page focuses on educating Ireland residents on the requirements and application process.
"I'm very happy with the standard of training received on the OISC Level 1 course, i passed my exam. Thank you!"
"My application was approved and a huge weight has been lifted from our shoulders this year "
"We used this service for the spouse visa extension application to assure that all the information was valid and correct."
What are the Main Requirements for a Fiance Visa?
As with all UK visas, there are a number of requirements which any Fiance Visa applicant needs to be able to fulfil in order to be eligible for the Fiance Visa.
First things first, a Fiance Visa applicant's partner must be one of the following:
A British citizen
A person with settled status in the UK. This means they have Indefinite Leave to Remain, settled status or proof of permanent residence in the UK
A person who has officially been given refugee status or humanitarian protection in the UK
As well as this most fundamental condition, Fiance visa applicants will need to prove that:
Any previous marriages or civil partnerships have ended
They will marry or enter into a civil partnership within six months of arriving in the UK
They have a good knowledge of English
They intend to live in the UK with their partner permanently after they have tied the knot
What are the Relationship Requirements?
If someone wants to apply for a Fiance Visa, they need to prove that the relationship they have with their prospective spouse is genuine and durable.
The couple must have met face-to-face before a Fiance Visa application is made. The Home Office will not consider remote contact between the couple as sufficient to prove a genuine relationship.
As mentioned above, the couple must marry within six months of the entry date on the Fiance Visa and they must intend to build a life in the United Kingdom after marriage.
UK Fiance Visa Age Requirement
In order to be eligible, the applicant must be at least 18-years-old. The individual can prove this in their application by providing an authentic birth certificate.
The Adequate Accommodation Requirement
As part of the application, the applicant's sponsor must have evidence that they are able to provide adequate accommodation to their partner.
This requirement can be proved through providing a tenancy agreement, mortgage statement or deeds in the Fiance visa application.
What are the Financial Requirements?
Unfortunately, one of the most common reasons for Fiance visa refusals is insufficient evidence of finances. If you are looking at applying for a Fiance visa, it is imperative that you are able to prove that you meet the financial requirements.
In order to sponsor their overseas partner, the UK resident must have an annual salary of £18,600 (before tax) for a continuous period of six months before the application.
Also, if the overseas partner is bringing any children to the UK, there is an additional financial requirement of £3,800 for the first child and £2,400 per child for any other children.
If the sponsor has worked for less than six months with their current employer, they will need to have held savings of at least £62,500 for a continuous period of 6 months prior to the Fiance Visa application.
The financial requirements can be met through a combination of:
Wage from either employment or self-employment
Savings
A UK pension
Sick pay, maternity, paternity or adoption pay
Income such as rent payments, investment or shares money
What are the English Language Requirements?
If a Fiance Visa application is accepted, it is under the assumption that the person will be staying in the UK permanently once the marriage has taken place. You can demonstrate your desire and commitment to live in the UK is through proving that you have a certain level of ability in the English language.
If you are from a native English-speaking country, you will not need to take an English language test. You also won't need to take the test if you are over 65, or have a mental or physical condition which would prevent you from meeting the requirement.
All other Fiance visa applicants must be able to prove that they posses an A1 level of English in speaking and listening which is recognised by the Central European Framework of Reference for Languages.
If you have undertaken a course at degree level or higher which was taught in English, you will also be exempt from this requirement as long as your course is recognised by UK NARIC.
Fiance Visa UK Application Form
The online form which you will need to complete is Appendix FM Partner. The Fiance Visa UK application cost is £,523.
However, you will also need to take into account other costs such as translation fees.
UK Finance Visa Application Required Documents
You will need to submit a portfolio of documents to support your case after you have submitted your application form. These documents should be in their original form – ordinarily, photocopies will not be accepted.
Any documents which are not in English or Welsh must be translated by an accredited translator.
The required documents are as follows:
Official evidence of the breakdown of a previous relationship (if applicable)
Valid passport
Two recent colour passport-sized photographs
Information proving financial status
Details of any previous immigration applications
Details of any criminal convictions
Certified translation of any documents which are not in English or Welsh
Certificate indicating A1 level of English (if applicable)
Proof if the intention to marry within six months
Usually, you will need to provide information about your life outside the UK too, including information about your family and friends in the countries where you were born or have nationality.
Required Documents of Partner
You will also need to provide information about your partner in the UK as part of the application. You might be asked questions about their name, nationality, date of birth, passport, their right to be in the UK and any information about a partner they used to be married to.
How Long Does it Take to Process?
Typically, you can expect a decision on a Fiance Visa application within eight weeks. However if, for example, the Home Office require some additional information, it may take longer than eight weeks for your application to be processed.
When can I Apply for a Spouse Visa?
As explained, the Fiance Visa lasts for six months. At the end of this period (and after you have married your partner), you will be eligible to apply for a Spouse Visa.
Many of the requirements for the Spouse Visa are similar to the Fiance Visa which, in theory, should mean that the application won't be too time consuming or complex. You can apply for the Spouse Visa from within the UK, and the application usually takes no longer than 12 weeks to process.
The Spouse Visa lasts for 30 months, and it can be extended for a further 30 months. After the 30 months of living in the UK under a Spouse Visa, you will be eligible to apply for Indefinite Leave to Remain status. This means that you will be able to live in the UK without restrictions.
After one year of residence in the UK under Indefinite Leave to Remain status, you will be eligible to apply for full British citizenship.
Advice Package
Comprehensive immigration advice tailored to your circumstances and goals.
Application Package
Designed to make your visa application as smooth and stress-free as possible.

Fast Track Package
Premium application service that ensures your visa application is submitted to meet your deadline.
Appeal Package
Ensure you have the greatest chance of a successful appeal. We will represent you in any case.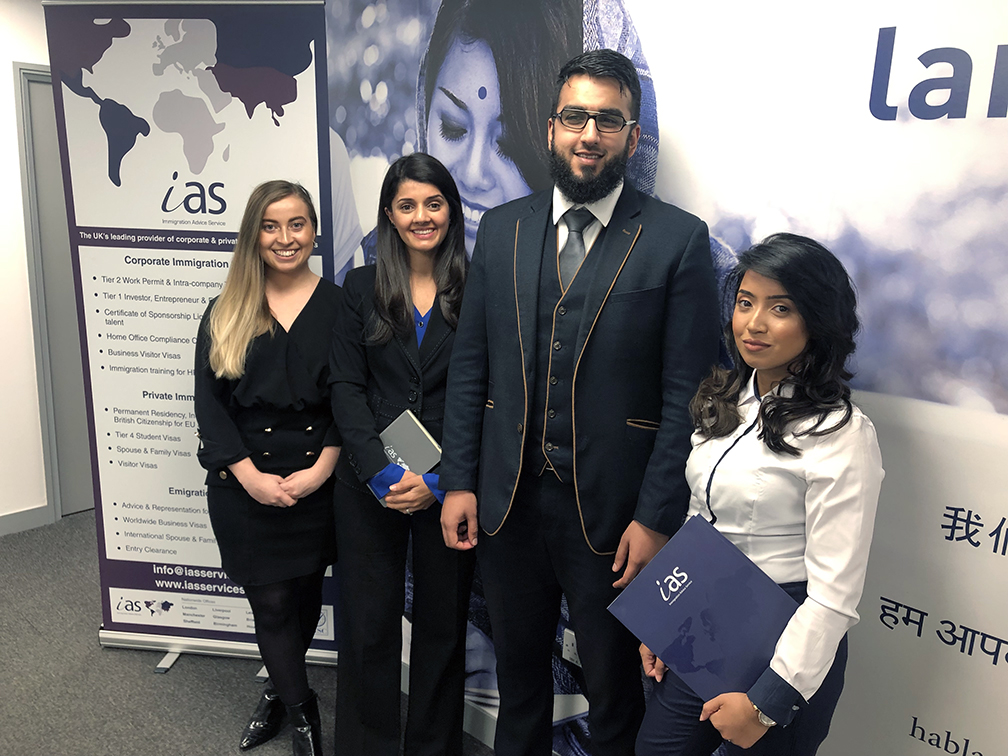 The Advice Package
During this untimed Advice Session with our professional immigration lawyers in London, you will receive our comprehensive advice, completely tailored to your needs and your situation.
Request the Advice Package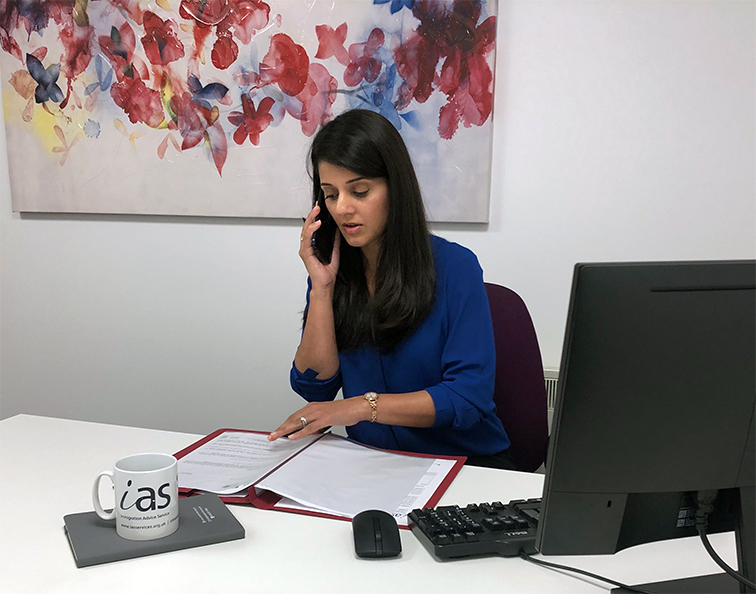 The Application Package
With our Application Package, your dedicated immigration lawyer will advise you on your application process and eligibility. Your caseworker will then complete and submit your forms to the Home Office on your behalf.
Request the Application Package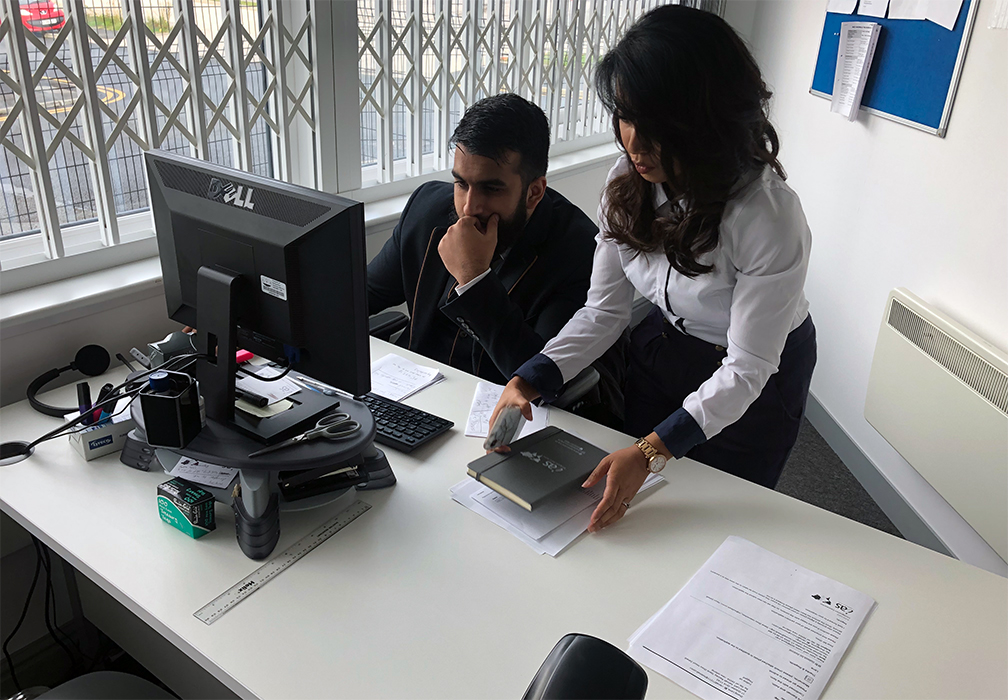 The Fast Track Package
Our Fast-Track Application Package is a premium service for those who need to submit their application in time with their deadlines. Your case will become a top priority for our lawyers and you will benefit from our highest-quality services.
Request the Fast Track Package
The Appeal Package
By choosing our Appeal Package, you can rely on our lawyers' legal knowledge and experience to ensure you have the highest chance of a successful appeal. We will also fully represent you in any hearings/tribunals.
Request the Appeal Package
Related pages for your continued reading.