UK Visitor visa: Apply from Ireland
Depending on your nationality, you may need to apply for a standard, non-immigrant visitor visa to enter the United Kingdom which, normally, grants visitor status in the UK for up to 6 months.
If you have any questions regarding UK visas, you can contact our expert immigration lawyers to discuss any concerns you may have, or for some help navigating the application process. You can call us on 0333 305 9375 ,or contact us online seven days a week via our live chat.
Who needs a UK visitor visa in Ireland?
For Irish nationals, due to the long-standing agreement between Ireland and the UK government, regarded as the Common Travel Area, Irish and British citizens can freely visit each others countries without the need of a visa.
Irish citizens can freely relocate to the UK to live, obtain employment, and access the same privileges as British Citizens without a British Visitor visa. From the day that Irish nationals arrive in the UK, Irish citizens are considered as permanent residents. As such, Irish citizens can visit, travel, and enjoy being in the UK without any restrictions of a UK visa.
However, if you are not a legal citizen of Ireland, the situation will be different and you will likely be required a visa to visit. This is true, even you are living permanently in Ireland, and/or live in Ireland by way of an eligible visa like an Employment Permit, Long Stay D Visa, Short Stay C Visa, or any other additional type of Irish immigration visa, you will have to apply to visit.
Great Britain's policy allows visa-free entry for up to six months to citizens of several countries, including Ireland and European Union countries. However, If you are not from the countries included on the visa exemptions list, then you will have to apply for a standard UK tourist visa.
"I'm very happy with the standard of training received on the OISC Level 1 course, i passed my exam. Thank you!"
"My application was approved and a huge weight has been lifted from our shoulders this year "
"We used this service for the spouse visa extension application to assure that all the information was valid and correct."
Eligibility requirements for the UK visitor visa
In addition to being from an eligible country, you must also prove the following:
You'll leave the UK at the end of your visit/stay
You can financially support yourself and any of your dependents during your trip (or prove that you have adequate funding from someone else to support you)
You're able to pay for your return or onward journey (or have funding from someone else to pay for the journey)
You'll not live in the UK for extended periods through frequent or successive visits, or intend to make the UK your "main" home
There are additional requirements if you are visiting for the purpose of study, academic research, or medical treatment, there are additional requirements.
The Study visit visa
If you want to study in a short term for a course that doesn't take more than six months. It can be a recreational course. You are also allowed to come to the UK on a Visitor visa to take some exams.
If you are attending for the sake of research, you'll also need to prove further information:
You're at least 16 years old
You're enrolled on a course overseas that is the equivalent of a UK degree
You've been accepted by a UK higher education institution to take part in research that's relevant to the course you're studying overseas
Academic visitor visa requirements
If you are visiting for academic purposes, you'll also need to prove the following:
You are highly qualified in your field of expertise – with a PhD or higher
Currently working in that field of expertise at an academic institution overseas
Not filling a permanent teaching post in the UK
If you're an academic, but not a senior doctor or dentist, you must also prove you're visiting to do research or a formal exchange
If you're a senior doctor or dentist, you must prove you're visiting the UK to do research, clinical practice, a formal exchange or to teach.
Medical treatment requirement
If you are visiting for a medical reason, you'll also need to prove the following:
Have a medical condition that needs private consultation or treatment specifically in the UK
Have made arrangements for consultations or treatment
Have enough money/funding to pay for your treatment
Will leave the UK once your treatment is completed, or when your visa expires
Are not a danger to public health
What can holders of a visit visa in the UK do?
While in the UK on a visit visa, the holder is permitted to do the following:
Enjoy a vacation and tourism, and travel freely through Great Britain on a holiday or vacation
Visit and enjoy time with your family members or friends
Volunteer for up to 30 days with a registered charity
To pass through the UK to another country (often called 'in transit')
Complete or do certain business activities, for example, attending a meeting or interview
Take part in a school exchange programme
To take part in a recreational course of up to 30 days, for example, a dance course
To study, to do a placement or take an exam
As an academic, senior doctor or dentist
For medical reasons
While holding a UK visit visa, holders are not permitted to:
Obtain paid or unpaid work for a UK company or as a self-employed person unless you have a paid engagement visa
Claim public funds/benefits or apply for social welfare
Live in the UK pas the maximum period through frequent or successive visits
Marry or register a civil partnership, or give notice of marriage or civil partnership with anyone including British citizens (if you wish to do this, you'd need to apply for a Marriage visa)
What is the application process for a UK Visitor Visa?
To apply for visitor visas, you will go through the application process before you travel to the UK a minimum of 3 months before travel.
The process starts with completing the online application form. Then, you are to gather your supporting documents.
You will be required to provide the following
Evidence of how long you will be staying and where
Estimates of how much the trip will cost
Your current home address and length of time that you've resided there
Your parents' names and dates of birth (if known)
Your yearly income (if you have an income)
Information of any criminal, civil or immigration offences (if applicable)
Depending on your circumstances, you might also need to provide:
Details of your travel history for the past 10 years
Your employer's address and telephone number
Your partner's name, date of birth, and passport number
The name and address of anyone helping to pay for your trip
The name, address, and passport number of any family members you have in the UK
A certificate proving that you've had tuberculosis (TB) test if you're visiting for more than 6 months
If you are studying, you will need to confirm with your overseas course provider that the research or research tuition is part of, or relevant to, the course you're doing overseas.
If you are visiting to study, you'll need to provide a letter from the employer outlining the dates of your sabbatical or exchange, your employer outlining the research to be undertaken, and the UK host organization confirming the arrangements for your research, exchange, or clinical practice.
If you are visiting due to a medical reason, you'll need a letter from the doctor or consultant, confirming your condition that needs consultation or treatment and the estimated cost and the duration of any treatment, and where the consultation and treatment will take place.
After submitting your documents and application, you are to schedule an interview with the immigration authorities.
During the visa interview, the immigration officer will ask questions about the purpose of the visa, and your circumstances.
You will also need to provide your biometric information, a photograph, and a digital scan of your fingerprints.
How to extend a stay in the UK with a Visitor Visa 
It is possible to extend the permitted six months stay with a visitor visa in the instance that:
You're a patient receiving medical treatment
You're an academic and meet the eligibility requirements
You're a graduate retaking the Professional and Linguistic Assessment Board test or finishing a clinical
You will need to provide proof as to why you need to extend the stay. To extend, have to apply while in the UK and before your current visa/ permission expires.
Cost and processing times for the UK visitor visa
The application fee for a Standard Visitor Visa is £95. You may need to pay an additional fee for a biometric appointment.
If you are applying for a visitor visa extension to stay longer in the UK, you will have to pay the fee of £993.
The UK visitor visa application takes 3 weeks to be processed and accepted or rejected.
How Total Law can help
At Total Law, we are expert immigration lawyers with expertise in UK laws. We can help you obtain a UK visitor visa.
We help Irish residents apply for a UK visa with a high standard application and liaise with the UK authorities where necessary to maximise their chances of success.
Regardless of the type of visitor visa you select for your circumstances, the best step is to get in touch with the team at Total Law, so you know that you are guaranteed the right path, and stand for a much higher success rate for your immigration application.
You can contact us seven days a week, either on the phone on 0333 305 9375 ,or by using the online chat function to speak with one of our client care agents.
Advice Package
Comprehensive immigration advice tailored to your circumstances and goals.
Application Package
Designed to make your visa application as smooth and stress-free as possible.

Fast Track Package
Premium application service that ensures your visa application is submitted to meet your deadline.
Appeal Package
Ensure you have the greatest chance of a successful appeal. We will represent you in any case.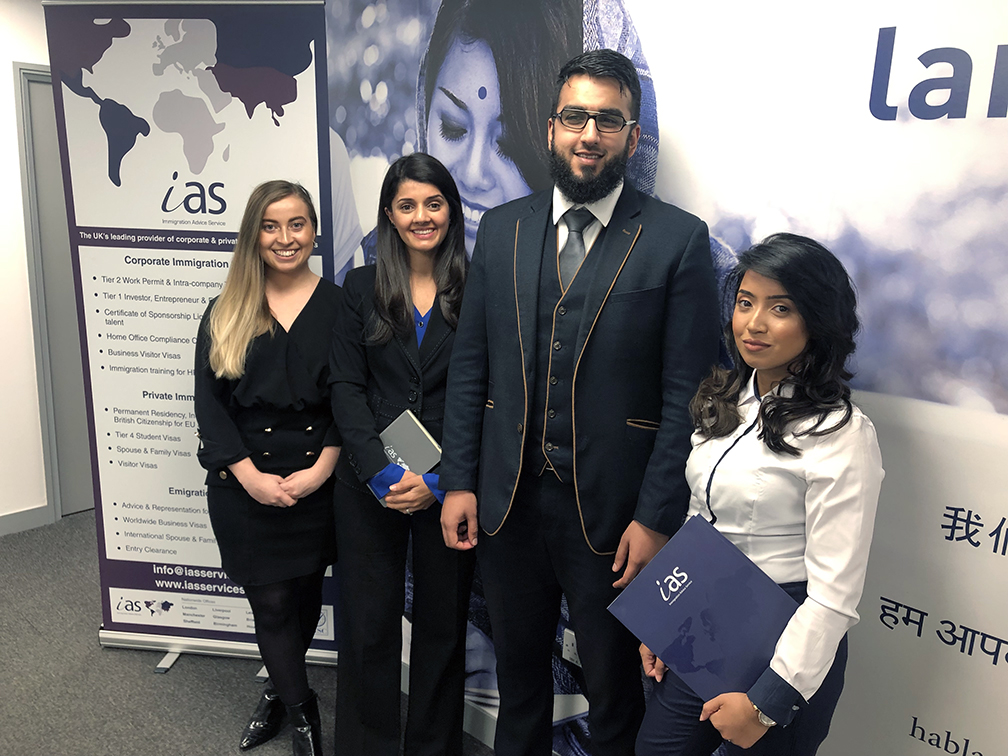 The Advice Package
During this untimed Advice Session with our professional immigration lawyers in London, you will receive our comprehensive advice, completely tailored to your needs and your situation.
Request the Advice Package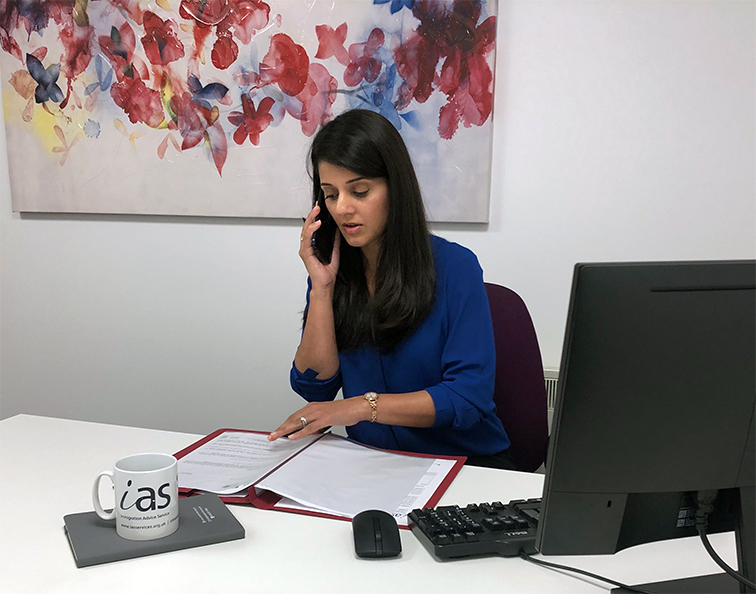 The Application Package
With our Application Package, your dedicated immigration lawyer will advise you on your application process and eligibility. Your caseworker will then complete and submit your forms to the Home Office on your behalf.
Request the Application Package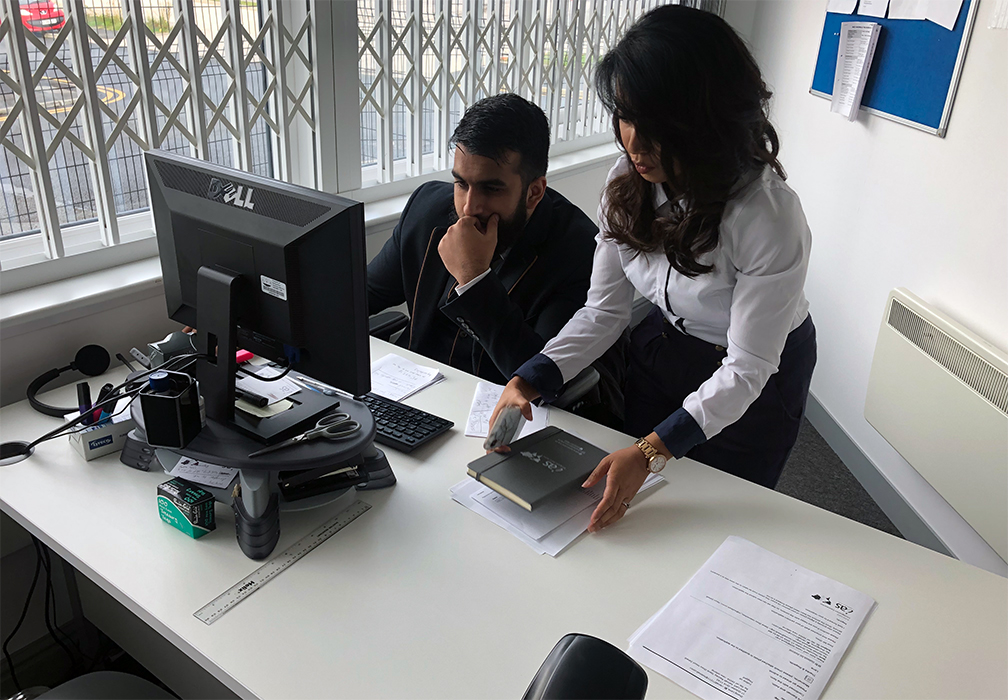 The Fast Track Package
Our Fast-Track Application Package is a premium service for those who need to submit their application in time with their deadlines. Your case will become a top priority for our lawyers and you will benefit from our highest-quality services.
Request the Fast Track Package
The Appeal Package
By choosing our Appeal Package, you can rely on our lawyers' legal knowledge and experience to ensure you have the highest chance of a successful appeal. We will also fully represent you in any hearings/tribunals.
Request the Appeal Package
Related pages for your continued reading.
Frequently Asked Questions
You have to have sufficient finances for the duration of your visit to the UK. There is no set level of funds you need to show this. You will want to consider all expenses so that it is realistic and throughout for the person reviewing your application.
It is unlikely to be given a right to appeal if the application for a Standard Visitor Visa is refused. If you need to challenge a refusal, you will likely have to do so by way of judicial review.
You are permitted to get a visitor visa under 18 if you've:
Make arrangements for your travel and stay while in the UK
Have written consent from parents/carer/guardian if you are travelling solo
You can prove you have sufficient funds for the trip
A single visa lasts for 6 months. As the visit visa allows for six months stay, any longer, regardless of nationality (other than Irish) will likely need a separate visa if they wish to exceed six months.