How to Prepare for a Home Office Audit
If sponsored migrants are among your workforce or you intend to sponsor an employee, there are specific guidelines you need to follow to ensure immigration compliance. Non-compliance may lead to sponsor licence denial, suspension or revocation.
For expert advice on the key steps you need to take to fulfil your sponsorship duties, reach out to our team of experienced legal professionals at 0330 311 6351, or contact us online right away.
Home Office Audit Overview
As post-pandemic activities resume, the Home Office onsite compliance visit is being ramped up in the UK. Companies with sponsored migrants need to be prepared for a Home Office audit if they haven't had one in a while.
Home Office inspection refers to the scope of methods used by the Home Office to ensure that UK employers adhere to compliance duties and employment law to prevent illegal working conditions.
"I'm very happy with the standard of training received on the OISC Level 1 course, i passed my exam. Thank you!"
"My application was approved and a huge weight has been lifted from our shoulders this year "
"We used this service for the spouse visa extension application to assure that all the information was valid and correct."
What Does a Home Office Investigation Achieve?
The Home Office typically issues a sponsor licence to last for the next four years. Before the licence approval, most sponsors would receive a compliance visit from the Home Office personnel. When the licence is issued, they may get a post licence visit which may be unannounced.
Approved sponsors can go ahead to sign employment contracts with migrants who have the right to work. The employment contract signed lasts within the licence validity period. Audit visits enable Home Office officials to discover and penalise companies that employ unauthorised persons or those who are not employed according to the UK's right to work processes.
Civil penalties issued by the Home Office following its follow-up visits to companies that employ illegal workers accrue to about £10 million in a year. The Home Office penalises organisations for illegal employment at about £20,000 per breach. The sponsorship licences of errant companies are suspended and about half of the suspended licences are fully revoked.
The intensity of Home Office inspection visits makes companies anxious. Home office workers reserve the right to investigate employers and the immigration status of their employees. They also review files and records to check for accuracy and compliance.
Employers are typically more concerned about employee productivity than immigration compliance, but a compliance visit makes sponsored workers' record keeping critical to sustainable business operations. Thus, an organisation's authorising officer or the relevant staff must fulfil their sponsor licence duties.
As an employer, if you are suspected of employing illegal workers or non-compliance, you may be penalised with a hefty fine, your licence may be suspended or revoked and concerned workers' visas may also be truncated. This will affect the level of access your company has to the talent market and may also affect your business's competitiveness.
What Triggers Home Office Workers' Visit?
Home Office workers often choose an unannounced visit for audit runs. However, they are fully aware that specific circumstances can trigger on-site inspection of some businesses:
High-risk business – public-facing businesses and sectors that handle sensitive information like healthcare and hospitality industries may be more susceptible to immigration control than others.
There is a change in direct ownership – whether through merger, acquisition, takeover or transfer of staff through their sponsor management system (SMS) account. If the new sponsor already has a sponsor licence, they still need to notify Sponsorship Operations of the update.
There is a request for allocation changes – whether follow-on allocation or in-year allocation, additional routes may mean different expiry dates for the licences.
No compliance visits after obtaining a sponsor licence.
No inspection visit within 3 months after applying for premium sponsor licence.
Sponsor licence has expired and you haven't applied for a renewal.
Genuine employment checks are required for the tier of sponsor licence.
Compliance visit is required for the category of sponsor licence you applied for.
Never obtained a sponsor licence.
One of the best ways to prepare for a Home Office survey is to see it coming. As you are unlikely to receive notice of visit, you need to assess your readiness every 6 months to be sure of your compliance.
Home Office Audit Compliance Checklist for Employers
1.  Assess Your Policies
Your organisation's internal policy should comply with the UK immigration rules and Right to Work Act. If your formal internal operations are non-compliant, reevaluating it to pass the Home Office inspection may be too demanding because of post-visit adjustments.
Part of your sponsor licence duties is to synergise your policies with the Home Office requirements and document it. Then make it accessible to everyone in your company and ensure they understand it.
For instance, any sponsored worker in your company may sign a document to notify you of change in circumstances as soon as it occurs, such as a change in immigration route during the onboarding process. Note that this does not absorb you of the responsibility to conduct follow-up confirmation especially for visa holders with time-limited work permits.
Also, stay up to date with the Home Office to update your internal policies as immigration policy and legislation changes. Remember to carry everyone along as updates are implemented.
2. Fill Authentic Vacancies
Home Office officials want to confirm that the role you are trying to fill truly exists; will be done by the applicant; and has not been created only to provide the applicant opportunity to apply for sponsorship. Ensure that you can prove that the vacancy you are filling is not a sham, otherwise, it would be illegal working.
To prove an authentic vacancy, companies have to show that they advertised the position through approved sites and couldn't fill it. The inspector will need the HR files of the processes used to determine that the applications received were not suitable for the role in a process known as the Resident Labour Market Test (RLMT).
3. Seek Expert Advice
Every aspect of the inspection matters. This is why your immigration lawyer should be on ground during the investigation. The presence of a legal professional shows your dedication to maintaining compliance.
Having a lawyer on-ground will also guide the scope of operations of the UKVI officials. Someone on your team or your lawyer should be responsible for record keeping duties. If you will engage the services of an immigration lawyer, ensure they are registered with the appropriate legal bodies such the Solicitors Regulation Authority (SRA) or the Office of the Immigration Services Commissioner to get the needed support.
4. Update HR Records
Sponsor licence holders must keep relevant and updated HR files of their sponsored staff according to sponsor guidelines. The records should include their contact details and right to work documents.
They also need to have attendance records and a procedure to report attendance issues through the SMS system to the compliance officials. If a sponsored staff leaves the organisation, the HR team must keep their records for two years after their exit.
5. Train Your Staff
The authorising officer needs to train the employees attached to their organisation's immigration compliance processes. Ideally, this should include a mix of HR staff, managers and sponsored workers. The more inclusive the training quota, the better for the compliance expertise in your organisation as a whole.
Consequently, viewing immigration compliance as a general company responsibility is extremely helpful, compared to having a single individual bear the responsibility.
6. Practice with Mock Audits
When immigration officials are within your business premises, it is too late to prepare for a visit. You can never go wrong scheduling a mock audit every six months or so. Check internal policies, review files and conduct mock interviews with the employees that are likely to be interviewed by the Home Office officials.
When you run a mock audit, ensure your immigration lawyer is present to assess every aspect of your compliance, suggest areas for improvement and prepare the interviewees and other key personnel. Regular mock checks prepare you for unannounced inspection visits.
7. Keep Proper Records
Sponsor licence holders need to keep proper and accurate records. If there has been any pre-licence audit, they should be recorded and regularly assessed to understand changing scope and policies. Records must be easily accessible, relevant and up-to-date.
UKVI inspections generally rely on documentation and evidence. The better you are at this, the more transparent, accountable and cooperative you appear. Even if the inspection officers discover an error, your willingness to comply can protect you from being penalised.
8. Stay Cautious
If you are lucky, you may get a short notice of an inspection, but it can happen unscheduled. Staying cautious and expectant is among the necessary sponsor licence duties, but it does not end with you alone.
The pressure of the surprise or short notice can cause an authorising officer or other key personnel to goof during the audit visit. Integrate immigration compliance into your normal business activities instead of approaching it as an occasional activity.
9. Strengthen Weak Links
UKVI audit often involves interviewing a sponsored staff to confirm if their work is what they were hired to do. Your organisation's employment contract must clearly outline roles and responsibilities, and legalise them.
Employees must be working in the position listed in the certificate of sponsorship (CoS) and their job description must not be ambiguous. Adopt HR systems that will discover overlaps and gaps in tasks and duties so they can be addressed.
10. Maintain Transparency and Accountability
You need to be cooperative to get a favourable outcome from the Home Office inspection visit. Prepare relevant documents and evidence, attend to the request of the officers and ensure everyone is available for the inspection exercise.
If you fail to cooperate with the UKVI team when your HR processes are compliant, it may reflect negatively on your organisation's ability and your licence may be flagged, suspended or revoked.
Features of a Home Office Inspection
Before issuing, renewing, suspending or revoking a sponsor licence, the Home Office inspects the site to get more information regarding specific scenarios such as:
A company has applied for a sponsor licence
A company has applied to renew its sponsor licence
Reports that a sponsor has breached its duties
Confirmation of personnel records for immigration control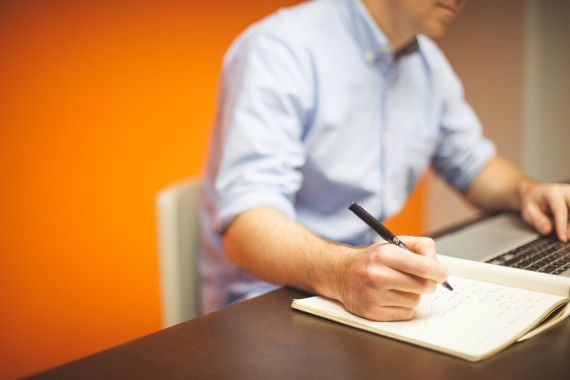 During the Compliance Visit
The Home Office officer often starts by meeting with the personnel attached to the licence such as the authorising officer, level 1 user and/or level 2 user. The officer may also speak one-on-one with the sponsored migrants.
If the company registered with the UKVI received prior notice of the visit, they may already know who the officer wants to speak with and the information they want to verify. The interviews and document reviews aim to establish how well the company understands the sponsorship process.
The officer would also want to establish the purpose and processes for sponsoring non-settlers. The meeting with sponsored workers is to ensure compliance with the terms of employment as approved by the Home Office.
Finally, the officer may request for a complete personnel files which should include those on List A (who have indefinite right to work in the UK), List B Group 1 (who have time-limited permission to work in the UK) and List B Group 2 (who have time-limited permission that does not exceed 6 months).
The list submitted to the officer should separate those who have indefinite permission to work from those who have temporary right to work. The officer will also ask for key contact files to check for consistency and serve as evidence.
After the Compliance Visit
The inspection visit continues after the official has left the business premises and returned to the Home office. The sponsorship compliance team of the Home Office will evaluate the feedback they receive from the inspection officer.
The compliance unit may use the company's SMS to analyse sponsor notes and/or CoS. They will combine their observation with the evidence gathered from the site inspector and come to a conclusion regarding the compliance visit. If they need further information to reach an outcome, they may ask the sponsor.
If there is no need for further actions, the sponsor may not hear from the Home office regarding the visit. However, if the Home Office has some concerns regarding the reporting requirements which are solid grounds for suspension or revocation. The Home Office will write to notify the sponsor of their decision and the reasons for it.
If a sponsor's licence has been suspended, the Home Office would invite them to address the issues raised in the suspension letter. It is advisable for sponsors in these situations to act quickly by speaking to an experienced legal professional before responding to the invitation.
If the sponsor cannot properly address the concerns raised by the officials about the compliance visit, their sponsor licence would be revoked.
When a Home Office Inspection Fails
The Home Office may give, refuse, renew, suspend or revoke a sponsor licence application. A poor audit result may mean that key personnel and business administrators cannot apply for a licence within 6-12 months based on the reason for the outcome. When employers lose their sponsor licence, it may influence workers' visa expiry dates or their visas may be revoked.
What Does It Mean to Have a Licence Revoked?
There is no criteria for re-examining the revocation of sponsor licence. The only legal redress for sponsor licence holders in case the Home Office erred in their decision is to seek an administrative review at the High Court. Since administrative reviews tend to be time-consuming and costly, most decisions are only challenged through a pre-action protocol letter.
When the licence catering to a sponsored worker is revoked, their visa may also be cut short which means a loss of key personnel to the competitor. The cost of being non-compliant for existing licence holders is high for all stakeholders.
Procedures to Prevent a Failed Home Office Inspection
As a business grows and expands, a lot of internal changes to procedures and operations may occur that may affect licence compliance.
The authorising officer must provide the Home Office with up-to-date information regarding crucial changes to their business or their sponsored workers' situations within ten working days. This can be done through the company's SMS.
Changes That Need to Be Reported to the Home Office within 10 Working Days
Your sponsored worker does not resume for the work they've been employed to do. Include the reasons given in your report.
Your sponsored worker's employment contract is terminated earlier than stated on their CoS due to dismissal or resignation.
Your sponsorship for the migrant stops for whatever reason. For instance, their immigration route no longer requires sponsorship duties.
Your sponsored migrant does not resume at work for ten working days without any notice.
Your sponsored worker's situation changes due to reasons such as change in location, promotion, change in job title or salary.
Changes That Need to Be Reported to the Home Office within 20 Working Days
When serious changes occur regarding your business, you need to report to the Home Office within 20 working days. Examples include:
Your business name changes or the name of your business branch changes.
You sell all or part of your company.
Your organisation merges with another or is taken over.
Your business stops trading or becomes insolvent.
There is a significant change to the nature of your business.
You are convicted of a relevant offence.
You can maintain constant access to the best global talents by using your sponsor licence in a way that holds up to scrutiny; recruit suitable immigrants into valid positions, train your team to properly respond to inspection visits, keep updated and proper employee records and conduct regular mock audits to evaluate your preparedness.
How Can IAS Help?
Home Office audits can generate outcomes that provide constant access to the best talent pool available in your industry. You need an excellent knowledge of the skilled worker visa process and UKVI requirements to obtain or renew your sponsorship licence.
Home Office audits are for further checks on your business and documents. You can avoid paying penalties and getting your licence revoked through adequate preparation before and after the visit.
If you need assistance to apply for a sponsor's licence or renew your application, we have a team of seasoned legal practitioners who specialise in UK and international immigration ready to help.
Call us at 0330 311 6351 to help your company prepare for a Home Office inspection. so you can get your sponsor's licence and renewal without hassles. You can also talk to us online right away!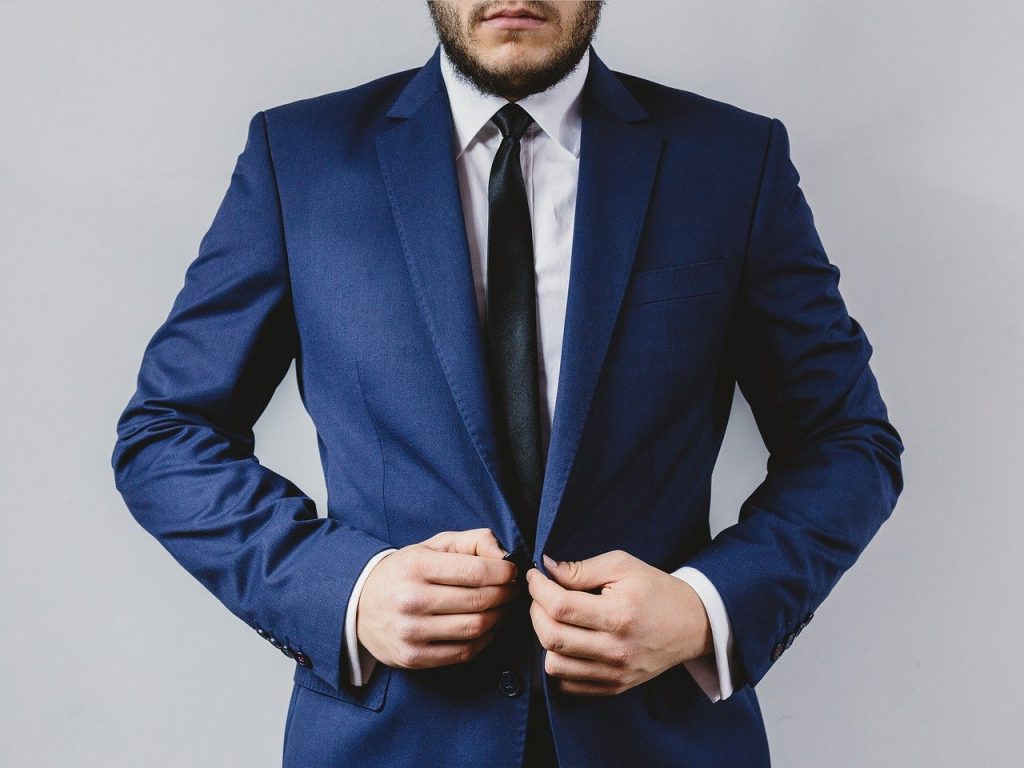 Advice Package
Comprehensive immigration advice tailored to your circumstances and goals.
Application Package
Designed to make your visa application as smooth and stress-free as possible.

Fast Track Package
Premium application service that ensures your visa application is submitted to meet your deadline.
Appeal Package
Ensure you have the greatest chance of a successful appeal. We will represent you in any case.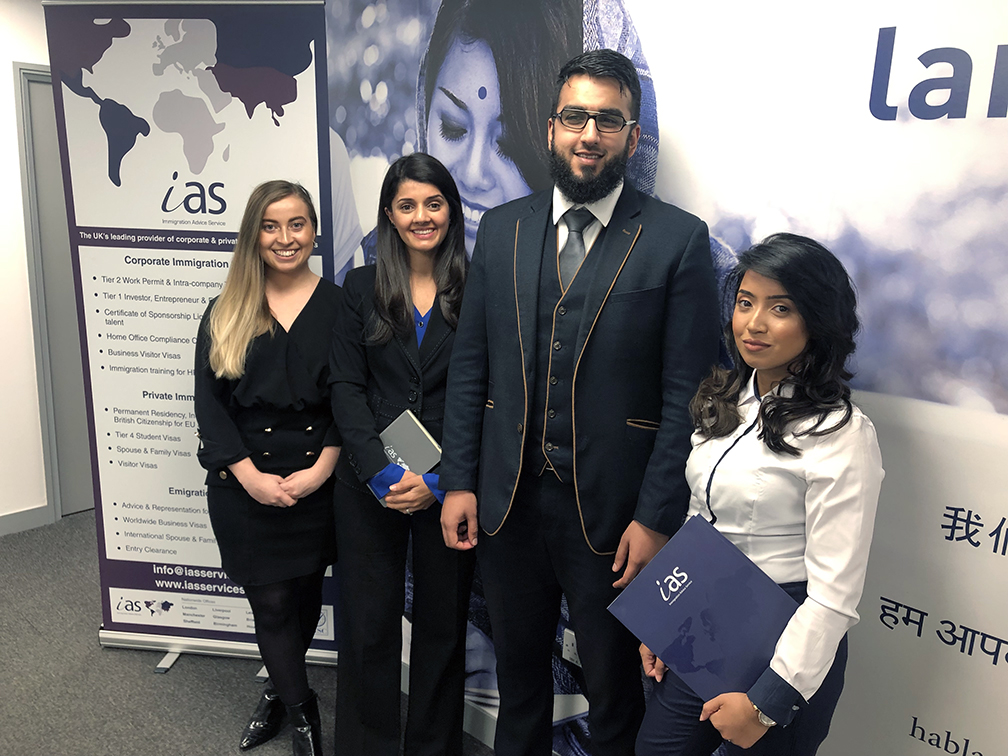 The Advice Package
During this untimed Advice Session with our professional immigration lawyers in London, you will receive our comprehensive advice, completely tailored to your needs and your situation.
Request the Advice Package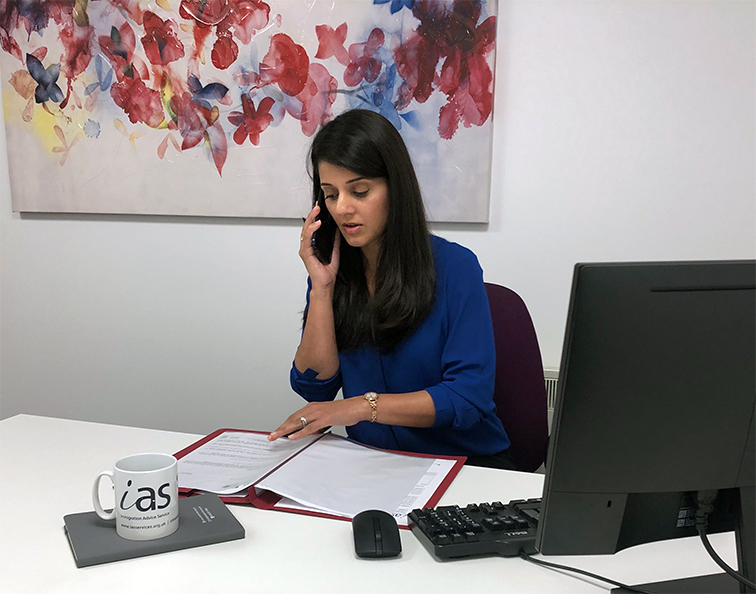 The Application Package
With our Application Package, your dedicated immigration lawyer will advise you on your application process and eligibility. Your caseworker will then complete and submit your forms to the Home Office on your behalf.
Request the Application Package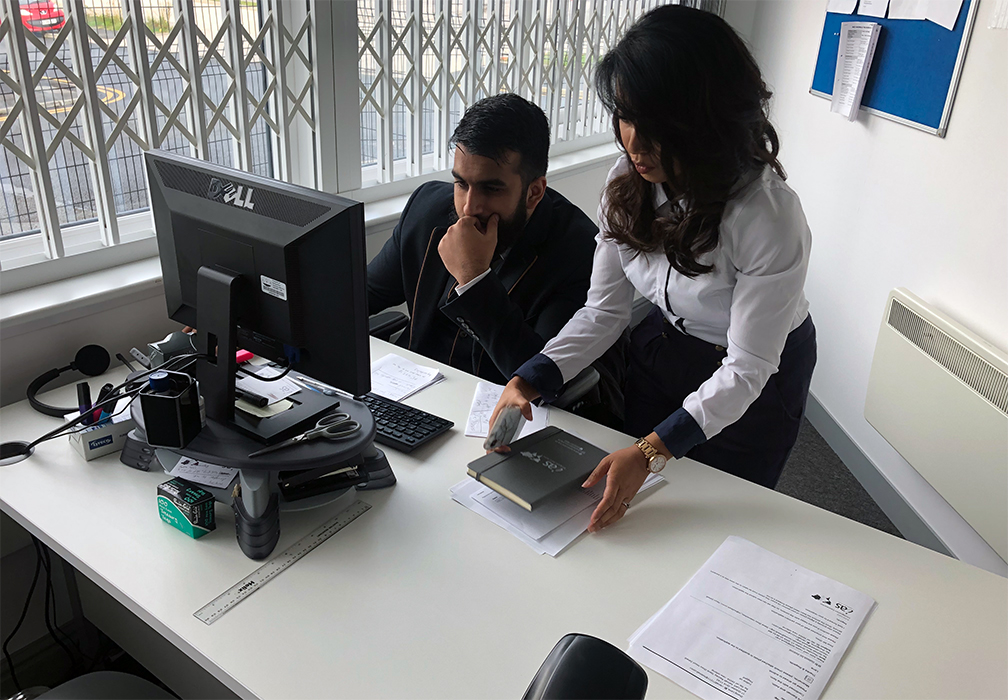 The Fast Track Package
Our Fast-Track Application Package is a premium service for those who need to submit their application in time with their deadlines. Your case will become a top priority for our lawyers and you will benefit from our highest-quality services.
Request the Fast Track Package
The Appeal Package
By choosing our Appeal Package, you can rely on our lawyers' legal knowledge and experience to ensure you have the highest chance of a successful appeal. We will also fully represent you in any hearings/tribunals.
Request the Appeal Package
Related pages for your continued reading.
Frequently Asked Questions