Family Visa for Canada from India
If your family members have been granted permanent residency as your dependents, you may bring them from India to Canada.
Total Law can help you obtain a family visa for Canada from India. Call us on +44 (0)333 305 9375.
Overview of Canadian Immigration Family Sponsorship
Family reunification is a priority for the Canadian government in terms of its immigration policies. To apply as a family sponsor, you must be at least 18 years old and a Canadian citizen or a person registered in Canada as an Indian under the Canadian Indian Act.
According to data from Immigration, Refugees and Citizenship Canada, India is currently the leading country for new permanent residents entering Canada through family sponsorship programs.
The Department of Immigration, Refugees, and Citizenship Canada, often known by its name IRCC, is in charge of managing the immigration system for the nation. IRCC is responsible for both the creation of and administration of Canada's family sponsorship program.
Who Can You Sponsor under Canada Family Visa?
Who can be sponsored using a Canadian family visa?
Spouses and common-law relationships
Dependent children
Parents and grandparents
There are, however, exceptions to this rule, and it is conceivable that you may be able to sponsor a non-immediate Indian family member (such as a sister, niece, or uncle) if one of the following conditions is met:
You don't have any other immediate Indian family members who may be sponsored by you, or you have legally adopted them and they fulfil all of the requirements to be considered a dependent kid.
Sponsoring your spouse to Canada
Overview
If you are a Canadian citizen, a Registered Indian, or a Canada permanent resident who is at least 18 years old and you wish to sponsor someone:
Your spouse or common-law partner who shares your residence in Canada, as well as any children who are financially dependent on them
Your common-law partner, conjugal partner, or spouse if they reside abroad, as well as any dependent children of any of them
Your dependent children
You may prepare for both of these things:
Your application to sponsor your Indian spouse, partner, or dependent child for permanent residence, as well as the application for permanent residence submitted by your spouse, partner, or dependent child.
Your Indian spouse or common-law partner may be eligible to apply for an open work permit if you are seeking for residency in Canada under the Spouse or Common-law partner in Canada class. Please refer to the section under "Working and Studying for Spouses and Partners" for more details.
You may not be able to sponsor if:
You are sponsoring an Indian partner or spouse, but you submitted an undertaking for a prior spouse or partner, and it has not been three years since they were a permanent residence.
You previously sponsored someone, and didn't pay back any social assistance that they got while the undertaking was in place
You are sponsoring someone who previously sponsored someone else, have not paid the alimony or child support that was imposed by the court.
You have filed for bankruptcy that has not been discharged
You have been convicted of a crime of a sexual nature, a violent crime, an offence against a relative that caused bodily harm
You have threatened or tried to commit any of the above crimes—depending on the nature of the crime, how long ago it occurred, and whether or not you were granted a pardon for the crime.
Your obligations as a sponsor
You are required to sign an undertaking when you agree to be a sponsor. In this undertaking, you promise to provide financial assistance for the fundamental requirements of your Indian spouse or partner and any dependent children they have.
You need to provide basic needs for your Indian family. The basic needs are food, clothes, a place to live, and other requirements for day-to-day existence, as well as dental treatment, eye care, and other medical needs that are not met by the public health system.
Before you sign the undertaking agreement, you need to make sure that the individuals you are sponsoring won't have any need to apply for financial assistance from the government.
If they are eligible for government assistance, you will be required to reimburse the government for any funds they received while you were legally responsible for them. Until you have paid back the required sum, you won't be allowed to act as a sponsor for anybody else.
Because the undertaking is a legally enforceable guarantee of financial support, it is your obligation to continue providing financial assistance to the applicant(s) throughout the duration of the undertaking term, even if your circumstances change.
Even if your circumstances change in the future, the agreement will remain in place for the whole of the time period specified in the agreement. Even under the following unlikely scenarios, the endeavour will not be cancelled:
The individual you sponsor will eventually become a citizen of Canada.
If you or the person you sponsor relocate to a different province or country.
The person you sponsor have issues with your finances
If you get divorced, separate, or
If your connection with the sponsored person breaks down.
Sponsoring Your Child in Canada
If a child meets the following criteria, then that child is considered a dependent:
They are under the age of 22.
They do not have a spouse common law partner.
Children who have reached the age of 22 or older and who fulfil both of the following criteria are considered to be dependents:
They are dependent on their parents because of an illness that prevents them from being able to support themselves financially
Because they were dependent on their family for financial support before the age of 22.
The dependent child must continue to satisfy all of these conditions, with the exception of the age requirement.
If they qualify as a minor dependent, you can sponsor:
Your own Indian kid
Your child may be a Canadian citizen if you are a Canadian citizen, even though they were not born in Canada. Your kid cannot be sponsored for permanent residence if they are already Canadian citizens.
If you are sponsoring only your Indian child and not your spouse or companion, your child will be listed as the primary applicant on the application. You must demonstrate the consent of the other parent or legal guardian for your child's immigration to Canada.
Include your grandchild as a dependent on the application if the child you wish to sponsor has their own child (your grandchild).
If you wish to sponsor your adopted kid or an orphaned family member, please refer to the sponsorship instructions for your adopted kid or orphaned family member.
Sponsor Your Parents and Grandparents
If you qualify these requirements, you can sponsor your Indian parents and grandparents:
You are eligible to register if you are at least 18 years old and a Canadian resident.
You're a Canadian citizen, a permanent resident of Canada, or an Indian registered in Canada under the Canadian Indian Act.
You have sufficient money to support the people you intend to sponsor. To prove that you do, you'll need to provide proof of income or you may have a spouse or common-law partner co-sign to combine your incomes
You satisfy all other requirements according to the Immigration and Refugee Protection Act and the Immigration and Refugee Protection Regulations.
What are the two key aspects of Canadian family sponsorship programs?
There are two primary facets of sponsorship:
It permits your relative to immigrate to Canada and obtain permanent residence (PR).
It requires you as well, as an individual, to commit to fulfilling the individual's basic needs and providing financial support.
Family Sponsorship Processing Fee
Spouse or common-law partner (with sponsorship fee, principal applicant charge, and permanent residence right fee) is $1080 CAD.
Dependent child is $155 CAD per child.
Parent or grandparent (with sponsorship charge, principal applicant fee, and permanent residence right fee) is $1080 CAD
Spouse or registered domestic companion of your parent or grandparent is $1080 CAD. Dependent offspring of your parent or grandparent is $155 CAD
Canada Family Visa Documents Required
To submit an application for a Canada Spouse visa, you must provide the following documents:
A photocopy of your marriage certificate
Photographs used for passports
Documentation of all name modifications for both you and your spouse
A copy of the original of your birth certificate
A photocopy of your passport
A copy of your financial records
Original letter of sponsorship Certificate of police clearance (if applicable)
if applicable, termination documents from a prior marriage
if available, court, police, and prison records
Immigration violation documents, if relevant
Bank statement
Address proof
Interview plan
The documents listed above are necessary in each of the most common situations and must be submitted to CIC.
Parents and Grandparents Program
Overview
The Parent and Grandparent Program (PGP) will issue invitations to people who want to sponsor their parents and grandparents for migration to Canada in October 2022.
The government sent out 23,100 invites, intending to accept up to 15,000 full applications.
Notably, invites were only sent to individuals who filled out the desire to sponsor form during the 2020 admission period. In 2020, there were still 155,313 prospective sponsors who had filed the form but had not yet been invited. In 2022, there was no way for new candidates to submit an interest to sponsor form.
If invited to sponsor Indian parents or grandparents, you have to submit two separate applications:
You must apply for sponsorship status.
Your parents or ancestors must submit a permanent residence application.
The applications for sponsorship and permanent residence must be submitted online simultaneously.
Preparation for PGP
Before you begin to complete out your application to sponsor document, you should have:
Obtain all the information necessary to complete the interest to sponsor form and submit an electronic copy of your passport or verification of your Canadian status.
You (the individual who wishes to sponsor their parents and relatives) must input the following information:
Your family name(s) and given name(s) (also referred to as first name and middle name).
Write your name exactly as it appears on your passport or Canadian confirmation of status document.
The date of your birth
The nation or territory in which you were born is your primary residence.
You must be a Canadian resident to sponsor.
Complete all required fields, including your full address.
Include your street number, street name, unit or apartment number (if applicable), P.O. Box (if applicable), province or territory, and postal code.
Include the street classification in the street number and address (street, boulevard, avenue, etc.). For example, use the following format: 123 John Street, 123 John Avenue, or 123 John Place your preferred email address for us to use to contact you
The number of members of your immediate family (you, your spouse or companion, and any children who are dependent on you).
The total number of individuals you have already sponsored and for whom you are still financially responsible, including their dependents (spouse or partner and children).
Provide the names and birth dates of the parents or ancestors you wish to sponsor.
You will not need to provide this information for their dependent offspring or spouse/partner who will not accompany them to Canada.
Number of your passport or evidence of status in Canada
Determine the location of this number.
You must input the number of the identity document you will submit with your application if invited to apply. If the document identification number does not match, your application will be returned.
Your digital signature (you must enter in your name)
Parents and Grandparents Super Visa
Overview
If you would like to bring your Indian parents and grandparents to Canada, they may be able to apply for a super visa that would allow them to remain for up to five years.
Parents and grandparents who are visiting Canada on an extraordinary visa are also eligible to file for two-year extensions of their stay while in the country.
To be considered for a super visa, you must:
Be the Indian parent or grandparent of a Canadian citizen or permanent resident of Canada
Have a signed letter from your child or grandchild inviting you to Canada with a promise of financial support for the duration of your visit
Have a copy of your child or grandchild's Canadian citizenship or permanent resident card
Evidence of private medical coverage from a Canadian insurer
This health insurance must be paid in full or in instalments with a down payment (quotes are not accepted). Valid for at least one year from the date of entry into Canada
Healthcare, hospitalisation, and repatriation coverage
Provide at least $100,000 in emergency protection
Financial Support (evidence of funding)
The child or descendant who extends an invitation must demonstrate that their household satisfies the minimum income requirements. The following documents can serve as examples of verification of funds:
Notice of Assessment (NOA) or T4/T1 from the previous tax year
Employment Insurance Benefit statements
Letter of employment including salary, title of job, job description, and date of hire along with pay receipts.
Bank statements
How to Apply for Family Sponsorship
Introduction
Three stages are required to sponsor a spouse, companion, or child:
1. Request sponsorship
The sponsor must download and digitally sign the PDF forms included in the application bundle, along with the Indian family member you are sponsoring (principal applicant).
The principal applicant (individual you're sponsoring) will upload them to their online application and electronically sign every application, including the applications of all family members
The application package contains the following:
Document checklist for you and the individuals you wish to sponsor
Forms that you and the individuals you wish to sponsor must complete
Instructions to assist you and your family members fill out the forms correctly
2. Apply to be sponsored (permanent residence).
You must sign in or create an account for the Permanent residence online application portal.
You must complete these electronic forms online:
Canada Standard Application Form (IMM 0008)
Background/Declaration (IMM 5669) – Schedule A
Additional Information Regarding the Family (IMM 5406)
Additional Information – Your Trip (IMM 5562)
Photo Specifications
You must include a photograph for each applicant.
Follow the online application's instructions to upload and scan both sides of your photo.
Work Permit
If you have a work permit, you may continue to work as long as the permit remains valid.
When you apply for permanent residence, you can also apply for an open work permit if you are residing in Canada with your sponsor.
3. Make an application fee payment
Your fingerprints and photograph (biometrics) are required. Schedule your appointment for biometrics collection as soon as possible to avoid processing delays. If you are unable to schedule an appointment by the date specified in your biometric instruction letter, there may be interim measures in place to assist you.
Your expenses will typically include processing fees for you, the Indian family members you are sponsoring, and their dependents, the charge for the right to permanent residence, and the biometrics fee. You must pay your fees online.
Biometrics costs
When submitting an application, biometrics (photo and fingerprints) fees are typically required. Otherwise, there may be delays. The biometrics charge covers the collection of fingerprints and a digital photograph. The biometrics fee is $85.00 per person and the maximum fee per family is $170.00.
Third-party charges
Depending on your circumstances, you may be required to pay for a medical test and a police report
Visa Fees of Canadian Family Sponsorship
Here's the visa fees of Canadian family sponsorship:
Principal applicant: $1,625
Spouse, common-law or marital partner: $850
A dependent kids under the age of 22 or an adult dependent who cannot financially support themselves due to an illness or disability: $230 per dependent
Parent or grandparent (complete with sponsorship charge, principal candidate fee, and permanent residence right fee): $1080
spouse of your parent or grandparent: $1080
Dependent kids of your parent or grandparent: $155
Canada's immigration policy has always placed a strong emphasis on family unity. Applying for a family visa might be a complicated task for your Indian family members.
At Total Law, we've facilitated the quickest and most effective family reunions for thousands of people.
It is best to avoid taking the risk of applying for a visa alone if you are unsure of how to do it correctly since the consequences of rejection may be severe. Your future visa applications may be rejected, which would need you to reapply and pay the fee. Make a consultation with Total Law right now for professional guidance. We'll help you complete it accurately the first time.
For additional information on family visa requirements, petition forms, needed documents, eligibility requirements, how to apply, guidance for the visa interview, and more. You may get in touch with our immigration attorneys by giving us a call at +44 (0)333 305 9375. or sending an email.
You may be interested in reading about.
Advice Package
Comprehensive immigration advice tailored to your circumstances and goals.
Application Package
Designed to make your visa application as smooth and stress-free as possible.
Appeal Package
Ensure you have the greatest chance of a successful appeal. We will represent you in any case.

Fast Track Package
Premium application service that ensures your visa application is submitted to meet your deadline.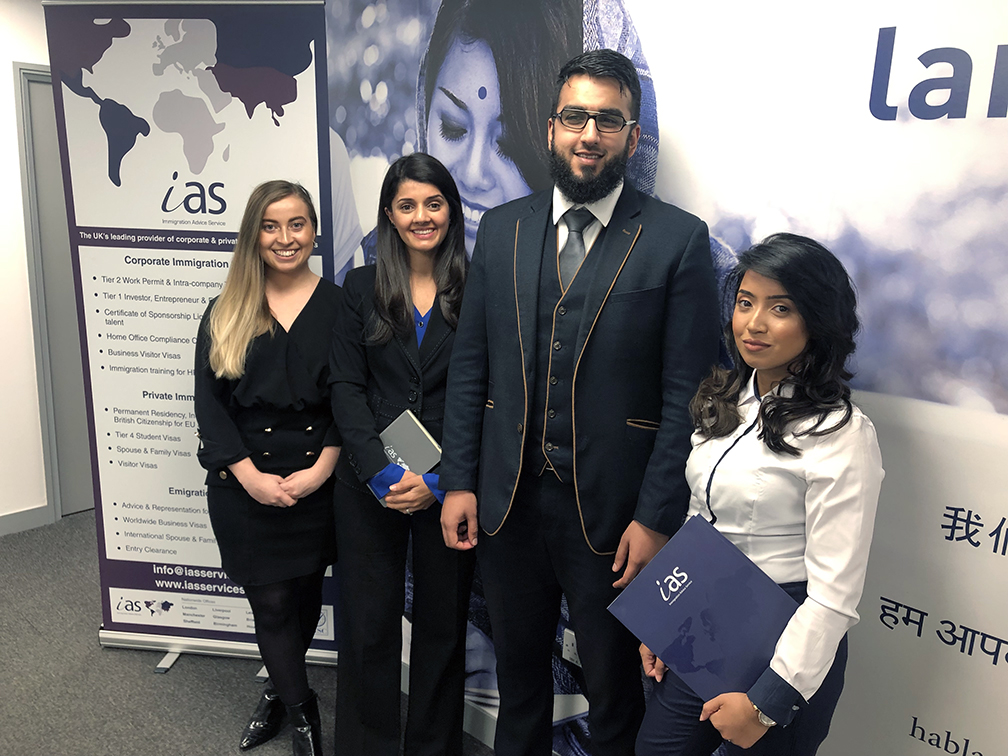 The Advice Package
During this untimed Advice Session with our professional immigration lawyers in London, you will receive our comprehensive advice, completely tailored to your needs and your situation.
Request the Advice Package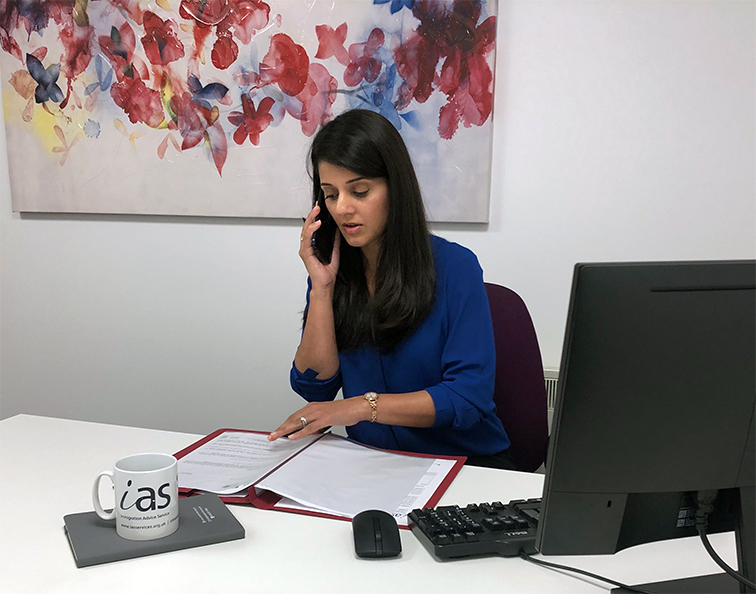 The Application Package
With our Application Package, your dedicated immigration lawyer will advise you on your application process and eligibility. Your caseworker will then complete and submit your forms to the Home Office on your behalf.
Request the Application Package
The Appeal Package
By choosing our Appeal Package, you can rely on our lawyers' legal knowledge and experience to ensure you have the highest chance of a successful appeal. We will also fully represent you in any hearings/tribunals.
Request the Appeal Package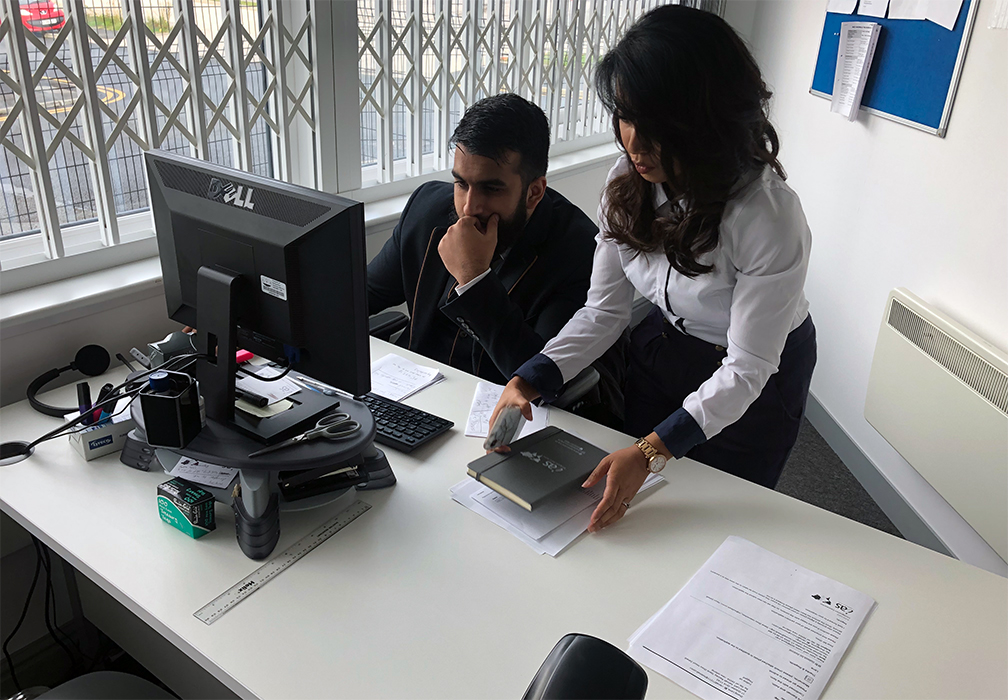 The Fast Track Package
Our Fast-Track Application Package is a premium service for those who need to submit their application in time with their deadlines. Your case will become a top priority for our lawyers and you will benefit from our highest-quality services.
Request the Fast Track Package