Keeping your green card after divorce
Getting a divorce can be a difficult time and it is important to understand the impact this could have on your immigration status in the US. Although depending on individual circumstances, it is likely that you will be able to keep your green card after divorce.
Working with a specialist immigration lawyer can help maximize your chances of a successful application. Call Total Law on +1 844 290 6312 for a confidential discussion about how we can help you and your family.
Will divorce affect my immigration status?
Foreign nationals who are married to a U.S citizen and living in the US as a marriage green card holder may have their immigration status impacted if they opt for a divorce.
However, the exact details of how the divorce will affect immigration status is depending on how long the marriage has lasted, the status of green card as well as previous immigration status.
If you are a marriage green card holder then you may wish to consult an immigration attorney to get advice on how a divorce may alter your permanent resident status in the US.
Divorce when adjusting from a K1 Fiancé Visa to a CR1 Visa
Anyone coming to the US as a K1 Fiancé visa holder must apply to adjust their status once they have married their U.S citizen spouse. This is done by filling a Form I-130r (Petition for Alien Relative) and will lead to the granted of a Conditional Residence Permit (CR1 visa).
The CR1 visa is issued for two years and the next step is to file for a IR1, also knowns as the Marriage Green Card).
However, if a couple opt to get divorced during the adjustment period form a K1 Fiancé Visa to a CR1 visa then the overseas-born spouse will not be eligible to apply for a green card and will be required to leave the US.
CR1 visa and divorce
The aim of the CR1 visa (a conditional green card) is to help reveal any potential marriage fraud and deter people from getting married purely to obtain a green card.
In recent years, there has been an increase in those obtaining green cards fraudulently and therefore the U.S. Citizenship and Immigration Services now issues conditional green cards to foreign spouses whose marriage is shorter than 2 years old. Once this 2-year time period has passed, the marriage is viewed as genuine and entered to in good faith, so therefore the foreign spouse can apply for permanent resident status.
This can be done by filing a Form I-751 (Petition to Remove the Conditions on Residence) – this is a joint petition and must be applied for by both members of the couple.
However, if the couple do divorce within the first two years of marriage while the overseas-born spouse is in the US on a CR1 visa there are options to remain in the country as long as certain conditions are met.
If the non-citizen spouse wants to keep their permanent residency status they can file a Form I-751 to remove conditions on the green card and ask for a wavier on the joint filing requirement.
This can be a difficult process and you may wish to seek legal advice from an immigration attorney if you find yourself in this situation.
If you do wish to file a I-751 after divorce you will need to submit the following supporting documentation:
The divorce decree
Any evidence that supports that both spouses entered the marriage in good faith and that it was a genuine relationship. This can include shared bank account statements, mortgage or lease agreements, letters or photographs
A statement written by you that explains why you got divorced
It is possible for the Immigration Services to deny your I-751 petition if it is your fault the marriage ended.
Divorce following a 10-year marriage-based green card approval
If a couple who are subject to a 10-year IR1 visa decide to divorce then it is unlikely to affect their green card status. Due to the length of the relationship, Immigration Services will decided that the foreign spouse can keep their green card after divorce proceedings and there will be no need to reassess their immigration status.
Following the divorce, green card holders can also apply to change their name back to their pre-married title if they wish when they file for a green card renewal.
Divorce is not the only reason a green card can be revoked
It is important to note there are a number of reasons why Immigration Services may opt to revoke a green card. According to immigration law in the US, a lawful permanent resident could have their green card status removed if they are found to have committed any of the following:
Immigration fraud – such as entering a sham marriage purely to obtain a green card
Committing a serious crime
Committing Fraud such as giving false information on a visa application
Failure to Establish a Permanent Residence, or Abandonment of Permanent Residence (Green cardholders must maintain residency in the United States with no more than 180 days abroad. If they need to leave the country for an extended period of time, they must obtain authorization proving that they do not intend to abandon their permanent residence status)
Failing to let immigration services know of a change of address
All of our lawyers are fully accredited with the appropriate legal bodies and you may be confident that the information we provide is fully accurate.
No matter how complex your case is, we can provide a tailored plan to help you achieve your goals. We work tirelessly on your behalf, attempting all legal options to assist you in immigrating to the U.S. with your loved ones and do our best to ensure that your petition is approved.
We recognize that immigration and visa applications are major decisions in a person's life and that they can impact many lives.
That is why we provide the highest care and attention to all of our clients and ensure that they are given all their legal options so that they may make an informed decision about their future and the future of their families.
Your dedicated immigration lawyer will work with you throughout the entire process, communicating with you regularly to answer your questions and advise on the next steps.
At the beginning of the process, you can expect us to give you clear and accurate information about how much the process will cost and an anticipated timeline.
If you have any questions at any stage, our friendly and professional client care teams can work directly with you so that you feel confident in the process.
Call us on +1 844 290 6312 for a confidential discussion about how we can assist you with your immigration case. We look forward to assisting you over the phone or by online call.
You may be interested in reading about.
Advice Package
Comprehensive immigration advice tailored to your circumstances and goals.
Application Package
Designed to make your visa application as smooth and stress-free as possible.

Fast Track Package
Premium application service that ensures your visa application is submitted to meet your deadline.
Appeal Package
Ensure you have the greatest chance of a successful appeal. We will represent you in any case.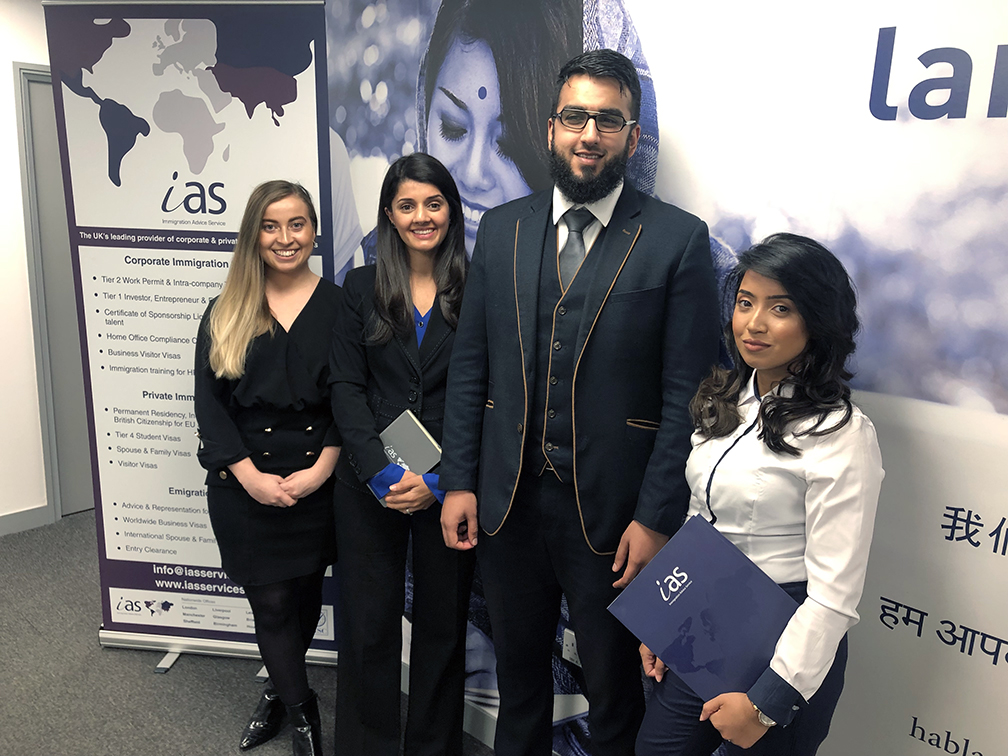 The Advice Package
During this untimed Advice Session with our professional immigration lawyers in London, you will receive our comprehensive advice, completely tailored to your needs and your situation.
Request the Advice Package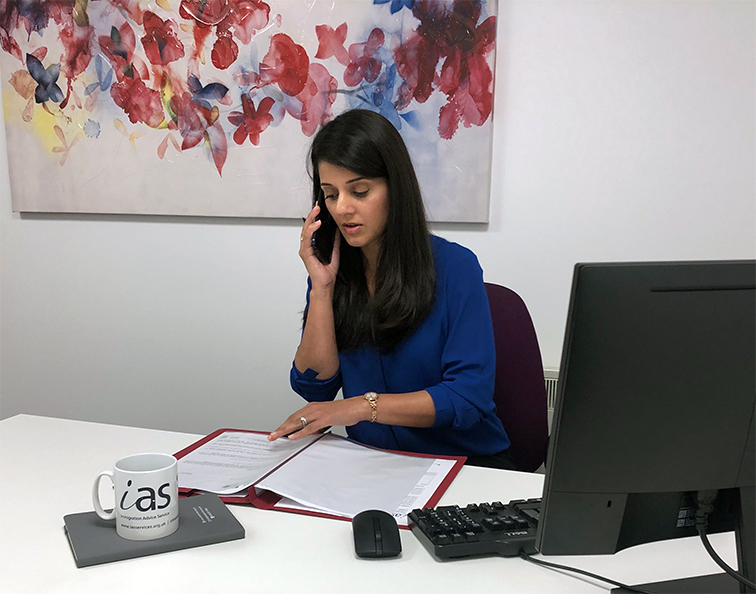 The Application Package
With our Application Package, your dedicated immigration lawyer will advise you on your application process and eligibility. Your caseworker will then complete and submit your forms to the Home Office on your behalf.
Request the Application Package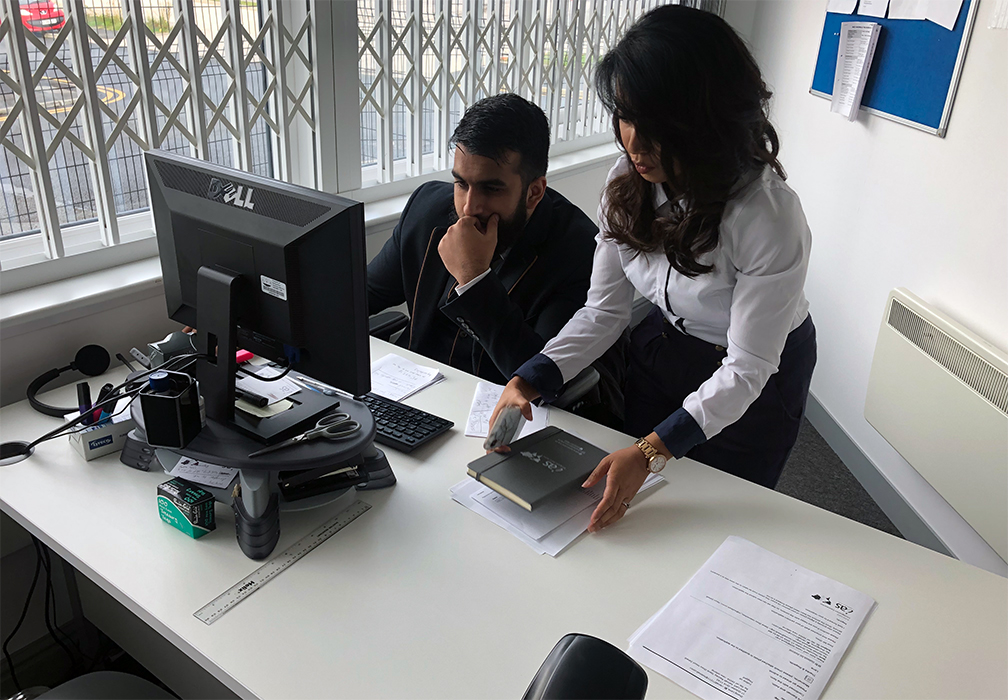 The Fast Track Package
Our Fast-Track Application Package is a premium service for those who need to submit their application in time with their deadlines. Your case will become a top priority for our lawyers and you will benefit from our highest-quality services.
Request the Fast Track Package
The Appeal Package
By choosing our Appeal Package, you can rely on our lawyers' legal knowledge and experience to ensure you have the highest chance of a successful appeal. We will also fully represent you in any hearings/tribunals.
Request the Appeal Package