How to check your F2B visa status
If you are applying for a F2B visa then it is possible to track the progress of your application via the Visa Bulletin.
Working with a specialist immigration lawyer can help maximize your chances of a successful application. Call Total Law on +1 844 290 6312 for a confidential discussion about how we can help you and your loved ones settle in the United States.
The F2B Visa
The F2B Visa is a Family Preference Visa which leads to a Green Card to unmarried adult children of Green Card holders in the United States. Those who are successful in their application will be permitted to live in the US for up to five years.
Checking your F2B visa status via priority date Visas suitable to bring a brother or sister to the US
To track the status of your F2B application you will need to find out your priority date that was included on Form I-797 – this was provided when you filed your Form I-130 (Petition for an Alien Relative).
The next step is to locate your applicable preference category. If you have filed a F2B visa application and you are checking the F2B visa status, this means you are the unmarried son or daughter of a lawful permanent resident (LPR) in the US.
To find out the status you will need to refer to the current visa bulletin issued by the Department of State. Make sure you are using the relevant table to find the date for your family preference category – you will need to ensure you are looking for the information for your home country.
This date that needs to be compared to your priority date on Form I-797. If the priority date is before the date on the visa bulletin then the status of your visa is current. This means you can apply for your green card by completing Form I-485.
If the dates is after the visa bulletin then your immigrant visa is not available yet and you must continue to work. The Immigration Services will not let you know when your immigrant visa is available – you must ensure you check the visa bulletin to keep track of the status of your visa.
The F2B Visa Application Process
The F2B visa application can be a complicated process and you should consider seeking advice from professional immigration lawyers to ensure your best chance of becoming a green card holder without any unnecessary delays.
The application process is as follows:
The sponsor completes the petition form and submits it to USCIS
National Visa Center (NVC) receives accepted petition form and supporting documents
NVC sends a package to the beneficiary which will then explain the next steps of the process
A visa application slot becomes available and the F2A visa application process begins
The adult child completes and files Form DS-260
The applicant collects the required documents together. The medical examination is taken and vaccinations are given.
The applicant attends the visa interview at a US embassy or consulate
Applicant receives NVC packet and travels to the US
Waiting times for the F2B visa
The waiting times for a family-based green card can vary considerably as it will depend on the specific visa you have applied for as well as the country you have applied from.
For example, those applying from a foreign country such as China, India, Mexico or the Philippines tend to have significant waiting times. However, as there is no exact times then it can be hard to give any set timescales.
Instead, applicants are advised to keep checking the next visa bulletin to see the status of immigrant visas in the F2B category.
You may find the waiting time reduced if your sponsor becomes a US citizen while you are waiting for your final action date as you would be able to apply for a relative visa. This form of visa has a much shorter application process and the waiting times are considerably quicker.
How can Total Law help with your F2B Visa application?
Total Law can help ensure your application is completed by one of our expert immigration attorneys, maximizing your chances of a successful outcome.
We can also review the annual F2B Visa bulletin to check the availability of the permit.
All of our lawyers are fully accredited with the appropriate legal bodies and you may be confident that the information we provide is fully accurate.
No matter how complex your case is, we can provide a tailored plan to help you achieve your goals. We work tirelessly on your behalf, attempting all legal options to assist you in immigrating to the U.S. with your loved ones and do our best to ensure that your petition is approved.
We recognize that immigration and visa applications are major decisions in a person's life and that they can impact many lives.
That is why we provide the highest care and attention to all of our clients and ensure that they are given all their legal options so that they may make an informed decision about their future and the future of their families.
Your dedicated immigration lawyer will work with you throughout the entire process, communicating with you regularly to answer your questions and advise on the next steps.
At the beginning of the process, you can expect us to give you clear and accurate information about how much the process will cost and an anticipated timeline.
If you have any questions at any stage, our friendly and professional client care teams can work directly with you so that you feel confident in the process.
Call us on +1 844 290 6312 for a confidential discussion about how we can assist you with your immigration case. We look forward to assisting you over the phone or by online call.
You may be interested in reading about.
Advice Package
Comprehensive immigration advice tailored to your circumstances and goals.
Application Package
Designed to make your visa application as smooth and stress-free as possible.

Fast Track Package
Premium application service that ensures your visa application is submitted to meet your deadline.
Appeal Package
Ensure you have the greatest chance of a successful appeal. We will represent you in any case.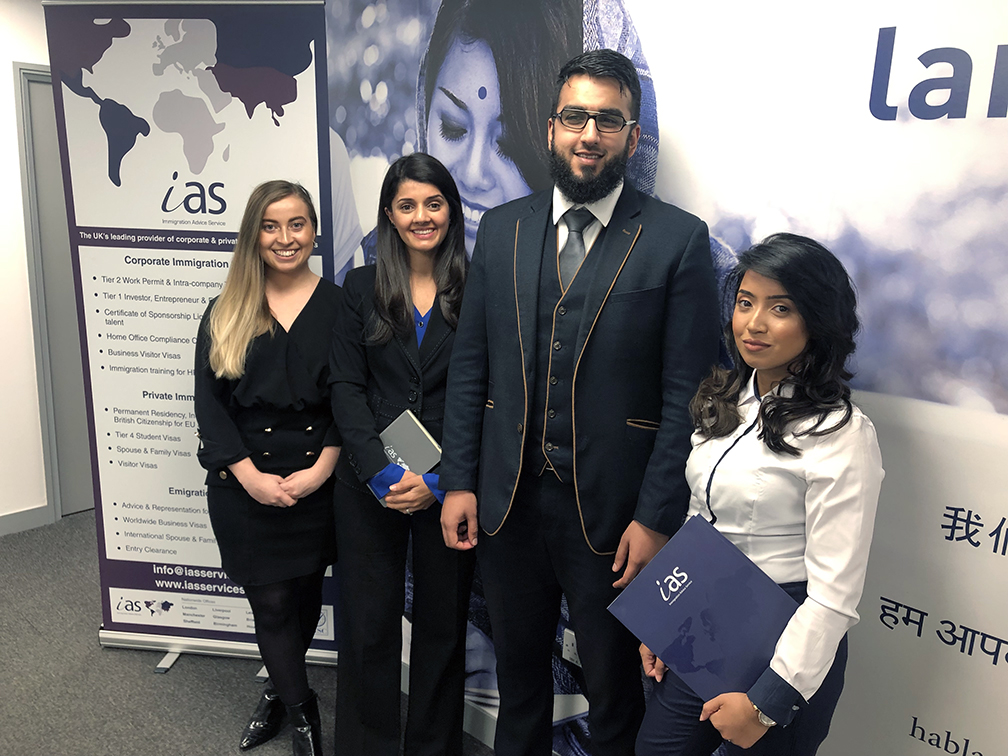 The Advice Package
During this untimed Advice Session with our professional immigration lawyers in London, you will receive our comprehensive advice, completely tailored to your needs and your situation.
Request the Advice Package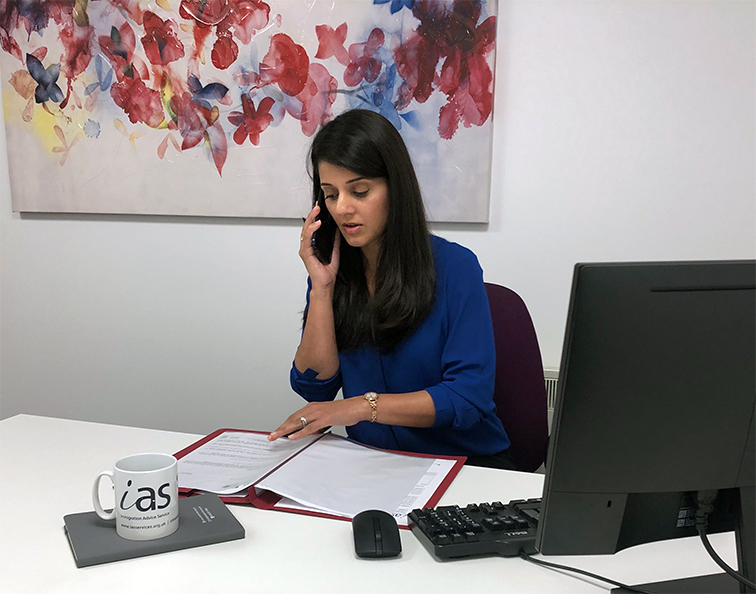 The Application Package
With our Application Package, your dedicated immigration lawyer will advise you on your application process and eligibility. Your caseworker will then complete and submit your forms to the Home Office on your behalf.
Request the Application Package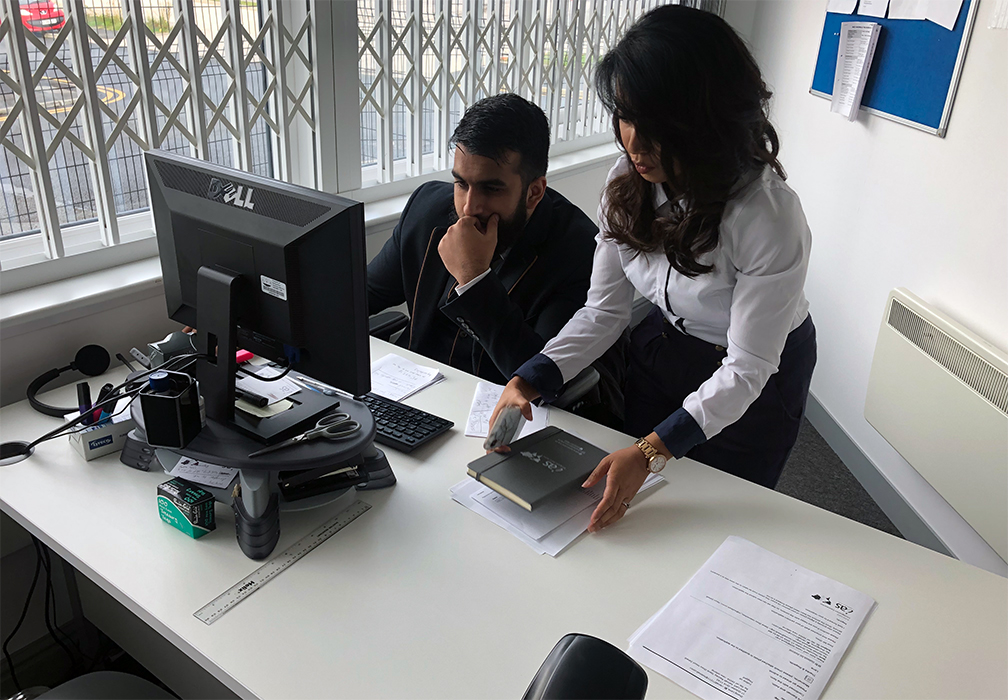 The Fast Track Package
Our Fast-Track Application Package is a premium service for those who need to submit their application in time with their deadlines. Your case will become a top priority for our lawyers and you will benefit from our highest-quality services.
Request the Fast Track Package
The Appeal Package
By choosing our Appeal Package, you can rely on our lawyers' legal knowledge and experience to ensure you have the highest chance of a successful appeal. We will also fully represent you in any hearings/tribunals.
Request the Appeal Package