Applying for K-1 visa from Mexico
If you wish to move to the United States with your partner from Mexico then the K1 visa route is designed to allow them to join you in the US and begin their path to gaining US citizenship and permanent residence.
Working with a specialist immigration lawyer can help maximize your chances of a successful application. Call Total Law on +1 844 290 6312 for a confidential discussion about how we can help you and your loved ones settle in the United States from Mexico.
Who is the K1 Visa (fiancé visa) for?
The K1 visa (fiancé visa) is the ideal route for US citizens who are planning to get wed in the US to their partner who is a foreign national.
This non-immigrant visa allows your Mexican citizen fiancé to come to the US to get married and eventually become a full US citizen. If you do apply for the K1 visa it does mean you must arrange your wedding within 90 days of your partner coming to the US.
The K1 visa also allows for dependents to travel to the US and subsequently adjust their status following the marriage and your partner's change in status from a K1 visa holder.
After you legally marry, your new spouse can apply to adjust their status and apply for a marriage green card (CR1 visa) without having to return back to Mexico.
You may wish to seek advice from an immigration attorney before completing the application to avoid unnecessary visa processing delays or costs.
K1 visa processing times and costs
It can at least six months to process your partner's K1 visa application. This wait time can vary due to consular processing times or if you fail to complete the form correctly, don't include the required documents or do not submit translations of Mexican documents. In many cases, seeking advice from an immigration law firm may help to avoid unnecessary delays to visa applicants.
It is also advisable to make sure you provide the immigration services with up-to-date contact details so that if they have any questions or queries they are able to get hold of you easily – otherwise you could face lengthy delays or possible refusal.
There are a number of fees that need to paid when making a K1 visa application. These include a visa application processing fee as well as potentially medical examination fee. K1 visa applicants will be asked to pay at the time of application:
A K1 visa fiancé(e) petition (Form I-129F) visa application fee of $535
A consulate visa fee for non-immigrant visa application processing of $265
Following your marriage, if you wish to live in the country, then your husband or wife will need apply to a change of status to become a marriage-based green card holder – this will involve an additional fee to pay.
Applying for a K1 Visa from Mexico
So that your partner from Mexico can to travel to the US to get married, they will need their US citizen partner to formally agree to sponsor them. This means filing an official I-129F petition completed form with the US Citizenship and Immigration Services (USCIS).
The online nonimmigrant visa application form can be downloaded directly from the USCIS website and needs to be submitted with all the right evidence, written statements and documentation. It can only be completed by someone who has full US citizenship at the time of application. If you are unsure then
Once this new petition has been approved it will be transferred to the National Visa Centre (NCV)
If this petition is approved then it will be passed to the National Visa Centre (NCV) and your partner will be asked to submit an application for a K1 visa and then given an appointment date to attend a face-face interview at their local US Embassy or Consulate.
If your partner has dependents that they would also like to travel to the United States with them then they will need to ensure they are including them on the application for a K2 visa.
What is the eligibility criteria for the K1 visa?
For a K1 visa to be granted then all the following requirements must be met. Also any supporting documents must be submitted in English or a certified English translation.
You must be a U.S citizen if you are planning to sponsor your partner – Green card holders are not able to sponsor their Mexican fiancé for a K1 visa. You must submit required documents to prove your citizenship and your ability to be a sponsor.
You must have met your partner in person at least once within the previous 24 months – you will need to show that you have both met each other at least once in the two years before applying for the K1 visa petition. However, it is possible for an exemption of this requirement if it violates cultural traditions or because of extreme hardship – you may wish to seek attorney services if you wish to apply for a waiver of this visa requirement.
You must both be legally free to marry in the US – you must both be single and not currently married to another person at the time of applying for the visa. If either of you has been married before then you will be required to show evidence that any previous marriages are no longer valid – this can be done by submitting divorce decrees or a death certificates.
The wedding must take place within 90 days – the K1 visa requires the marriage to take place within 3 months of the overseas partner arriving in the US. You will be asked to provide details of the forthcoming nuptials as well as information about your relationship with your foreign citizen fiancé
You must meet the required financial support requirements – when sponsoring your fiancé from Mexico you will have to show that you have sufficient income and funds to support your wife/husband when you begin living together in the US. The USCIS are able to provide more detail on what the most up-to-date required financial requirements are as it does vary between states.
Completing the Petition for Alien Fiancé(e) Form I-129F
Your fiancé will be need to submit a Form I-29F before they are able to travel from Mexico. The application, which can be submitted online, requires the following documents to be submitted alongside their form:
Proof of the US citizenship of their citizen sponsor – this can be an original birth certificate, official adoption decree
Copy of the passport of the US citizen or naturalization certificate
Evidence that shows the relationship is genuine – this can include phone bills, photographs, witness statements from friends and family members etc
Divorce or death certificate to prove they are not already married and any prior marriages have been legally terminated.
Proof that you have met in person at least once within the past 2 years – the immigration services will ask for supporting documents such as hotel bookings, flight itineraries etc
A statement from you and your partner detailing your relationship and your plans to get married
Two passport-style photos of each partner – this must not be taken than a month before making the visa application and must be in color.
The form and supporting documents will be reviewed by the consular section and if approved the application will be passed to the National Visa Center who will then forward it on to the local US Embassy in Mexico City.
Visa interview in Mexico City
Your fiancé will then need to complete a DS-160 form and then will then receive an appointment letter with an interview date and time to visit the US embassy.
The DS-160 (Nonimmigrant Visa Application) Form can be completed online and allows for temporary travel to the US. Your partner will need to take a copy of the confirmation page to their interview.
Part of the aim of the consular interview is to establish if your relationship is genuine and your fiancé will be asked questions about their upcoming marriage and plans once they come to the US. After the visa interview and, if the consular officer, accepts the answers given by the visa applicant then a K1 visa will be approved. Alternatively, they could delay a decision while they request further evidence.
Can your Mexican fiancé work with a K1 visa?
If your partner wishes to work during their 90 day stay in the US they must be approved for work authorization and must submit a Form I-765. If granted, the authorization will only cover the 90 days associated with their K1 visa application.
Once you are married, your new spouse can apply to adjust status from a K1 visa to a marriage green card and then reapply for work authorization that will allow them to work for a period of 12 months.
It is also advisable to avoid leaving the US when on a K1 visa as it is only valid for a single entry within a six-moth period.
Extending a K1 visa
The K1 visa can only be extended for specific reasons as it is only granted for 90 days to allow your future spouse to come to the country to get married.
If the wedding is cancelled then your partner must return to Mexico before their K1 visa expires. There are severe penalties for outstaying a visa that could have long term implicants on any future applications.
However, if you decide not to get married then your partner must return to before the end of the 90 days – if they overstay the visa restrictions it could mean they will be automatically refused from applying for future visas in the US.
If there is a valid reason for delaying the marriage ceremony , then you can apply for exemption. This involves completing a Form I-130 and an adjustment of status form. There is an additional visa fee to pay and your partner may need to have another medical examination and interview.
After marrying your partner from Mexico
After the wedding, you and your new wife/husband can apply for permanent residence in the US. To do this you will need to apply for adjustment of status from a K1 visa to a CR1 visa( the Marriage Green Card).
If approved, the green card will allow your partner to live in the US and work or study without additional restrictions. When applying for the new green card, your partner will not need to return to the Dominican Republic.
You will need to submit a range of documents to apply for the marriage green card such as a valid marriage certificate etc. The Conditional Residence visa is valid for two years and can then be converted to a IR1 visa.
After 3 years of living continuously in the US under a marriage green card, your wife or husband will become eligible to apply for naturalization to make the US their permanent residence.
All of our lawyers are fully accredited with the appropriate legal bodies and you may be confident that the information we provide is fully accurate.
No matter how complex your case is, we can provide a tailored plan to help you achieve your goals. We work tirelessly on your behalf, attempting all legal options to assist you in immigrating to the U.S. with your loved ones and do our best to ensure that your petition is approved.
We recognize that immigration and visa applications are major decisions in a person's life and that they can impact many lives.
That is why we provide the highest care and attention to all of our clients and ensure that they are given all their legal options so that they may make an informed decision about their future and the future of their families.
Your dedicated immigration lawyer will work with you throughout the entire process, communicating with you regularly to answer your questions and advise on the next steps.
At the beginning of the process, you can expect us to give you clear and accurate information about how much the process will cost and an anticipated timeline.
If you have any questions at any stage, our friendly and professional client care teams can work directly with you so that you feel confident in the process.
Call us on +1 844 290 6312 for a confidential discussion about how we can assist you with your immigration case. We look forward to assisting you over the phone or by online call.
You may be interested in reading about.
Advice Package
Comprehensive immigration advice tailored to your circumstances and goals.
Application Package
Designed to make your visa application as smooth and stress-free as possible.

Fast Track Package
Premium application service that ensures your visa application is submitted to meet your deadline.
Appeal Package
Ensure you have the greatest chance of a successful appeal. We will represent you in any case.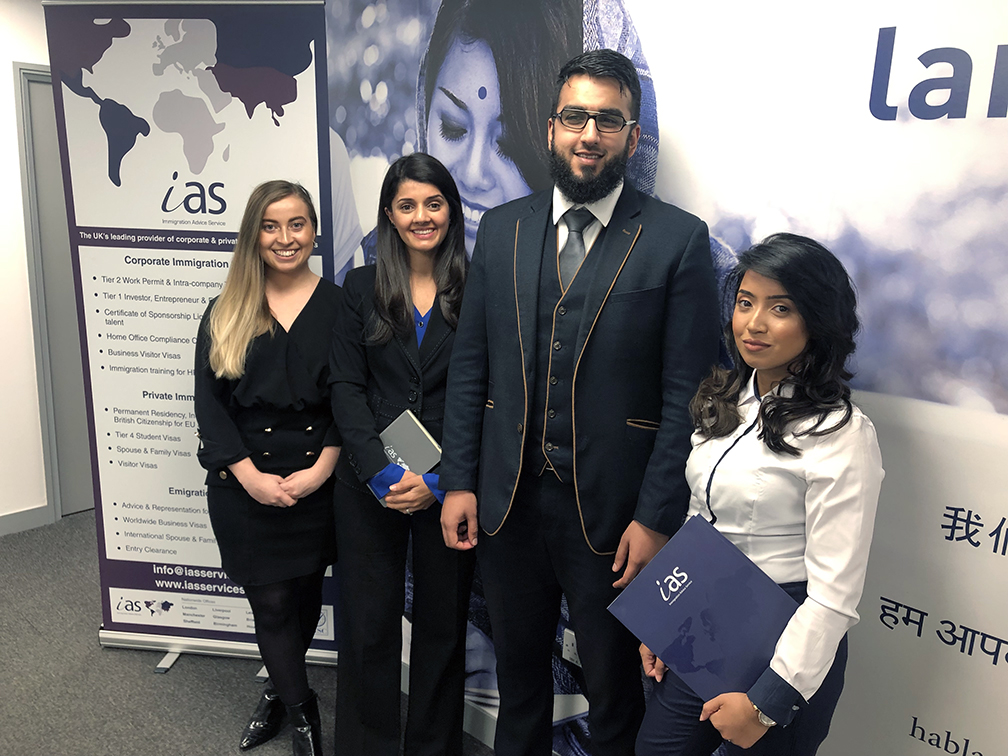 The Advice Package
During this untimed Advice Session with our professional immigration lawyers in London, you will receive our comprehensive advice, completely tailored to your needs and your situation.
Request the Advice Package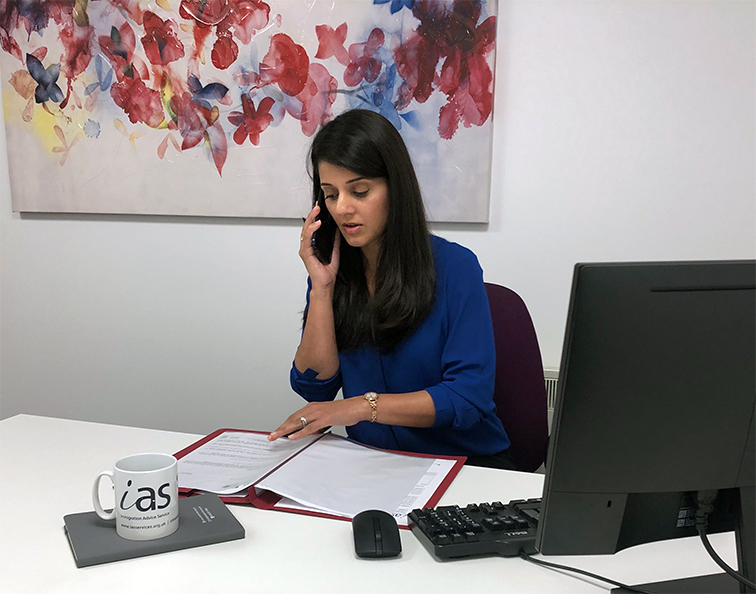 The Application Package
With our Application Package, your dedicated immigration lawyer will advise you on your application process and eligibility. Your caseworker will then complete and submit your forms to the Home Office on your behalf.
Request the Application Package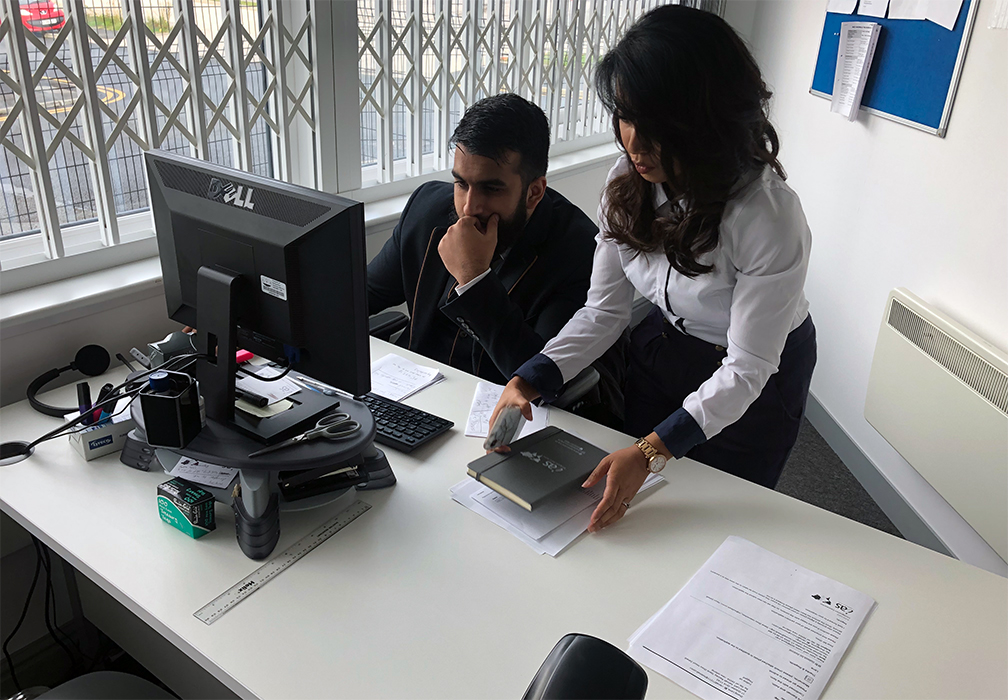 The Fast Track Package
Our Fast-Track Application Package is a premium service for those who need to submit their application in time with their deadlines. Your case will become a top priority for our lawyers and you will benefit from our highest-quality services.
Request the Fast Track Package
The Appeal Package
By choosing our Appeal Package, you can rely on our lawyers' legal knowledge and experience to ensure you have the highest chance of a successful appeal. We will also fully represent you in any hearings/tribunals.
Request the Appeal Package