UK Government Authorised Exchange Visa
The Government Authorised Exchange Visa is a temporary work visa that allows foreign nationals who wish to come to the UK to participate in an approved internship, training, work experience, or research program.
For advice and assistance with your visa application, contact Total Law today at +1 844 290 6312 or use the online contact form to get in touch.
The Government Authorised Exchange Visa allows foreign nationals to travel to the UK for training, research, fellowship, work experience, or an overseas government language programme for 12 months. The government-authorized exchange visa is not a route to settlement, but it allows you to travel with your dependent partner and children under 18.
The length of your stay in the UK is determined by the type of work you do and the period specified on your sponsorship certificate with an additional 28 days. For instance, if you are visiting the UK to gain work experience, you can stay there for 12 months, and if you are involved in research, training, or a government language program abroad, you can stay there for 24 months.
The government-authorized exchange visa allows individuals outside the UK to exchange knowledge, expertise, and best practices with others in the UK. If you are a sponsored researcher, visiting academic, or examiner, your sponsor organisation may be a government department, agency, or higher education institution.
While on this visa, individuals can work in the job described in the certificate of sponsorship (main job) and do a second job for up to 20 hours per week, including those listed on the Skilled Worker shortage occupation list. But you cannot take a permanent job or get public funds.
"I'm very happy with the standard of training received on the OISC Level 1 course, i passed my exam. Thank you!"
"My application was approved and a huge weight has been lifted from our shoulders this year "
"We used this service for the spouse visa extension application to assure that all the information was valid and correct."
You must convince UK Visas and Immigration that you meet the following requirements to be eligible for a Temporary Work – Government Authorized Exchange Visa:
You have a valid Certificate of Sponsorship for the role you intend to undertake, issued by a sponsor with a valid Temporary Work – Government Authorised Exchange sponsor license.
The role you intend to take meets the requirements of an approved Government Authorised Exchange scheme.
The role does not fill a vacancy in the UK workforce.
The role appears in Table 1 or Table 2 of Appendix Skilled Occupations.
You have enough personal savings to support yourself in the UK.
Your application does not fall under the general grounds for refusal.
You have provided a valid TB certificate if required.
Depending on your circumstances, there can be slight variations in the specific standards you must meet. You must check with the UK visas and immigration to know the specific requirements that pertain to you.
You must have a valid Certificate of Sponsorship issued by a Home Office-approved sponsor for the position you are requesting to fill in the UK to be granted a Temporary Work – Government Authorized Exchange Visa. Your sponsor must hold a valid Temporary Work – Government Authorised Exchange sponsor license.
Your sponsor must have a valid license as a sponsor for temporary work through a government-approved exchange.
Your sponsor will be the main organization in charge of the internship, training, work experience, or research program you intend to participate in under the government-authorized exchange worker visa in the UK.
All approved Government Authorized Exchange programs and their corresponding Home Office-approved governing bodies are listed in the Home Office's publication (sponsors).
Except if you received your previous authorization through the Government Authorized Exchange route and are requesting to continue working for the same sponsor as in your prior authorization, your sponsor must be listed as A-rated on the Home Office's register of licensed sponsors.
Your Temporary Work – Government Authorized Exchange Visa application must be submitted no more than three months from your Certificate of the Sponsorship issuance date.
Certain necessary details must be included in your Certificate of Sponsorship, these include:
Details of your name, job, and salary
Confirmation that the Certificate of Sponsorship has not been used in a previous application that was either granted or refused and has not been withdrawn by the sponsor or cancelled by the Home Office.
Confirmation that the role does not fill a vacancy in the workforce
Confirmation that the role appears in Table 1 or Table 2 of Appendix Skilled Occupations
Confirmation that the role meets the requirements of the individual exchange scheme
A start date which is no more than three months after the date of your Temporary Work – Government Authorised Exchange Visa application.
You must have at least £1,270 in your bank account, held for at least 28 days, ending not more than 31 days before the date of your Government Authorized Exchange Visa application. Otherwise, you must have been in the UK with a valid visa for at least 12 months, or your sponsor agrees to pay for your expenses during your first month in the UK, which must be stated on your Certificate of Sponsorship.
You must submit certain documents to demonstrate your eligibility, support the success of your visa application, and meet UK immigration and visa requirements.
These documents include:
Valid Certificate of Sponsorship reference number
Proof of financial support, which includes bank statements or personal savings
Valid passport or any other national identity document
Valid ATAS certificate, if used to get your position, especially in research sensitive subject at PhD level or higher.
The tuberculosis test result, if required.
A certified translation must be provided if any of the documents are not in either Welsh or English. All documents must be in one of these two languages.
But if your dependent relatives (children and/or partners) plan to accompany you to the UK, you'll need to present proof of your relationship with them in official documents.
You must follow processes and steps to submit your application for a government-authorized exchange visa. They are as follows:
Step 1: Apply for the Government Authorised Exchange Visa online via the form available on the gov.UK website.
Step 2: Fill out the application form and submit your biometrics. Your country of residence and passport type will determine how you complete your biometrics. This can be done by attending an appointment at a visa application centre or using the UK immigration ID check app to scan your identity document.
Step 3: Submit all your supporting documents as requested on the application form.
Step 4: Pay the visa application fees and complete the application form online.
Depending on where you live, different countries have different application fees for the government-approved exchange visa. The charge is £244 if you are applying from outside the UK, and it is also £244 if you are extending or switching your visa while you are already in the country. If you are extending or switching your visa, the application fee is also £189.
The application price is £244 per dependent if they apply outside the UK. The same fee is payable if they extend or switch their visa while they are already in the UK. It costs £19.20 to complete your biometrics, which includes having your fingerprints and a photo taken if you are applying for or changing your visa in the UK. As part of the processing fee for your application, you must also pay the immigration healthcare surcharge fee.
If you apply from outside the UK, you should receive a decision within eight weeks of completing the application process.
But if you use the UK priority service and apply for a visa extension or switch, you will receive a response in just five working days and pay an extra £500.
After submitting your biometric data, you can receive a decision from the super-priority service in 2 working days for an additional £800.
How can Total Law help?
Total Law is a company authorized and regulated by the Solicitors Regulation Authority. We have excellent immigration lawyers who are vastly experienced in dealing with UK government-authorized exchange visas and provide advice and support to make your application process smooth.
Our immigration lawyers will help you determine if you meet the eligibility criteria for a UK government-authorized exchange visa and will advise you on the supporting documentation you should have. In addition, years of experience with this process have made us aware of the common mistakes that applicant make that causes application refusal. Therefore, we will help you avoid these errors to ensure that your application is consistent and readily accepted.
If you've had a previous refusal, Total Law can help you file an appeal or walk you through the re-application process to ensure you get accepted. For further information, contact us today at +1 844 290 6312 to start your journey towards a successful UK visa application.
Advice Package
Comprehensive immigration advice tailored to your circumstances and goals.
Application Package
Designed to make your visa application as smooth and stress-free as possible.

Fast Track Package
Premium application service that ensures your visa application is submitted to meet your deadline.
Appeal Package
Ensure you have the greatest chance of a successful appeal. We will represent you in any case.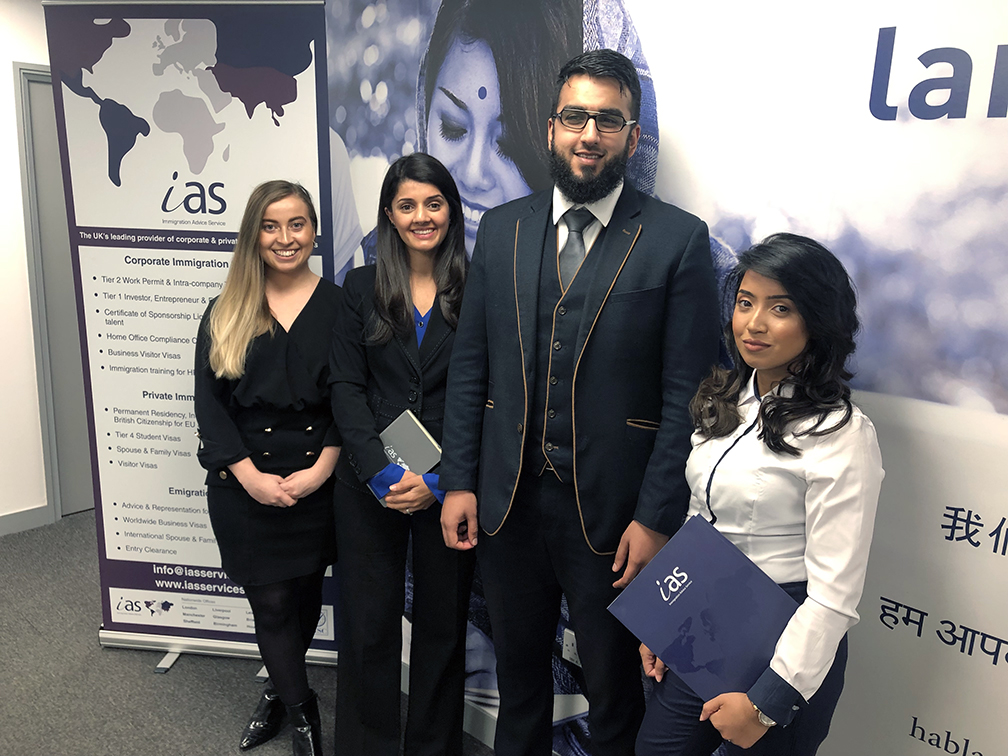 The Advice Package
During this untimed Advice Session with our professional immigration lawyers in London, you will receive our comprehensive advice, completely tailored to your needs and your situation.
Request the Advice Package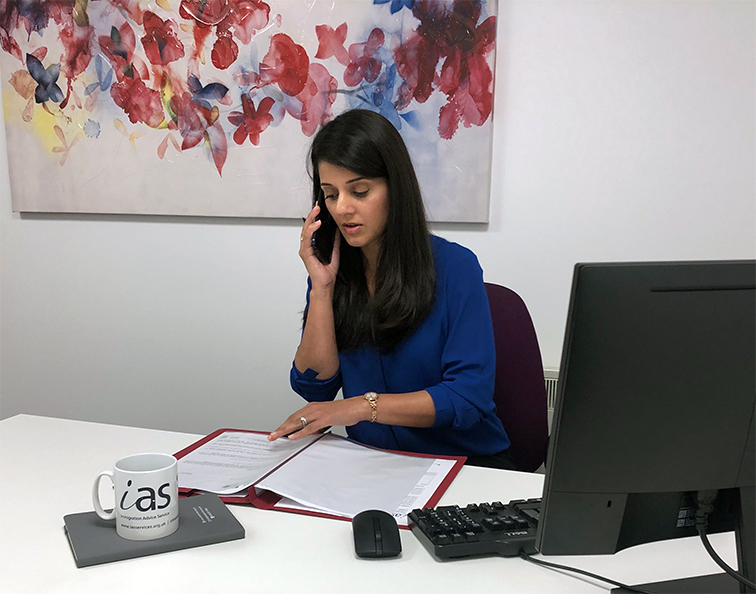 The Application Package
With our Application Package, your dedicated immigration lawyer will advise you on your application process and eligibility. Your caseworker will then complete and submit your forms to the Home Office on your behalf.
Request the Application Package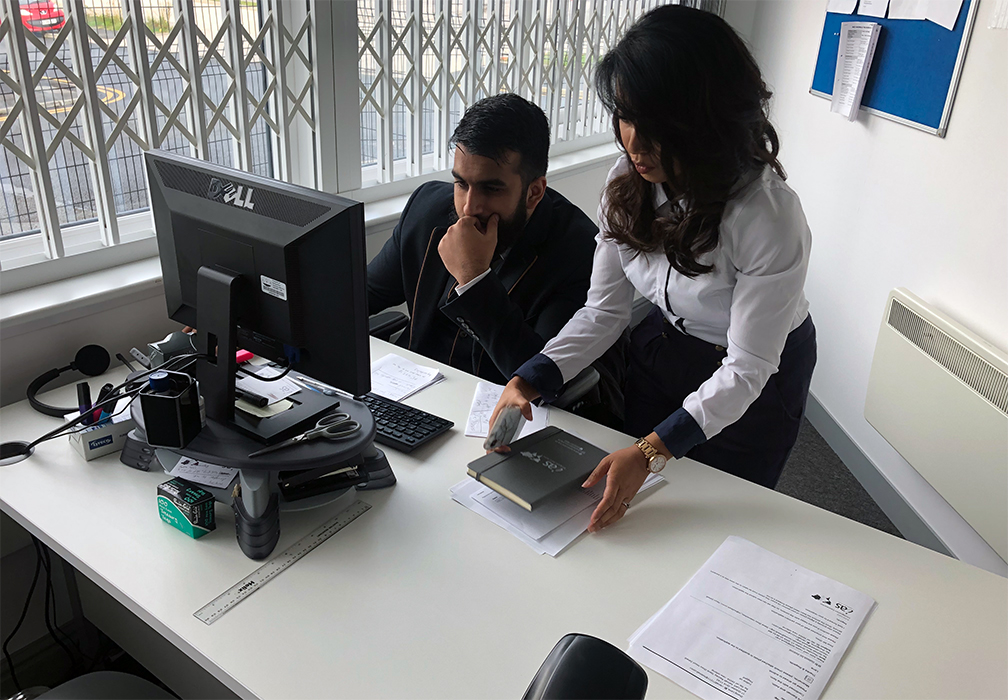 The Fast Track Package
Our Fast-Track Application Package is a premium service for those who need to submit their application in time with their deadlines. Your case will become a top priority for our lawyers and you will benefit from our highest-quality services.
Request the Fast Track Package
The Appeal Package
By choosing our Appeal Package, you can rely on our lawyers' legal knowledge and experience to ensure you have the highest chance of a successful appeal. We will also fully represent you in any hearings/tribunals.
Request the Appeal Package
Related pages for your continued reading.
Frequently Asked Questions
There is no English proficiency requirement for the Government Authorized Exchange Temporary Work Visa.
If you are applying as a minor, you must have written parental authorization confirming support for your application, your living and care arrangements in the UK, and your travel to and arrival arrangements in the UK. Both of your parents, one parent only if that parent is your sole legal guardian, or your legal guardian may give their written approval.