UK Temporary Worker Visa - Apply from Canada
If you plan to come to the UK as a Canadian citizen for a short time to do work experience, then the Temporary Worker visa may be right for you. The Temporary Worker visa will generally allow you to do short-term work or training for a period of up to 12 months or less.
If you think you may qualify to be a temporary foreign worker and you would like further immigration advice and support, contact Total Law for assistance.
Speak to one of our expert advisers about our UK and Canadian immigration services. Call +1 844 290 6312, or use the online contact form.
What Is A Temporary Worker Visa?
The Temporary Worker visa is a type of travel document and work permit that will allow foreign workers to gain entry to the UK to work temporarily, or undergo work related training for a short period of time provided they meet the eligibility criteria.
Under this visa category, temporary workers/ Canadian citizens will have legal rights to work a preapproved and prearranged full time or part time job in the UK.
As a temporary foreign worker, you can:
Study in your free time outside of your job
Do a second job for up to 20 hours per week as long as it meets eligibility requirements
Bring immediate family members with you as dependents so long as they are eligible
A complete list of permitted activities will be provided to you when you apply. As a temporary foreign worker, you are not eligible to receive public funds, start a business, or get a permanent job. If these are things you intend to do while in the UK, you will need to apply for another type of visa.
"I'm very happy with the standard of training received on the OISC Level 1 course, i passed my exam. Thank you!"
"My application was approved and a huge weight has been lifted from our shoulders this year "
"We used this service for the spouse visa extension application to assure that all the information was valid and correct."
Temporary Worker Visa Categories
Canadian citizens can apply for a work visa under the following categories of employment in the UK:
Charity Workers – Those who are working unpaid or providing voluntary services for a UK charity.
Creative – Artists, dancers, actors, and fashion models who fulfill the other eligibility requirements
Sporting – An athlete or coach who is at a top professional level in their sport. Eligible applicants will have represented their national team within the two years prior to applying for the Temporary Worker Visa or will have an international reputation in the field of sport in question
Government Authorised Exchange – Those who are nationals of countries who have signed an approved exchange scheme.
International Agreement – Those whose job offer is covered by international law. (Such as embassy and diplomatic employers.) If you are on an International Agreement Worker Visa, your allowed length of stay depends on what you will be doing while in the UK. For example, if you are working as a servant in a diplomatic household you will be permitted to stay for up to two years under this visa.
Seasonal Worker Visa – Those who are applying to do farm work in the UK for a period of six months or less
Religious Workers Visa – Those who will preach or work in a monastery or convent sponsored by a religious organisation in the UK. Unlike charity workers, religious workers are able to be paid for their services under this visa. This visa is valid for up to 24 months.
Youth Mobility Scheme
There is also a type of Temporary Worker Visa called the Youth Mobility Scheme. Unlike other categories, this visa does not require the applicant to obtain work in the UK. Instead, the applicant's national government acts as their sponsor for the visa.
Canada is one of the participating countries in the Youth Mobility Scheme. Applicants will need to score 50 "points" by meeting requirements based on age, nationality, and available maintenance funds in order to be eligible for this category of Temporary Worker Visa.
Eligibility
For all job categories, in order to be eligible for the Temporary Worker visa you will need to meet the following requirements:
You must have a valid job offer from a company in the UK that holds a current and valid license to employ temporary foreign workers
You must have a Certificate of Sponsorship from the company
You must meet the financial requirements of the visa. You must be able to prove that you have had a minimum of £1,270 (or equivalent in another currency) in cash funds in your bank available for at least 28 days in a row prior to application
You intend to stay in the UK for temporary work experience for twelve months or less
Your sponsoring employer can receive a visit from compliance officers at any time to ensure that both workers and companies/ sponsors are complying with the requirements of the visa.
Genuine Migrant Test
The UK Visas and Immigration office will check if you are genuine in your intentions for the Temporary Worker visa by having you take the Genuine Migrant Test. This test is a visa requirement that must be taken before you can receive your temporary worker visa.
All categories of temporary workers are subject to this requirement except for those who are under the seasonal employment visa. You may be asked to provide additional information regarding your work experience or prospective employer or be called for an interview. Factors the Visas and Immigration office will be looking at are your knowledge of the job, previous relevant work experience, and other information you provide.
Certificate of Sponsorship
The first step in the process of applying for the Temporary Worker Visa is to get a Certificate of Sponsorship from your sponsoring employer. Your employer must hold a current and valid license to sponsor temporary foreign workers to work in the UK. The Certificate of Sponsorship is not a paper certificate, it will be an electronic document that will have information about the job you will hold while on the visa in the UK.
In order to apply for a Temporary Worker Visa, you will need to have the reference number from your Certificate of Sponsorship given to you by your employer. You will have a three month time period from the time you receive your Certificate of Sponsorship to apply for the Temporary Worker Visa.
Required Documents
In order to apply for the Temporary Worker Visa, you will need to provide various supporting documentation to prove your identity and the information given on your visa application. Documentation required can vary depending on the category you are applying under, but generally, these documents include the following:
Certificate of Sponsorship and reference number (listed on the certificate)
A valid and current passport
Documents that show your job title and category, such as a job offer letter
Bank statements that show you can support yourself financially during the time of your visa. These are called maintenance funds
For the Creative and Sporting categories, you will also need to show a letter of endorsement from the governing body of the sport
Former visas or work permits
Educational qualifications if applicable, or other evidence of qualifications from your work in Canada
How To Apply
In order to apply for the work visa in the UK, you will need to complete the online application form at the UK Government website.
The application will require you to answer questions related to your identities such as name, place of birth, and address. It will also ask you about previous trips to the UK or other visas you have held.
You will need to provide information on the reason for the application for the Temporary Worker Visa as well as include supporting documentation.
Then, you will pay the visa application fee and health surcharge, unless exempt.
Finally, you will need to locate an authorised UK Visa application centre and make an appointment to have your biometric information (fingerprints and photograph) taken. You will be given a sticker for your passport and receive your Biometric Residence Permit once you arrive in the UK.
If any additional documentation is requested from you following the submission of your application it is crucial that you respond within the timeline given to avoid causing a delay in the processing of your application. If you have any information that needs to be investigated further such as a criminal conviction, you will typically be notified if your application will take longer to process.
Application fees are generally not refundable unless you cancel your application prior to the time the UK Visas and Immigration office has begun to process it.
Once your application has been processed you will be sent an email notifying you of the decision as well as guidelines on entry requirements for the port of entry and any additional steps you need to take.
Costs and Fees
There is a visa application processing fee of £244. If your family members are applying with you they will each need to pay an additional £244.
You may incur additional costs and fees depending on your unique situation. These can include fees for expedited services and costs involved with obtaining required documentation from third parties such as translators.
How can Total Law help?
Applying for a visa to work in another country can often seem daunting. With a lot of factors to consider, including cost, Home Office communication and travel arrangements, it can often be beneficial to seek assistance from a trained immigration lawyer.
Our highly trained lawyers at Total Law have a proven track record in guiding clients through the visa application process, offering guidance and advice on how to achieve a successful application.
For further information on how Total Law can help you, call our advisors today on +1 844 290 6312.
Advice Package
Comprehensive immigration advice tailored to your circumstances and goals.
Application Package
Designed to make your visa application as smooth and stress-free as possible.

Fast Track Package
Premium application service that ensures your visa application is submitted to meet your deadline.
Appeal Package
Ensure you have the greatest chance of a successful appeal. We will represent you in any case.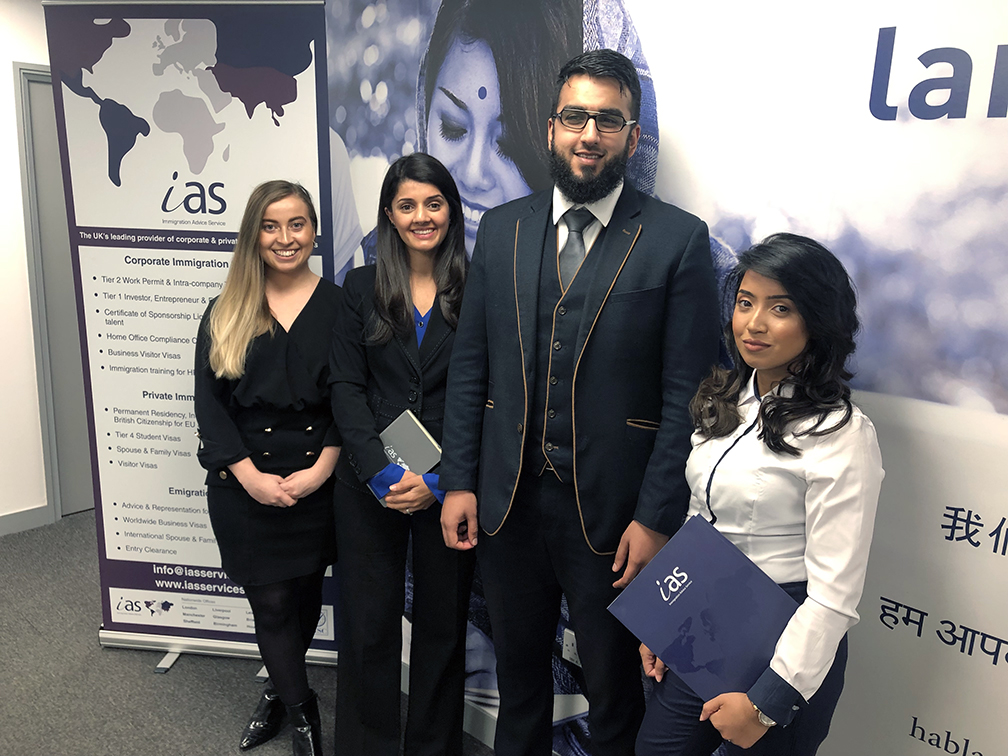 The Advice Package
During this untimed Advice Session with our professional immigration lawyers in London, you will receive our comprehensive advice, completely tailored to your needs and your situation.
Request the Advice Package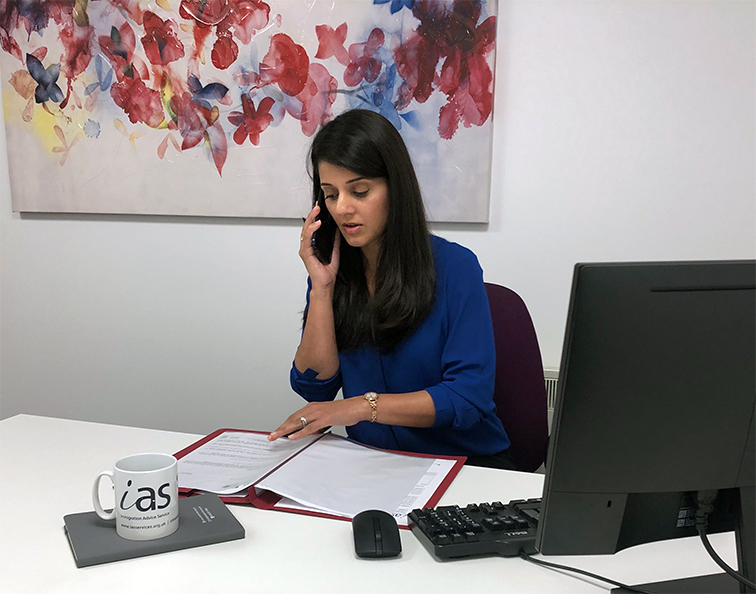 The Application Package
With our Application Package, your dedicated immigration lawyer will advise you on your application process and eligibility. Your caseworker will then complete and submit your forms to the Home Office on your behalf.
Request the Application Package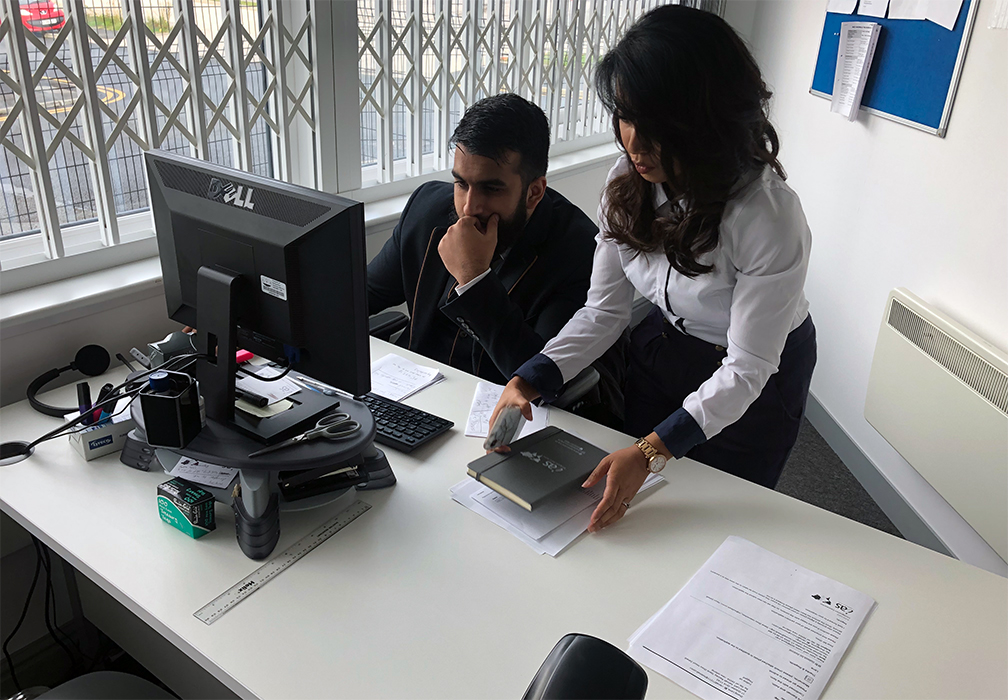 The Fast Track Package
Our Fast-Track Application Package is a premium service for those who need to submit their application in time with their deadlines. Your case will become a top priority for our lawyers and you will benefit from our highest-quality services.
Request the Fast Track Package
The Appeal Package
By choosing our Appeal Package, you can rely on our lawyers' legal knowledge and experience to ensure you have the highest chance of a successful appeal. We will also fully represent you in any hearings/tribunals.
Request the Appeal Package
Related pages for your continued reading.
Frequently Asked Questions
Yes. Your immediate family including a spouse or children under the age of 18 can apply to join you in the UK as your dependents provided they meet the eligibility requirements to do so. If you are a foreign worker planning to bring members of your family with you to the UK, you will need to pay an additional fee of  £244 for each family member applicant.
Your visa will be valid for a maximum of two years unless you applied under the category of Seasonal Worker in which case it will be valid for a maximum of six months. Foreign workers from Canada must return to Canada following the valid term of their visa.
This visa will allow the Canadian citizen entry to the UK for employment that lasts 12 months or less. If you are seeking permanent residence in the UK it is best to consult with a qualified legal team to find out if you may be eligible and to review the complete list of requirements. Permanent residents and citizens of the UK will have a number of benefits that temporary workers may not obtain.
Once you have submitted your application you will usually receive a decision on your application within three weeks. Once approved you will be permitted to travel to the port of entry where the border protection will review your visa.