Senior or Specialist Worker Visa for Canadian Citizens
If you are a foreign national who wishes to travel and do eligible work at a UK branch of their overseas employer, you may be eligible for a senior or specialist worker visa. This visa allows you to travel to the UK to work in your current employer's UK branch.
For advice and assistance with your visa application, contact Total Law today at +1 844 290 6312 or use the online contact form to get in touch.
What is a Senior or Specialist Worker Visa?
The Senior or Specialist Worker visa is a temporary work visa that falls within the global business mobility visa category. This visa allows individuals from outside the UK to travel to the UK to work for their overseas company at their UK branch, office, or subsidiary. This non-immigrant visa is intended for highly paid individuals in specialized professions and occupations, such as specialist employees and senior managers.
The UK senior or specialist worker visa was designed to replace the intra-company transfer visa or Tier 2 (Intra-company Transfer) Long-term Staff visa. If you have this visa, your main expected purpose of being in the UK is for a brief work assignment associated with your employer's international operations.
You cannot get a UK settlement or Indefinite Leave to Remain with a global mobility senior or specialist worker visa, but you can change to another type of visa.
"I'm very happy with the standard of training received on the OISC Level 1 course, i passed my exam. Thank you!"
"My application was approved and a huge weight has been lifted from our shoulders this year "
"We used this service for the spouse visa extension application to assure that all the information was valid and correct."
What are the Eligibility Criteria for a UK Senior or Specialist Worker Visa?
You must fulfil certain requirements to qualify for a senior or specialized worker visa. These eligibility requirements include:
Your job must be on the list of eligible occupations.
You must be paid at least £42,400 per year or the 'going rate for your job, depending on the higher one. However, if you have been in the UK since April 6, 2011, on Tier 2 (Intra-company Transfer) visa, you only need to be paid the going rate for your job, even if it's lower than £42,400.
You must have been given a valid Certificate of sponsorship from your employer with information on the work you are to do in the UK.
You must be an employee of a Home Office-approved sponsor.
You must have worked for your employer for the minimum time outside the UK. Senior or Specialist Workers earning less than £73,900 a year must have worked for their employer outside the UK for at least 12 months. For those earning £73,900 a year or more, there is no minimum time requirement.
What are the Criteria for a Certificate of Sponsorship (COS)?
A digital certificate of sponsorship describes the work you will be undertaking in the UK. Anyone seeking a work visa for the UK typically needs to include this letter from their employer, also referred to as the sponsor.
When applying for a senior or specialist worker visa, you must submit the reference number from the sponsorship certificate. A "sponsor" must hold a valid Sponsor Licence to provide a legitimate sponsorship certificate.
You could be eligible to use your Certificate of sponsorship for the Intra-company Transfer visa if it was issued between February 11 and April 11, 2022, provided that your stated salary is greater than £42,400 per year. Your employer must increase your pay if it is less than that before you can be eligible to travel to the UK through this route.
What are the Eligible Jobs for the Senior or Specialist Worker Visa?
Before applying for a senior or specialist worker visa, you must know the occupation code you are applying for, and this should be included in your Certificate of sponsorship. If you do not know your occupation code, you can ask your employer for your occupation code. The following jobs are listed along with their codes:
Artists (3411)
Authors, writers, and translators (3412)
Actors, entertainers, and presenters (3413)
Dancers and choreographers (3414)
Product, clothing, and related designers (3422)
Most occupations that qualify for the Intra-Company Transfer visa (ICT visa) also qualify for the Specialist Worker route because this visa was created to take its place. Certain jobs for the ICT visa are not eligible for the Senior or Specialist Worker visa.
You can extend your existing visa or apply to switch to the skilled worker visa before it expires if you are currently working in one of the occupations mentioned above in the UK through one of the other global business mobility routes, particularly the Intra-Company transfer visa.
You might need to apply for a new visa or change your current one if your job is changing. If you change to ineligible employment in the UK, you must move to a new work visa; however, if you change to an eligible job, you must apply for a visa update.
What are the Financial Requirements for the Senior or Specialist Worker Visa?
You must meet specific financial conditions to qualify for the senior or specialist worker visa. These financial requirements are as follows:
You must meet the salary requirements as stated above.
You may still meet the financial requirement if your employer decides to cover your costs during your first month in the UK, up to £1,270. A certificate of sponsorship showing your sponsor will cover your cost must prove this.
Alternatively, you must have been on another valid visa for at least 12 months in the UK.
You must have a minimum of £1,270 to financially support yourself in the UK. This amount must have been in your bank account for at least 28 consecutive days, within 31 days before you start your application. You can prove this with your bank statements or your partner's.
What is the Required Documentation for the Senior or Specialist Worker Visa?
You must provide several specific documents when applying for a Senior or Specialist Worker visa. The submission of these documents will strengthen your application and demonstrate your eligibility for UK visas and immigration. The documents are:
A valid passport or a travel document to prove your identity and nationality
Proof of your job title, job occupation code, and annual salary
Proof that you meet the financial requirements
A copy of your Certificate of sponsorship showing the name of your employer and their sponsor license number
Tuberculosis test results, if required
An ATAS certificate if your job involves researching a sensitive subject at a Ph.D. level or higher.
Evidence you worked for your employer outside the UK if you earn less than £73,900 a year.
What are the Application Processes for the UK Senior or Specialist Worker Visa?
Ensure you finish your application within three months of receiving your Certificate of sponsorship if you intend to apply for a senior or specialist worker visa. You must apply online on the official website to begin the application process. Follow these procedures to start your application.
Step 1: Apply online through the Gov.UK website to the Home Office
Step 2: Submit your biometrics (fingerprint and photograph), if required. Depending on where you are located, the Home Office will direct you on how you can submit your biometrics. However, you can do this at a visa application centre or using the 'UK Immigration: ID Check' app.
Step 3: Pay the application fee
Step 4: Submit all your supporting documents
Step 5: Fill out all the information requested on your application form, submit your application and wait for a decision.
How Much Does a Senior or Specialist Worker Visa Cost?
The duration of validity determines the Senior or Specialist Worker visa application fee. The application fee is £1,235 per person for more than three years of validity and £625 per person for three years of validity. You must also pay the immigration health surcharge, equivalent to £624 yearly.
Can my Family Members Travel and Stay with me in the UK on a Senior or Specialist Worker Visa?
You can travel with a senior or specialist worker visa with your spouse and children. They will need to apply separately and provide documentation of their connections to you, such as birth or marriage certificates. Additionally, they must demonstrate their ability to support themselves in the UK. Your partner must possess £285, £315 for a child, and £200 for each subsequent child. Your Global Web Form or a Unique Application Number must be submitted by your dependents when making an application.
How Can Total Law Help?
Total Law is a company authorized and regulated by the Solicitors Regulation Authority. We have excellent immigration lawyers who are vastly experienced in dealing with UK senior or specialist worker visas and provide advice and support to make your application process smooth.
Our immigration lawyers will help you determine that you meet the eligibility criteria for a UK senior or specialist worker visa and will advise you detailedly on which supporting documentation you should have. In addition, years of experience with this process have made us aware of the common mistakes that applicant make that causes application refusal. Therefore, we will help you avoid these errors to ensure that your application is consistent and readily accepted.
If you've had a previous refusal, Total Law can help you file an appeal or walk you through the re-application process to ensure you get accepted. So contact us today at +1 844 290 6312 to start your journey towards a successful UK visa application.
Advice Package
Comprehensive immigration advice tailored to your circumstances and goals.
Application Package
Designed to make your visa application as smooth and stress-free as possible.

Fast Track Package
Premium application service that ensures your visa application is submitted to meet your deadline.
Appeal Package
Ensure you have the greatest chance of a successful appeal. We will represent you in any case.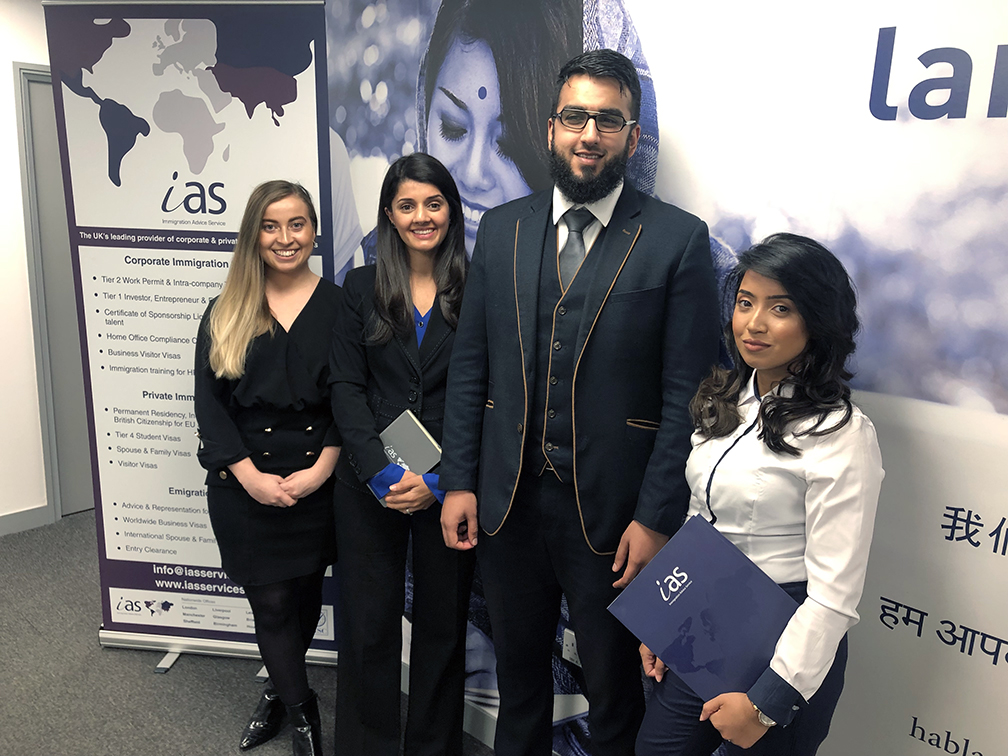 The Advice Package
During this untimed Advice Session with our professional immigration lawyers in London, you will receive our comprehensive advice, completely tailored to your needs and your situation.
Request the Advice Package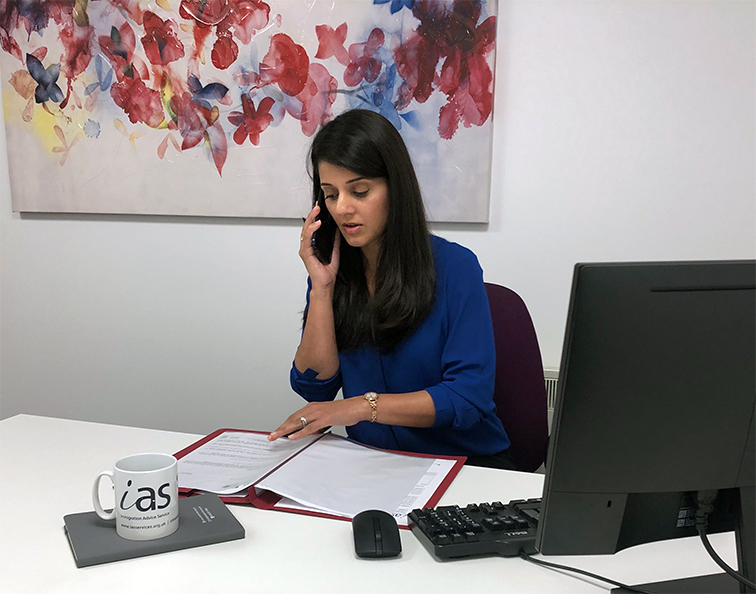 The Application Package
With our Application Package, your dedicated immigration lawyer will advise you on your application process and eligibility. Your caseworker will then complete and submit your forms to the Home Office on your behalf.
Request the Application Package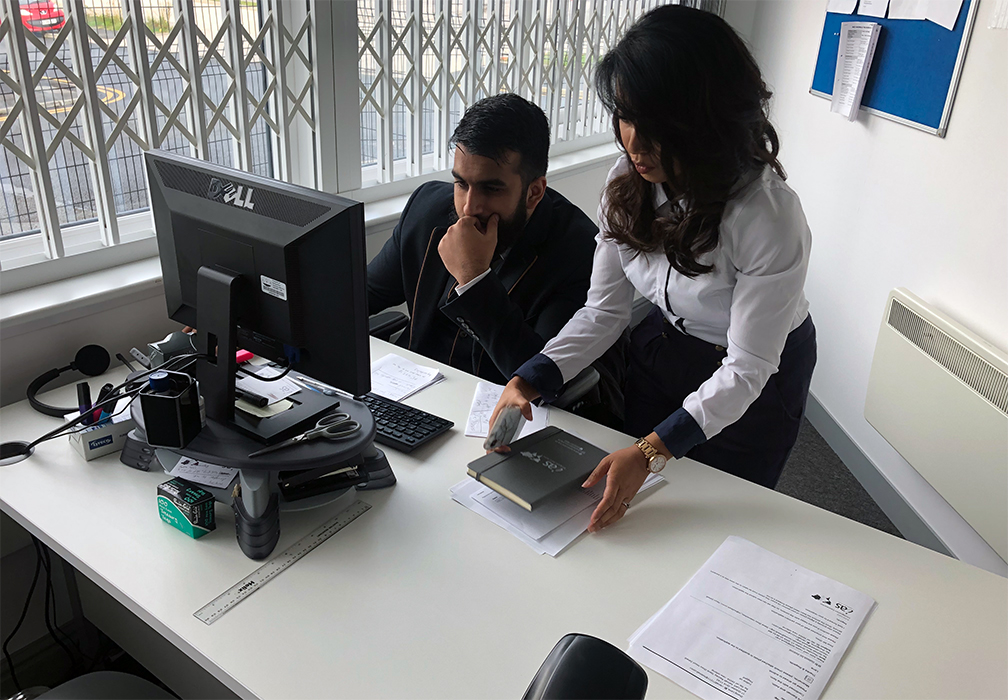 The Fast Track Package
Our Fast-Track Application Package is a premium service for those who need to submit their application in time with their deadlines. Your case will become a top priority for our lawyers and you will benefit from our highest-quality services.
Request the Fast Track Package
The Appeal Package
By choosing our Appeal Package, you can rely on our lawyers' legal knowledge and experience to ensure you have the highest chance of a successful appeal. We will also fully represent you in any hearings/tribunals.
Request the Appeal Package
Related pages for your continued reading.
Frequently Asked Questions
You must submit an application to update your visa to change jobs or accept a new position. You require a new certificate of sponsorship, and the job you are switching to must be on the list of qualified positions. Senior or specialist worker visa holders may take up another job as long as their weekly work hours don't exceed 20.
Within three weeks after submitting your application, you should be getting a response from the UK visas and immigration. There are several reasons why this can take longer, which include the following:
If your application is complex and you need to attend an interview.
If you do not prove your identity on time.
If you do not submit all your supporting documents.
If there are many applications for the home office.
If you have had a criminal conviction in the past.
If your documents need to be verified.
However, some visa application centres allow senior or specialist worker visa applicants to pay for faster processing, depending on their individual circumstances.