UK Business Visas for Canadians
The UK is a top destination for Canadian entrepreneurs looking to start a new business and we can aid you through the process.
Contact Total Law's immigration lawyers at +1 844 290 6312 if you wish to find out more about the UK visa application process, or if you seek immediate assistance with UK immigration law.
UK Business Visas for Canadian Citizens
If you are a Canadian citizen and need to apply for a UK Business Visa, it is possible to do so from within Canada. You will need to provide proof of your identity and evidence that you have enough funds available to support yourself while visiting the UK.
If you are traveling on business with an international company and staying in the UK for less than six months, you may be eligible for an entry clearance visa (ECV). The Home Office does not issue ECVs unless there are no alternative means of travel available via another country's embassy or consulate-general.
Another alternative to travel to the UK for business purposes on a temporary and short-term basis is to apply for a Business Visitor Visa. This standard visitor visa will allow entry to the UK for up to 6 months. While in the UK, Business Visitor Visa holders may participate in certain business activities, participate in tourist and leisure activities, and visit friends and family.
"I'm very happy with the standard of training received on the OISC Level 1 course, i passed my exam. Thank you!"
"My application was approved and a huge weight has been lifted from our shoulders this year "
"We used this service for the spouse visa extension application to assure that all the information was valid and correct."
UK Innovator Visa
The UK Innovator Visa aims to attract experienced business people looking to start a new business in the United Kingdom. It requires the endorsement of the UK endorsing body, which will assess the applicant's business plan and recommend whether or not it should be considered for this visa.
The applicant must provide documentary evidence that their plans are credible, including a viable funding plan for the proposed business venture.
There are no maintenance funds required for this visa, and holders may switch between this and other types of UK visas if necessary (for example, if they want to switch from working as an employee of a company to being self-employed).
In addition, there is no restriction on switching between different types of Innovator Visas within five years. However, this can only take place once every five years at most, as each type has its own requirements (e.g., you cannot switch from an entrepreneur route to Business Creation).
The holder may also be employed with another company while working under their Innovator Visa but they must be working as an employee in either a director or consultant role. They cannot work full-time in any other capacity at another company unless they have applied for an Entrepreneur Visa.
Global Talent Visa
The Global Talent Visa replaced the Tier 1 Exceptional Talent visa in 2020. This Visa is intended for exceptionally talented individuals in academics and research, arts and culture, and digital technology.
The government aims to attract and retain the best global talent from all disciplines by offering this new visa route as an alternative to the Tier 1 Exceptional Talent route.
Under this the Global Talent Visa, visa holders are allowed to work in the UK for a period of up to 5 years with the need of a sponsor or job offer. The main difference is that applicants must show that they have been endorsed by an "endorsing body" in their field before applying for a visa under this scheme.
You can find the endorsing bodies listed on GOV.UK and consist of employers, educational institutions, and others recognized as having the expertise and authority to recommend someone for endorsement under these policies.
Global Business Mobility Visa
The new Global Business Mobility Visa is designed to further help overseas businesses to come to the UK for the purposes of establishing or expanding the company's business presence in the UK. There are several sub-categories under this visa which include:
Senior or Specialist Worker Visa (This visa replaced the Intra-Company Transfer Visa)
Graduate Trainee Visa (for foreign nationals coming to the UK to take part in a training program)
UK Expansion Worker Visa ( for foreign nationals coming to the UK to establish a UK presence)
Service Supplier Visa (for foreign workers coming to the UK to work in line with UK trade agreements)
Secondment Worker Visa (for foreign workers to come to the UK to work for UK firms in high-value contracts or investments)
Each subcategory has its own eligibility criteria and application process.
UK Investor Visa
The UK Investor visa is for high-net-worth individuals who want to invest £2 million in the United Kingdom. To qualify, you must invest the necessary amount in investment funds into gilts and bonds, UK companies, capital, or shares in active and trading companies registered in the United Kingdom.
You can also do this via investment partnerships with other investors, such as venture capitalists.
You will likely need to have a significant amount of money available to support yourself while you are in the UK. The minimum required is £150,000 per annum (or £50,000 if you are applying for leave outside London).
UK Start-up Visa Application
To apply for a Start-up Visa, you must:
Be endorsed by an authorized body. This can be either a university in the United Kingdom or another business based in the United Kingdom.
Meet other requirements such as having enough money to support yourself and your family during your stay. You will also need to provide proof that you have significant investment potential such as a scalable business idea vetted by an approved industry body.
Meet the English language requirement. If you don't speak English, you must take an approved test before applying (for example, IELTS or TOEFL)
Not have applied for this visa within three months after your last application or left the UK.
The requirements for a UK Business Visa for Canadians
You will need to have a valid Canadian passport and no criminal record in Canada or any other country. If you are applying from outside Canada, your passport must be valid for at least six months from application submission. You may also need to provide proof of a minimum of three months' maintenance funds (money you can use while living in the United Kingdom).
According to UK immigration rules, UK businesses must not have sponsored or employed an illegal immigrant within 12 months of their application date. The same applies if you were previously removed from the UK under immigration laws within 12 months before applying for this visa type.
If you want to stay in the United Kingdom for more than six months and work here, your employer must obtain sponsorship from the Home Office before applying. Sponsorship means proving that an employer is willing to take responsibility for their employees' welfare in Britain (i.e., making sure they do not overstay their welcome).
Defining permitted activities for UK Business Visas
If you plan to apply for a UK business visa, it is important to understand the permitted activities for each type of UK business visa. The rules that govern your visit will depend on the type of visa you are granted and whether you are coming to the UK as an individual or a representative of an organization.
The UK business visa enables you to undertake a wide range of activities in the United Kingdom, but you must meet certain conditions. The following activities are acceptable for business visitors:
Meeting with clients
Attending conferences
Negotiating contracts
Training employees (if training is part of your core business)
Taking part in trade fairs or exhibitions (if your core business involves selling goods or services)
Delivering goods (provided that you're not just delivering samples)
Delivering services (technical support services, IT support, accounting, and financial management services).
Applying for a UK Business Visa from Canada
Applying for a UK business visa from Canada is not very different from that of the rest of the world. The first step is to fill out an online application form and pay the visa fees. You can do this by visiting the UK Visas & Immigration website.
You'll need to complete an online form and provide supporting documents such as copies of your passport, proof of funds, and other relevant information.
The application form includes fields for your contact information and details about the reason for your visit (e.g., attending a conference). You can also indicate whether or not you'll be staying in the United Kingdom after your business trip ends.
Advice Package
Comprehensive immigration advice tailored to your circumstances and goals.
Application Package
Designed to make your visa application as smooth and stress-free as possible.

Fast Track Package
Premium application service that ensures your visa application is submitted to meet your deadline.
Appeal Package
Ensure you have the greatest chance of a successful appeal. We will represent you in any case.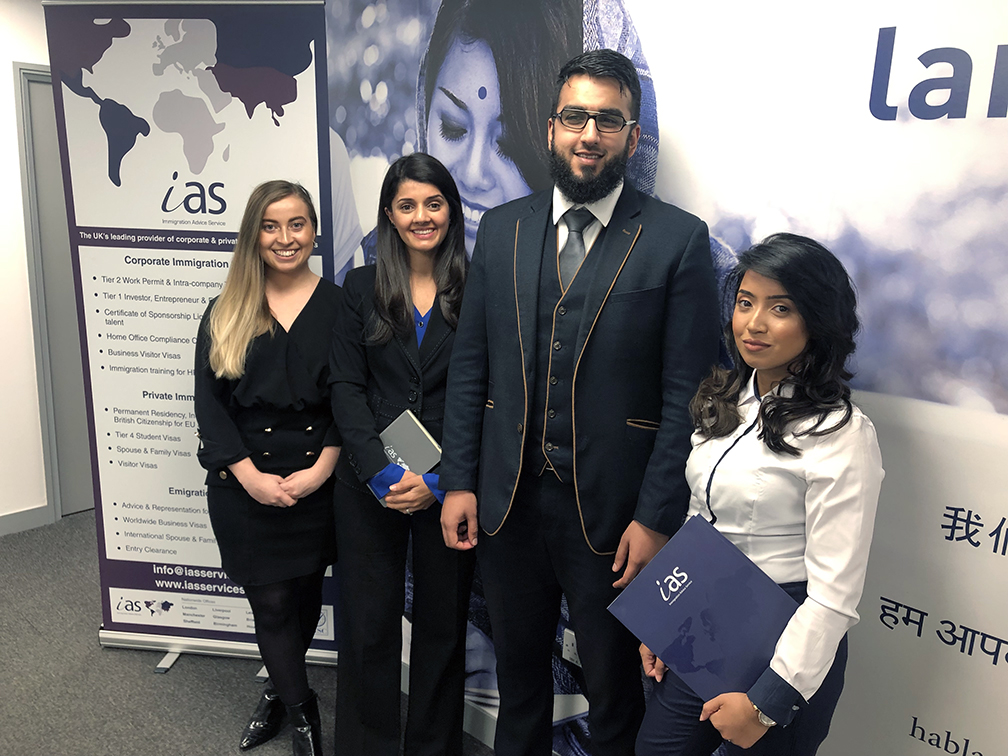 The Advice Package
During this untimed Advice Session with our professional immigration lawyers in London, you will receive our comprehensive advice, completely tailored to your needs and your situation.
Request the Advice Package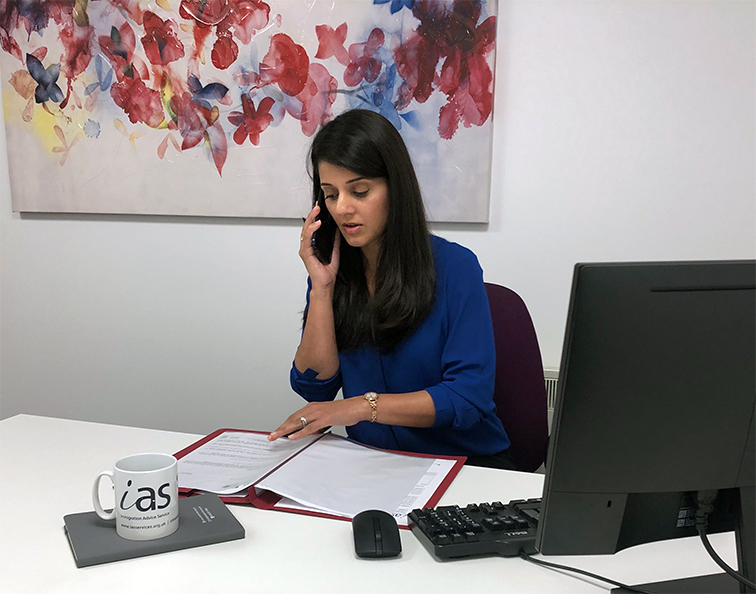 The Application Package
With our Application Package, your dedicated immigration lawyer will advise you on your application process and eligibility. Your caseworker will then complete and submit your forms to the Home Office on your behalf.
Request the Application Package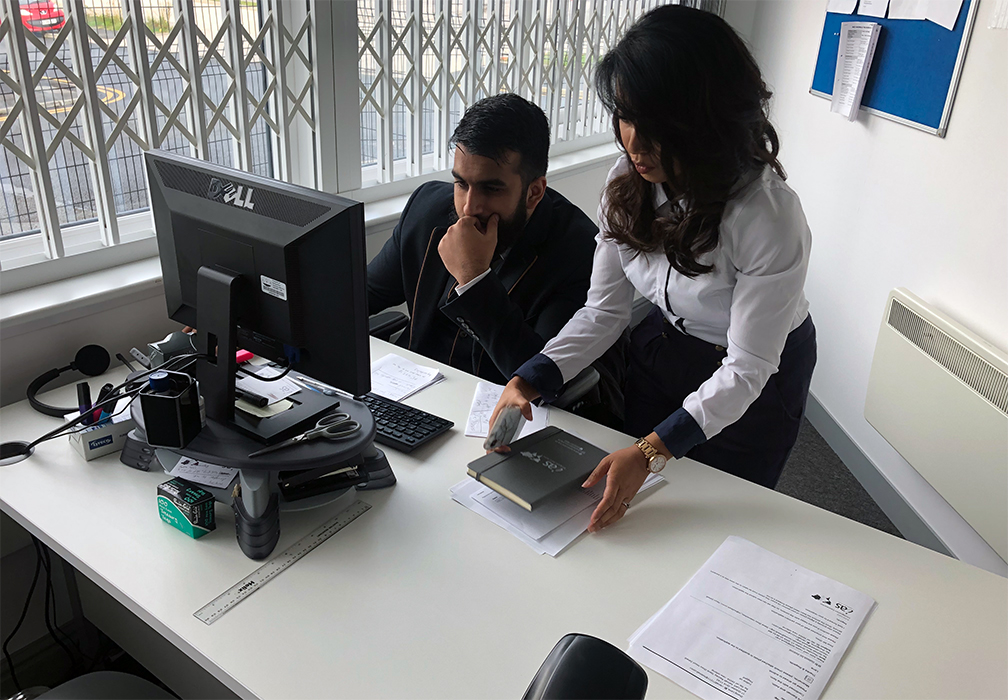 The Fast Track Package
Our Fast-Track Application Package is a premium service for those who need to submit their application in time with their deadlines. Your case will become a top priority for our lawyers and you will benefit from our highest-quality services.
Request the Fast Track Package
The Appeal Package
By choosing our Appeal Package, you can rely on our lawyers' legal knowledge and experience to ensure you have the highest chance of a successful appeal. We will also fully represent you in any hearings/tribunals.
Request the Appeal Package
Related pages for your continued reading.
Frequently Asked Questions
Yes, you can get a business visa if you are a Canadian citizen and have enough funds to start your business in the UK. However, you must apply for the right type of visa as per your needs.
There are different types of business visas depending on the amount of capital required by the applicant. The minimum investment required for each type of visa is as mentioned below:
Innovator visa: £50,000 or equivalent in money or assets.
Investor Visa: £200,000 or equivalent in money or assets but not below £50,000.
Investor Visa: £2 million or equivalent in money or assets but not below £1 million.
Yes, you are eligible to work in the United Kingdom as a Canadian citizen if you have sufficient funds to keep yourself afloat for the first two years after arrival. You must also have adequate knowledge of the English language that will enable you to operate efficiently at your place of work.
If you are a Canadian citizen, you may need one of these visas if you wish to visit the UK for business. UK business visas are available for Canadian citizens. The above mentioned are the various types of UK business visas that allow Canadians to do different things while in the country temporarily.