Sponsor Licence Application from Canada
A sponsor licence allows companies to issue certificates of sponsorship to foreign workers.
If you are planning to work abroad under a company with a sponsor license and would like further immigration advice and support, contact Total Law for assistance with your visa application. Speak to one of our expert immigration advisers today. Call +1 844 290 6312 or use the online contact form to get in touch.
What is a Sponsor Licence?
The sponsor license is what your UK employers will need to hold in order to employ you as a Canadian citizen. A sponsor license allows UK companies to hire skilled workers from overseas to work either regularly or temporarily under various categories.
The license shows they are allowed to sponsor you as an employee under a specific job title. You will then be able to apply for a Skilled Worker or Temporary Worker visa in order to work in the UK without permanent resident status. Once your employer applies for their sponsor license and issues you a Certificate of Sponsorship, you will be able to complete your visa application.
The category of sponsor license your employer will need to apply for depends on the type of job the organisation is hiring for.
"I'm very happy with the standard of training received on the OISC Level 1 course, i passed my exam. Thank you!"
"My application was approved and a huge weight has been lifted from our shoulders this year "
"We used this service for the spouse visa extension application to assure that all the information was valid and correct."
Sponsor Licence Eligibility Requirements
To be eligible for the sponsor license, the UK employer must:
Prove that they do not have any criminal convictions for immigration offences, fraud, or other crimes
Prove that they do not have a history of failing to carry out sponsorship duties from a previously held Sponsor Licence
The UK employer will be required to provide detailed information on their organisation in order to apply online. For this reason, the sponsor licence application can seem complex to navigate without assistance.
The employer can choose to complete a sponsor licence application to sponsor either regular workers or temporary workers, depending on the nature of work and job title the employee/visa applicant will be applying under.
The UK Home Office can then require the employer to provide evidence that the employment of a foreign worker is necessary for the company due to a lack of local workers who were willing or capable to perform the job in question.
Once the employer's sponsor license application is accepted, a certificate of sponsorship is assigned to each regular or temporary foreign worker and you can then proceed to fill out the visa application form for your visa. 
What Type of Sponsor Licence Is Appropriate?
There are several types of sponsor license for visa applicants.
Temporary Worker Sponsor Licences
The Temporary Worker visa is reserved for skilled workers who will be taking on temporary employment in the UK. The Temporary Worker visa has the following subcategories of professional occupations which you can apply online following your job offer, with varying time lengths:
International agreement worker (work which is covered by international law) – the visa is valid for up to two years
Creative Worker – the visa is valid for up to two years for eligible creative workers
International Sportsperson – the visa is valid for up to one year for sportspersons
Religious worker – the visa is valid for up to two years
Charity worker – the visa is valid for up to one year
 Skilled Worker Sponsor Licences
The Skilled Worker visa category is reserved for longer-term skilled workers. These workers will have the right to work for a time period of three to five years.
Costs and Fees For A Sponsor Licence Application
The costs and fees associated with a sponsor license application can depend on several variables including the size of the company applying, as well as if the company chooses to expedite the application for an additional fee.
When you apply online, processing fees can range from approximately £500 – £1,500. There is also an additional fee for the certificate of sponsorship at the time of assignment of about £199.
This certificate of sponsorship fee must be paid through financial support by the sponsoring organisation and can not be passed along to the worker.
Required Documents for a Sponsor Licence Application
Sponsors must hold a number of documents on their candidates. All the documents may be kept in paper or electronic format.
The document checklist will vary based on the nature of the work and the job offer in question. For example, for a foreign national worker filling out a sponsorship application on the basis of a sportsperson visa, they will need to include a document with an endorsement from a governing authority within the sport as well as all of the documents and information submitted in order to obtain the endorsement, such as a valid passport.
All supporting documents must be kept by the sponsoring organisation for a period of one year after the sponsorship has ended.
Sponsor license documentation must be provided within five business days of submitting the online application. All supporting documents should be in their original form. However, certified copies may be accepted in some cases. It is advisable to check the document checklist prior to beginning your application process to ensure you have adequate time to gather the necessary materials.
Although the required document checklist will vary depending upon the nature of the job offer in question, they will generally include:
A copy of each sponsored worker's current Canadian passport and other identifying information such as birth certificate or other evidence of your Canadian citizenship
Evidence of the worker's date of entry into the UK
A copy of the worker's biometric residence permit
A copy of the worker's National Insurance number, unless they are exempt
A history of the worker's contact details including address and phone number
Former visas and visitor record
Criminal record if applicable
Evidence that you plan to return to your Canadian permanent residence prior to the end of the valid status of your visa
The Three Sponsorship Management Roles
The sponsoring business will need to appoint specific people to manage the sponsorship process during the application process for the sponsor license. All sponsor license operations will be conducted through a sponsorship management system (or SMS) online account. There are three main roles that need to be filled. These are:
Key Contact
The Key Contact will be the main point of contact with the UK Visas and Immigration office to ensure that each applicant maintains valid status.
Authorising Officer
The Authorising Officer will be a senior or executive member of the company. They will be responsible for the staff and other representatives.
Level One User
The Level One User will be responsible for the day to day management of the sponsor license.
All three roles may be carried out by one appointed person. In addition, although at least one level one user must be an employee of the sponsoring business, other levels one and level two users may be employed from third-party companies. Each person who works within the sponsor license operation will need to undergo certain background checks including checks regarding criminal record.
Sponsor Licence Ratings and Importance
Once the company's sponsor license is approved, the business will receive a license with an A rating and be listed in the official register of sponsors.
If the company does not meet all of the required duties as a sponsor license holder, their license could be downgraded to a B rating. At this time the company will be provided with a plan of action by the UK Visas and Immigration Office with guidelines on how to upgrade the license to an A rating. There is a fee of approximately £1,500.
Until the license has been upgraded back to the A rating the company will not be able to issue new certificates of sponsorship.
Responsibilities of a Sponsor
Responsibilities that the sponsoring company must fulfil during the time of employment of foreign workers include:
Ensuring that the foreign workers hold the necessary skills and qualifications for the job title and duties in question
Maintaining all documentation of foreign workers throughout the sponsorship and for one year following the end of the sponsorship in the online account
Assigning Certificates of Sponsorship to foreign workers for suitable jobs
Communicating with the UKVI regarding the compliance of the foreign workers with the conditions and terms of their respective visas.
Reasons Why A Company's Sponsor Licence Application May Be Rejected
 It can be a frustrating experience to have a sponsor license application rejected. The most common reasons why an application form might be rejected include the following reasons:
Inaccurate or misleading documents
Incomplete application form, such as withholding a criminal record
The company has had a previous sponsor license revoked
The company has failed to furnish additional requested information within the given time limit
It is advisable to ensure that the visa applicants online form is completed as thoroughly and accurately as possible the first time around because the application fees are non-refundable and can become quite costly. In addition, there may be a waiting period after which the company must wait before re-applying. This waiting period will depend on the reason that the application form was rejected. Commonly, the waiting period will be around six months.
While an administrative review may be requested in the event of a rejected application, you do not have the right to appeal the decision. The best way to prevent your application form from being rejected is to work with a qualified legal team to save time and money and put together the most comprehensive application package possible.
How Can Total Law Help?
Obtaining a sponsor licence is an essential part of any business' plans when hiring workers from abroad.
If you're a Canadian citizen looking to come over to the UK to work, either as a short-term or a long-term worker, it's important to know that you and your employer are adhering to all of the legal requirements that will allow you to do so.
Total Law can help with this. We offer comprehensive, expert immigration advice for people looking to travel to the UK for work, study, family, or for any other reason.
Whether you need assistance with your work visa application, need help in ensuring that your UK-based employer is fully compliant, or have any other query about UK employment or immigration law, we can help.
For more information about the services we offer, and what we could do for you, reach out to us on +1 844 290 6312 or use the online contact form to get in touch.
Advice Package
Comprehensive immigration advice tailored to your circumstances and goals.
Application Package
Designed to make your visa application as smooth and stress-free as possible.

Fast Track Package
Premium application service that ensures your visa application is submitted to meet your deadline.
Appeal Package
Ensure you have the greatest chance of a successful appeal. We will represent you in any case.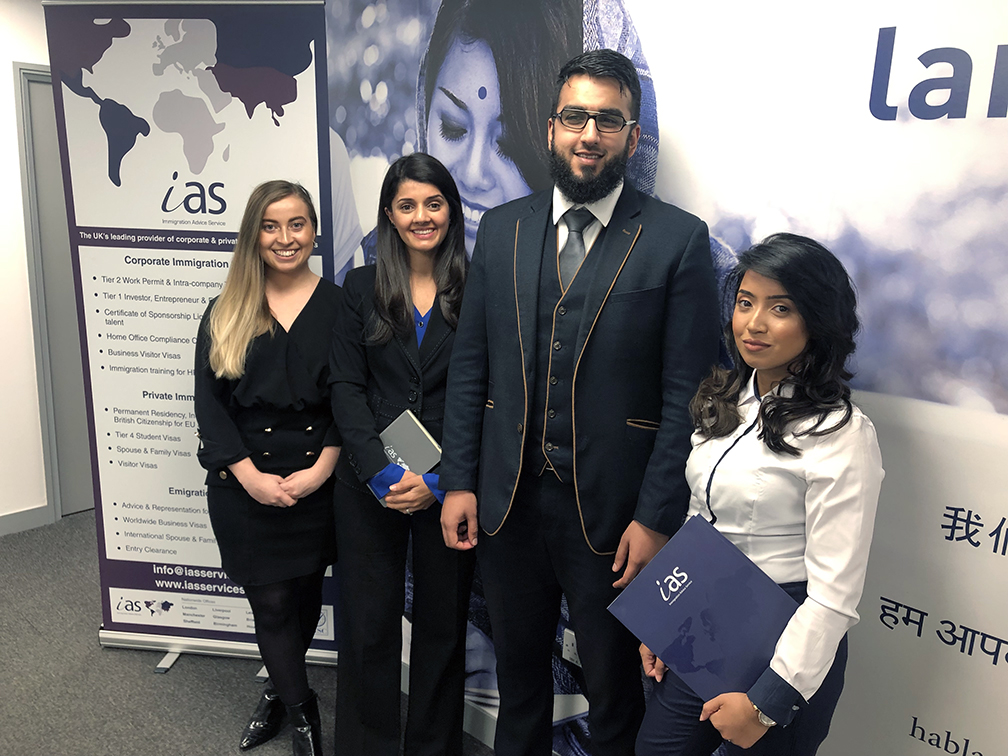 The Advice Package
During this untimed Advice Session with our professional immigration lawyers in London, you will receive our comprehensive advice, completely tailored to your needs and your situation.
Request the Advice Package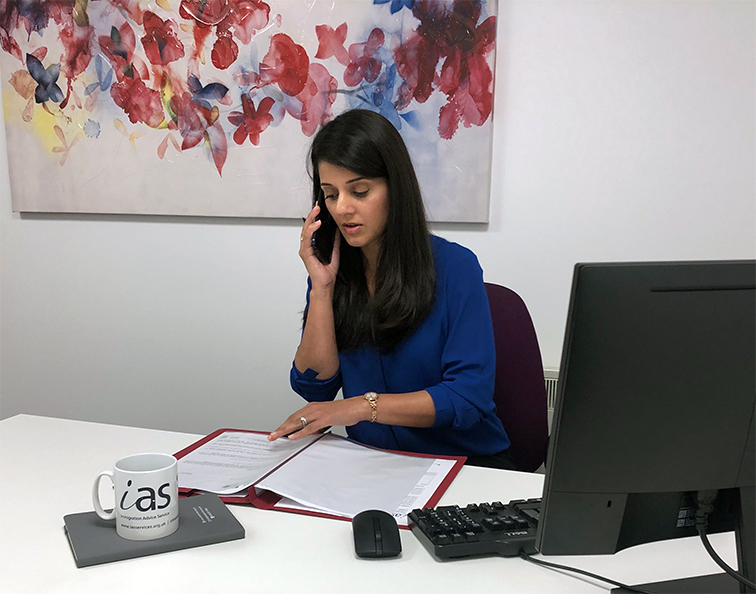 The Application Package
With our Application Package, your dedicated immigration lawyer will advise you on your application process and eligibility. Your caseworker will then complete and submit your forms to the Home Office on your behalf.
Request the Application Package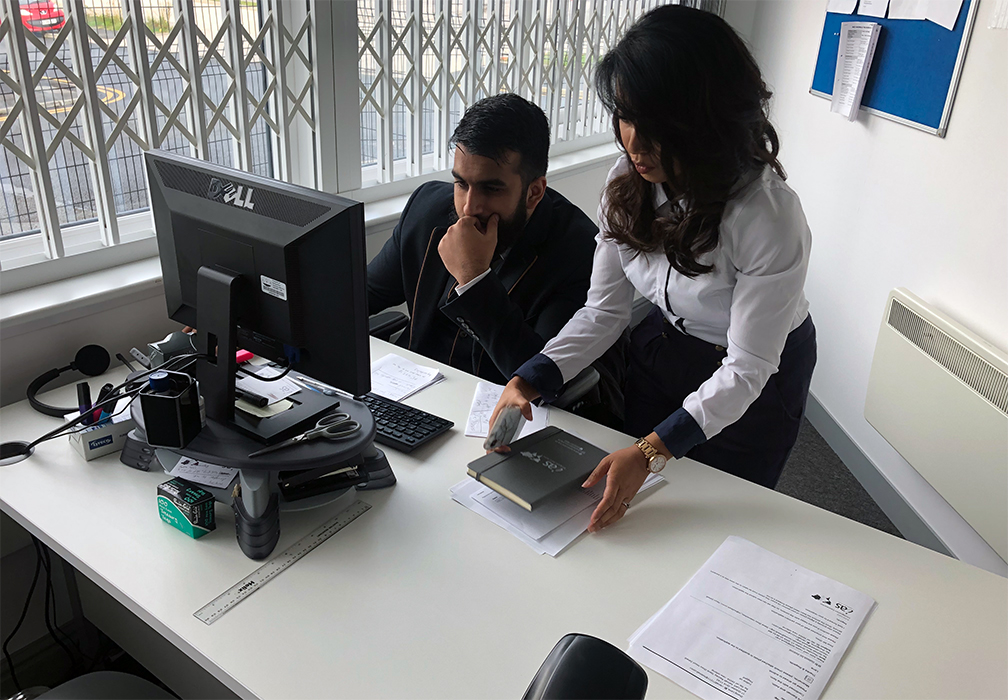 The Fast Track Package
Our Fast-Track Application Package is a premium service for those who need to submit their application in time with their deadlines. Your case will become a top priority for our lawyers and you will benefit from our highest-quality services.
Request the Fast Track Package
The Appeal Package
By choosing our Appeal Package, you can rely on our lawyers' legal knowledge and experience to ensure you have the highest chance of a successful appeal. We will also fully represent you in any hearings/tribunals.
Request the Appeal Package
Related pages for your continued reading.
Frequently Asked Questions
A Sponsor Licence lasts for 4 years and it is possible to extend the license if the sponsor meets the eligibility requirements. After four years, the sponsor must renew their license if they wish to continue employing non-UK workers.
Sponsors can access all the information relating to the sponsor license in the sponsorship management system online account.
The sponsor license can be renewed after four years if the sponsoring company meets the eligibility requirements and pays the appropriate fees.
If you are on a visitor visa, you will have to go through the application process again including supplying any additional required documents and apply online while your current visa is under valid status if you will be physically present in the UK during the waiting time. You will need to maintain a valid certificate of sponsorship.
The sponsor license must be renewed prior to expiration or the immigration status of the foreign employees will be compromised. The UK may take action including removal order against any individual employees who do not maintain a valid status and the employee will be required to return to their Canadian permanent residence.
An appropriate person in the business must consistently monitor the sponsorship management system for sponsor license requirements, document checklist, and necessary actions to ensure each visitor visa holder maintains valid status.
The Canadian citizen who will be applying for a work visa connected to the company's sponsor license may wish to have their spouse or common law partner join them in the UK.
Any family members of the employee including dependent children will need to apply for their own visa under the category that best fits their situation, such as a visitor visa for family members.
The spouse or partner as well as any children will need to supply all supporting documents on the document checklist for their own visa including visitor record and financial records that show they will not be relying on social assistance, and will be returning to their Canadian permanent residence at the end of the valid visa term.
An employee who has a work permit under a visa connected to a sponsor license may wish to hold permanent resident status in the UK.
Permanent residents are afforded a number of benefits as compared to temporary visa holders.
The Canadian citizen who wishes to become a permanent resident will need to apply for the appropriate visa prior to the end of their valid visa status.
The sponsor license itself will not afford employees of the company permanent resident status. If the employee is not approved for a new visa or permanent residency in the UK, they will need to return to their Canadian permanent residence.