Can DACA recipients get a green card?
If you have been involved in the Deferred Action for Childhood Arrivals (DACA) program you could qualify for a green card and the right to permanently live and work in the US.
Working with a specialist immigration lawyer can help maximize your chances of a successful application. Call Total Law on +1 844 290 6312 for a confidential discussion about how we can help you and your loved ones settle in the United States.
The DACA program
The DACA program was created in 2012 under U.S President Barack Obama and is designed to protect those who came to the US when they were children but do not have any legal immigration status. DACA recipients are often referred to as "Dreamers" – this name comes from the DREAM act which aimed to extend rights to similar individuals in 2001 but failed to become US law.
This temporary immigration status obtained via DACA is granted for two years and can be renewed. However, it does not currently allow a direct route to legal entry or permanent resident status.
Eligibility for DACA
To gain DACA, applicants must meet the following requirements:
Entered the United States before their 16th birthday
Lived in the U.S. continuously since June 15, 2007
Been under the age of 31 on June 15, 2012 (This means that they were born on or after June 16, 1981)
Be without lawful immigration status
Completed high school, obtained their GED, been honorably discharged from the military, or currently enrolled in school
Have a clean criminal history and not be considered a threat to national security or public safety
Applying for DACA
If you meet the criteria for DACA and do not have a immigration legal status then you will need to complete and submit the following immigration forms and supporting documents:
Form I-821D (Consideration of Deferred Action for Childhood Arrivals)
Form I-765 (Application for Employment Authorization Document)
Form I-765 Worksheet
Proof of identity – such as a passport, birth certificate with photo ID, school or military ID or any other government-issued photo ID
Proof you came to the U.S. before your 16th birthday – supporting paper can include passport stamp, valid visa, school records, any immigration documents stating your date of entry, travel records, hospital or medical records, employment records, mortgage, or rental agreement contracts
Proof of immigration status – this can a Form I-94/I-95/I-94W with an expiration date of authorized stay, any final order of deportation, exclusion, or removal issued as of June 15th, 2012
Proof of presence in the U.S. on June 15th, 2012 – this may be in the form of school records, military records etc
Proof of continuous residence since June 15th, 2007 – accepted documents include household records, school records, lease or mortgage agreements
Proof of your student status (if applicable)
Proof of an honorable discharge from the Coast Guard or Armed Forces (if applicable)
Once you have completed the immigration forms, you will need to arrange a biometrics appointment at a local US Citizenship and Immigration Services (USCIS) national visa center.
It is possible to track the progress of your case online via the account details provided by USCIS.
Can DACA recipients get a green card through employer sponsorship?
Some DACA recipients may be eligible for an employer-sponsored green card if they are regarded as highly-skilled. In order to apply for a suitable visa the DACA recipients must be granted a PERM labor certification from the Department of Labor before the employer is able to file an employment sponsorship petition.
There is a wide variety of employment-based visas available in the US and it can be an overwhelming and lengthy process. If you may qualify for one of the visas then you may want to consult an experienced immigration attorney who can help support your application and provided support. Some employment-based work visas that offer permanent resident status are:
O-1 Visa (Individuals with Extraordinary Ability Green Card)
EB1 Visa (Extraordinary Ability Green Card)
EB1-2 Visa (Outstanding Researcher / Professor Green card)
US – EB2 Visa (Second Preference Employment-based Visa)
EB3 Visa (Worker's Green Card)
Are DACA recipients eligible for family-based green cards?
It is possible for DACA recipients who are the immediate relative of a green card holder or a U.S citizen to sponsored for a family-based green card. To go from DACA to green card they must qualify under one or more of the following:
married to a U.S. citizen or a green card holder
the child or step-child of a U.S. citizen
the parent of a U.S. citizen who is at least 21 years old
the sibling of a U.S. citizen
Applying for a green card via the family-based route is more straightforward if the DACA recipient entered the US via lawful entry with a valid visa or part of a visa waiver program. If a DACA recipient originally entered the country lawfully and subsequently overstayed their visa which in resulted in them being undocumented immigrants, then the person can be considered as satisfying the lawful entry requirement as long as they have stayed continuously in the UK.
Can DACA status be renewed?
It is important if you wish to move from DACA to green card you must ensure you have a current DACA registration. Assuming you have not broken the term agreements, you can renew your DACA status by submit the following:
Form I-821D (Consideration of Deferred Action for Childhood Arrivals)
Form I-765 (Application for Employment Authorization Document)
Form I-765 Worksheet
You will also need to pay the correct renewal fee (currently $495) and you must renew within 120-150 days of your current DACA expires or you application may be denied.
All of our lawyers are fully accredited with the appropriate legal bodies and you may be confident that the information we provide is fully accurate.
No matter how complex your case is, we can provide a tailored plan to help you achieve your goals. We work tirelessly on your behalf, attempting all legal options to assist you in immigrating to the U.S. with your loved ones and do our best to ensure that your petition is approved.
We recognize that immigration and visa applications are major decisions in a person's life and that they can impact many lives.
That is why we provide the highest care and attention to all of our clients and ensure that they are given all their legal options so that they may make an informed decision about their future and the future of their families.
Your dedicated immigration lawyer will work with you throughout the entire process, communicating with you regularly to answer your questions and advise on the next steps.
At the beginning of the process, you can expect us to give you clear and accurate information about how much the process will cost and an anticipated timeline.
If you have any questions at any stage, our friendly and professional client care teams can work directly with you so that you feel confident in the process.
Call us on +1 844 290 6312 for a confidential discussion about how we can assist you with your immigration case. We look forward to assisting you over the phone or by online call.
You may be interested in reading about.
Advice Package
Comprehensive immigration advice tailored to your circumstances and goals.
Application Package
Designed to make your visa application as smooth and stress-free as possible.

Fast Track Package
Premium application service that ensures your visa application is submitted to meet your deadline.
Appeal Package
Ensure you have the greatest chance of a successful appeal. We will represent you in any case.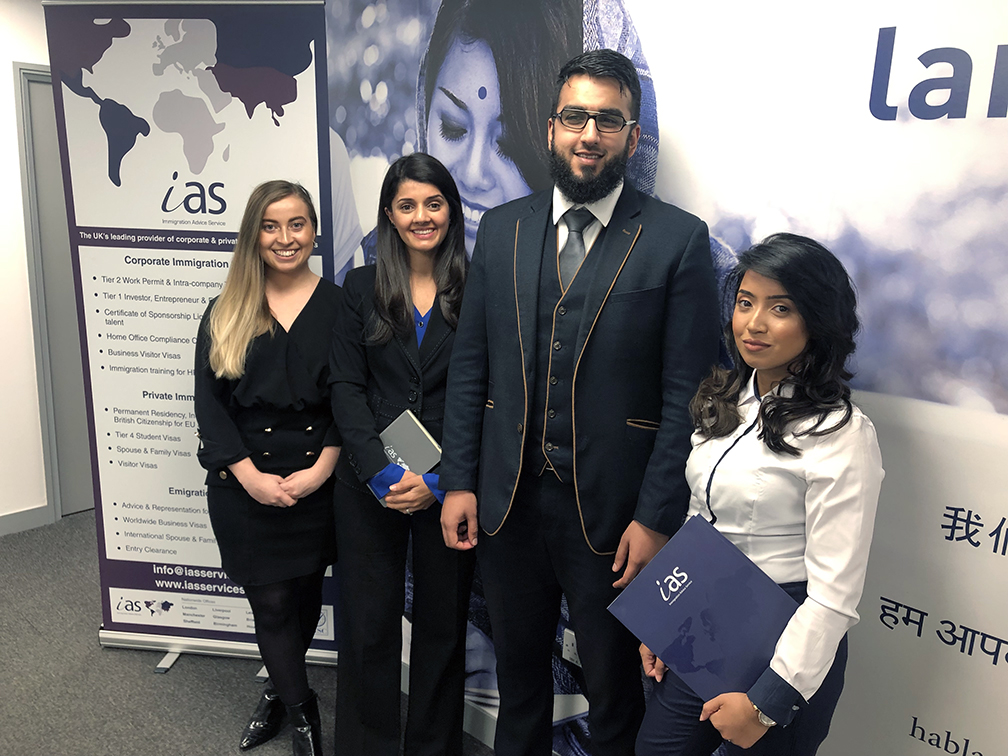 The Advice Package
During this untimed Advice Session with our professional immigration lawyers in London, you will receive our comprehensive advice, completely tailored to your needs and your situation.
Request the Advice Package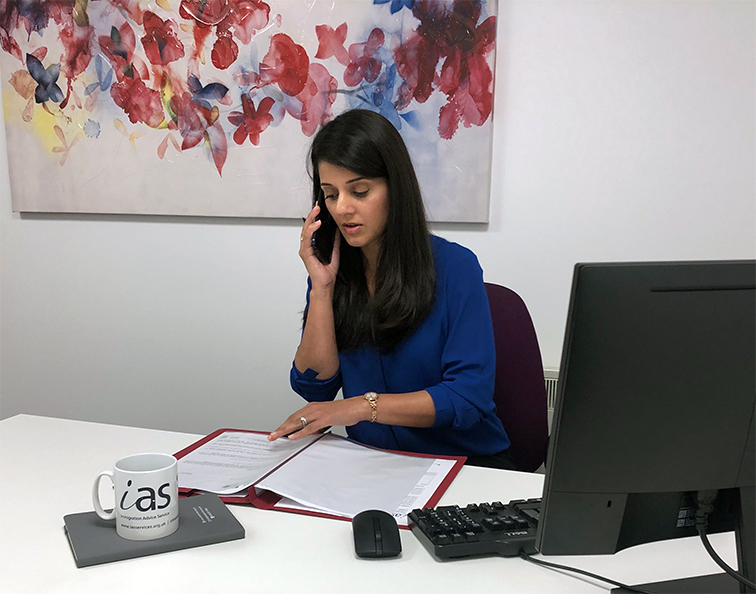 The Application Package
With our Application Package, your dedicated immigration lawyer will advise you on your application process and eligibility. Your caseworker will then complete and submit your forms to the Home Office on your behalf.
Request the Application Package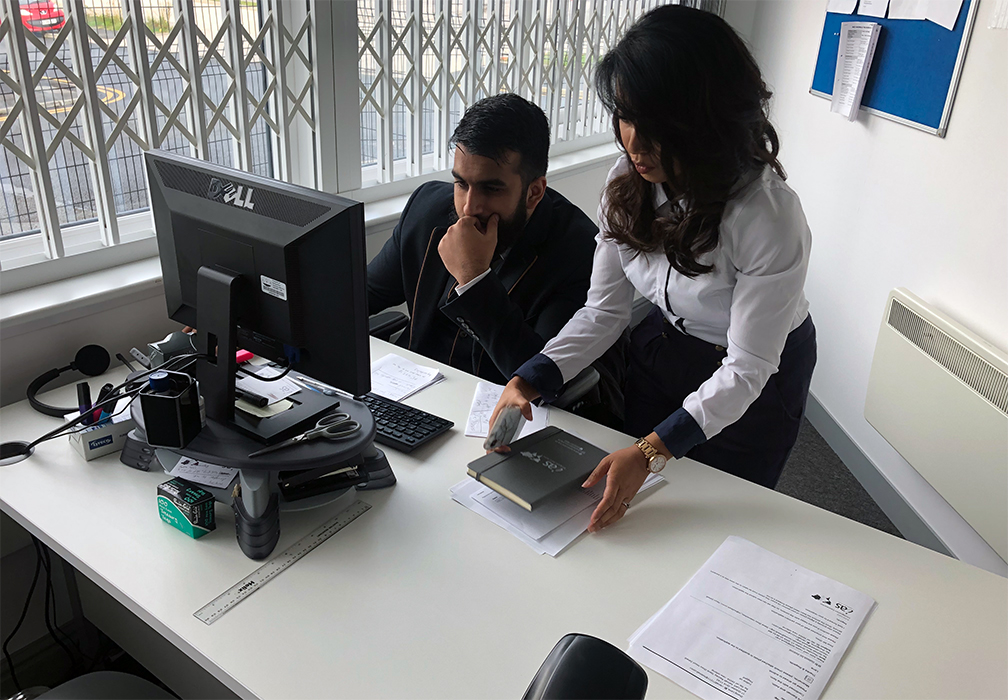 The Fast Track Package
Our Fast-Track Application Package is a premium service for those who need to submit their application in time with their deadlines. Your case will become a top priority for our lawyers and you will benefit from our highest-quality services.
Request the Fast Track Package
The Appeal Package
By choosing our Appeal Package, you can rely on our lawyers' legal knowledge and experience to ensure you have the highest chance of a successful appeal. We will also fully represent you in any hearings/tribunals.
Request the Appeal Package