What is an I-130 form and how to complete one
The Form I-130 is also referred to as the Petition for Alien Relative or the I-130 petition and is completed by a U.S citizen or lawful permanent resident who has an eligible relative who wishes to relocate to the United States.
Working with a specialist immigration lawyer can help maximize your chances of a successful application. Call Total Law on +1 844 290 6312 for a confidential discussion about how we can help you and your loved ones settle in the United States.
Who is eligible under form I 130?
Only certain relatives are able to claim a qualifying relationship via the Form I-130 and you should seek advice before completing the petition for alien relative otherwise you could risk delays or unnecessary costs.
The form can only be completed by those with United States citizenship or a Green Card holder and they can only act as a petitioner for spouses, children, parents and siblings.
Other relatives, such as grandparents, cousins, grandchildren are not covered by the Petition for Alien Relative and Citizen and Immigration Services will reject any such applications.
How to file Form I-130
There are two ways to file a Form I-130 – you can file online at the USCIS website or by post. If you opt to file the petition online, you need to sign up for a U.S. Citizenship and Immigration Services (USCIS) account. Using the internet to file the application means you can receive alerts about your application, upload supporting documents and check the current progress. You can submit the I-130 form online if your relative is already in the U.S. and is ready to submit their Form I-485 – Application to Register Permanent Residence or Adjust Status.
What documents need to be submitted to Citizenship and Immigration Services?
When completing the USCIS form you are required to submit a range of supporting documents so that a decision about whether yare eligible.
When making the application, both the applicant and sponsor must provide a number of supporting documents. These are to establish eligibility, as well as allowing the USCIS to determine the relationship between the applicant and the sponsor is real.
The following supporting documents are typically required when filing a Form I-130:
Proof the sponsor is a U.S citizen or a Green Card holder
Proof that the relationship between the applicant and sponsor genuinely exists and is a valid family relationship
Proof that the relationship is not fraudulent and is a valid relationship
Proof of nationality for the person who wishes to live and register permanent residence in the US
The kind of required supporting documents that will need to be sent can include items such as a birth certificate, marriage certificate etc. You should include original copies of the paperwork when you file form I 130. You should also try to ensure you provide translated copies when you submit supporting documents if they are not in English.
Processing times of the I130 form
The time taken for the USCIS service center to process your Petition for Alien Relative can vary significantly but on average it takes between seven and 15 months for a decision on permanent residence status to be made. Obviously, if your case is complicated then you may want to see advice from a immigration law firm before submitting your I-130 petition to avoid any additional delays or costs.
It is not possible to speed up processing of I-130 petitions but the USCIS will consider premium processing of requests if there is a urgent humanitarian issue.
Costs associated with the I130 form
When you apply you will need to pay the government filing fee. The cost of submitting Form I 130 is currently $535 and the filing fee can be paid using a cheque or credit card via Form G-1450. The application will not be processed until the filing fee is paid.
When not to complete the I-130 form
The I-130 form is not suitable for all relatives and there are restrictions on who is eligible. In the following cases, the I-130 is not the correct route and you should seek legal advice on how to proceed an application for permanent residence in the US.
If you are only a green card holder because of a prior marriage to a U.S citizen. However, you can apply via the I-130 route for your spouse if you are a naturalized citizen or have had a green card for at least 5 years
If you married your partner when they were involved in immigration court proceedings, including removal from the US.
An adopted child or adoptive parent – if the adoption occurred after the child became 16 years old
A stepparent or stepchild – if the marriage which caused the relationship occurred after the child became 18
A biological parent – if you became a U.S. citizen or obtained a green card through adoption
Any grandparent, grandchild, uncle, aunt, cousin, niece, nephew, or parent-in-law
All of our lawyers are fully accredited with the appropriate legal bodies and you may be confident that the information we provide is fully accurate.
No matter how complex your case is, we can provide a tailored plan to help you achieve your goals. We work tirelessly on your behalf, attempting all legal options to assist you in immigrating to the U.S. with your loved ones and do our best to ensure that your petition is approved.
We recognize that immigration and visa applications are major decisions in a person's life and that they can impact many lives.
That is why we provide the highest care and attention to all of our clients and ensure that they are given all their legal options so that they may make an informed decision about their future and the future of their families.
Your dedicated immigration lawyer will work with you throughout the entire process, communicating with you regularly to answer your questions and advise on the next steps.
At the beginning of the process, you can expect us to give you clear and accurate information about how much the process will cost and an anticipated timeline.
If you have any questions at any stage, our friendly and professional client care teams can work directly with you so that you feel confident in the process.
Call us on +1 844 290 6312 for a confidential discussion about how we can assist you with your immigration case. We look forward to assisting you over the phone or by online call.
You may be interested in reading about.
Advice Package
Comprehensive immigration advice tailored to your circumstances and goals.
Application Package
Designed to make your visa application as smooth and stress-free as possible.

Fast Track Package
Premium application service that ensures your visa application is submitted to meet your deadline.
Appeal Package
Ensure you have the greatest chance of a successful appeal. We will represent you in any case.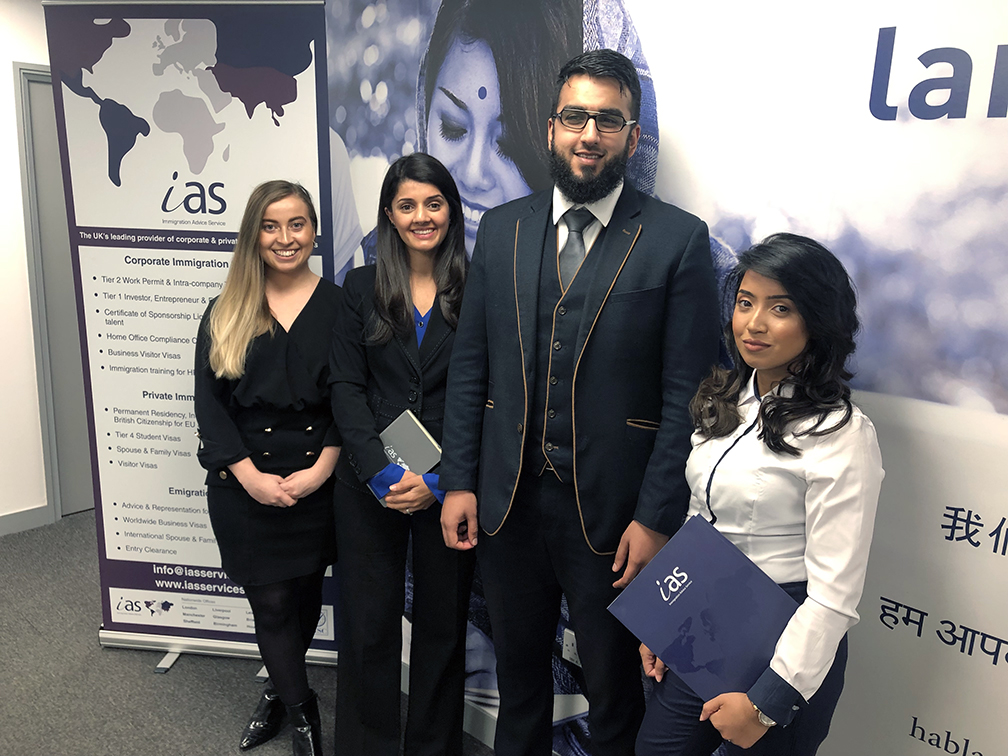 The Advice Package
During this untimed Advice Session with our professional immigration lawyers in London, you will receive our comprehensive advice, completely tailored to your needs and your situation.
Request the Advice Package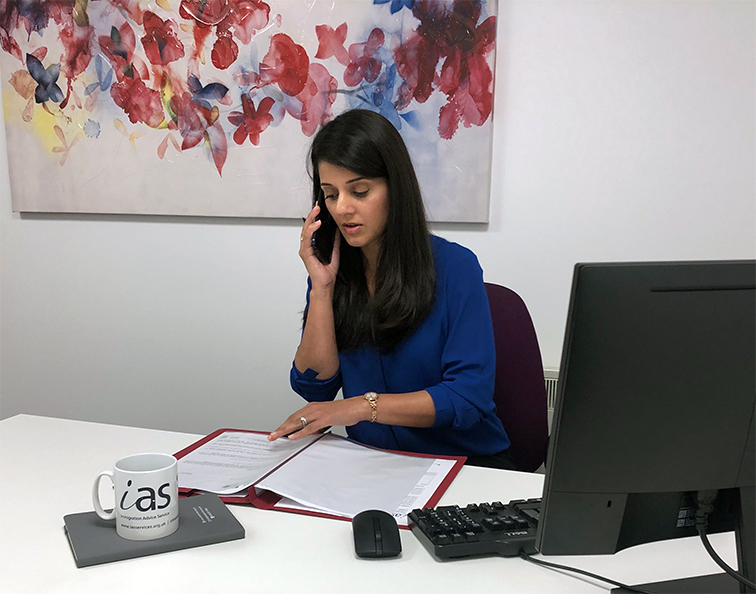 The Application Package
With our Application Package, your dedicated immigration lawyer will advise you on your application process and eligibility. Your caseworker will then complete and submit your forms to the Home Office on your behalf.
Request the Application Package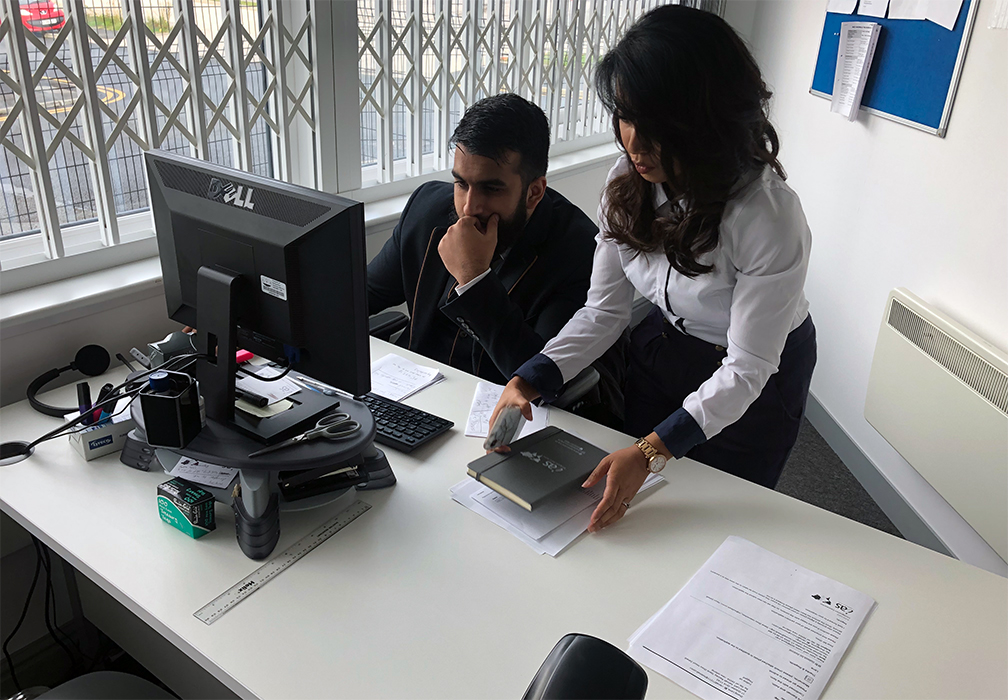 The Fast Track Package
Our Fast-Track Application Package is a premium service for those who need to submit their application in time with their deadlines. Your case will become a top priority for our lawyers and you will benefit from our highest-quality services.
Request the Fast Track Package
The Appeal Package
By choosing our Appeal Package, you can rely on our lawyers' legal knowledge and experience to ensure you have the highest chance of a successful appeal. We will also fully represent you in any hearings/tribunals.
Request the Appeal Package