Where Can You Travel With A Criminal Record?
There is no direct answer to where you can travel or whether or not you can travel with a criminal record. Every country is different and has its policy, bringing in a lot of variation.
At Total Law, we can help you understand the entry and exit requirements of the country you intend to visit. We can make sure you know the specific country of your choice's policies, help you choose a suitable country based on your current situation, and assist you with your applications.
Call us at +1 844 290 6312  or chat with us online to see how Total Law can provide support.
Overview of Where You Can Travel with a Criminal Record
No country is the same; a minor misdemeanor can be considered a felony in another country, subjecting you to entry denial.
However, it can be difficult for people with a recent conviction for a serious crime, a record of repeated convictions or felonies, or convictions for violent or sexual crimes to travel to any country.
Some countries' laws can even prevent citizens from leaving if they have serious criminal histories. Canadians who have been convicted of a criminal offense in the past but have proven their good conduct can travel to any country by obtaining a Record Suspension.
It is important to note that time is an essential factor in deciding whether your criminal record affects your travel with restrictions often based around when the offence was committed.
"I'm very happy with the standard of training received on the OISC Level 1 course, i passed my exam. Thank you!"
"My application was approved and a huge weight has been lifted from our shoulders this year "
"We used this service for the spouse visa extension application to assure that all the information was valid and correct."
What is a Criminal Record?
The Canadian criminal record is the history of criminal convictions of an individual listed in the Canadian Police Information Centre (CPIC). Police forces can access CPIC information across Canada to know individual's criminal histories.
Convicts or felons who have not either received a pardon or a discharge will have criminal records in CPIC. If, however, convicts can complete their sentence and demonstrate that they are law-abiding citizens, they will have their criminal records removed from the criminal registry.
What this means is that it will be easier to obtain a passport or travel visa since your name will not appear in police records if a background check is conducted by the officials in the country you are travelling to.
Travelling with a Criminal Record
Chances are, you may be restricted from entering another country if you have been convicted of any crimes in the past. While most countries may ban people who have served time in prison from entering, they will not inquire as to whether you have a criminal record. You will, however, be scrutinized if you plan to:
Obtain a work visa for their country
Visit their country for more than 6 months
Immigrate to their country
Usually, travelling to another country for long-term visits will necessitate you providing a translated statement from your country's criminal record system. You should note that before you proceed with your travel process, it is advisable to check the entry requirements of the destination country to which you are travelling to determine if your record will prevent you from entering.
Travelling with a Canadian Criminal Record
A passport is your gateway out of the country, and not having one means you cannot leave the country legally or through official exit points like airports or border crossings. Canadian law does not restrict former convicts or felons from obtaining a passport.
It is only when the terms of your release or judgment restrict you from leaving the country that you may not be able to obtain a passport. Here's the thing; having a passport does not guarantee your entry privileges into another country. It also does not help you overcome grounds for inadmissibility.
A Waiver of Inadmissibility is required if you are inadmissible to the United States and wish to travel to a country where there's a stop-over in the United States. A passport is not sufficient to link your criminal record unless it was previously linked by the immigration authorities to a criminal record.
It is important to note that convictions for petty crimes or misdemeanours will not result in travel restrictions. The following are things convicts should take into consideration:
Travelling outside Canada is only possible after you have completed your sentence, including parole and probation
Over 185 countries offer visa-free travel for Canadians for up to 90 days
Record suspension removes criminal records from the police database (CPIC) and customs background checks
There's a requirement to fill out Form I-192 to enter the United States, or a waiver from the country of destination
Most countries run a background check before issuing a visa
The Right Time to Travel with a Criminal Record
Overview
Below are the most suitable times to start your travel process as a Canadian citizen with a criminal record:
Completion of the sentence
Obtaining Record Suspension
Completion of the sentence
The first thing to consider as a Canadian with a criminal record before travelling is the completion of your sentence in Canada. If you have completed your sentence, you can apply for a passport and travel outside the country. However, if you are on parole or probation or there is a pending court trial, you are likely to be denied your passport application by immigration.
Alternatively, if you have completed your sentence and are concerned that your criminal history may affect where you can travel, you have the option to apply for a Record Suspension.
Usually, you can travel to most countries even with a criminal record. What you should do is ensure that you are going for a short-term visit and not a long-term visit, such as staying for 6 months or longer, applying to work, or becoming a permanent resident.
Obtaining Record Suspension
A Record Suspension (previously known as a pardon) will allow you, as a Canadian, to have your criminal record removed from the CPIC database after serving your criminal sentence and demonstrating that you are a law-abiding citizen.
You should note that Record Suspension does not erase a criminal conviction; it only removes it from CPIC. It is essential to get a Record Suspension to ensure your record has actually been removed from the CPIC database before travelling to the US.
The US and Canada share criminal databases, and if you travel to the US and the border officer accesses your criminal record from the CPIC, they may deny you entry. A subsequent Record Suspension will not remove your criminal record from the database, and your criminal history can be viewed by any US authority in the future. For you to apply for a Record Suspension, a waiting period after the last conviction is required. The waiting periods are:
Five years for summary offences
Ten years for indictable offences
Those convicted of simple cannabis possession are also eligible for Record Suspension. They will have to submit an application to the Royal Canadian Mounted Police (RCMP) Certified Criminal Record Office.
As you begin applying for your Record Suspension alone without professional assistance, you may encounter several obstacles. The application process is very complex, as there are a multitude of documents to source and file. Any error in the documentation could prolong the process or render you ineligible.
Trust Total Law with your Record Suspension application to make the process seamless while ensuring a successful application. Call one of our team members today at +1 844 290 6312, or chat with us online.
Travelling to the US with a Criminal Record
Overview
Canadians can travel to the US without a visa. However, the US Customs Service still has the discretionary power to deny entry. Having a criminal record will compel you to complete one of the following for legal entry into the US:
Apply for and be granted a United States Waiver if you cannot get a pardon or your criminal record is in the US database.
Provide evidence that you are not inadmissible. You should note that laws are complex and not always interpreted the same. Individuals are often refused admission because they do not have proof of their admissibility.
Rectify the conditions that render you inadmissible, such as your health.
A Waiver of Inadmissibility is required to gain legal entry to the US to avoid the risk of entry refusal and other risks like deportation, detention, removal, and so on.
Pardoned Criminal Record
The US does not necessarily recognize Canadian pardons, so you may still be inadmissible to enter the country after obtaining a Record Suspension. If you are interested in travelling to the US, you may have to apply for an American INS Waiver (American Immigration and Naturalization Service Waiver). Below are the people that qualify for a Pardon or Record Suspension:
Persons convicted of an offence under a federal act as adults.
Residents who were convicted in other countries and deported to Canada.
It is important to note that not all convictions make a person inadmissible to the US. So, if you want to know whether your criminal record, pardoned or otherwise, makes you inadmissible to the US, please contact one of our skilled legal professionals today.
Call us at +1 844 290 6312 or chat with us online. We are happy to help clarify any concerns you may have, and assist you in obtaining your waiver.
Grounds of Inadmissibility
The US Waiver of Inadmissibility is required to overcome your inadmissibility, and waivers can be obtained for one, two, or five years, which allows you to travel back and forth across the border for the duration of the entry waiver. You are inadmissible if you were convicted of or committed a criminal offence as an adult that involves
Prostitution and Commercialized vice
Crimes of Moral Turpitude (CIMT)
Controlled Substance
Certain aliens involved in serious criminal activity who have asserted immunity from prosecution
Conviction of two or more offences with a combined sentence of five or more years
Other grounds are:
Health Related Problems
Security and Related Violations
Document Violations
Illegal Entrants and Immigration Violators
You will be exempted from inadmissibility (crimes involving moral turpitude) if:
There is no evidence of intent to cause harm.
The offence occurred between your 15th and 18th birthday and you were not convicted as an adult for a felony/indictable crime of violence.
There is only one adult offence related to a crime of dishonesty or violence where the maximum penalty is one year and the sentence imposed was six months or less.
You should note that the Criminal Code has been amended several times over the years. Therefore, to know the maximum sentence that applies to your particular case, it is advisable to check the period during which you were convicted under the Criminal Code of Canada.
Travelling to Other Countries with a Criminal Record
As of June 2023, there are over 185 countries and territories offering visa-free travel to Canadians, including countries in the European Union (EU), South America, Asia, Africa, and the Middle East. Travelling to these countries does not require a visa; with your passport, you can enter for up to 90 days.
Staying for more than 90 days will require a waiver. It is advisable to consult a professional adviser to better understand the terms and conditions of your stay. You should know that:
To travel to the EU, you will need an ETIAS (European Travel Information and Authorization System).
Financial evidence is required showing you have enough funds to cover your stay.
Travel insurance is mandatory.
You need to show proof of accommodation during your stay in your desired country of choice.
Travelling to countries that require visas will require a check of your criminal record before entry. If your record is not suspended in the CPIC database, it will show up, prompting the authorities to deny you a visa.
Though not all countries have access to CPIC like the US, and your minor criminal activity is often overlooked, if your criminal record is found out, you could be denied entry at the border, which could leave you in an awkward situation.
Best Practices to Follow When Travelling with a Criminal Record
As every country's immigration laws change from time to time, the best thing to do before making travel arrangements is to speak to an expert immigration adviser and inquire about their requirements. Be that as it may, below are some best practices or rules you should embrace when travelling with a criminal record:
Do not lie or falsify information in a foreign country: Lying during the visa application or to foreign immigration officials may lead to your arrest and end you in a foreign prison.
Follow the correct process: If a particular country offers waivers for inadmissible individuals or convicts, you should apply for one to avoid problems with local officials.
Obtain a record suspension: A Record Suspension will allow your criminal history to be removed from the CPIC, which will no longer show up in background checks.
How Can Total Law Help?
It is without a doubt that a criminal record can cause travel difficulties. Notwithstanding, knowing the immigration policy of your destination country, how they meet your specific criminal record circumstances, and demonstrating record suspension can determine where you can travel with a criminal record.
We at Total Law can guide you on how to choose the right country to travel to that aligns with your criminal history. We can help you navigate the complex process of Record Suspension and Waiver of Inadmissibility.
We are up-to-date with country immigration laws and can give you all the information you need to support your visa or entry application. You should schedule a consultation with us today and let us handle all your immigration matters. For more information about the services we offer, call us at +1 844 290 6312 or chat with us online for a quick response.
Advice Package
Comprehensive immigration advice tailored to your circumstances and goals.
Application Package
Designed to make your visa application as smooth and stress-free as possible.

Fast Track Package
Premium application service that ensures your visa application is submitted to meet your deadline.
Appeal Package
Ensure you have the greatest chance of a successful appeal. We will represent you in any case.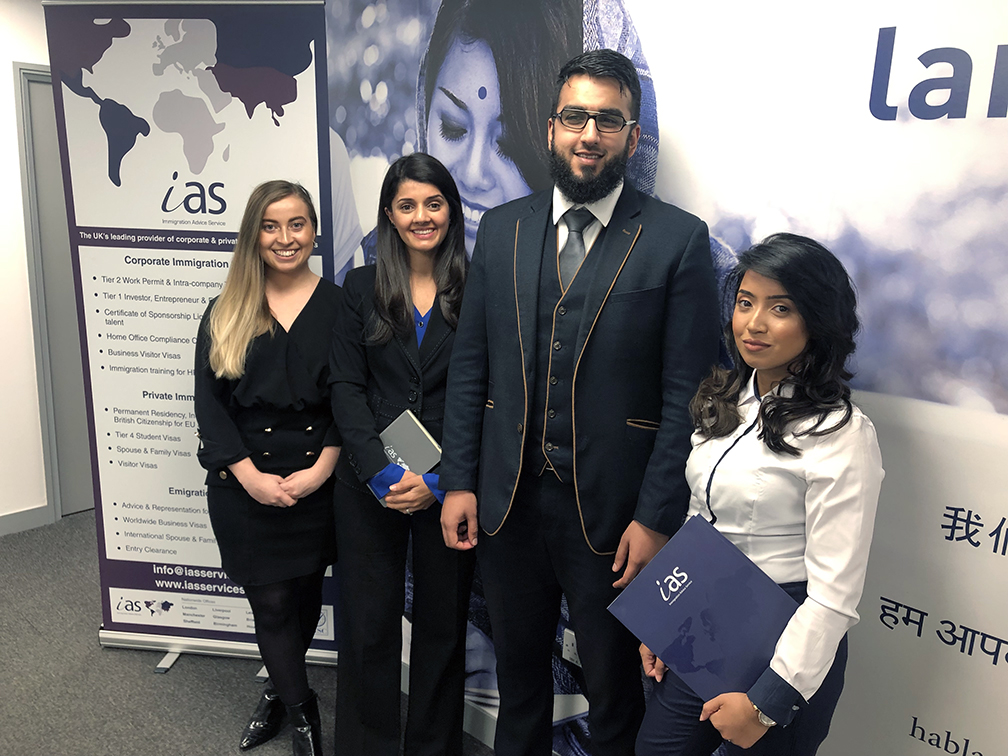 The Advice Package
During this untimed Advice Session with our professional immigration lawyers in London, you will receive our comprehensive advice, completely tailored to your needs and your situation.
Request the Advice Package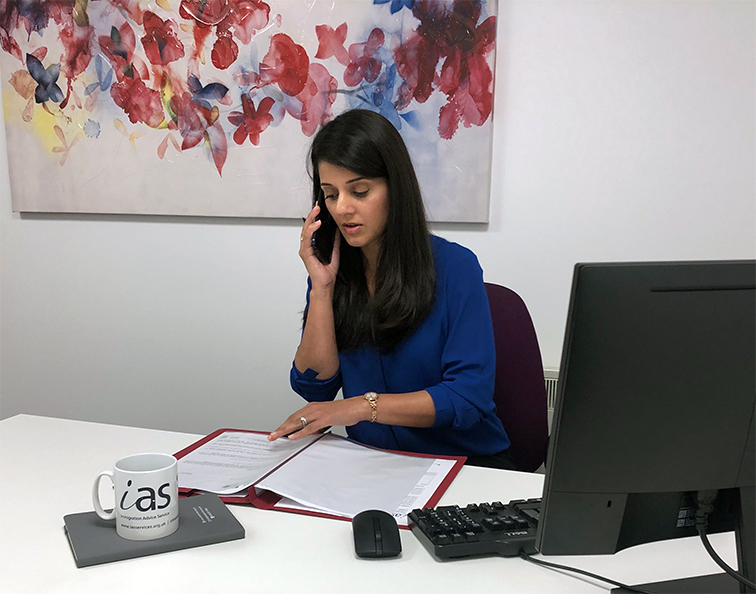 The Application Package
With our Application Package, your dedicated immigration lawyer will advise you on your application process and eligibility. Your caseworker will then complete and submit your forms to the Home Office on your behalf.
Request the Application Package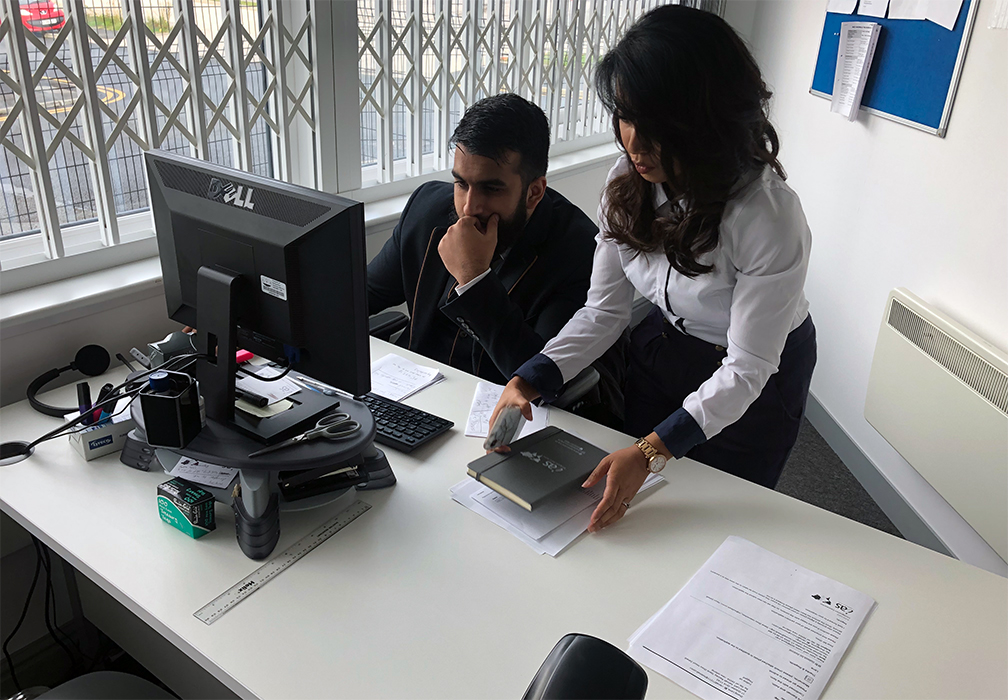 The Fast Track Package
Our Fast-Track Application Package is a premium service for those who need to submit their application in time with their deadlines. Your case will become a top priority for our lawyers and you will benefit from our highest-quality services.
Request the Fast Track Package
The Appeal Package
By choosing our Appeal Package, you can rely on our lawyers' legal knowledge and experience to ensure you have the highest chance of a successful appeal. We will also fully represent you in any hearings/tribunals.
Request the Appeal Package
Related pages for your continued reading.
Frequently Asked Questions
You can travel to almost any EU country without a visa for 90 days. However, Brexit still leaves UK entry requirements unclear.
No. Canada only shares criminal databases with the US. The US has an extensive database of Canadian criminal records, and Canada also has access to US registration databases.
Criminal convictions for which the penalty or penalties equal a total duration of 12 months or more (whether served or not) at the time of travel.