UK Work Visas for US Citizens & Residents
American citizens who would like to gain lawful employment in the United Kingdom must apply for a UK work permit. Learn more about the different types of UK work visas here.
If you have any questions regarding your UK Visa, contact one of our expert immigration lawyers to discuss any concerns you may have on +1 844 290 6312, or contact us online seven days a week via our live chat.
Who is eligible for the UK work visa?
To meet the eligibility criteria for a work visa, you must be a citizen of the United States and be living outside of the UK upon application. In addition, you must be able to meet the specific eligibility requirements necessary for your chosen work visa.
This may include having a job offer from a Home Office-approved sponsor, as well as meeting minimum financial requirements.
Some work visas may also require you to pass the points-based system assessment as per the immigration rules of the UK.
"I'm very happy with the standard of training received on the OISC Level 1 course, i passed my exam. Thank you!"
"My application was approved and a huge weight has been lifted from our shoulders this year "
"We used this service for the spouse visa extension application to assure that all the information was valid and correct."
What kind of work visas are available for U.S. citizens?
According to UK immigration laws, work visas are broken down into four specific categories and visa category:
Short-term work visas
Long-term work visas
Investor, business development, and talent visas
Other work visas
Certain individuals do not need to apply for UK visas. These are:
Diplomats
Overseas government ministers entering the UK for official business
Members of Commonwealth or Overseas Territories armed forces posted to the UK
Professionals working as a head of state
There are different visa categories, for both short and long-term stays. The right visa for the US citizen will very much depend upon the following:
Your skills and qualifications
Whether or not you have a job offer or sponsorship
The type of work you'll be doing
How long you would like to stay in the UK
Whether you want to bring your family members with you to the UK
Long-term UK visas
Skilled Worker Visa
This visa permits holders to live or stay in the UK, and work in a qualifying role with an approved employer/sponsor. The visa lasts for up to 5 years before a UK visa renewal is required. To get this visa, you have to have a confirmed, valid job offer. The role must also be in an eligible occupation, and you'll need to be paid a minimum salary specific to the type of work you'll be doing.
Health and Care Worker
This is a visa reserved for medical professionals who would like to work an eligible job with the NHS, an NHS supplier, or in adult social care. You can stay up to 5 years inside the UK before renewing. To get this visa, need a valid job offer and there's a minimum salary which will depend on the type of job you'll be doing.
Intra-company – Transfer or Graduate Trainee
These UK visas are reserved for people who are being transferred from overseas, therefore allowing you to live, stay and work at your employer's UK branch, in the UK.  Further, there is an intra-company visa reserved for recent graduate trainees who are being transferred as part of a programme for managerial or specialist roles.
Similar to the Skilled Worker visa, for an Intra-company Transfer visa, one would need to work in a qualifying role and be paid at least £41,500 and at least £23,000 for an Intra-company Graduate Trainee visa. The time frame allotted for each visa will be dependent on your salary and whether you're being transferred as a graduate trainee or not.
The Minister of Religion visa (T2)
This UK visa is reserved for people who work within the faith community, such as ministers, members of an order, missionaries, etc that hold a valid job offer. This visa grants you just over 3 months in the UK.
For these UK visas, the employer must have a 'certificate of sponsorship' (an electronic record with a unique number) that the applicants will need to use for the visa application on the application form.
All of these long-term visas, allow dependent family members (i.e. a spouse or your dependent children) to join you in the UK.
Temporary worker and short term UK work visas
Short-term work visas permit entry authorization to the UK on a temporary basis. Depending upon the visa and immigration status,  applicants are allowed between 6 months – 12 months to work in their job in the UK.
Creative and Sporting
This is a visa perfect for people working within the creative industry professionals including paid actors, dancers, musicians or elite athletes with valid work offers to come and work in the UK for up to 12 months.
Seasonal Worker
This is a temporary visa for people to come to the UK in order to do varied work on farms or drive heavy good vehicles to transport food for a period of up to 6 months. For this UK work visa, applicants need to be 18 years or over and have a valid 'Certificate of Sponsorship' from a UK sponsor.
Graduate Visa
This temporary UK work visa grants holders the chance to work in the UK for up to 2 years after completing an educational course in the UK, or up to three years for a Ph.D. or other doctoral qualification.
The completed course must be either a bachelor's degree, postgraduate degree, or another eligible course. A graduate visa must be applied for before the student visa expires. This visa has the possibility of extension/renewal and requires a 'Certificate of Sponsorship' from a licensed sponsor.
Other available UK Work Visas
Innovator visa
A work visa for people who want to work in the UK in order to establish and run an innovative business. To be eligible, the business has to be deemed unique and truly stand out from the market. The visa applicant must be 18 or older and it permits you to stay for 3 years, before the ability to renew.
UK Ancestry visa
A work visa is reserved for people who can prove they have at least one grandparent that was born in the UK. In addition, the applicant must be 17 years or older and intend to work while in the UK. Holders of this visa may stay in the UK for up to five years before they have the ability to renew.
To read the full list of all Work Visas available in the UK, click here. 
How can interested U.S. citizens apply for a UK work visa?
After determining which UK work visa fits your specific needs and circumstances, you'll be able to apply for it online via the UK government visa page, which also provides further information.
Typically, the earliest that a U.S .citizen can complete the online application form is 3 months before the job in the UK is due to start.
Depending on the visa category, each has a list of required documents needed for the application and proof of identification that applications are required to provide.
When U.S. citizens complete a UK visa application from out the UK, the waiting time for a decision for the visa is around about 3 weeks.
What are the required documents for the UK work visa?
While every visa has a different set of eligibility criteria and required documents, you can expect to submit documents such as the following:
Certificate of the sponsorship reference number (if your visa requires one)
Proof of personal savings, like bank statements, showing you can support yourself in the UK
A valid passport, with at least one blank page, or travel document that shows your identity and nationality
Old, expired passports/travel documents to show your travel history
Details of your family members, if they're coming with you
A criminal record certificate, if you're working in certain jobs
An Ecctis verification for your educational credentials, if necessary
US citizens will normally be exempt from having to prove their English language ability.
All documents need to be submitted in English or Welsh.
What are the fees for a UK work permit?
The costs for the right to work in the UK will be different depending on the visa category you are applying for, for example:
The Skilled Worker visa application costs between £610 – £1,408 per person with an additional payment towards the immigration health surcharge payment of £624 per year £1,270 per person
The Intra Company Transfer visa application costs between £610 to £1,408 with an immigration health surcharge of £624 per year and proof of saving at a minimum of £1,270 per person
Health care worker visa application is between £232 – £464 per person plus a bank statement showing savings of £1,270
There may be additional fees for biometric information and biometric testing in order to get a biometric residence permit.
How Can Total Law Help?
The variety of UK work visas on offer means that many US citizens should be able to find the right visa that works for them.
If you require any additional assistance with your UK work visa application, however, Total Law is here to help.
We are a team of expert immigration advisers fully committed to helping you move to the UK and obtain the right work visa for you. Whether you need extra advice on the application process, the eligibility criteria for your chosen work visa, or practical advice on how to make the immigration process easier, we can help.
Call us on +1 844 290 6312, or contact us online seven days a week via our live chat.
Advice Package
Comprehensive immigration advice tailored to your circumstances and goals.
Application Package
Designed to make your visa application as smooth and stress-free as possible.

Fast Track Package
Premium application service that ensures your visa application is submitted to meet your deadline.
Appeal Package
Ensure you have the greatest chance of a successful appeal. We will represent you in any case.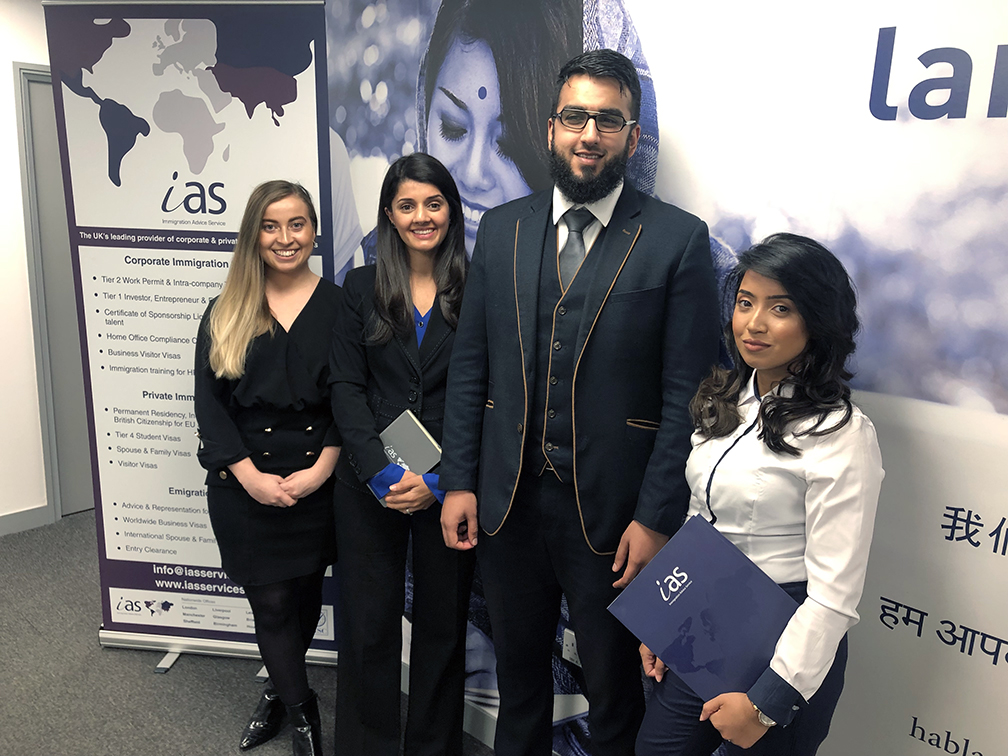 The Advice Package
During this untimed Advice Session with our professional immigration lawyers in London, you will receive our comprehensive advice, completely tailored to your needs and your situation.
Request the Advice Package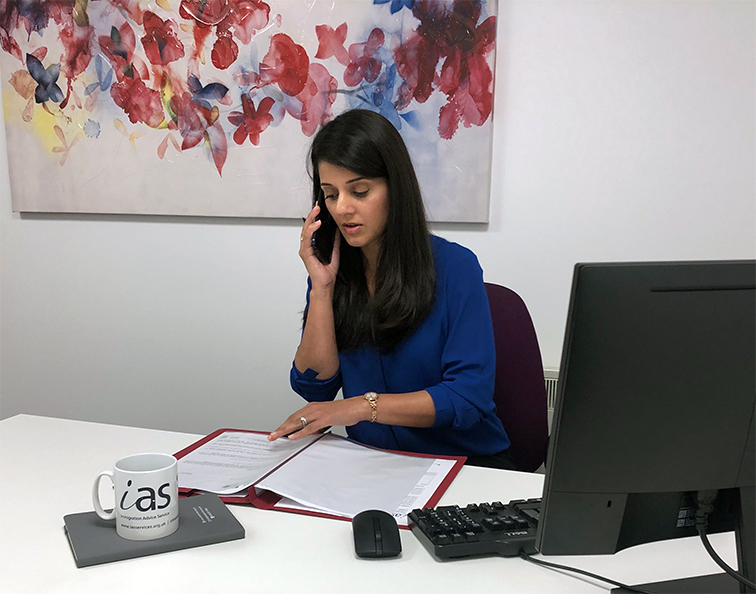 The Application Package
With our Application Package, your dedicated immigration lawyer will advise you on your application process and eligibility. Your caseworker will then complete and submit your forms to the Home Office on your behalf.
Request the Application Package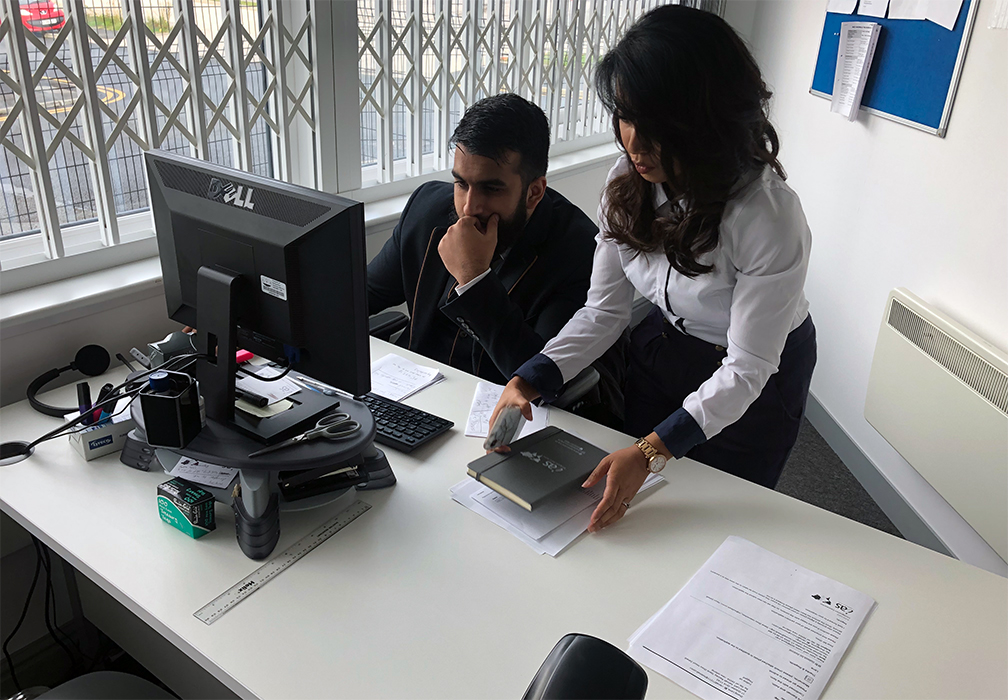 The Fast Track Package
Our Fast-Track Application Package is a premium service for those who need to submit their application in time with their deadlines. Your case will become a top priority for our lawyers and you will benefit from our highest-quality services.
Request the Fast Track Package
The Appeal Package
By choosing our Appeal Package, you can rely on our lawyers' legal knowledge and experience to ensure you have the highest chance of a successful appeal. We will also fully represent you in any hearings/tribunals.
Request the Appeal Package
Related pages for your continued reading.
Frequently Asked Questions
It is still possible to apply for a UK Work Visa if you have a criminal conviction. However, applications can be made only after 12 months from your conviction date. If you have spent time in jail, depending on the sentence, you may need to wait for up to 10 years.
Regardless of your background, you will need to provide a criminal record certificate as part of your application.
It's important to have a job offer before you apply for a UK work permit. In addition, the intended employer must have a valid sponsor licence.
When the UK work permit is approaching its expiry date, you may be able to apply for a work permit extension. Alternatively, if you've been in the UK for five years, you may be eligible to apply for Indefinite Leave to Remain. After a year of living in the UK under Indefinite Leave to Remain, you may apply for UK citizenship if you so choose.