Certificate of Sponsorship UK
To fill gaps in the UK labor market, many UK firms are looking for ways that they can hire foreign workers. These foreign workers will require visas, many of which require them to be given a certificate of sponsorship (CoS) by their employer. This document is an electronic record with a unique number, which is used in the application process for many visas.
If your firm is looking to hire foreign workers, then you can learn more about the Certificate of Sponsorship process and sponsor licenses by reading this article. If you need further help to hire foreign workers, please contact our team at +1 844 290 6312 or visit us online.
What is a Certificate of Sponsorship?
For many foreign workers, the Certificate of Sponsorship is an essential pre-requisite to getting UK visas. They will need to apply for the required visa within three months of being awarded their UK certificate.
With a valid certificate, the worker will be able to have employment in your firm for between three to five years, depending on the terms of their visa.
As a UK employer, you cannot simply hand out the electronic document to any prospective hire. Instead, you will require a sponsor license.
Everything in this process, including managing CoS, assigning CoS, and managing your sponsor license, is done through the online Sponsor Management System (SMS).
"I'm very happy with the standard of training received on the OISC Level 1 course, i passed my exam. Thank you!"
"My application was approved and a huge weight has been lifted from our shoulders this year "
"We used this service for the spouse visa extension application to assure that all the information was valid and correct."
What is a Sponsor Licence?
Overview
Due to a change in law in January 2021, all UK employers now need a Sponsor Licence to hire nearly all foreign workers, including those with EEA or Swiss citizenship. The following eligibility criteria apply for employers, meaning that they must:
Have lawful operations and trading in the UK.
Be a lasting presence in the UK.
Have the right licensing and registration with authorities in their industry.
Have the right planning permission and consent from local authorities to run your business.
Can offer proper employment, paying at the market rate.
Have the staffing to fulfill all duties of a license holder.
Depending on the size of your firm, you may want to apply for one license to apply across your firm or for individual licenses for each branch. Accordingly, you will never hold a license as an individual, with the branch or firm being the named license holder. Note that this does not apply to sole traders making their first hire.
Types of Licence
Two types of valid sponsor licenses exist, and you must make sure that you have the right license for the type of workers that you are looking to hire. Remember that you can apply for one or both of these licenses depending on your needs. The types of licenses are as follows:
"Workers" – allows you to sponsor workers for over 12 months.
"Temporary workers" – allows you to sponsor workers for less than 12 months.
Fees for a Sponsor Licence
There is a variable fee system in place which charges you based on the size of your business. Organizations defined as medium or large – turnover over £10.2 million, assets over £5.1 million, and more than 50 employees – will need to pay £1,476.
Meanwhile, small businesses defined by having less than these parameters must pay the lower fee of £536. The lower fee also applies to sole traders.
Renewing a Sponsor Licence
Your sponsor license will be valid for four years. After this, your firm will need to renew it to continue to sponsor foreign workers. Note that this process can take three months, so make sure that the application to renew the license has been submitted long before it expires.
You will need to apply for the renewal through the SMS system. In this process, you must give detailed information on the foreign workers that the business currently employs and sponsors.
You may also need to facilitate a compliance visit. In this case, an authorizing officer will visit your firm to make sure that you are abiding by the obligations of a sponsor license and that the information you have provided is accurate.
Types of Certificate of Sponsorship (CoS)
Overview
As a holder of a sponsor license, you will be able to assign two types of CoS: defined CoS and undefined CoS:
Defined CoS: for Skilled Worker visa applicants who are citizens and residents abroad.
Undefined CoS: for all other visa applicants, including Skilled Worker visa applicants applying from inside of the UK.
Your prospective hire's application process will vary depending on the type of Certificate of Sponsorship they have, as detailed in the sections below.
Application Process for Defined CoS
This process applies to workers applying for a Skilled Worker visa from outside of the UK.
You give a formal job offer to the prospective hire.
You apply for a Defined CoS from the UKVI via the Sponsorship Management System (SMS). The migrant worker will need A minimum of 70 points on the points-based system to be successful.
A UKVI panel assesses the application.
You will be charged the fee in return for the CoS number.
The Skilled Worker visa must be applied for within three months of getting the CoS number.
Undefined CoS
The Undefined Certificates of Sponsorship application process applies for all other visas regardless of whether your prospective employee applies inside or outside of the UK and Skilled Worker visa applications made outside of the UK.
You receive an annual CoS allocation from the UKVI.
You assign CoS to the prospective hire, and you are charged the fee.
The migrant worker uses their CoS to complete their visa application.
Visas that Require a Certificate of Sponsorship
The visas a migrant worker may apply for using a CoS include the following:
Skilled Worker
Intra-Company Transfer.
Global Business Mobility
Scale Up
Minister of Religion
International Sportsperson
Scale-up Worker
Creative Worker
Religious Worker
Government Authorised Exchange
International Agreement
Seasonal Worker
Role Requirements for Sponsorship
Overview
On top of the requirements you must abide by for a license, you must also make sure that the role you are offering fits the requirements of the visa that your prospective employee will be applying for.
On top of the requirements for each visa application, you will also need to make sure that the role pays minimum wage or the standard market rate.
The section below details the key requirements for the most common visa types that require a CoS:
Skilled Worker
The Skilled Worker Visa requires the role to be formally listed as an "eligible skilled occupation." These roles are of "level 3" skill level in the Regulated Qualifications Framework, which applies for England and Northern Ireland or the equivalent standard in Wales and Scotland. Generally, these roles give a migrant worker substantial responsibilities and will usually come with some management duties.
Global Business Mobility (GBM) Worker
The GMB Worker visa has been designed to help businesses with branches in the UK to bring non-UK workers over temporarily. There are five key types of GBM workers to be aware of, including the following:
Senior or specialist workers are management or highly proficient workers coming to fulfill temporary duties.
Graduate trainees may come to the UK temporarily to help train for a senior management or specialist position.
UK expansion workers come to the UK to help a business with its initial expansion into the UK.
Service suppliers are temporary workers helping their firm to fulfill a contractual service in the UK.
Secondment workers undertake assignments for a "host" organization under the terms of a secondment agreement.
Scale-Up Workers
The Scale-Up visa allows you to hire foreign workers in roles at least six months long if you are a rapidly growing company.
The government defines a company to be rapidly growing if they have had a growth rate of 20% or higher for the three-year period before they assign a CoS to a new worker. Furthermore, your company needs to have had at least ten employees at the start of this period.
Managing Your Workers' CoS
Overview
Once you have assigned a CoS to a worker, it can be adjusted and managed based on changes in circumstances or the expiry of visas. The section below covers the following types of CoS management:
Renewals.
Cancellations.
Transfers.
Renewals
A Certificate of Sponsorship and a working visa will always have an expiry date. This is often five years after it has been issued. While the visa can usually be renewed by the worker, you will need to assign them a new CoS because the document is not extendable.
This process is simple. All you need to do is head over to the SMS system and assign the worker a new CoS with the same process that you followed to assign them the initial CoS.
Cancellations
If you hire the right migrant worker, you shouldn't have to worry about cancellations. However, sometimes employees and prospective hires will decide they don't want to come to the UK, leading to the CoS not being needed to apply for a visa. If the prospective employee still hasn't applied for a visa, you can simply cancel their CoS, and you will be able to use it for a different foreign worker.
However, a CoS will expire if a visa application has not been submitted attached to its number within three months. Therefore, if the expiry period is approaching, it is always worth chasing up your prospective employees so you can remove them from the CoS if necessary.
On the other hand, a CoS will always expire three months after it has been awarded, so you may choose to simply let it expire.
Transferring a CoS
In some cases, your foreign hire won't stay in the position until the end of their visa period. They may choose to move on to take a position in a different company or return home. Luckily, you will be able to transfer the CoS to a new foreign worker so that you can fill the position.
All you need to do is make sure the foreign worker is registered on the SMS system and then connect them to the position within the system. Do this by going to the "View CoS" screen and then choosing "Transfer." Then select "Transfer a single CoS" where a drop-down menu will appear, and you can select the name of the new hire. You will be notified once the transfer has been successful.
Properly obtaining a Sponsor Licence and Certificates of Sponsorship is a complex process that will make or break your ability to hire foreign workers. Total Law is a top-quality law agency that can help you overcome any challenges to get the right hires into the country. We can work with you to get a Sponsor License and to connect your foreign workers with a CoS.
If you decide to get help from Total Law, you can call us at +1 844 290 6312 or visit us online to find out more about our services.
Advice Package
Comprehensive immigration advice tailored to your circumstances and goals.
Application Package
Designed to make your visa application as smooth and stress-free as possible.

Fast Track Package
Premium application service that ensures your visa application is submitted to meet your deadline.
Appeal Package
Ensure you have the greatest chance of a successful appeal. We will represent you in any case.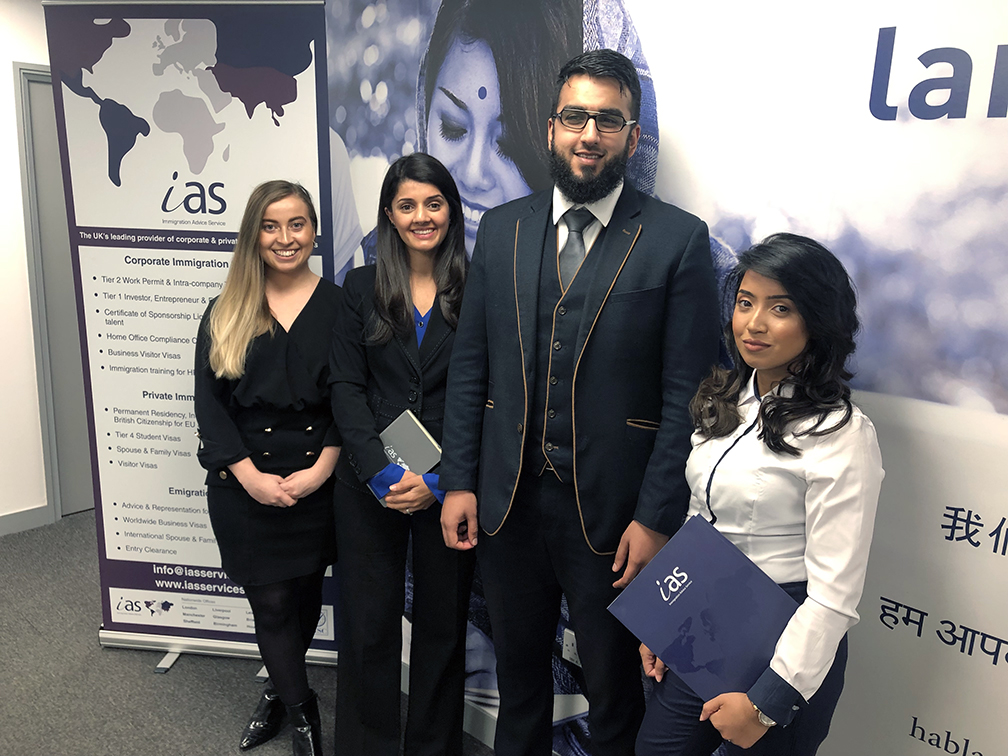 The Advice Package
During this untimed Advice Session with our professional immigration lawyers in London, you will receive our comprehensive advice, completely tailored to your needs and your situation.
Request the Advice Package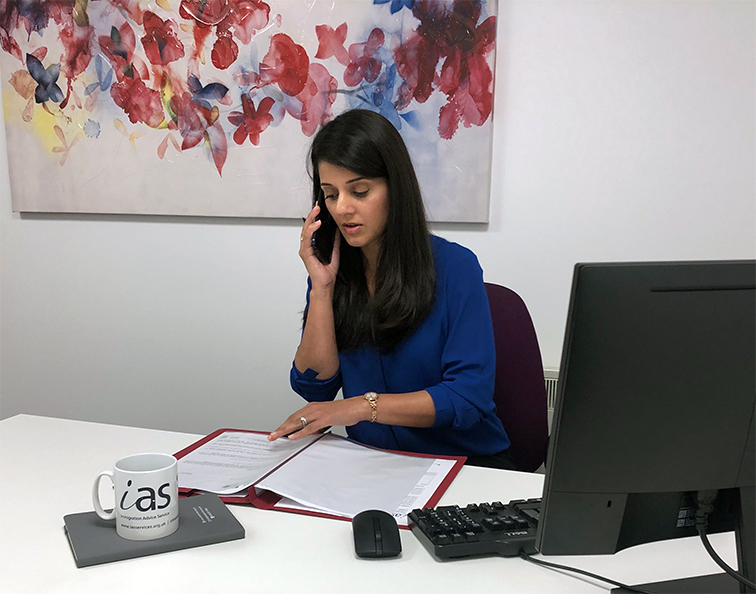 The Application Package
With our Application Package, your dedicated immigration lawyer will advise you on your application process and eligibility. Your caseworker will then complete and submit your forms to the Home Office on your behalf.
Request the Application Package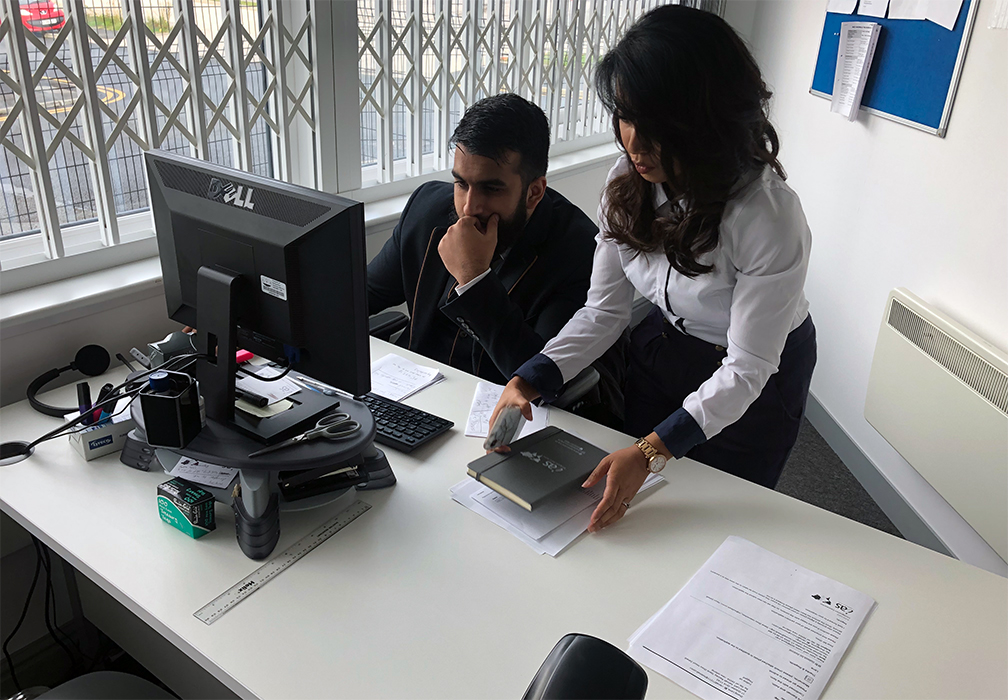 The Fast Track Package
Our Fast-Track Application Package is a premium service for those who need to submit their application in time with their deadlines. Your case will become a top priority for our lawyers and you will benefit from our highest-quality services.
Request the Fast Track Package
The Appeal Package
By choosing our Appeal Package, you can rely on our lawyers' legal knowledge and experience to ensure you have the highest chance of a successful appeal. We will also fully represent you in any hearings/tribunals.
Request the Appeal Package
Related pages for your continued reading.
When you are hiring a foreign worker, you will need to discuss with them whether you or they will be paying the visa application fee. This is a particularly important conversation to have because the fees have recently risen alongside many other UK visa fees, coming into effect on October 4 2023.
While short-term visas under 12 months will only rise from £21 to £25, the rise is much greater for long-term visas. Depending on the visa your worker is applying for, the fee will vary from £200 to over £1000. Head over to the UK government website to find out the exact fee for the visa in question.
There are two primary reasons that you might be disqualified from being awarded a Sponsor Licence. These are the following:
You have unspent immigration offenses convictions or have been convicted for business and financial crimes.
You have had a sponsor license revoked in the last 12 months.