UK Spouse Visa for US citizens
Are you a US citizen wishing to join your partner in the UK? If you are applying for a UK Spouse Visa, there are a number of steps in the process.
Call +1 844 290 6312 for immediate support and advice with your immigration case. We are available to speak over the phone and via online call.
What is the UK Spouse Visa
The Spouse Visa (also known as the Partner Visa) is an immigration category that allows eligible individuals to join their UK-based partner and live together on a permanent basis.
If you are granted the Spouse Visa to come to the UK from the U.S., you will be permitted to stay for up to 30 months. Depending on your circumstances, it may be possible to extend the visa for another 30 months.
The UK Spouse Visa is a popular route towards indefinite leave to remain (similar to a green card) and allows the holder to apply for British citizenship if they meet eligibility requirements.
There are strict eligibility requirements for the UK Spouse Visa. Applicants are required to provide evidence that they meet each requirement to be granted this visa.
When you work with a qualified immigration lawyer, you may be confident that your application will be submitted to the highest standard and that your chances of a successful application will be maximized.
Call +1 844 290 6312 to speak with an immigration lawyer about your case today.
"I'm very happy with the standard of training received on the OISC Level 1 course, i passed my exam. Thank you!"
"My application was approved and a huge weight has been lifted from our shoulders this year "
"We used this service for the spouse visa extension application to assure that all the information was valid and correct."
Can I apply for a UK Spouse Visa from the US?
You can apply for a UK Spouse Visa from the US if you meet the eligibility criteria. The following circumstances must apply to your case:
You are aged over 18 years old
You have met your partner in person
You intend to live together permanently as a married couple
You can prove that you are married to a British citizen or a person with legal settled status in the UK
Your marriage is legal and recognized by the UK Home Office (the equivalent to the United States Citizenship and Immigration Services)
You have a bona fide marriage relationship and have lived together for the previous two years or you are engaged to your partner and intend to marry within six months of arriving in the UK
You fulfill the financial requirements and can support yourself without recourse to public funds
There are further eligibility criteria for a UK Spouse Visa, including financial and relationship requirements.
As a US citizen, you do not need a visa to enter the UK as a tourist for up to 180 days. However, you are not permitted to apply for or switch to a Spouse Visa while in the country, and you must return to the United States to apply for this visa.
However, if you are legally in the UK on an eligible visa that allows you to switch to the Spouse Visa category, this will enable you to apply from within the UK.
UK Spouse Visa requirements for US citizens 
As a US citizen, you do not need to prove your English language abilities because you are a national of a majority English-speaking country. However, there are other requirements you must meet.
Financial requirements
According to the UK Home Office, you must demonstrate that the UK-based partner has an income of at least £18,600 per year (gross).
If you and your partner intend to bring a dependent child to the UK, there is an additional minimum financial requirement of £3,800 for the first child and £2,400 per child thereafter.
The financial requirement aspect may also be met by the submission of evidence of savings or other forms of personal finances. In most cases, savings of £62,500 will be the minimum level of savings required.
Relationship requirements
One of the most important elements of the Spouse Visa application process is providing evidence of the nature of the relationship with your partner.
The Home Office must be satisfied that your relationship is of a 'genuine and subsisting' nature. In order to prove this, you may be required to submit documents showing evidence of cohabitation for at least two years.
As well as this, you will be required to submit documentation showing the progression of your relationship. This can be provided in the form of call logs, WhatsApp messages, plane tickets showing travel to each other's home countries, hotel reservations, etc.
How to apply for a UK Spouse Visa
To apply for the visa, you should visit the Gov.uk application page and follow the online instructions.
Preparing the documents required for submission can be time-consuming, and it is important to have all your documents prepared before you apply.
It is recommended that you seek advice from an immigration lawyer to ensure that you have all the necessary documents.
In some cases, you will be able to scan and upload a digital copy of your documents, but in other situations, you may be required to send a physical copy.
Be aware that some financial evidence is required to be dated within 28 days of the application submission date.
As part of the online application, you will be required to pay the application fee and confirm that everything you have submitted is accurate.
You may be required to attend an immigration appointment at a visa application center in the US, where you should outline how you meet the requirements of the visa.
You will be notified of the Home Office's official decision, and you may be required to attend the visa application center to collect the visa and passport.
In most cases, you will be required to enter the UK within 30 days of the visa being issued.
Waiting time and fees for a UK Spouse Visa
As with all visa applications, there are associated fees and waiting times involved in processing your application.
Waiting time
According to the Home Office, the waiting time for 'straightforward' applications made outside the UK will mostly be decided within 12 weeks. They estimate that 95% of all applications will be decided within this timeframe.
Cases that take longer should all be completed within 24 weeks of the initial application date.
For applications made inside the UK, there may be priority services available at an additional cost.
Application fees
Currently, the application fee for a UK Spouse Visa for an American citizen is £1,538 when the application is made outside the UK.
There may be additional costs involved in the process, including bank statement fees, the immigration healthcare surcharge, and the cost of officially translating any documents, not in English or Welsh.
The immigration health surcharge for a UK Spouse Visa application is £624 per year.
If you choose a priority service for a faster decision, there will be an additional cost for this.
Extending or switching a UK Spouse Visa
Switching to a Spouse Visa
Depending on the visa you currently hold, you may be able to switch to this category to legally continue to live with your UK-based partner.
You will not be permitted to switch to this visa if the following applies:
You are in the UK on a Work or Student Visa
You hold a Visitor Visa
You have another visa that is valid for six months or less
Extending the visa
If you are an American citizen living in the UK on an existing Spouse Visa, you may be eligible to apply to extend the visa.
You can submit your application any time before the expiry of your current permission to stay. The extension of your Spouse Visa will give you 30 months of leave to remain with your partner
If at the end of this period you fulfill the eligibility criteria, you may be allowed to apply for indefinite leave to remain. This would grant the visa holder permission to stay in the UK indefinitely and after one year, the holder may apply for British citizenship.
As mentioned above, the Spouse Visa application process is highly complex, and small errors can be very expensive and time-consuming.
Working with a qualified, OISC-accredited immigration lawyer can give you peace of mind knowing that you can trust an expert to complete the application to the highest standard.
At Total Law, some of the services we offer include:
Reviewing your documents and advising on the types of documents required for submission
Preparing a Letter of Representation as part of your application
Liaise with the Home Office on your behalf throughout the process
Complete each section of the application to the level of detail required by the Home Office
Provide ongoing support and updates to you and your partner throughout the application
Advise you of key dates and deadlines where relevant
We also offer support and advice to individuals whose application has been refused. We understand how devastating it can be to be separated from your spouse, and we are committed to helping all our clients achieve their goals.
Also, if you are currently in need of representation at a First Tier Tribunal hearing, we can arrange for that with one of our expert immigration lawyers, who can advise you on the most effective path toward a successful outcome.
Call us on +1 844 290 6312 for a discussion about how we can assist you. We look forward to helping you settle in the UK with your loved one.
Advice Package
Comprehensive immigration advice tailored to your circumstances and goals.
Application Package
Designed to make your visa application as smooth and stress-free as possible.

Fast Track Package
Premium application service that ensures your visa application is submitted to meet your deadline.
Appeal Package
Ensure you have the greatest chance of a successful appeal. We will represent you in any case.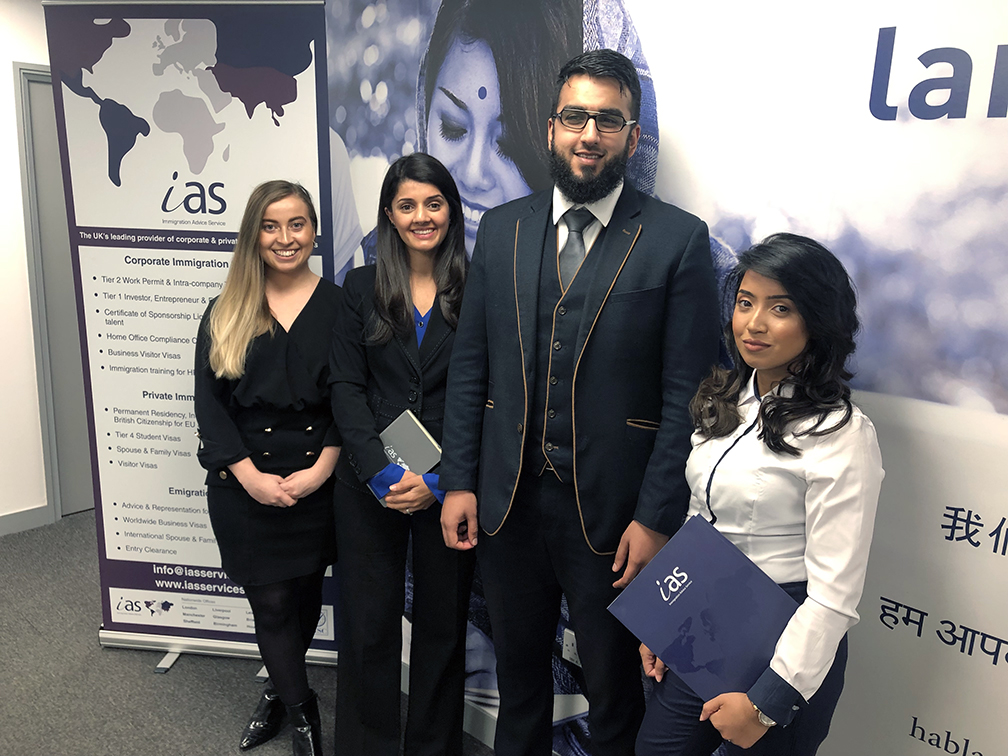 The Advice Package
During this untimed Advice Session with our professional immigration lawyers in London, you will receive our comprehensive advice, completely tailored to your needs and your situation.
Request the Advice Package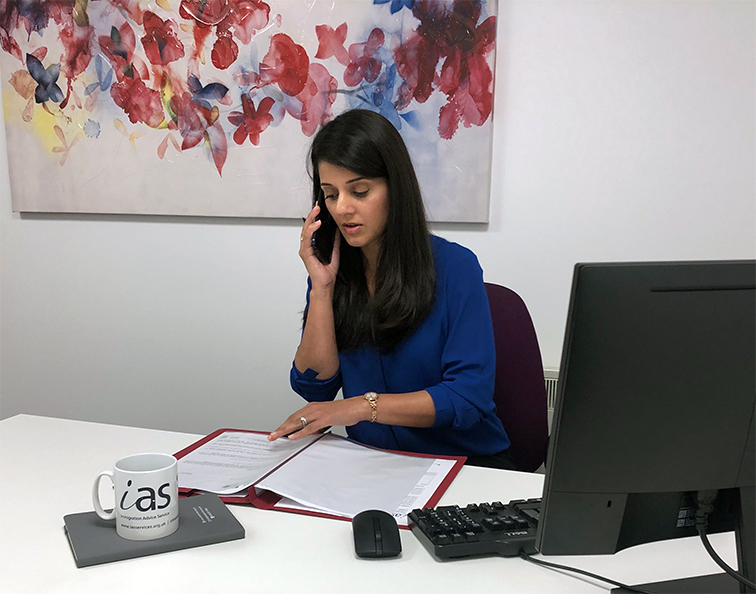 The Application Package
With our Application Package, your dedicated immigration lawyer will advise you on your application process and eligibility. Your caseworker will then complete and submit your forms to the Home Office on your behalf.
Request the Application Package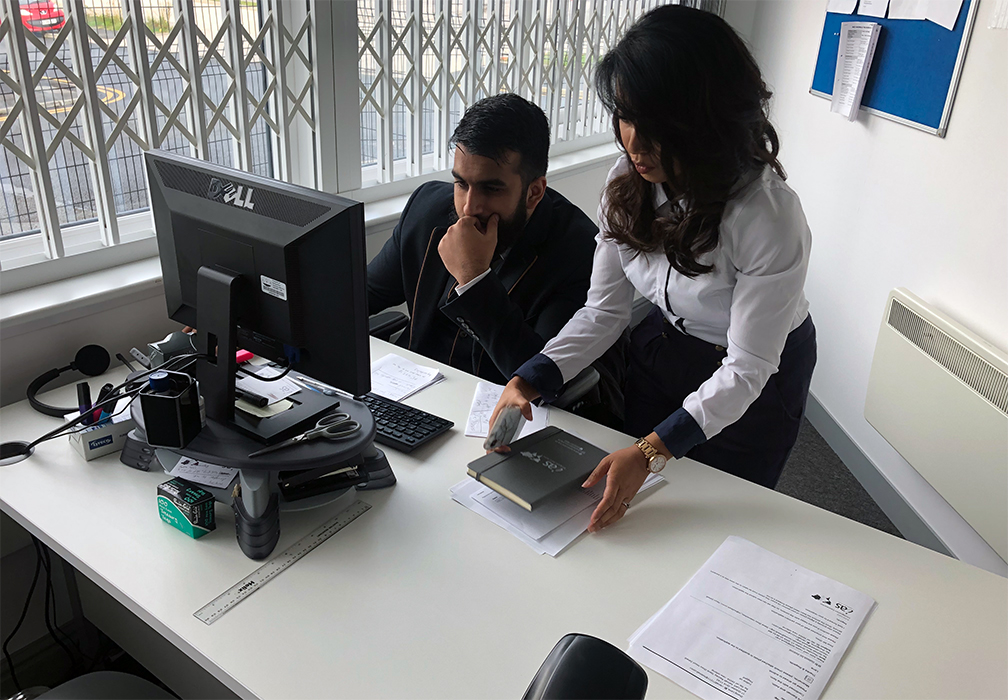 The Fast Track Package
Our Fast-Track Application Package is a premium service for those who need to submit their application in time with their deadlines. Your case will become a top priority for our lawyers and you will benefit from our highest-quality services.
Request the Fast Track Package
The Appeal Package
By choosing our Appeal Package, you can rely on our lawyers' legal knowledge and experience to ensure you have the highest chance of a successful appeal. We will also fully represent you in any hearings/tribunals.
Request the Appeal Package
Related pages for your continued reading.
Frequently Asked Questions
Yes, it is possible for U.S. citizens to settle in the UK on a Spouse Visa. The Spouse Visa itself is referred to as a settlement visa, but it is time-limited (30 months), meaning that it must be extended before its expiry date.  
Indefinite leave to remain (ILR) is similar to the US green card immigration permission. This allows holders to reside in the UK without needing to reapply for settlement. As well as this, holders of ILR may apply for British citizenship after one year (where eligible).
Because you have been given permission to stay in the UK on the basis of the relationship with your partner, you are required to notify the Home Office of the change in circumstances as soon as possible.  
There may be options available to you to remain in the UK, but if you fail to inform the Home Office, you may face consequences (including not being allowed to remain or return to the UK in the future).
Yes, you will be granted the right to work in the UK if your Spouse Visa application is successful. There is no requirement for sponsorship from an employer, and you are eligible to apply for most categories of jobs.