Canada Permanent Residence
Obtaining PR in Canada is a major step. Canadian permanent residents can become Canadian citizens in a few years. We have provided all the details about applying for Canadian PR from Ireland on this page.
For assistance with your application for permanent residence, get in touch with us today by calling (+353) 061 518 025 or submitting a message through our contact form.
How to become a Canadian permanent resident
The Canadian government does not require those who want to become permanent residents to live in Canada for some years before they acquire Canada's permanent residence. Unlike in most countries, a foreign national can become a Canadian permanent resident without holding any Canadian temporary resident visa and while still living in their home country.
Canada has several immigration programs and routes for Irish people to become permanent residents. They include:
Humanitarian and compassionate routes
For more information or assistance with obtaining Canadian permanent residence from Ireland, please call us on (+353) 061 518 025 or contact us online.
"I'm very happy with the standard of training received on the OISC Level 1 course, i passed my exam. Thank you!"
"My application was approved and a huge weight has been lifted from our shoulders this year "
"We used this service for the spouse visa extension application to assure that all the information was valid and correct."
Canadian permanent residence through Express Entry
Express Entry is not an immigration program; it's an online system that the Canadian government uses to manage and analyse permanent residence applications from foreign workers. Through Express Entry, you can apply for an economic immigration program, including:
To apply through Express Entry, you must create a profile, and the system will grade you based on adaptability, skills, age, and possible contribution to the Canadian economy. The grading is called the Comprehensive Ranking System (CRS).
If you get a high CRS score, your profile will be placed in an Express Entry pool based on the immigration program you qualify for and Canada's needs; when in the pool, you may be invited to apply for permanent residence. For more information, see our Express Entry page.
Federal Skilled Worker Program
The Federal Skilled Worker Program (FSWP) allows a foreign worker who Canadian immigration deems valuable to the Canadian workforce to enter the country as a permanent resident.
Individuals who qualify for FSWP can apply with their spouse or partner and dependent children.
Foreign skilled workers who want to become permanent residents through this route must have work experience in select National Occupational Classification (NOC) groups. See our Federal Skilled Worker Program page for more information.
Your Express Entry profile will be scored on your work experience, language ability, and education. Higher scores increase your chances of being placed in an Express Entry pool that the IRCC will draw from when inviting candidates to apply for permanent residence.
If you score high enough, your profile will be assessed based on six factors to decide on your eligibility for the Federal Skilled Worker Program. If you meet the pass mark, Canadian immigration may send you an invitation to apply for PR.
For assistance with getting PR status through the  Federal Skilled Worker Program, call us at (+353) 061 518 025 or email info@total.law.
Federal Skilled Trades Program
The Federal Skilled Trades Program (FSTP) allows foreign workers qualified in a skilled trade in one of the NOC groups to acquire permanent residence in Canada. The eligible jobs include:
Industrial, electrical, and education trades
Maintenance and equipment operation trades
Supervisors and technical jobs in natural resources, agriculture and related production
Processing, manufacturing and utilities supervisors and central control operators
Chefs and cooks
Butchers and bakers
Applicants for the FSTP have a better chance of getting PR even if they have lower CRS scores compared to the other programs managed by the Express system. Also, Immigration, Refugees and Citizenship Canada (IRCC) occasionally do more FSTP-specific draws, resulting in more approved FSTP candidates in the Express Entry pool.
Along with the occupation requirement, Canadian immigration also has other requirements, which you can find on our Federal Skilled Trades Program page.
Canadian Experience Class
If you worked in Canada with a temporary resident visa, you might be able to acquire permanent resident status through the Canadian Experience Class (CEC) program.
Unlike the other Express Entry programs, CEC targets foreign nationals with Canadian work experience who would like to transition to permanent resident status from temporary resident status.
To qualify for CEC, you must have worked for at least one year as a full-time employee or equivalent hours in part-time employment. Also, your work experience must have occurred within the last three years while you held a valid work permit.
In addition, there's the occupation requirement, pay requirement, and language requirement, which you can find on our Canadian Experience Class page.
If you are want to apply for Canada permanent residency, this may be the best route for you. Our immigration law firm can help you. Call us on (+353) 061 518 025 for immediate assistance.
Provincial nominee program
Canadian law allows its provinces and territories to nominate candidates for permanent residence through the Provincial Nominee Programs (PNP). This program was created in 1998 to help spread immigration evenly across Canada.
A province can nominate an individual if they believe that person can meet its needs and positively impact its local economy and community. That individual can come to reside and work in that specific Canadian province after being granted PR status.
If a province nominates you for a Canada permanent resident visa, you will get a nomination certificate and will likely receive an invitation to apply for PR from the Canadian federal government.
Quebec is exempt from the PNPs because it manages its own immigration programs. Ontario, Alberta, Yukon, and British Columbia are among the territories and provinces with a PNP. Each province creates their own eligibility criteria and streams based on its needs.
Although the eligibility requirements differ from one province to another, similar requirements revolve around skills, education, work experience, and language ability. You can find out more information on the requirements for each PNP on our Provincial Nominee Program page.
To receive a provincial nomination through a Provincial Nominee Program, you can apply directly to the province or through the Express Entry system.
Getting nominated in a PNP is not a guarantee that you will be granted permanent residence. It's up to the Canadian federal government to decide if a candidate is good enough to be granted PR status and allowed to immigrate to Canada. Nevertheless, PNP helps; for example, in Express Entry, a provincial nomination can add an extra 600 points to your CRS points.
For assistance with obtaining a nomination from a province or territory in Canada, call us on (+353) 061 518 025 or email info@total.law.
Business immigration
Business immigration includes all programs that allow Irish people to move to Canada to start a business. That includes the Start-up visa and Self-Employed Persons Program. Each program has different requirements and processes.
The Start-up Visa or SUV encourages investment in Canada to boost the economy and create job opportunities for Canadians. These programs target foreign nationals who would like to enter Canada to start an innovative business with the support of a Canadian business registered as a designated organisation.
Designated organisations can be Angel investor groups, Business incubators, and venture capital funds that are members of the Canadian Venture Capital & Private Equity Association (CVCA) or National Angel Capital Organization (NACO).
See our Start-up visa page for information on the requirements and application process.
If you want to settle in Canada doing your own business, you can consider the Self-Employed Persons program.
This immigration route is aimed at those who have experience in cultural activities or athletics on the global scene. It covers those that are already self-employed and those that are not self-employed but want to become self-employed. We have provided more information for those in Ireland on our Self-Employed Persons Program page.
For assistance or advice with the Start-up visa or Self-employed Persons program, call us on (+353) 061 518 025 or contact us online.
Quebec Immigration
Quebec manages its immigration system. Its programs include opportunities for individuals to apply for Canadian PR. Although you must meet Quebec's criteria for any of its programs, it's up to the federal government to approve your application for permanent residence.
Programs that lead to permanent residence include the Quebec experience class, Quebec Investor Program, Quebec Entrepreneur Program, Quebec Skilled Worker Program, and Quebec Self-Employed Program. These programs have similar requirements with their equivalent federal program, but for a few exceptions.
If you currently hold a Working Holiday visa, work permit, and some other temporary visas in Quebec, you may be able to switch to Canadian PR by obtaining a Quebec Selection Certificate or Certificat de Selection du Quebec.
For more information or assistance, call us on (+353) 061 518 025.
Permanent Residence through Family sponsorship
Overview
With Family Sponsorship, you can become a Canadian permanent resident if your family member sponsors you to become one. Your family members can only sponsor you if they are Canadian citizens, permanent residents, or registered Indians under the Canadian Indian Act.
When applying, you and your family member must prove you are related with documents such as a marriage certificate, birth certificate, and such other pieces of evidence. In addition, you must meet certain requirements and may need to attend a visa interview.
The first step is usually that your relative applies to sponsor you to the IRCC. If that is approved, you will receive a notification from the visa office to apply for PR.
Who can sponsor you?
The first criteria is that the person sponsoring you is a citizen, permanent resident, or registered Indian of Canada. Also, the person must be at least 18 years old and be related to you in one of these ways:
Spouse, common-law partner, or conjugal partner
Parent
Dependent child
Grandchild
Sibling
Grandparent
Uncle or Aunt
For more information or assistance with family class sponsorship, call us on (+353) 061 518 025.
Work Permit to Canada Permanent residency
Irish citizens who have a valid work permit can apply for permanent residence if they qualify. If you don't already have a work permit, you can apply; click here for more information. Alternatively, you can apply for a post-graduate work permit.
Within a few years of working in Canada under that temporary work permit, you may be able to apply for permanent residence through Canadian Experience Class, Provincial Nominee Program, Quebec Experience Class or temporary resident to permanent resident (TR to PR) immigration pathways.
Canadian immigration launches temporary and permanent public policies and pilot programs to fulfil needs in the economy. The programs differ based on Canada's needs, but they sometimes include permits that provide TR to PR pathways.
For information on how you can acquire PR or assistance with immigrating to Canada, please call us our (+353) 061 518 025 or send an email to info@total.law.
Permanent Residence on humanitarian and compassionate grounds
Irish people who cannot immigrate to Canada through any of the means mentioned above may be able to obtain Canadian PR on humanitarian and compassionate grounds. This includes those in the humanitarian and compassionate industries and those the Canadian government offers humanitarian support. For Canadian PR, that includes:
Health care workers
Families of Canadian victims of recent air disasters who are already in Canada
Hong Kong residents
Refugees and protected persons
Each category has different requirements and processes; while healthcare workers must have a temporary resident permit, refugees must have their claim approved by the Immigration and Refugee Board first before they can apply for PR.
In most cases, only those already living in Canada can obtain PR status through this route. For more information or assistance, call us on (+353) 061 518 025.
We understand that navigating the Canadian immigration system on your own can be challenging due to the different options, requirements, and application processes. One tiny mistake can lead to rejection. We can help you move to Canada as a permanent resident through the best means.
Our support starts from choosing the right immigration route for your circumstances to getting you settled in Canada. We will discuss your options with you and assess your eligibility for Canadian permanent resident status.
When we have verified your eligibility, we will assist with preparing and filing a high-standard application with the IRCC for the best chances of success. We will make sure the necessary documents and evidence are submitted as well.
For more information about our immigration services, get in touch today on (+353) 061 518 025.
Advice Package
Comprehensive immigration advice tailored to your circumstances and goals.
Application Package
Designed to make your visa application as smooth and stress-free as possible.

Fast Track Package
Premium application service that ensures your visa application is submitted to meet your deadline.
Appeal Package
Ensure you have the greatest chance of a successful appeal. We will represent you in any case.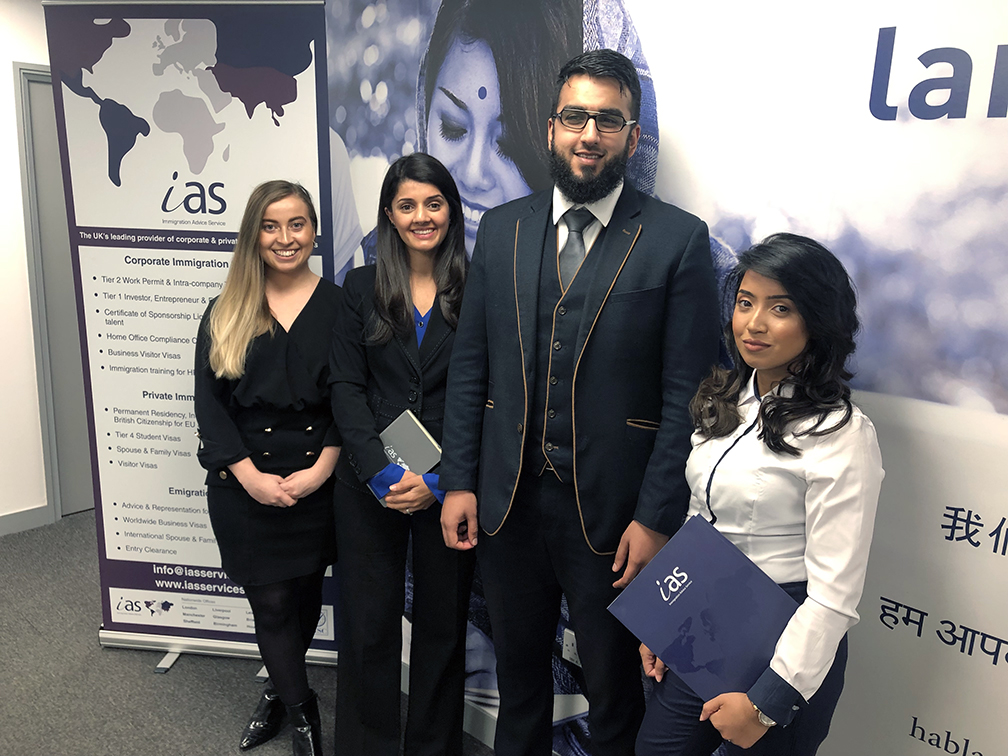 The Advice Package
During this untimed Advice Session with our professional immigration lawyers in London, you will receive our comprehensive advice, completely tailored to your needs and your situation.
Request the Advice Package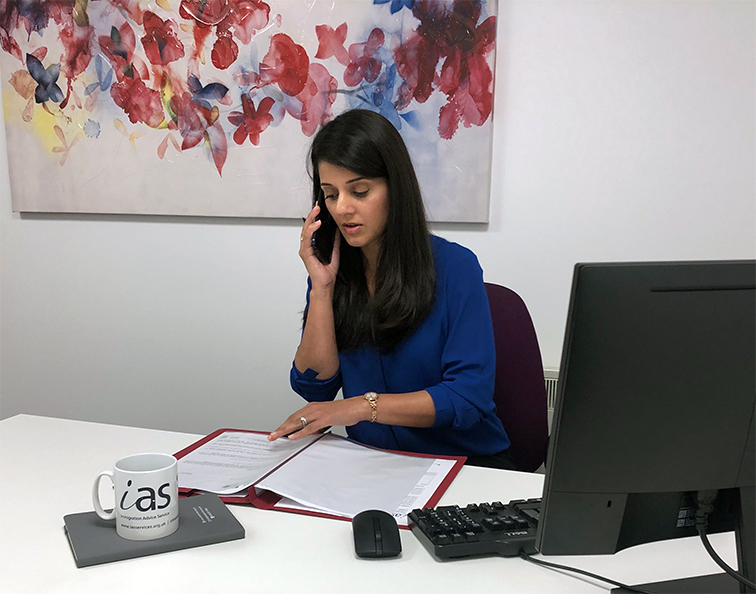 The Application Package
With our Application Package, your dedicated immigration lawyer will advise you on your application process and eligibility. Your caseworker will then complete and submit your forms to the Home Office on your behalf.
Request the Application Package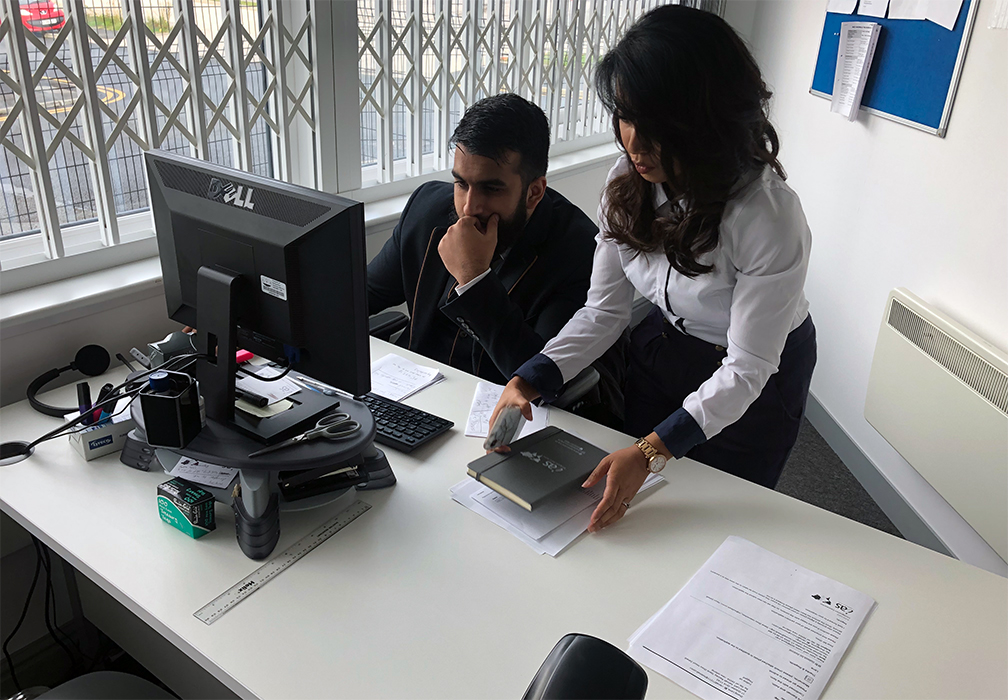 The Fast Track Package
Our Fast-Track Application Package is a premium service for those who need to submit their application in time with their deadlines. Your case will become a top priority for our lawyers and you will benefit from our highest-quality services.
Request the Fast Track Package
The Appeal Package
By choosing our Appeal Package, you can rely on our lawyers' legal knowledge and experience to ensure you have the highest chance of a successful appeal. We will also fully represent you in any hearings/tribunals.
Request the Appeal Package
Related pages for your continued reading.
Frequently Asked Questions
Each route has different processing times. With the Canadian Experience Class, you can expect your PR application processing to take about six months. Those in Ireland being sponsored by their spouse can expect the application to take about twelve months.
Yes, the Canada PR card expires after five years. Just before it expires, you can apply to become a Canadian citizen. If you are not eligible for Canadian citizenship, you can consider applying to extend your PR card.
Canada PR visa cost differs depending on the route you take. Here are the fees to expect for some of the routes:
| | | |
| --- | --- | --- |
| Route | Application fee ($CAN) | Right of permanent residence |
| Business immigration | $1,575 | $500 |
| Express Entry | $825 | $500 |
| Humanitarian and compassionate | $550 | $500 |
| Protected person | $550 | Nil |
| Family sponsorship | $475/$75 | $500 |
Family class sponsorship fees vary by relationship, so what you need to pay may differ from what is documented above. Also, the IRCC expects the sponsor to pay a fee for sponsoring you.
In addition, you may need to pay for biometrics and a work permit. There are also third-party costs from taking a medical exam and obtaining a police certificate that may apply to you. Also, you will be presented with a valid PR card or permanent resident travel document; the permanent resident card is $50.
To get one step closer to enjoying the benefits that Canadian citizens receive, contact us. We can help you with your permanent residence application.