Canadian Work Visas
If you're an Irish citizen and wish to work in Canada, there are several immigration programs that grant work visas (work permits). On this page, you will find an overview of Canadian work visas and their eligibility requirements.
If you need help with applying for a Canadian work visa we're on hand to help. Call us on (+353) 061 518 025 or use our quick inquiry form.
Overview of Canada Work Visas
The number of people of Irish ancestry living in Canada who claim full or partial Irish ancestry is over 4.5 million, which is over 13% of Canada's population. This constitutes the 4th largest ethnic group in Canada, which has led to a thriving Irish Canadian community in many provinces and cities!
Many Irish citizens come to Canada with the end goal of staying there permanently. If you wish to move to Canada through employment or business, then permanent residence is possible through several work visa options. This can be either directly, such as with the Express Entry or the Entrepreneur programs, or indirectly, through a temporary work visa initially and then an application for PR at a later date when sufficient Canadian work experience has been acquired. Canadian work experience is a requirement of several Canadian immigration programs.
Below you will find a list of the more popular immigration programs that issue work visas (permits) that allow the Irish to work or carry out business in Canada.
Temporary Foreign Worker Program (TFWP)

In

ternational Mobility Program (IMP)

Free Trade Agreement Work Permits
If you are interested in working in Quebec, the province manages its own immigration programs and work visas. The Quebec immigration programs have different eligibility criteria compared with the requirements of the federal immigration programs.
"I'm very happy with the standard of training received on the OISC Level 1 course, i passed my exam. Thank you!"
"My application was approved and a huge weight has been lifted from our shoulders this year "
"We used this service for the spouse visa extension application to assure that all the information was valid and correct."
Work Permit Process
Canada's work permits allow a variety of foreign workers and business people to work in Canada on a temporary basis. Once 12 months of Canadian work experience has been acquired, other immigration programs may become applicable, as Canadian work experience is highly valuable for immigrating to Canada.
To apply for a work permit you need to create an IRCC account online. You can also apply via a Canadian visa office, or at a point of entry, depending on the type of work permit you are applying for. Eligibility requirements also vary depending on the work permit.
Two types of Canadian work permits are available: open work permits and closed (also known as employer-specific) work permits. An open work permit allows the holder to work for any eligible employer in any job role in Canada for a certain amount of time, whereas a closed work permit limits the foreign worker to work for a specific employer in a specific position for the duration of the work permit.
To receive assistance with selecting the most appropriate immigration route to Canada for your personal immigration goals, speak to one of our experienced immigration lawyers at (+353) 061 518 025 or complete the quick inquiry form.
Express Entry Programs
Canada's Express Entry system is a points-based, competitive ranking system that processes applications from foreign skilled workers for Canadian permanent residence. Four immigration programs are processed through Express Entry, as follows:
Candidates are assessed against a variety of criteria such as age, education, work experience, language proficiency, and other factors. Those who score the highest are invited to apply (ITA) for Canadian permanent residency.
The Express Entry route is very popular as it is the fastest way to immigrate to Canada, usually just a matter of months. However, each program with the system has its own requirements and these would be carefully checked to determine if you are eligible.
Express Entry is open throughout the year and draws to select candidates are held at frequent intervals. Express Entry applications are made online.
For more information on the Express Entry programs, requirements, and application process visit our Express Entry page.
Canadian Experience Class (CEC)
The Canadian Experience Class (CEC) is aimed at helping foreign workers who can offer at least one year's skilled work experience in Canada to reside there permanently. The main requirements of the Canadian Experience Class (CEC) include:
One year's work experience in Canada (full-time, part-time work, or a combination of both)
The work experience must have been gained in the last 3 years
The work experience must have been obtained under an official work permit
The work experience must be of skill type O, A, B (under the National Occupational Classification (NOC))
The work experience cannot be gained during self-employment or while a full-time student
The work experience must be paid work – volunteer work or unpaid internships are not eligible
You must not be a refugee claimant in Canada to be eligible for CEC
You must not be working without authorization to be eligible for CEC
You must not have gained work experience without temporary resident status in Canada
English or French language ability:

CLB 7 if your NOC is 0 or A
CLB 5 if your NOC is B

A job offer is not required
There are no education requirements
To find out more about the eligibility requirements visit our Canadian Experience Class page.
Federal Skilled Worker​ Program (FSWP)
The Federal Skilled Worker Program (FSWP) is one of the programs that is managed under the Express Entry system. This program is for skilled workers with foreign work experience who wish to immigrate to Canada permanently.
Some of the main requirements you will need to meet to apply for the FSWP include:
Your skilled work experience must:

have been gained in one of these job groups: managerial jobs (skill type 0), professional jobs (skill level A), technical jobs and skilled trades (skill level B).
have included all the essential duties and most of the main duties listed in the relevant NOC
be in the same type of job (have the same NOC) as the job on the basis of which you are applying for FSWP.
have been gained within the last 10 years
have been paid work (unpaid volunteer work or unpaid internship do not count)
have comprised of at least 1 year of continuous work or 1,560 hours total (full-time or part-time).

English or French language ability skills

No job offer is needed.
Secondary education is required.
Sufficient funds to support you and your family members are needed.
Visit our Federal Skilled Worker Program page for more information on the FSWP requirements and how to apply for this work visa.
Federal Skilled Trades Program (FSTP)
The Federal Skilled Trades Program (FSTP) is an Express Entry program that is for skilled workers who are qualified in a skilled trade and want to become permanent residents in Canada.
Key requirements for the Federal Skilled Trades Program (FSTP) include:
Your work experience is in one of the following job groups:

Major Group 72, industrial, electrical and construction trades
Major Group 73, maintenance and equipment operation trades
Major Group 82, supervisors and technical jobs in natural resources, agriculture and related production
Major Group 92, processing, manufacturing and utilities supervisors and central control operators
Minor Group 632, chefs and cooks
Minor Group 633, butchers and bakers

You have at least two years of paid work experience (full-time or part-time equivalent) in an eligible skilled trade within five years before applying for FSTP
You must show that you performed all the essential duties and most of the main duties listed in the lead statement of the occupational description in the NOC
Your work experience only counts if it was gained after you qualified in the skill/occupation in question
You have a valid job offer of full-time employment for at least one year or a certificate of qualification in your skilled trade that was issued by a Canadian provincial, territorial or federal authority
English or French language skills – CLB 5 in speaking and listening, CLB 4 in reading and writing
Sufficient funds to support you and your family upon arrival in Canada
No education requirements need to be met, but you can get extra points if you do have an educational certificate, diploma, or degree
Visit our Federal Skilled Trades Program page for more information on this Canadian work visa.
Provincial Nominee Programs (PNP)
The Provincial Nominee Programs (PNPs) are another program type that is managed through the Express Entry system. Canada's provinces and territories use Express Entry to select candidates for nomination for permanent residency through these programs.
PNPs vary considerably from the federal equivalents in terms of eligibility criteria which are designed for the specific labour market and goals of each Canadian province and territory.
Canada's PNPs consist of sub-programs or categories known as streams, which target certain groups of people for example entrepreneurs, skilled workers, students etc.
Each PNP stream varies in its application and selection processes. For example, some will select candidates on a first-come, first-served basis whilst with others, it will be a competitive ranking process.
If selected for a PNP, you will receive a 'Notification of Interest' in your online Express Entry profile. You can then submit a complete application to the province.
It is advisable to carefully select the PNP by thoroughly researching the province and whether it suits you as a new home since a successful PNP application means that you will be expected to reside and work in that province.
Note that Quebec uses its own immigration processes to attract foreign workers.
Visit our Provincial Nominee Program page for more information on PNPs. If would like assistance with the province and PNP selection, call us on  (+353) 061 518 025 or reach out to us via our contact page.
Temporary Foreign Worker Program (TFWP)
The Temporary Foreign Worker Program (TFWP) is a Canadian immigration option that allows employers in Canada to hire foreign nationals where the positions cannot be filled by Canadians. The purpose of the TFWP is to address skill shortages and promote economic growth. Originally when the program was created it was aimed at live-in caregivers and agricultural workers, but the program has now expanded significantly and offers employers an option to hire a wide variety of high-skilled and low-skilled positions.
Requirements of the Temporary Foreign Worker program include:
The foreign worker must have a job offer from a Canadian employer.
The employer must apply for a Labour Market Impact Assessment (LMIA)
The foreign worker must be admissible to Canada. Individuals can be inadmissible to Canada for criminal, medical, or financial reasons.
TFWP work permits are valid for a maximum of one year, and the duration will be tied to a specific employer (closed work permit). Switching to a different employer once in Canada is not permitted.
You can make an application for a TFW work permit after you have a job offer and your employer has obtained an LMIA unless your job role is LMIA-exempt.
Note that if you are applying in Quebec, an additional document from the Quebec government is needed before applying for your work permit.
A TFW work permit does not directly lead to permanent residence in Canada. However, once you have acquired Canadian work experience, you may be eligible for other PR programs such as the Canadian Experience Class or a Provincial Nominee Program.
The TFWP is overseen by Employment and Social Development Canada (ESDC).
International Mobility Program (IMP)
The International Mobility Program (IMP) allows Canadian employers to hire foreign workers on a temporary work permit without having to obtain a Labour Market Impact Assessment (LMIA). This is advantageous as it means employers can hire a foreign worker without first offering the position to Canadians. This leads to a simpler and faster hiring process for both the employer and worker.
Effectively, the International Mobility Program is a fluid group of work permit streams, which include the following, although this is not an exhaustive list:
International Experience Canada (IEC) program
Free Trade Agreements such as United States-Mexico-Canada Agreement (USMCA), the Trans-Pacific Partnership, and the Canada–European Union Comprehensive Free Trade Agreement (CETA)
Intra-Company Transfer program
Bridging Open Work Permit – for someone transitioning to permanent residence
Mobilité Francophone initiative – and other programs that bring social or cultural benefit to Canada
The IMP is overseen by Immigration, Refugees and Citizenship Canada (IRCC).
Self-Employed Persons Program (SEPP)
The Self-Employed Person Program (SEPP) is for people who have work experience in the areas of cultural activities or athletics and want to establish a business in one of these areas in Canada. They must be able to show that they will be able to contribute significantly in this field within Canada.
In order to be eligible for the Self-Employed Person Program, you must show that:
You have 2 years of experience in either c

ultural activities or athletics

This experience was gained within the last five years

This experience was either:

gained at a prominent (world-class) level or:

you have been

self-employed in one of these areas
Additionally, you'll need to meet the definition of a self-employed person, as well as meet other eligibility requirements. You'll be ranked against criteria including age, experience, education, English or French language ability, and adaptability, amongst others.
One of the main attractions of the Self-Employed Person Program is that it offers a pathway to Canadian permanent residence.
You can find out more about this Canadian work visa on our Self-Employed Person Program Page.
If you would like to explore how we can help you submit a compelling SEPP application, please call us on (+353) 061 518 025 or fill out our inquiry form.
Start-Up Visa (SUV)
Canada's Start-up Visa Program (SUV) is for entrepreneurs who want to immigrate to Canada as permanent residents by starting a qualifying business. The business must create new jobs for Canadian workers, be able to compete globally and be innovative. Additionally, it must have the support of a designated entity.
Dependent family members are allowed to come with you to Canada on a Start-Up Visa. Dependents are your dependent spouse or common-law partner, and unmarried children.
If you wish to visit Canada to start setting up your business before your visa and therefore permanent residence is granted, you are eligible for a temporary work permit.
The Start-Up Visa Program has four main requirements that must be met in order to be eligible, as follows:
1. Your business must be a qualifying one – you must hold at least 10% of the voting rights of the company, plus 50% of the voting rights must be held between you and the designated organization.
2. Support from a designated organization – a designated organization is one of:
A venture capital fund
An angel investor group, or
A business incubator
Investment or support from a designated organization needs to be secured. For the amount of investment you need to secure, take a look at our Start-Up Visa page.
3. Language test result – you must take an English or French language test from an approved agency
4. Evidence of funds – although you don't need to invest your own funds into your business for this visa, you do need to have sufficient funds to support yourself and your family (if applicable) upon arrival in Canada. The settlement funds you need to show you have are determined by the size of your family.
Applications for the Start-Up Visa can be submitted online or physically via the mail. You'll need to submit significant supporting documents including medical exam documents and police certificates.
If you mail your application to IRCC, there are posting guidelines to follow, for example, the envelope size and selecting the correct address to send it to.
The processing time is usually around 12 to 16 months. If your application is approved, you and your family (if applicable) will immediately receive permanent residency in Canada.
Working Holiday Visa
The Working Holiday Visa is an International Experience Canada (IEC) program that is aimed at allowing young people to stay and work in Canada temporarily so they can gain work experience and knowledge of Canada.
A Working Holiday Visa allows young adults between 18 and 35 years of age from over 30 countries to come to Canada, and if you are an Irish citizen the good news is that Ireland is one of these countries. Canada and Ireland have an agreement in place that allows Irish citizens to stay in Canada for up to two years on this visa, which will be exchanged for an open work permit upon arrival in Canada.
The work permit will allow you to work in any job in Canada, for up to 24 months.
To be eligible for the Canada Working Holiday Visa as an Irish citizen, the following requirements need to be met. You must:
Be a citizen of Ireland
Have an Irish passport whose expiry date is after the end date of your working holiday in Canada
Be between 18 and 35 years of age
Have proof of $2,500 CAD equivalent or more in savings
Have documentation to show you have health insurance for your entire stay
Have a round-trip ticket to present on arrival, or show proof of funds to buy one
Not bring any dependants with you
Have the necessary police and medical certificates
The application process for a Working Holiday Visa is as follows:
Create an International Experience Canada (IEC) account
Complete the IEC questionnaire – this will tell you if you meet the requirements to be accepted into the IEC pools

Wait for an IEC draw to take place, when you will receive an Invitation to Apply, if selected

Submit visa application

If successful, IRCC will send you a Port of Entry (POE) letter of introduction in your online account. This should be presented at customs when you arrive in Canada.
For assistance with applying for a Working Holiday Visa, call us on (+353) 061 518 025 or complete the short inquiry form.
Post-Graduation Work Permit (PGWP)
If you are an Irish citizen completing a course at a designated Canadian learning institution you could be eligible for a Post Graduate Work Permit (PGWP).
A PGWP will permit you to stay and work in Canada after you graduate, and work for as many hours as you want (full-time or part-time) at any employer in Canada, as it's an open work permit. You can also choose to become self-employed and start your own business.
After you have gained the required Canadian work experience, a PGWP will provide you with a pathway to Canadian permanent residency.
The PGWP eligibility requirements are as follows:
You must be 18 years of age or older
Your application must be submitted within 180 days of completing your study program
You must have had a valid study permit during your studies or you must have had authorization to study without one
The educational establishment must have been an eligible DLI
Your program of study must have been at least eight months in length
Your program of study must have been full-time (excluding your final semester)
Your program of study must have led to a degree, diploma, or certificate
Online or distance-learning courses are only eligible if less than 50% of the course was by distance-learning or online
The majority of learning must have occurred in Canada
Studying at more than one DLI is allowed if the study was continuous and the combined study length was at least 8 months
PGWP applications can be submitted online or via the mail. For online applications, an IRCC account needs to be created, and for mailed applications, an application package can be requested through the IRCC website.
Most applicants will be asked to provide their biometrics (fingerprints and photos) after they have submitted the application.
A PGWP is a one-time visa, ie you can only have one in a lifetime. Therefore it is important to plan your application timing carefully since the validity of a PGWP is directly correlated to the length of the course you complete. So, the longer the course, the longer the permit and your chance to find a great job in Canada.
You can find out more about the PGWP on our Post-Graduation Work Permit page.
Many graduates are not only eligible for the PGWP but also one of the Provincial Nominee Program's international graduate streams. To get help with the best route for you, call Total Law on (+353) 061 518 025 or contact us via this website.
Free Trade Agreement Work Permits
Irish citizens can enter Canada temporarily for business purposes under the Canada-European Union Comprehensive Economic and Trade Agreement (CETA), one of Canada's many free trade agreements (FTA).
CETA in effect makes it easier for Irish companies to do business with Canada, through, for example, eliminating tariffs, removing customs duties, and opening up new sectors of the Canadian services market.
CETA also makes it easier for Irish workers to move temporarily between Ireland (and the EU) and Canada, for example, there is no requirement for a Labour Market Impact Assessment (LMIA). 
Applications for a CETA work permit can either be made at a Canadian Port of Entry (POE) or prior to travel to the appropriate visa office.
Get Help
Canada offers numerous work permits for different purposes and circumstances. It can be difficult to decide on which program to apply for, especially when there is extensive information to read through and multiple criteria to be met.
To help with this task Total Law's lawyers will evaluate your individual circumstances and goals, and advise on the best immigration route forward. They will assist with compiling a compelling and error-free visa application while providing support and guidance throughout the process.
Contact us via our online inquiry form, or call us on (+353) 061 518 025 to find out how we can provide you with a personalized immigration service.
Advice Package
Comprehensive immigration advice tailored to your circumstances and goals.
Application Package
Designed to make your visa application as smooth and stress-free as possible.

Fast Track Package
Premium application service that ensures your visa application is submitted to meet your deadline.
Appeal Package
Ensure you have the greatest chance of a successful appeal. We will represent you in any case.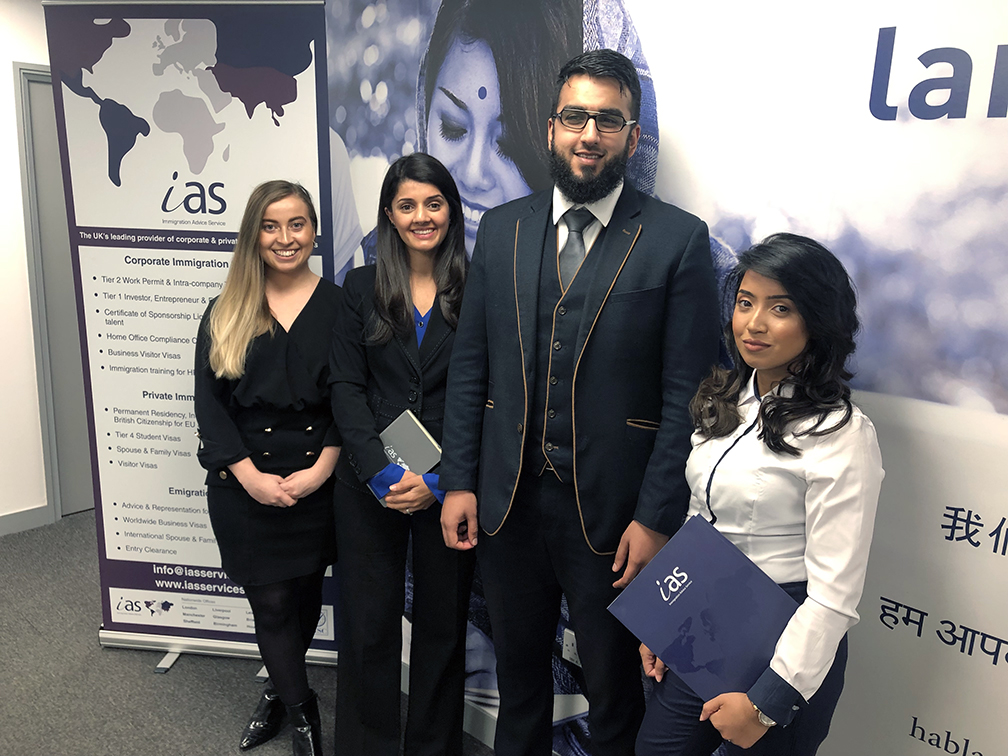 The Advice Package
During this untimed Advice Session with our professional immigration lawyers in London, you will receive our comprehensive advice, completely tailored to your needs and your situation.
Request the Advice Package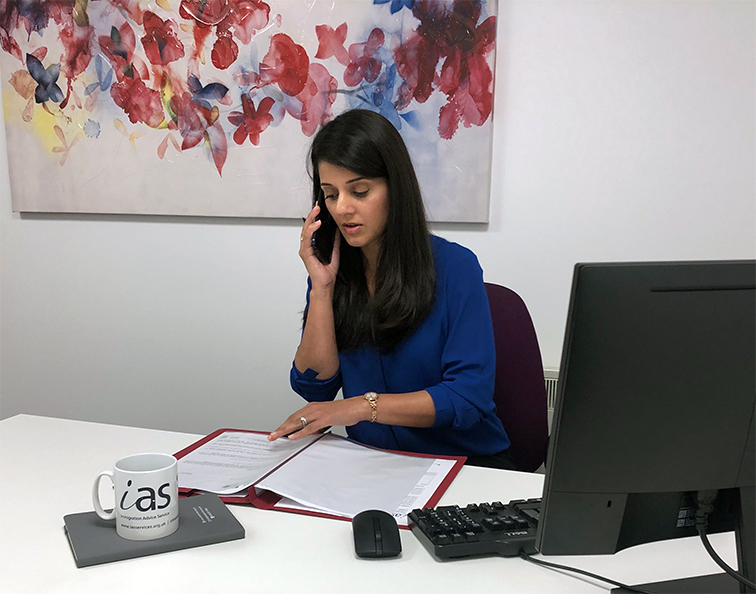 The Application Package
With our Application Package, your dedicated immigration lawyer will advise you on your application process and eligibility. Your caseworker will then complete and submit your forms to the Home Office on your behalf.
Request the Application Package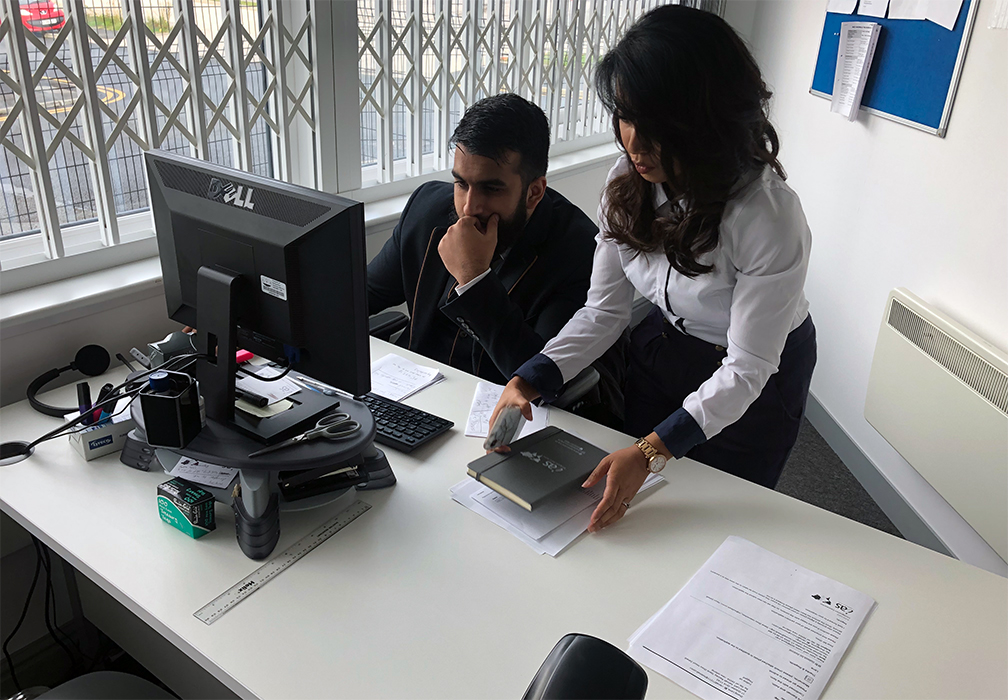 The Fast Track Package
Our Fast-Track Application Package is a premium service for those who need to submit their application in time with their deadlines. Your case will become a top priority for our lawyers and you will benefit from our highest-quality services.
Request the Fast Track Package
The Appeal Package
By choosing our Appeal Package, you can rely on our lawyers' legal knowledge and experience to ensure you have the highest chance of a successful appeal. We will also fully represent you in any hearings/tribunals.
Request the Appeal Package
Related pages for your continued reading.
Frequently Asked Questions
The processing time for a work permit is determined by which program you are applying through and whether there are any quotas, how complete your application is, and the visa office you apply at.
On average it can take anything from 1 to 27 weeks.
The Province of Quebec has its own immigration programs and manages these separately from the federal and provincial programs.
You can find out more information about these programs via Quebec's immigration website here.