Applying for a Canadian Work Permit from the UK
If you are a British citizen or resident and would like to work in Canada, you must acquire a work permit. With a work permit, you can come to Canada as a temporary resident to work legally.
For more information or assistance with the Canadian work permit, please call 0333 305 9375 or fill our contact form to get in touch with us.
What is the Canadian work permit?
To work in Canada, you must acquire any one of the Canadian work visas. The work permit is one of them. The Canadian work permit is for temporary foreign workers, students, agricultural workers and business people from the UK and other countries.
Those in the UK, including British citizens, can apply for a Canadian work permit to accept employment opportunities and work in Canada in paid or unpaid employment that may count as valuable experience towards Canadian citizenship or permanent residence.
Other Canadian work visa programs that contribute to permanent residency include the following, which can be applied for via the Express Entry system:
For more information on the Canadian work permit or assistance with obtaining a work permit and moving to Canada, get in touch with our expert immigration law firm. Please call 0333 305 9375 or send an email to info@total.law.
"I'm very happy with the standard of training received on the OISC Level 1 course, i passed my exam. Thank you!"
"My application was approved and a huge weight has been lifted from our shoulders this year "
"We used this service for the spouse visa extension application to assure that all the information was valid and correct."
How to get a Canada work permit in the UK
To obtain a work permit, you must first research to determine if your job is among those that the Canadian government requires to have a work permit.
When you determine that your job qualifies for Canada's work permit, check what type of work permit is best for your situation, determine the eligibility requirements for the type of work permit and apply.
It's important that you know that there are different ways to apply for a Canadian work permit. You can apply from within the UK or at a port of entry to Canada. We will look at all that, starting with the jobs that need a work permit.
We can help you with your Canadian work permit. Call us on 0333 305 9375 today for assistance.
Eligible jobs for a Canadian work permit
Foreign nationals need a Canadian work permit for most jobs. Although Canadian immigration doesn't list every job in Canada that you need a work permit for, they specify the jobs you may not need a work permit for.
Those jobs include:
Foreign representatives and their family members
Performing artists
Judges, referees, and similar officials
Transportation crew
Students working on campus
Some foreign skilled workers may still need a work permit even if they work one of the above jobs, such as performing artists filming a movie and bands performing at bars. Contact us if you are unsure.
Types of Canada work permit for foreign workers
There are two types of Canadian work permits: open work permits and closed work permits or employer-specific work permits.
The employer-specific work permit allows you to work for one Canadian employer in one location; this employer is usually tied to your application, so you should already have a valid job offer before you apply.
The open work permit allows you to work for any eligible Canadian employer; eligible Canadian employers are those not on the Canadian immigration ineligible list and those that do not offer striptease, erotic dances, escort services, or erotic massages.
To ascertain your eligibility for your preferred work permit, get an assessment from an immigration lawyer, call 0333 305 9375 or contact us online.
Eligibility requirements for a Canada work permit from the UK
As mentioned above, you can apply for a Canadian work permit from within the UK or a port of entry.
Regardless of where you apply from, you must meet these requirements:
Prove that you will not exceed your stay in Canada when your work permit expires
Meet the financial requirements
Have a clean criminal record proven with a police clearance certificate
Prove that you are not a danger to Canada's security
Be in good health with a medical exam to prove that
Plan to work for an eligible employer
Ensure you have adequate health insurance (the rules vary by province and territory)
It is best for temporary workers to apply from the UK before they travel to Canada. To do that, you must have a job offer from an employer in Canada and meet the job offer requirements. Also, you must have been employed for at least the last three months.
The Canadian visa office in the UK may request that you meet some other requirements when you apply or when they assess your application.
An immigration lawyer can liaise with the visa office and IRCC on your behalf to smoothen your application process. Call us on 0333 305 9375 or contact us online.
Criteria to apply at a port of entry to Canada
If you choose to take the leap and travel to Canada before acquiring a work permit, you could apply at the port of entry (POE). UK citizens can do this because they can travel to Canada with an Electronic Travel Authorization (ETA) rather than a Canadian visitor visa.
Along with meeting the general requirements listed under the requirements for applying from the UK, you should also:
Be eligible to enter Canada
Have completed all the application steps before going to the POE for an employer-specific work permit.
Not be a seasonal agricultural worker.
Be eligible to give your biometrics at a point of entry
How to apply for a Canada work permit in the UK
You can apply for a work permit online or by sending a paper application to the closest visa application centre (VAC) to you. The first step in the Canadian work permit application process is document gathering.
If you are applying for an employer-specific or closed work permit, one of the documents is Labour Market Impact Assessments (LMIA). Your employer can get that from Employment and Social Development Canada (ESDC).
If you are coming to work in Quebec, the Certificat d'acceptation du Québec (CAQ) is the equivalent of the LMIA. Your employer can get it by contacting the ESDC and the Ministère de l'Immigration, de la Diversité et de l'Inclusion (MIDI).
The next step is filling the required application forms that include:
Application For Work Permit Made Outside of Canada (IMM 1295)
Document Checklist (IMM 5488)
Family Information (IMM 5645 or IMM 5707)
Statutory Declaration of Common-law Union (IMM 5409), if it applies to you
Authority to release personal information to a designated individual (IMM 5475), if it applies to you
If you are applying online, you must create an account on the Canadian Immigration website and upload scanned or photographed copies of the complete forms. Complete means filled and signed.
After uploading all the documents and forms, and paying your fees, you can submit your application online or to the VAC and await the decision of Immigration, Refugees and Citizenship Canada (IRCC).
Required documents for the work permit application
You will need to submit documents along with your forms. Those documents include:
Original travel passport
Photocopies of your current and previous passports for the last five years
Photos of yourself and accompanying family members
Resume or C.V in English or French
Employment references, education certificate, and other documents to prove your eligibility for the job in Canada
Police certificates from countries you stayed in for more than six months since you turned 18
Proof of a Canadian job offer, such as a job offer letter or contract
Employment letter from your current UK employer and payslips of the last three months
Letter from the Canadian employer stating that you can take up your job at a later date (if you submit your application less than one month from your supposed start date)
Spouse's or common-law partner's travel documents and resume, if they are coming with you
Proof of relationship if your partner is coming with you
The Labour Market Impact Assessment (LMIA) or Certificat d'acceptation du Québec, for an employer-specific work permit application
Medical test results
If you are not a citizen of the UK but you are applying from the UK, you must include proof of your UK immigration status, such as a copy of your visa.
In addition to the forms and documents, you must also upload the fee receipts. You get that when you pay the application processing fee, open work permit holder fee (if you are applying for the open work permit), and biometric fee online.
Canadian work permit fees
These are the fees you may be required to pay as part of the Canada work permit process:
Application processing fee ($155)
Open work permit holder fee ($100)
Biometric fee ($85)
If you are applying as a family or group, you can take advantage of the family and group fees which are discounted if there are more than 2 or 3 people in the application.
Processing time for a temporary foreign worker
It takes 12 weeks to process your application when you apply from the UK. That time does not include the time it takes for the visa application centre to send your application to the IRCC's office in Canada. If you apply online, this may not be necessary.
The time it takes to give your biometrics is not included in the processing time. Beware that you may need to give an interview at the VAC, which may delay processing. Your application may not be delayed as long as you attend appointments on time and submit all documents when requested.
Whether your application is approved or refused, you will get your original documents back.
If your application is refused, you will get an explanation of your application's refusal as well. If your application is approved, the IRCC will send you a letter of introduction that confirms the application's approval along with your original documents.
Please note that the letter of introduction does not guarantee your entry into Canada. A border services officer will decide if you are still eligible for admission and a work permit. If you are, they will approve your valid work permit visa with a length of stay.
For assistance with applying for your Canadian work permit, contact our immigration lawyers on 0333 305 9375. We would love to help you.
Dependents and a Canadian work permit
Canadian immigration regulations allow work permit holders to move to Canada with dependents. Your dependents can apply as soon as you receive your Canada work permit.
One of the requirements is that the foreign worker is financially capable of supporting dependents in Canada. Furthermore, dependents must be a spouse or common-law partner and/or children. If you are sponsoring your child, they must be younger than 22 years old.
During the application process, you will have to submit proof of your relationships, such as a birth certificate or marriage certificate. Beware that being your dependents does not permit them to work; they can apply for their own work permit if they want to work.
At Total Law, our immigration lawyers are committed to helping those in the UK acquire temporary work permits and other Canadian visas. We can help you with acquiring a work permit by:
Assessing your eligibility and advising on every step
Completing all the forms correctly
Advising on the required and supporting documents
Liaising with the IRCC on your behalf
Let us help increase the chances of your work permit application being accepted. We offer continuous support, expert advice and the highest quality services. We can help you and your dependents move to Canada. To find out more about how our immigration lawyers can help, get in touch today by calling 0333 305 9375.
Advice Package
Comprehensive immigration advice tailored to your circumstances and goals.
Application Package
Designed to make your visa application as smooth and stress-free as possible.

Fast Track Package
Premium application service that ensures your visa application is submitted to meet your deadline.
Appeal Package
Ensure you have the greatest chance of a successful appeal. We will represent you in any case.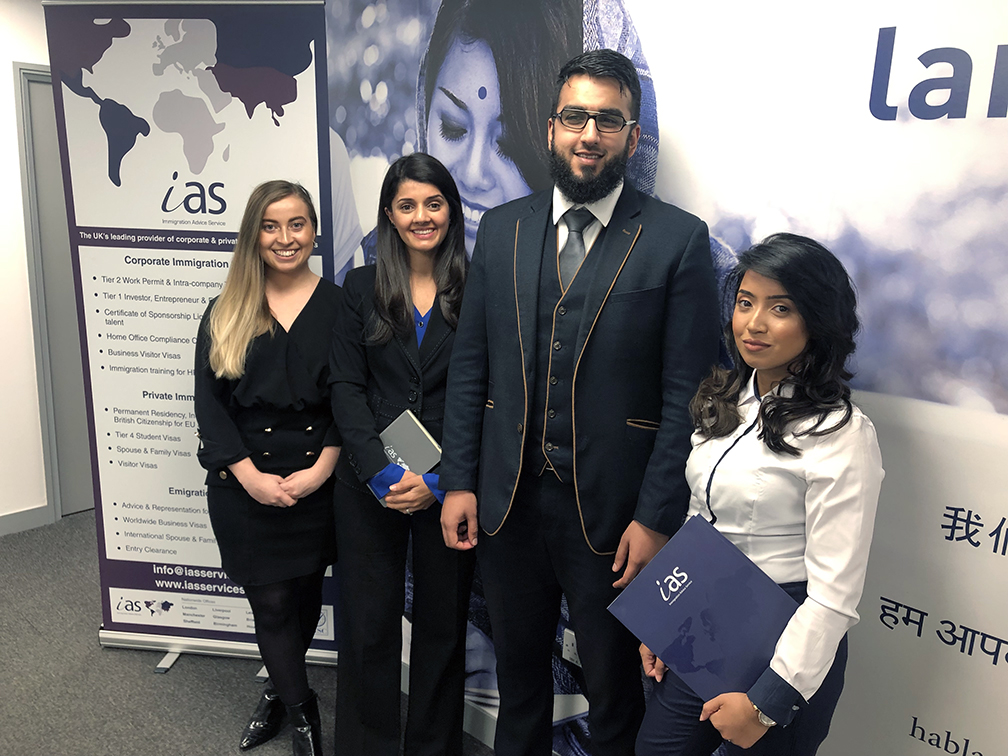 The Advice Package
During this untimed Advice Session with our professional immigration lawyers in London, you will receive our comprehensive advice, completely tailored to your needs and your situation.
Request the Advice Package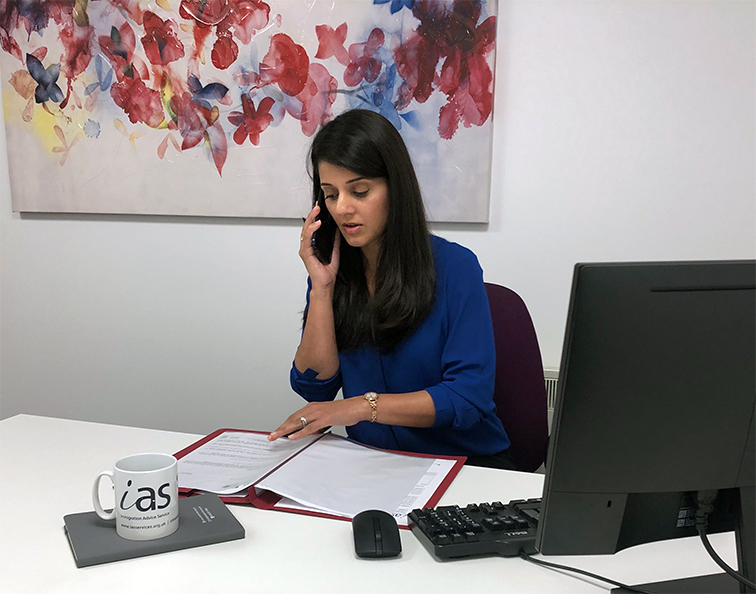 The Application Package
With our Application Package, your dedicated immigration lawyer will advise you on your application process and eligibility. Your caseworker will then complete and submit your forms to the Home Office on your behalf.
Request the Application Package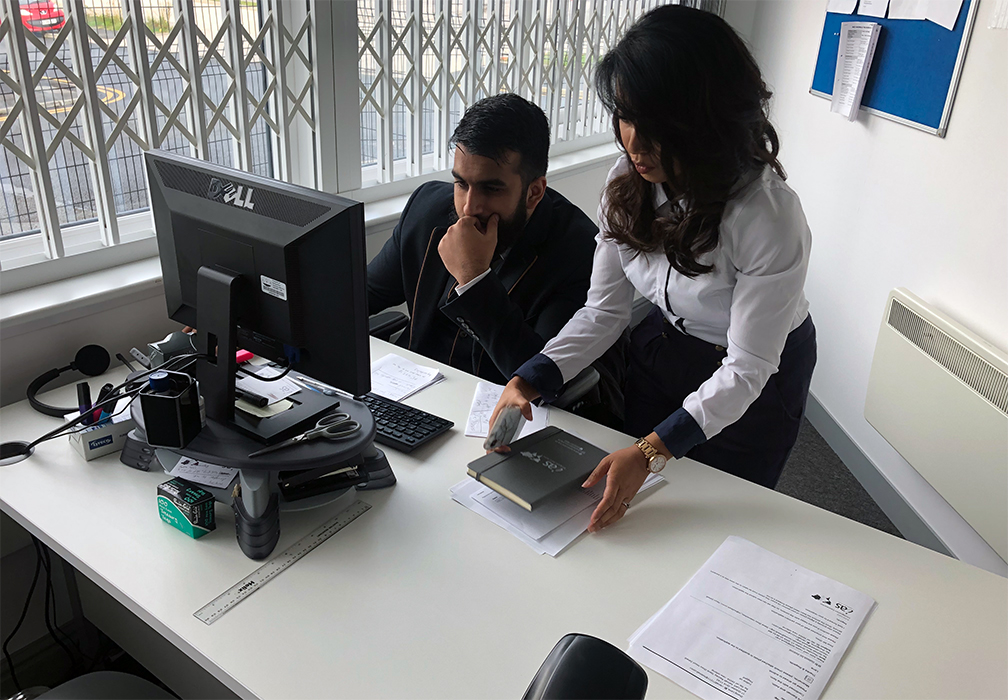 The Fast Track Package
Our Fast-Track Application Package is a premium service for those who need to submit their application in time with their deadlines. Your case will become a top priority for our lawyers and you will benefit from our highest-quality services.
Request the Fast Track Package
The Appeal Package
By choosing our Appeal Package, you can rely on our lawyers' legal knowledge and experience to ensure you have the highest chance of a successful appeal. We will also fully represent you in any hearings/tribunals.
Request the Appeal Package
Related pages for your continued reading.
Frequently Asked Questions
There is no minimum salary requirement for the Canadian work permit. However, unpaid employment does not qualify for a work permit unless you meet strict restrictions. In most cases, that applies to permanent resident applicants who are already in Canada on a temporary resident permit and want to do a job that will contribute as skilled work experience for the PR application.
Although a majority of temporary foreign workers with a Canadian work permit are allowed to stay in Canada for up to one or two years, the maximum validity is four years. A temporary foreign worker can apply to extend their work permit just before it expires as long as they are still eligible.
A Canada work visa does not guarantee a permanent stay, so those who want to stay in Canada permanently can apply for the Canadian Experience Class to become permanent residents and, in a few years, Canadian citizens.
Foreign workers need Canada's work visas to work in Canada. Asides from the Canada work permits, you can apply for one of the International Experience Canada (IEC) programs, such as the Working Holiday visa, or an Express Entry program for a longer-term stay.