Canadian Work Visas: Applying from the UK
Non-citizens or permanent residents of Canada need valid work visas to work in Canada. As a UK passport holder or resident, you are not exempt from the work visa requirement. This page details all the Canadian work visas for those in the UK and their requirements.
Get in touch with us today for advice or assistance with obtaining a Canadian work visa. Please call 0333 305 9375 or use our contact form to send a message.
Working in Canada Legally
As mentioned above, UK passport holders and residents need a valid work permit to work in Canada. Although you can attend an interview with a visitor visa or Electronic Travel Authorization(eTA), you must have a work visa before you accept a job offer or work.
Each work visa has specific requirements, application processes, and in some cases, countries that can apply. This page discusses all the work permits that someone in the UK can use to come to Canada for work.
Every year, thousands of foreign workers are granted entry into Canada to work using one of the Canadian work permits or programs. To be one of them, you can enlist our help. We assist those in the UK to acquire a work visa using personalised immigration services. Call us on 0333 305 9375 to get started.
"I'm very happy with the standard of training received on the OISC Level 1 course, i passed my exam. Thank you!"
"My application was approved and a huge weight has been lifted from our shoulders this year "
"We used this service for the spouse visa extension application to assure that all the information was valid and correct."
Canadian Work Visas
Canada has a good number of work visas and programs that someone in the United Kingdom can apply for. They include: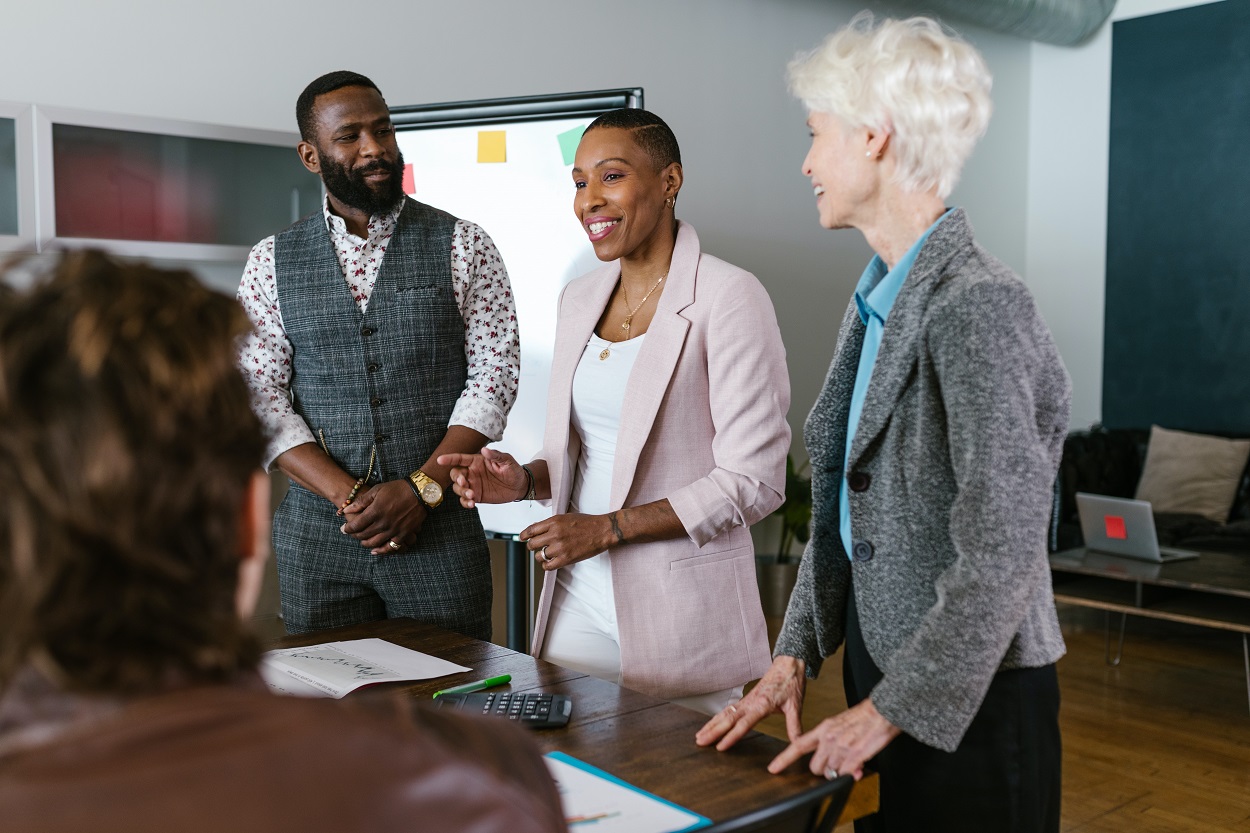 Federal Skilled Worker​ program
The Federal Skilled Worker Program (FSWP) is for skilled foreign workers who have work experience in certain jobs. FSWP is one of the three federal programs Canada immigration manages through Express Entry, an online application system for immigrant workers.
To qualify for the Federal Skilled Worker Program, you must meet the minimum work experience, language ability, and education requirements. Also, your application will be graded based on those and other factors, including age, the presence of a valid job offer, and adaptability.
That grading and the ranking in the Express Entry pool determines if you will be invited to apply for permanent residence. All permanent resident applicants in Express Entry are ranked based on select factors, and only the highest-ranking candidates are invited. If you are approved for permanent residence, you can come to Canada to work.
Requirements for the Federal Skilled Worker Program
To qualify for FSWP, you must have skilled work experience in one of the National Occupational Classification (NOC) job groups. Canadian immigration has specifics of how many years you should have worked in that job, work hours and pay.
Another requirement is language ability. You must prove that you can write, read, understand, and speak English or French by taking one of the approved tests and scoring a minimum of the Canadian Language Benchmark (CLB) 7 in all four areas.
Also, you must have education in a secondary institution or post-secondary institution from a school in Canada, the UK, or any other country. If the institution is not in Canada, you will be required to get an Educational Credential Assessment (ECA) to grade your foreign education. Our Federal Skilled Worker program page has more information on the requirements and application process for UK citizens and residents.
Canadian Experience Class
If you have worked in Canada before or currently work in Canada, you may be eligible for the Canadian Experience Class immigration route. Like the Federal Skilled Worker Program, the Canadian Immigration Class (CEC) is one of the immigration programs that the Canadian government manages through the Express Entry system.
Through the CEC, skilled workers with Canadian work experience can obtain permanent residence and work in Canada without restrictions.
Much like the FSWP, you must meet the minimum requirements for language ability (CLB 7 or CLB 5), skilled work experience and education. Your work experience must have been in Canada within the last three years under a temporary resident permit with work authorisation. It can be a full time or part-time job, but it must meet the hour requirement. Your work experience does not qualify if it's not one of the NOC 0, A, or B jobs (managerial, professional, technical, and skilled trades).
If you worked under a tourist visa without authorisation to work, your experience does not qualify. Self-employment and student work experience do not count. Also, work experience as a refugee protected by the Immigration and Refugee Board of Canada in Canada does not count.
To learn more about the requirements and application process, see our Canadian Experience Class page.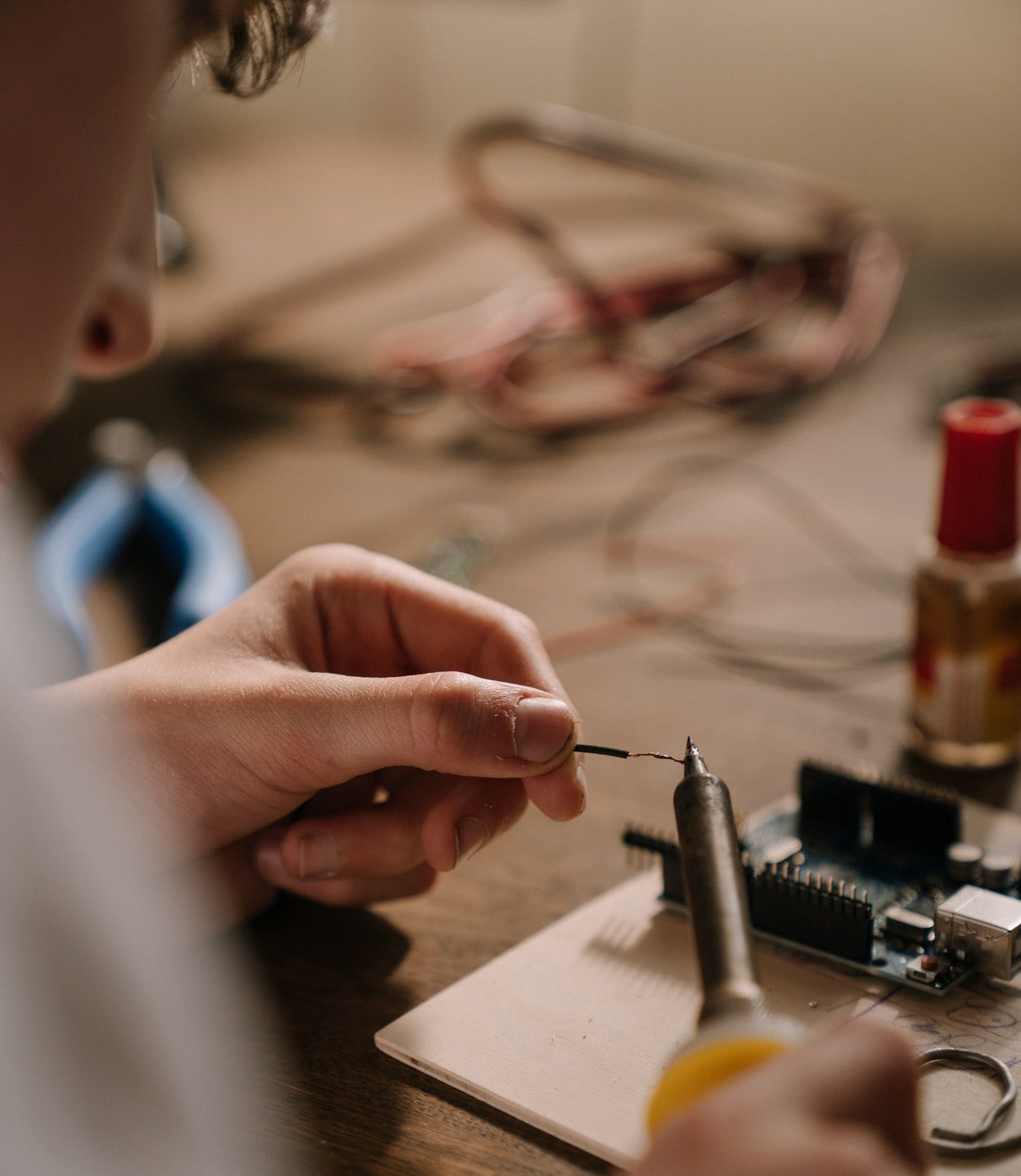 Federal Skilled Trades program
The Federal Skilled Trades Program is another immigration route managed under the Express Entry platform. Through this route, foreign skilled workers in the UK who are qualified in eligible skilled trades may become Canadian permanent residents.
Immigration, Refugees and Citizenship Canada requires applicants to meet the minimum requirements for language ability, work experience, job, education, and funds to be granted permanent residence through this program.
Unlike some other Canadian immigration programs, applicants must have a valid job offer from a Canadian employer or a certificate of qualification in their skilled trade from a Canadian provincial, territorial or federal authority to be eligible for the FSTP.
As with the other Express Entry programs, they must meet the job requirements in the NOC and have full time or part-time work experience doing paid work in their trade.
You may also need to visit the province you plan to settle in to be assessed for your trade. You can read more on the requirements and application process for those in the UK on our Federal Skilled Trades Program page.
Job, Financial Resource and Education for FSTP
The Federal Skilled Trades Program allows applicants under these NOC groups to work in Canada:
Major Group 72, industrial, electrical and construction trades
Major Group 73, maintenance and equipment operation trades
Major Group 82, supervisors and technical jobs in natural resources, agriculture and related production
Major Group 92, processing, manufacturing and utilities supervisors and central control operators
Minor Group 632, chefs and cooks
Minor Group 633, butchers and bakers
Although there is no education requirement, candidates can improve their rank in the Express Entry pool if they have a diploma, certificate, or degree from a Canadian institution or its equivalent from a foreign institution based on an Educational Credential Assessment (ECA).
Those applying from the UK must prove that they have enough money to support themselves and their accompanying family members.
If you are looking to acquire a Canadian work permit, this is a great route because it doesn't only grant work authorisation but also permanent residency, which in a few years can enable you to obtain Canadian citizenship. For assistance with applying for this program, call 0333 305 9375.
Provincial Nominee Programs
If you have a province in mind, you may want to explore the Provincial Nominee Programs (PNP). With PNP, provinces and territories of Canada can nominate applicants for permanent residence. If you are nominated, you may be invited to apply for permanent residence.
Each province and territory has its own immigration programs. They are called streams, and they target certain groups. For example, a province may target business people in a program stream and students in another.
Most provinces have streams for skilled workers, semi-skilled workers, and business people. We have explained the streams and requirements for the different provinces and territories on our Provincial Nominee Program page.
Note that the Provincial Nominee Program is different from Quebec's immigration programs. Unlike the other provinces, Quebec manages its immigration systems, and it has its own programs.
For assistance with a Provincial Nominee Program, call us on 0333 305 9375 or contact us online.
Canada Self-Employed Persons Program
As the name implies, the Self-Employed Persons Program is for those who intend to come to Canada to establish a business that will, at minimum, create employment for themselves. This route isn't for anyone.
The Canadian government specifically designed the Self-Employed Persons Program for those in the cultural and athletics sectors. Applicants must have self-employment experience of about two one-year periods doing cultural activities or athletics locally or performing them at a world-class level.
Applicants must also intend to contribute significantly to Canada's cultural or athletic life. In addition, you must earn enough points in the Self-Employed Persons Program selection criteria, which awards points for education, proficiency in English or French, work experience, age and adaptability factors.
Also, you must have enough money to support yourself and your family upon arrival in Canada. See our Self Employed Persons Program page for more information on the requirements for applicants in the UK.
If you want to work in Canada using this program, give us a call 0333 305 9375. We can help you.
Quebec work programs
When applying for any of the Federal Canadian visas, you must plan to live outside the province of Quebec. If you plan to live in Quebec, you can't obtain a work permit or permanent residence through a federal program; rather, you must apply for a Quebec immigration program.
Quebec has a skilled worker program that allows foreign workers to immigrate to Canada to settle in Quebec. To apply, you must hold a Quebec Selection Certificate (Certificat de sélection du Québec – CSQ). The Government of Quebec provides that to show that its holder has been accepted as an immigrant by Quebec.
You are to apply to the Government of Quebec to obtain a Selection Certificate. If the province of Quebec gives you a CSQ, you can then apply to the IRCC for permanent residence.
The application process for permanent residence through the Quebec-selected Skilled Workers program is about the same as the Express Entry Programs. You get the application package, fill the forms, pay the application fees, obtain police certificates and a medical exam, and submit the forms, receipts and documents via mail or the online portal.
Quebec also has a Self-Employed Program. Applicants must have at least two years of experience in their occupation (not limited to athletic or cultural activities), have a minimum net worth of $100,000, and meet the other requirements.
For assistance with the Quebec-selected skilled worker or self-employed program, call 0333 305 9375 today.
Working Holiday Visa for a Temporary Foreign Worker
This is a program under International Experience Canada (IEC). It allows a temporary foreign worker who wants to travel in Canada to get temporary employment that can last up to 24 months.
Young professionals applying for IEC can only apply once. Please note that if you are not a British citizen or from the Channel Islands of Jersey and Guernsey, it's recommended that you confirm what applies to your country because it's not every country that can apply for IEC.
The Working Holiday Visas are temporary work permits that apply to British citizens between 18 and 30 who have a minimum of $2500 and health insurance covering them throughout their stay in Canada.
Also, applicants must have a valid passport that covers the length of their intended time in Canada, a round trip or departure ticket or funds to cover the departure ticket, and not be accompanied by dependents.
Each eligible country has an annual quota, and the IRCC releases the dates for the first and final rounds of invitation to apply. We have provided more information on the eligibility criteria and application process for those in the UK on this page. For assistance with a Working Holiday Visa, get in touch with us by calling 0333 305 9375.
Post-graduation Work Permit
To work in Canada after you graduate, you should get a Post-graduation Work Permit (PGWP). International Students from the UK who graduated from a Canadian Designated Learning Institution (DLI) after studying in an eligible program can apply for this Canada Work Visa.
A PGWP work permit holder can work with any employer in Canada full time or part-time. You can only apply for a PGWP within 180 days after getting your degree, diploma, transcript, or school official letter.
You can apply for a PGWP from the UK as long as you meet the eligibility requirements and have been approved for a study permit. However, you can only apply from outside Canada if you were enrolled in a program that was in progress in March 2020 or started a program between spring 2020 and fall 2021. If you do not fall in this category, you must apply from within Canada.
Applicants should have been full-time students at a DLI for at least 8 months. Also, their course of study must qualify; those who studied English or French as a second language or took general interest or self-improvement courses do not qualify.
For more information on the requirements and application process for those in the UK, visit this page. Also, we can help you acquire this work permit. Call us on 0333 305 9375 today.
Canadian Work Permit
The Canada Work Permit allows temporary foreign workers to come to Canada to work temporarily. There are two types: open work permit and closed work permit or employer-specific work permit. The open work permit enables you to work for any employer in Canada, while an employer-specific work permit is tied to one Canadian employer or job.
To obtain a work permit, you must have financial resources, be in good health, not have engaged in criminal activity, and are not coming to Canada to work for an employer listed in the ineligible list or one that regularly offers striptease, erotic dances, massages, or escort services. Also, your employer may need to obtain a Labour Market Impact Assessment (LMIA).
You can apply from the UK or a Canadian port of entry, though it's better to apply from the UK and get a decision notice before travelling to Canada. If you are applying from the UK, you should have an employment offer from an employer in Canada and meet the requirements of that job offer.
If you wish to apply for a work permit from a port of entry, you should be eligible to enter Canada with a simple Electronic Travel Authorization (ETA). This is open to British citizens.  Also, you should have met the requirements before going to the port of entry; for example, open work permit applicants must have a job offer first.
Find out more about the requirements for a Canadian work permit here. For advice or assistance with obtaining a Canadian work permit, call 0333 305 9375.
Due to the large number of people that apply for Canadian work visas every year, there are high chances that an applicant may not succeed if certain steps are not taken.
We are expert UK and Canadian immigration lawyers that understand the intricacies of obtaining the right Canadian work visa from the UK and have helped several individuals to immigrate to Canada with a business visa, work visa, or permanent residence.
We are committed to helping individuals who wish to acquire Canadian work visas from the UK through our immigration services that cover the entire process. We can:
Assess your eligibility and advice on the right program to apply for
Advice on the right documents and evidence to provide to the IRCC
Fill out and submit all the necessary forms and documents
Liaise with the IRCC on your behalf
Provide updates to you
Help with travel, housing and schooling arrangements, and other concierge services
For more information on how we can help you. Call our UK office on 0333 305 9375 or contact us online.
Advice Package
Comprehensive immigration advice tailored to your circumstances and goals.
Application Package
Designed to make your visa application as smooth and stress-free as possible.

Fast Track Package
Premium application service that ensures your visa application is submitted to meet your deadline.
Appeal Package
Ensure you have the greatest chance of a successful appeal. We will represent you in any case.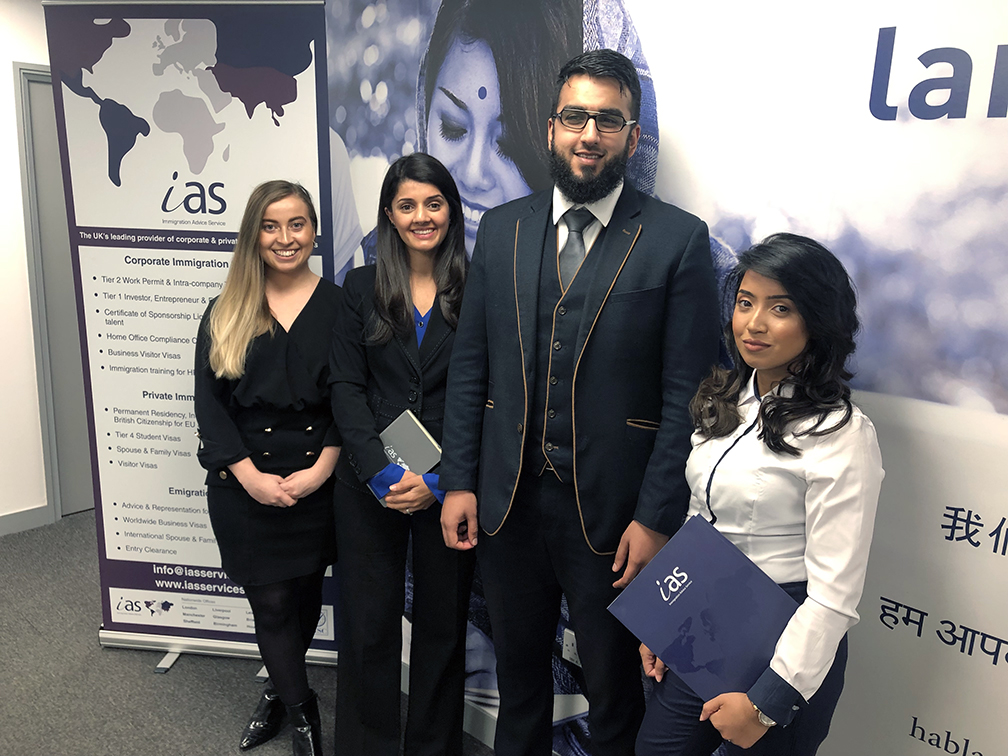 The Advice Package
During this untimed Advice Session with our professional immigration lawyers in London, you will receive our comprehensive advice, completely tailored to your needs and your situation.
Request the Advice Package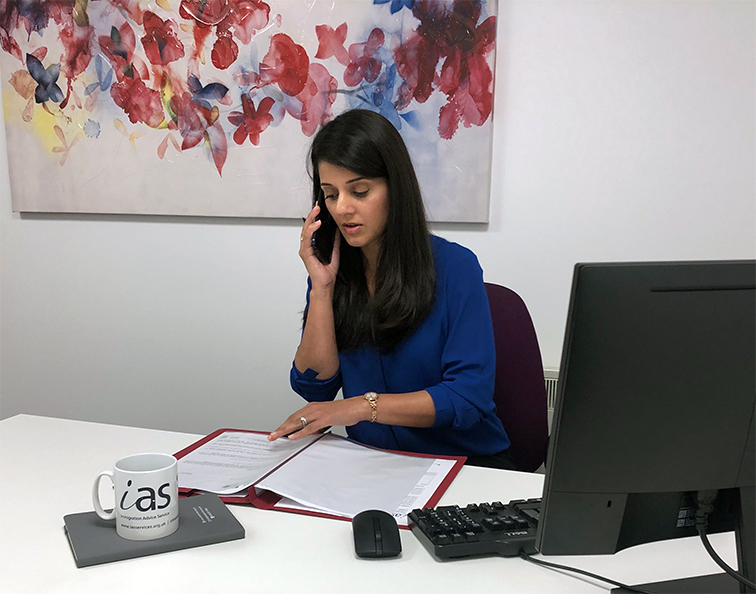 The Application Package
With our Application Package, your dedicated immigration lawyer will advise you on your application process and eligibility. Your caseworker will then complete and submit your forms to the Home Office on your behalf.
Request the Application Package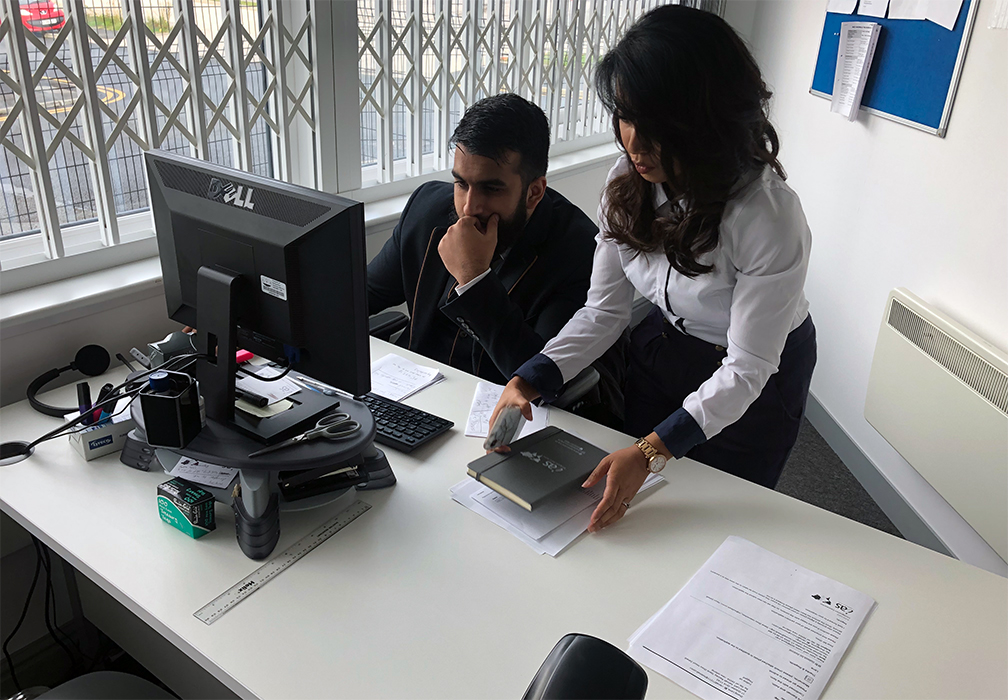 The Fast Track Package
Our Fast-Track Application Package is a premium service for those who need to submit their application in time with their deadlines. Your case will become a top priority for our lawyers and you will benefit from our highest-quality services.
Request the Fast Track Package
The Appeal Package
By choosing our Appeal Package, you can rely on our lawyers' legal knowledge and experience to ensure you have the highest chance of a successful appeal. We will also fully represent you in any hearings/tribunals.
Request the Appeal Package
Related pages for your continued reading.
Frequently Asked Questions
UK citizens can work in Canada if they have the right work permits. There are several work visas that UK citizens can apply for, including:
Federal Skilled Worker​ program
Canadian Experience Class
Federal Skilled Trades program
Provincial Nominee Programs
Self-Employed Persons Program
Working Holiday Visa
Canada Work Permit
Post-Graduation Work Permit
Quebec work programs
There are some other programs that UK citizens may qualify for, including programs under the International Experience Canada system and pilot programs for work authorisation and permanent residence. For more information or assistance, get in touch with us on 0333 305 9375 or info@total.law.
You can get a Canada visa by applying online, at a Canadian visa office or through mail. You must apply for the Express Entry programs online; some programs, such as the Provincial Nominee Program, allow application by mail.
Before you apply for any work visa, ensure that you meet the requirements. Else, your application will be rejected, and IRCC may not refund your application fees. You can read the requirements of the various programs on this page or contact us for that information.
If you are not sure which programs you qualify for, we can assess your work experience and other factors and advise you on your options. Call us today on 0333 305 9375 or contact us online to get a callback.