Super Visa in Canada for UK citizens
The Super Visa grants parents and grandparents of Canadian citizens or permanent residents the right to visit their children or grandchildren in Canada for more time than a regular visitor visa.
If you are a UK citizen and want to be reunited for some time with part of your family through a Super Visa, one of our legal experts at Total Law can help you navigate the application process. Give us a call on 0333 305 9375 or contact us online for more information.
What is a Super Visa?
Through The Super Visa, the Canadian Government grants the right to visit Canada for an extended period to parents and grandparents of a Canadian citizen or permanent resident of Canada. This particular visa acknowledges the importance of family relations and the grandparents' role in supporting their grandchildren.
Thanks to the Super Visa, you can spend more time in Canada with your family. Usually, UK citizens can visit Canada for shorter visits (6 months maximum) with an eTA, but if you want to stay for longer, you would need a visa.
Unlike the regular visitor visa and most other short-stay routes, the Super Visa enables eligible individuals to stay in the country for up to five years without the need to renew their visa frequently, also providing multiple entries for up to 10 years. And if you have to travel in and out of Canada, you can still do so during the visa's validity period.
While the Super Visa provides a prolonged stay option, keep in mind that it is explicitly designed for extended visits by parents and grandparents, and it does not grant a pathway to becoming a permanent resident or citizen.
"I'm very happy with the standard of training received on the OISC Level 1 course, i passed my exam. Thank you!"
"My application was approved and a huge weight has been lifted from our shoulders this year "
"We used this service for the spouse visa extension application to assure that all the information was valid and correct."
Recent Changes to the Super Visa Validity Period
From 4 July 2022, the length of stay for Super Visa holders in Canada has increased to up to 5 years. Those approved before 4 July 2022, but entering Canada after, are also eligible for a 5-year stay. However, if you entered with a valid Super Visa before then, the initial length granted to you remains unchanged.
To benefit from the extended stay, you must leave Canada before your authorized period ends and re-enter after 4 July 2022. Alternatively, you can apply for an extension of up to 2 years.
Super Visa Canada Requirements: Who is Eligible for a Super Visa?
To be eligible for a Super Visa, you must demonstrate a genuine relationship with your sponsoring child or grandchild in Canada. Step-parents and adoptive parents can apply, providing they also meet all the other eligibility criteria listed in the below checklist.
Super Visa Canada Checklist
To be eligible, you must provide the following documents:
A signed letter from your child or grandchild in Canada. This must state the promise of financial support for the entire duration of your stay, the list and number of people in your child or grandchild's household, plus a copy of this person's Canadian citizenship or permanent resident document. You can find more information about the letter further down in the article.
Proof of private medical insurance. When you enter Canada, you will be asked to show proof of paid insurance issued by a Canadian insurance company to a border services officer. This must:

be paid in full or with deposit-instalment options (quotes are not accepted)
be valid for at least one year from your entry into Canada
cover healthcare, hospitalization, and repatriation
cover at least CAD 100,000 for emergencies
In addition, you must:
File your application from the UK (not from inside Canada) and have it printed before entering.
Be admissible to Canada.
Undergo an immigration medical exam.
Apply only for yourself, your common-law partner or your spouse. Dependants cannot be included in your application.
Enclose acceptable proof of funds showing that your inviting child or grandchild is able to support you financially. These can be a Notice of Assessment (NOA) or T4/T1 for the most recent tax year, employment Insurance Benefit statements or similar documents. You can find more details about the minimum income requirement below.
Prove the intent to return to the US. You must provide evidence, such as employment or business ties, property ownership, or other family commitments, that indicate your intention to leave Canada at the end of the authorized stay.
Super Visa Letter of Invitation: What You Need to Know
A crucial requirement for a Super Visa application is the letter of invitation that your child or grandchild must send you directly. It has to be written sincerely and must carry the intention to fulfill the promises stated in it.
The letter should include the following details about you:
Full name, date of birth, your address and telephone number
Relationship to the person inviting you
Duration of your stay in Canada and purpose of the trip
Accommodation arrangements and financial means to cover expenses
Planned departure date from Canada
The letter should also contain the following information about the person extending the invitation (child/grandchild):
Full name, date of birth and Canadian address and telephone number
Job title
Canadian citizenship or permanent resident status and supporting documents (e.g., Canadian birth certificate, citizenship card or similar)
Details of their immediate family
Total number of individuals residing in their household, including active sponsored individuals
Furthermore, the person inviting you must provide a written and signed promise to financially support you during your stay in Canada. They must also demonstrate that their income meets or exceeds the low-income cut-off (LICO) for the total number of people in their household, including you.
Consider that some visa offices request that a public notary notarizes the letter before it is sent.
Minimum Income Requirements for Super Visa
As stated above, another critical requirement for the application is that your host's family unit must meet a minimum income threshold known as the low-income cut-off (LICO). Here is a Super Visa income calculator based on the family unit size:
| Family Unit Size | Minimum Income |
| --- | --- |
| 1 person (the sponsor) | CAD 24,949 |
| 2 persons | CAD 31,061 |
| 3 persons | CAD 38,185 |
| 4 persons | CAD 46,362 |
| 5 persons | CAD 52,583 |
| 6 persons | CAD 59,304 |
| 7 persons | CAD 66,027 |
| For each additional person beyond 7 | add CAD 6,723 |
Your child or grandchild should prove their income using any of the following:
Notice of Assessment from the Canada Revenue Agency (CRA), which can be printed online through the CRA's service if a paper copy is not available. This must be their most recent one.
Copy of their most recent T4 or T1 from their employer. If self-employed, they'll need an accountant's letter confirming annual income.
Original letter from the employer stating job title, job description, and salary.
Employment insurance pay stubs.
Evidence of other income sources (pension statements, investments, etc.).
How to Apply for a Super Visa
Overview
Once you have gathered all the documents listed above, you can begin your online application.
Apply online through the Immigration Refugees and Citizenship Canada (IRCC) portal. Start by creating an account and sign in using your email and the provided code.
Fill out the online form. Answer all the questions in it, and you will receive a list of the required documents based on your personal situation. Upload everything in the system.
Pay the fees with a credit card (most cards are accepted).
Should you have a disability, or if you are travelling with a document issued to a non-citizen, a stateless person or a refugee, paper applications are also accepted.
Super Visa Canada Processing Time and Fees
The typical processing time for Super Visas is approximately eight weeks, but this will depend on the visa office and if any additional step is required. These may include an interview with Canadian officials in the US, a medical exam, obtaining a police certificate, or simply providing additional information.
You can check the progress of your application on the dedicated Application Status Tracker. Upon approval, the IRCC will return your passport with the visa stamped inside, which remains valid for up to 10 years and allows you to make multiple entries into Canada.
The processing fee for the Super Visa starts at CAD 100. In addition, there might be an extra charge of CAD 85 for biometric fees if you are required to provide this information as part of your application.
Can a Super Visa Application Be Rejected, and What Are the Common Reasons for Rejection?
Yes – in some instances, your application might be rejected. The most common reason for rejection is failure to provide accurate and truthful information for your case. This is why you should disclose all relevant facts that support your Super Visa application and avoid omissions.
Additionally, insufficient proof of the relationship with your sponsoring child or grandchild can also lead to a negative outcome. Similarly, health issues can be grounds for rejection. Namely, if the applicant's health condition raises concerns or if they have a medical condition that could compromise public health or if they require excessive healthcare resources in Canada.
So, rejections can happen, but most of the time, these are down to a lack of attention when gathering all evidence supporting your case. It is essential to ensure that all required documents concerning your relationship and medical examinations are completed correctly to avoid any potential issues in the application process.
As experts on the Canadian immigration system, our team of lawyers will provide you with some guidance and help you reunite with your family in Canada. Whether you need a simple documentation check or full assistance throughout your application, call 0333 305 9375 today or get in touch with us online.
How to Extend Your Stay with a Super Visa
If your stay in Canada needs to be extended beyond the authorized time, you must apply for a visitor record. This document is not a visa but will grant you visitor status and permits you to stay in Canada longer than originally approved. It also provides a new date by which you must return to the US.
You must file the application for a visitor record before the expiry date of your current Super Visa. The application fees will start from CAD 100.
Keep in mind, however, that the visitor record will not guarantee you can leave and then return to Canada.
How Can Total Law Help?
Requesting a Super Visa as a UK citizen shouldn't be too complicated – the application system is entirely online and as long as all your documents are in order and you are fully disclosing your case, you should be granted your visa.
However, working with an immigration professional can be beneficial to ensure you are not leaving behind significant evidence for your application. Total Law can offer support with this and will answer all the questions you might have about visiting your family in Canada through a Super Visa.
Choose one of the packages below and secure yourself a stress-free visa journey. You can give us a call on 0333 305 9375 or contact us online for more information.
Advice Package
Comprehensive immigration advice tailored to your circumstances and goals.
Application Package
Designed to make your visa application as smooth and stress-free as possible.

Fast Track Package
Premium application service that ensures your visa application is submitted to meet your deadline.
Appeal Package
Ensure you have the greatest chance of a successful appeal. We will represent you in any case.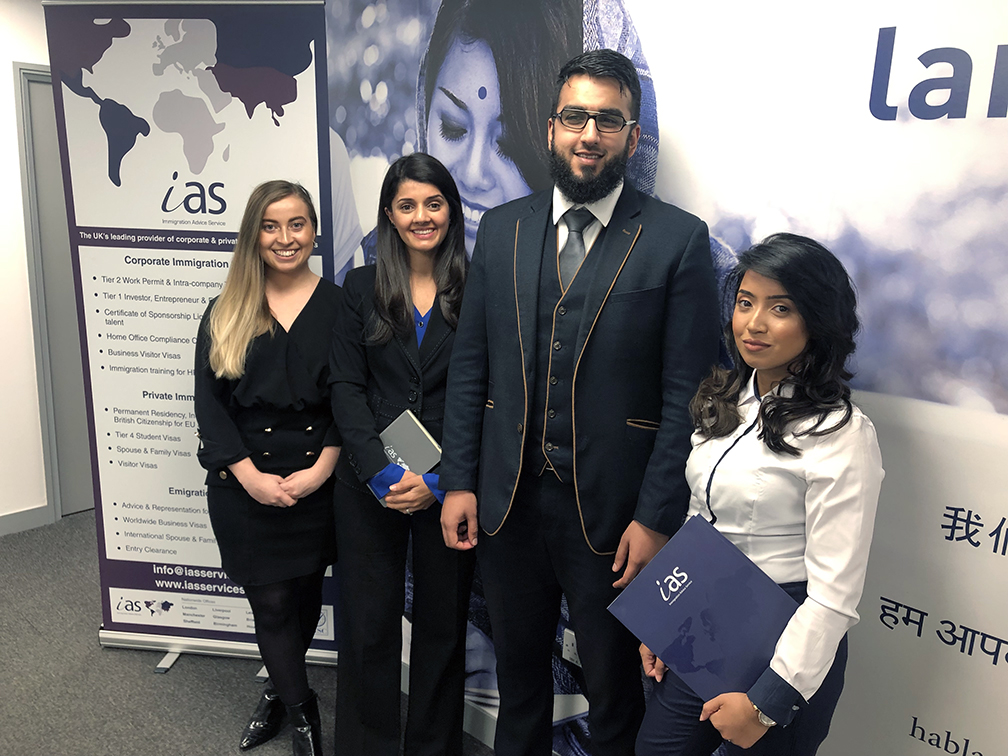 The Advice Package
During this untimed Advice Session with our professional immigration lawyers in London, you will receive our comprehensive advice, completely tailored to your needs and your situation.
Request the Advice Package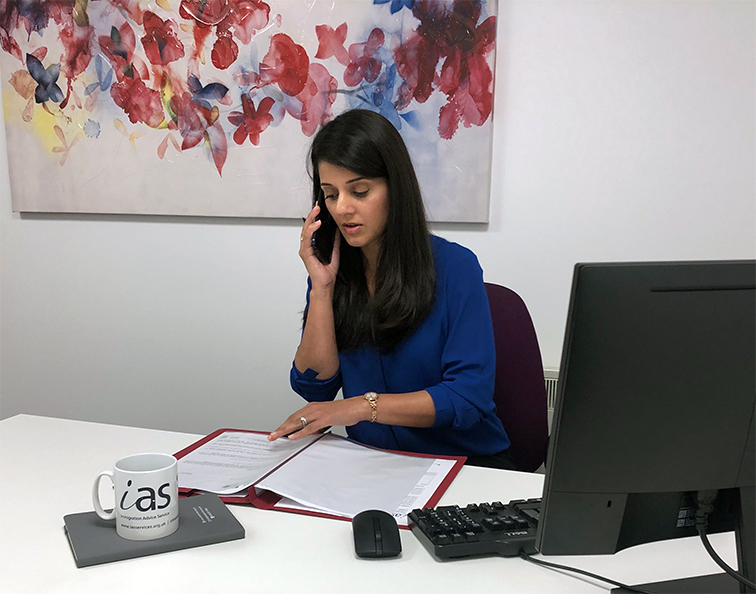 The Application Package
With our Application Package, your dedicated immigration lawyer will advise you on your application process and eligibility. Your caseworker will then complete and submit your forms to the Home Office on your behalf.
Request the Application Package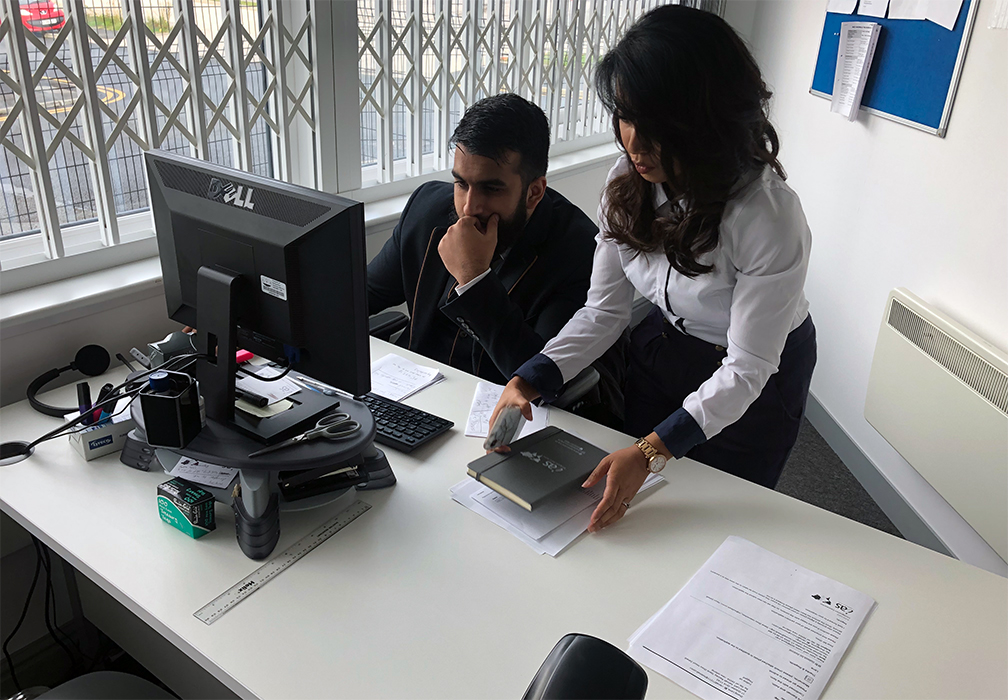 The Fast Track Package
Our Fast-Track Application Package is a premium service for those who need to submit their application in time with their deadlines. Your case will become a top priority for our lawyers and you will benefit from our highest-quality services.
Request the Fast Track Package
The Appeal Package
By choosing our Appeal Package, you can rely on our lawyers' legal knowledge and experience to ensure you have the highest chance of a successful appeal. We will also fully represent you in any hearings/tribunals.
Request the Appeal Package
Related pages for your continued reading.
Frequently Asked Questions
As much frustrating as it sounds, applications can be denied. If this happens, make sure you read thoroughly the refusal letter that the immigration authorities have provided you with and have a clear idea of the stated rejection reasons. There isn't a formal appeal process for temporary resident visas.
If the refusal is based on your current status, you should wait to re-apply until your circumstances change. In this case, consider consulting with an immigration lawyer, as they can assess your situation and help you re-apply. At Total Law, we can assist with your application, even if you need only a documentation check. Don't hesitate to contact us online or on 0333 305 9375
The Super Visa was implemented explicitly for parents and grandparents of Canadian citizens or permanent residents of Canada. It grants you access to Canada for up to 5 years, allowing multiple entries for up to 10 years. This Visa is ideal if only want to visit your family in Canada for temporary periods.
On the contrary permanent residency allows individuals to settle in Canada long-term, enjoying all the rights and benefits, including healthcare, and eventually applying for Canadian citizenship. This option may be better suited for those seeking a more permanent stay in Canada.